written by STEVE ULRICH
your must-read briefing on what's driving the day in NCAA Division III
>> Good Tuesday Morning. Wishing our friends in New England a happy and healthy Nor'easter. Be safe.

>> Please Consider Making A Donation to D3Playbook. Help us keep this site free. Make a donation and to show the DIII community that you appreciate what D3Playbook has to offer you and your department.

TOP STORY
1. Rhodes Inks 1st All-Athlete NIL Partnership
by Madeline Myers, Business of College Sports

"Unlike Division I, Division III college athletes do not receive athletic scholarships, which can make it hard for college athletes to cover the costs of going to college while also playing on a team. With the advent of NIL, however, Division III college athletes now have the opportunity to earn income through endorsements, sponsorships and other marketing opportunities, like their peers who attend Division I schools.

MOGL, an NIL operations software provider and marketplace, recently announced a new partnership between Rhodes College and Clean Energy. This partnership is unique in that Rhodes is a Division III liberal arts school based in Memphis, Tenn. In addition, this partnership will provide NIL opportunities for all Rhodes College college athletes, which will be the first of this kind of partnership for Division III college athletes in the country.

>> Situational Awareness: "As part of this partnership, over 150 Rhodes athletes will receive Clean Energy products. Clean Energy is a clean label, certified organic smoothie in a single-serve packet, and contains only organic fruits and vegetables."

>> What They're Saying: "While Division III athletes may not always have the same level of national recognition, they possess a unique combination of drive, dedication, and on campus influence that makes them incredibly attractive as marketing partners and brand ambassadors," Ayden Syal, CEO and Co-Founder of MOGL said."

>> Quotable: "At Rhodes College, we are committed to providing our student-athletes with the resources they need to succeed both on and off the field," says Director of Athletics Jim Duncan. "We are proud to be at the forefront of this shift in the NIL landscape, and we look forward to seeing the positive impact it will have on our student-athletes and the broader Rhodes community."

>> Read More
A MESSAGE FROM CHI ALPHA SIGMA
Chi Alpha Sigma is the only national scholar-athlete society that celebrates four-year collegiate student-athletes who have excelled in both the classroom and in athletic competition.

Founded in 1996 and with 320 active chapters nationwide, Chi Alpha Sigma recognizes undergraduate college student-athletes who participate in a sport at the varsity intercollegiate level, achieve junior academic standing or higher after their fifth full time semester, and earn a 3.4 or higher cumulative grade point average.
WASHINGTON
2. House GOP Wants To Limit Transgender Athletic Participation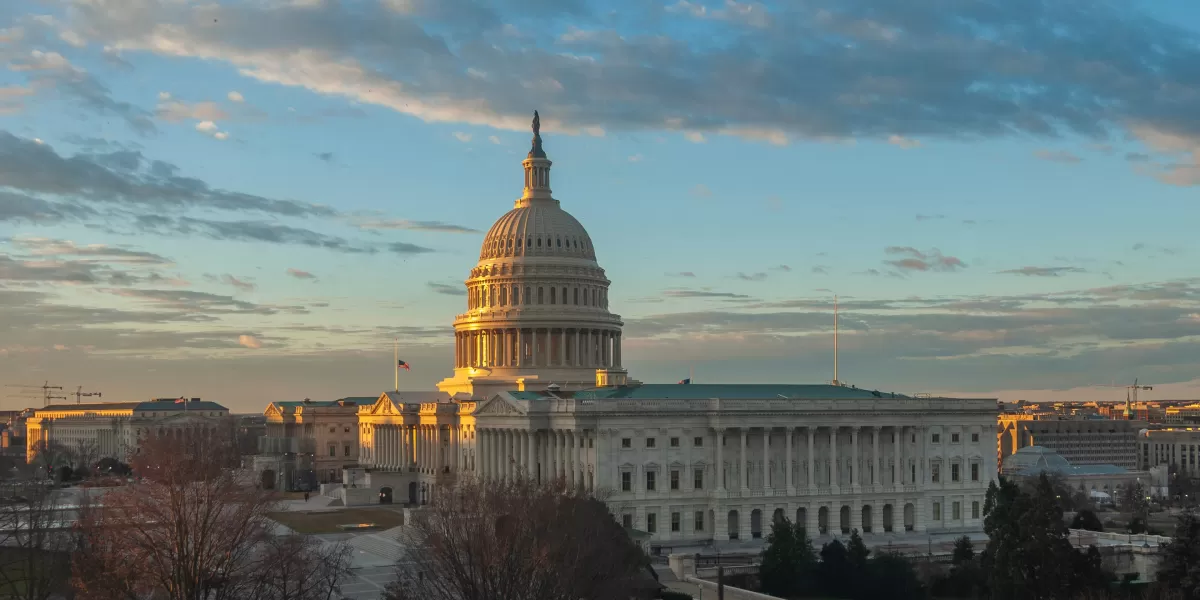 by Kara Arundel, Higher Ed Dive

"Republican-sponsored legislation to limit participation of transgender athletes and expand parental decision-making in education passed along party lines in the wee hours Thursday morning after a marathon markup session of the House Education and the Workforce Committee.

The first bill, H.R. 734, is aimed at preventing biological boys and men from participating in athletic programs designated for women or girls.

The two-page bill, which has 76 co-sponsors, aims to ensure that compliance with Title IX relies on the recognition that a student's sex is based on reproductive biology and genetics at birth. Specifically, it would bar federally funded school and college athletic programs from allowing biological males to participate in women's or girl's sports."

>> What We're Hearing: "Rep. Burgess Owens, R-Utah, said he wants to see girls and women benefit from the protections of Title IX. "Allowing biological men to compete in women's sports not only eclipses women, but essentially erases them from the winner's circle altogether."

>> Quotable: "Rep. Mary Miller, R-Ill., said the intent of Title IX is to give more opportunities to girls. "Ignoring the biological differences between men and women is a catastrophe for our girls and women," she said."

>> Counterpoint: "Democrats said allowing transgender students to compete on athletic teams that match their gender identities is in fact a protection of Title IX. The U.S. Department of Education recently issued a resource document on Title IX and athletic opportunities in K-12 but did not directly address policies for transgender students. The department is expected to release guidance on transgender student athletic participation soon."

>> Continue Reading
FEATURE
3. Q and A With Michelle Morgan

by Corbin McGuire, NCAA | photo by Justin Tafoya

"Michelle Morgan never planned on becoming a director of athletics, a role she's held at John Carroll since April 2018, let alone a commissioner, a role she'll start for the Atlantic Hockey Association and College Hockey America in April.

She's thankful life had different plans for her.

Morgan has served as the chair of the Division III Management Council and has spent time on several committees in the NCAA structure. In July 2022, she received an honorary ESPY as the Administrator of the Year for her outstanding work in leading the department, including adding women's wrestling as the 24th varsity sport at John Carroll."

>> The Big Picture: "Being a former student-athlete, I think I draw on those experiences and those life lessons every day while being in a leadership role on campus. There are lessons in that that are embedded that sometimes we have to peel back the layers and say, "OK, this is going to give me some character and some life experience that I'm going to draw on later in life that might be difficult."

>> Reality Check: "So I never set out to be an athletic director. My path has kind of carved day-by-day as I commit myself to the work that I do, but really I found a lot of meaning in the work that I get to do in watching young people grow, developing our coaches, developing our student-athletes because that develops me just as much."

>> Why it Matters: "I think that people don't fully understand the essence of Division III until they've been immersed in it. I'm biased. I came up as a student-athlete in Division III. I've worked for Division III institutions, and it's about the people. It's about people who are there for the right reasons. Their priorities are academics first and the balance of being a student-athlete, but also having a life that is involved in community, whether that be in jobs or internships, whether that be in community service."

>> The Key Stat: "And I see that day to day in our young people that want to do a little bit of everything but really find sport important and want to continue in that discipline and continue to hone their craft and learn those life lessons and compete at a high level. Division III allows them that opportunity."

>> Continue Reading
A MESSAGE FROM D3PLAYBOOK
Help us help you. We are glad that you are enjoying
D3Playbook
. Now won't you help us continue our work? Your gift helps us
offset the costs of operating the newsletter
and enable us to continue to provide the quality you have come to expect.
Please contribute today
.
LACROSSE
4. Making Moves

photo by Steve McLaughlin photography

The Wesleyan women jumped three spots into the No. 7 position in the week's IWLCA poll, while the St. Lawrence men make their first appearance in the USILA top 10.
Women
Middlebury (24), 3-0
Tufts (1), 2-0
TCNJ, 4-0
Washington and Lee (1), 6-0
Salisbury, 5-1
William Smith, 3-0
Wesleyan, 3-0
Franklin & Marshall, 2-2
Gettysburg, 2-3
York, 2-1

>> Games We're Watching This Week: #9 Gettysburg vs. #10 York (Wed.); #11 Ithaca vs. #23 Amherst (Wed.); #16 Chicago vs. #21 Catholic (Sat.); #2 Tufts vs. #4 Washington and Lee (Sat.); #5 William Smith vs. #6 Salisbury (Sat.)

>> Complete Poll

Men
RIT (17), 5-0
Gettysburg (1), 4-0
(tie) Christopher Newport (1), 6-0
(tie) Tufts, 3-0
Salisbury, 5-1
Union, 5-0
Dickinson, 5-0
Lynchburg, 4-1
Washington and Lee, 4-1
St. Lawrence, 3-0

>> Mustang Classic: The annual Mustang Classic held at Stevenson University is set for this weekend and features several of the top teams in men's DIII. We're watching #1 RIT vs. #3 Christopher Newport (Fri.); #8 Lynchburg vs. #10 St. Lawrence (Fri.); #3 CNU vs. #7 Dickinson (Sat.). Other teams in action include #12 Amherst, Bates, Franklin & Marshall, Stevenson and #13 York.

>> Complete Poll
A MESSAGE FROM MORNING BREW

2.6 million people wake up to this newsletter every morning

There's a reason over 2.6 million people start their day with Morning Brew - the daily email that delivers the latest news from Wall Street to Silicon Valley. Business news doesn't have to be dry and dense...make your mornings more enjoyable, for free.

NEWS
5. Lightning Round
Baseball
Tough day for the Nos. 2 and 4 teams in the country as they fell to defeat. No. 9 Shenandoah scored the game-winner in the bottom of the 10th to walk-off #2 Salisbury, 2-1, while Bethel scored seven times in the sixth and seventh innings to pull away from #5 Rowan, 11-4.
Softball
Hailey Golembiewski tossed a no-hitter as Western Connecticut blanked Saint Elizabeth, 5-0. It wasn't the cleanest of no-nos, as Golembiewski walked nine and hit a batter, but also struck out 11.
News
Happy Birthday
Cake and candles for Chris Bowman, athletic facility manager, St. John Fisher.

Do you know of someone celebrating an upcoming birthday? Drop us a line at D3Playbook@gmail.com
TRANSACTIONS
6. Comings and Goings
Copyright © 2023, D3Playbook.com All rights reserved.