written by STEVE ULRICH
your must-read briefing on what's driving the day in NCAA Division III

>> It's Friday. Giving out conference championship hardware in ice hockey this weekend. And going from 64 to 16 in hoops.

>> Please consider making a donation to D3Playbook. See more below.

>> Thanks for reading D3Playbook.

Help us keep this site free

. Support D3Playbook and our advertisers by clicking their links.

TOP STORY
1. Basketball Fans: Do Yourself a Favor and Attend An NCAA Game This Weekend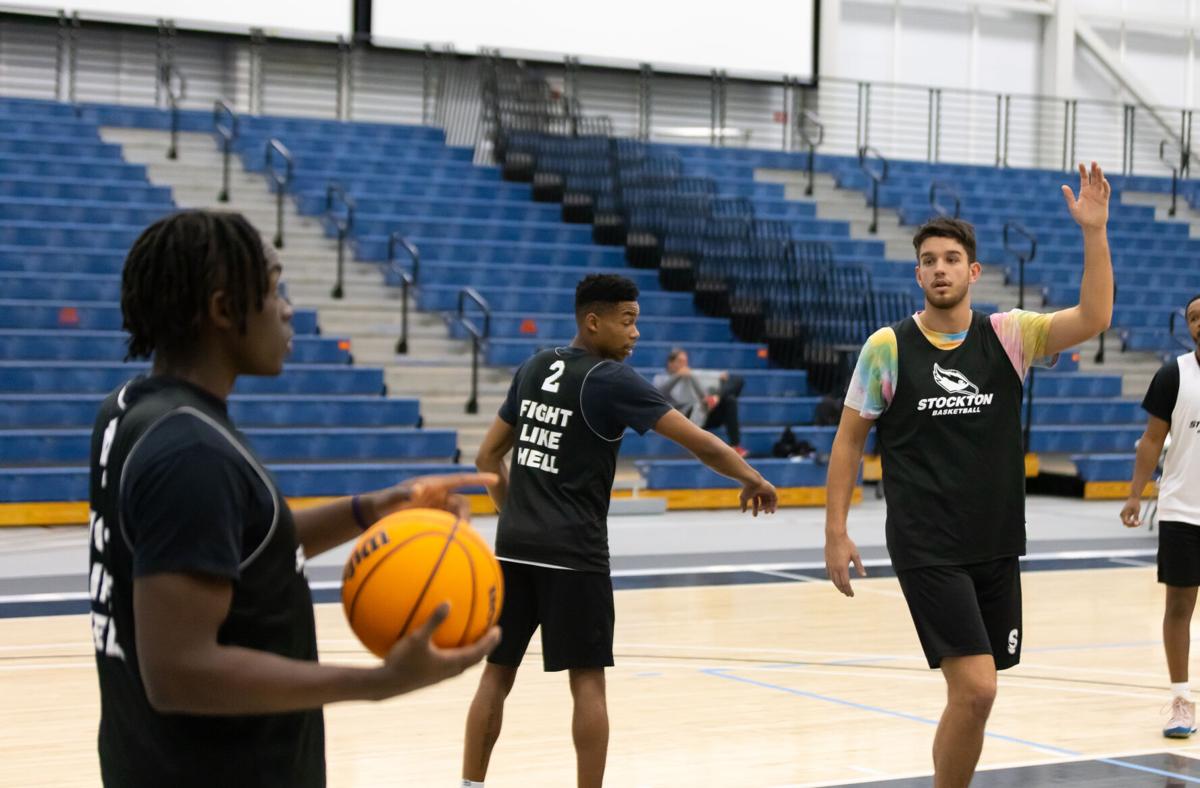 by Mike McGarry, Press of Atlantic City | photo by Kristian Gonyea

"The Stockton University men's basketball team is often overshadowed by South Jersey's vibrant high school scene or, this year, discussions on where James Harden is going to play next season.

But this weekend the Ospreys move to the forefront. They deserve the region's support.

The first reason to attend this weekend's games is it's entertaining basketball. These players could play at a higher level but somehow ended up at Division III schools."

>> Court Awareness: "Local high school players should attend the games and ask themselves an honest question afterwards. Am I good enough to play at this level?"

>> Why It Matters: "The one thing the casual fan doesn't understand is just how talented the players on the Stockton, Rowan and Widener rosters are."

>> Quotable: "There was a lot of really good basketball people from our area at our NCAA Tournament last year," Stockton head coach Scott Bittner said, "and I think if you interviewed them they would say, 'Man, what high-level basketball that was.' It's a great product."

>> Continue Reading
A MESSAGE FROM CHI ALPHA SIGMA
Chi Alpha Sigma is the only national scholar-athlete society that celebrates four-year collegiate student-athletes who have excelled in both the classroom and in athletic competition.

Founded in 1996 and with 320 active chapters nationwide, Chi Alpha Sigma recognizes undergraduate college student-athletes who participate in a sport at the varsity intercollegiate level, achieve junior academic standing or higher after their fifth full time semester, and earn a 3.4 or higher cumulative grade point average.

To apply for your chapter today contact Executive Director, Kellen Wells-Mangold, at kellen@ncahs.org or visit chialphasigma.org.
FINANCES
2. Finlandia Closing Doors


"Finlandia University's Board of Trustees announced that Finlandia will not enroll students for the 2023-2024 academic year. The decision follows months of continuous efforts to find pathways for the University to continue its mission.

"I am deeply saddened to announce that due to a combination of demographic changes, with fewer high school graduates available, a steep decrease in interest in going to college among those graduates, and an unbearable debt load, Finlandia's Board of Trustees met and have decided to not enroll students for the 2023-2024 school year," the Board wrote in its statement."

>> The Bottom Line: "Finlandia, a private Lutheran college in Michigan, enrolled 424 students in fall 2021, according to the most recent data available from the Department of Education's Integrated Postsecondary Education Data System. IPEDS data show that enrollment has fluctuated in recent years but mostly numbered fewer than 500 students in any given year."

>> What They're Saying: "I do want to assure you that the leadership team, the Board of Trustees and myself have left no stone unturned in an attempt to avoid this day," President Timothy Pinnow said in his letter. "Our efforts have been noble and unceasing and while none of us wanted this day to come, we have also realized that in order to honor Finlandia's 126 year-old legacy appropriately, we must end its operations with grace and dignity."

>> Read More
A MESSAGE FROM D3PLAYBOOK
Help us help you. We are glad that you are enjoying
D3Playbook
. Now won't you help us continue our work? Your gift helps us
offset the costs of operating the newsletter
and enable us to continue to provide the quality you have come to expect.
Please contribute today
.
WRESTLING (W)
3. Coming Next, An NCAA Championship

by K.J. Pilcher, Cedar Rapids Gazette

"Sacred Heart Coach Paulina Biega recalled having few opportunities when she first wrestled at Missouri Valley College a decade ago.

Jason Moorman has led the King (Tenn.) University women's wrestling program since its inception in 2009. He remembered just 13 schools among all college divisions, including the NAIA and NJCAA, and his first national championship might have been in Missouri Valley's gymnasium.

Women's college wrestling has come a long way and only shows signs of growing."

>> Mat Awareness: "National Collegiate Women's Wrestling Championships Executive Committee members announced Thursday, on the eve of the fourth annual NCWWC National Championships, 43 programs have met divisional rules, which allows the sport to be considered for an NCAA-sponsored national championship."

>> What's Next: "Teams and competitors from across the country will descend on the Alliant Energy PowerHouse for the NCWWC tournament today and Saturday. The field consists of NCAA Division I, II and III varsity programs and action begins at 11 a.m. both days."

>> What They're Saying: "Even moving nationals from Adrian last year to this huge arena where more people could attend, it just makes it seem more serious for us wrestlers," North Central (Ill.) College two-time national champion and U.S. Senior World Team member Yelena Makoyed said. "I feel like it's almost more respectful toward the wrestlers for their hard work, making it seem more like a serious thing."

>> Keep Reading
BASKETBALL (M)
4. Friday Watchlist
ICE HOCKEY
5. Championship Weekend
STREAMING
6. Weekend Watchlist
Baseball
Lacrosse (M)
Lacrosse (W)
Tennis (W)
NEWS
7. Lightning Round
Baseball
Basketball (M)
Happy Birthday
Cake and candles for Marc Kolb, athletic communications director, Norwich; Carly Pierce, assistant director of MACSL, Randolph; Benjamin Potter, director of golf, Averett (Sat.); Deana Jespersen, head volleyball coach, Rowan (Sat.); Lindsey Porembo, head athletic trainer, Muhlenberg (Sun.); and Keith Groller, writer, Morning Call (Sun.)
Do you know of someone celebrating a birthday soon? Drop us a line at D3Playbook@gmail.com.
TRANSACTIONS
8. Comings and Goings
Copyright © 2022, D3Playbook.com All rights reserved.