written by STEVE ULRICH
your must-read briefing on what's driving the day in NCAA Division III

>> Hello Thursday. It's National Puppy Day. Dogs are the best.

>> Looking For Conference Scheduling Help. Email us. We have solutions for your scheduling issues.

>> Please Consider Making A Donation to D3Playbook. Help us keep this site free. Make a donation and to show the DIII community that you appreciate what D3Playbook has to offer you and your department.

TOP STORY
1. Should The NCAA Expand Hoop Brackets?

by Eric Prisbell, On3.com

"Since the NCAA men's tournament bracket expanded to 64 teams in 1985, the structure of one of the jewels in the American sporting landscape has undergone only a nip and tuck here and there.

Could it be destined for a head-to-toe makeover?

As the NCAA tournament's Sweet 16 awaits later this week, one question hovering is whether its days as a 68-team event are numbered. The NCAA's Division I Transformation Committee's report in January recommended that sports with a high number of teams increase the number of participants in championships to 25 percent. With 363 Division I men's basketball teams, that equates to expanding to 90 teams."

>> Court Awareness: "Rewind to 2015, when NCAA officials faced a pivotal moment. Do they extend the original 14-year deal with valued partners CBS and Turner? Or do they hold off and take the event to the open market when the contract expired in 2024? Industry conditions were uncertain, with the cord-cutting trend under way and the streaming movement coming into focus. Ultimately, the NCAA signed the eight-year extension in 2016 and viewed the $8.8 billion figure as impressive. But upon further review, the decision is now widely viewed as a costly, ill-advised one. Just how much did the NCAA leave on the table?"

>> Reality Check: "The NCAA is projected to be shorting itself an average of some $546 million each year from 2016 through 2032. According to Navigate, the NCAA signed an extension with a relatively small 3 percent growth rate. But had it taken the event to market, based on the competitive environment for sports rights eight years later, it could have secured a deal with a 6 percent growth rate."

>> Of Note: "Unless expansion triggers CBS/Turner to re-open the deal – and the understanding is that even expansion wouldn't re-open it – there may not be a mechanism that enables the NCAA to make up that financial ground, so to speak, in the wake of the 2016 decision."

>> What We're Hearing: "A terrible idea," said a veteran TV source, speaking on condition of anonymity because of sensitive industry relationships. "If you think regular-season men's basketball has limited media value now, expanding the tournament might just wipe it out completely. Why bother to watch the regular season if everyone is going to make the tournament?"

>> Continue Reading
A MESSAGE FROM CHI ALPHA SIGMA
Chi Alpha Sigma is the only national scholar-athlete society that celebrates four-year collegiate student-athletes who have excelled in both the classroom and in athletic competition.

Founded in 1996 and with 320 active chapters nationwide, Chi Alpha Sigma recognizes undergraduate college student-athletes who participate in a sport at the varsity intercollegiate level, achieve junior academic standing or higher after their fifth full time semester, and earn a 3.4 or higher cumulative grade point average.

To apply for your chapter today contact Executive Director, Kellen Wells-Mangold, at kellen@ncahs.org or visit chialphasigma.org.
BASEBALL
2. Nothing Is Cold Like Spring Baseball Practice Cold

by Jason Gay, Wall Street Journal

"Spring is nearly here, and with it, the reliable rituals of the season: longer days, colorful blossoms, the delightful return of songbirds and, of course, people completely freezing off their behinds at baseball practice.

Ballplayers, former ballplayers, coaches and parents in our northern and Midwest states are familiar with this time-honored, teeth-chattering, existence-questioning experience. Little League clubs, travel outfits, high school teams return to the baseball diamond, full of vigor and optimism…only to be confronted by practices that feel like they're happening on the frozen surface of Neptune.

There is no cold like spring baseball practice cold. I don't care if you've summited Everest, traipsed the Antarctic, finished the Iditarod or just emerged from an ice bath with Wim Hof."

>> Why It Matters: "If you've ever rudely hit a foul ball off the end of a bat on a 39-degree afternoon and felt your hands go instantly numb, as if they have snapped entirely off your body—well, that's it, I guess I don't have hands anymore—you know what I mean."

>> Reality Check: "I haven't even gotten to the parents, who have the worst job of all: sitting there. You can always tell the experienced spring baseball parents. They're the ones who show up with thermoses, whiskey, generators, electric blankets, earmuffs and firewood. You haven't been a baseball parent until you've wondered: Would I be a bad parent if I just went and sat in my car? Just for, like, 20 minutes?"

>> The Final Word: "Spring baseball is more like stepping into a refrigerated meat truck and hanging there, among the prime rib."

>> Read More
ALUMNI
3. Morrow Carries Underdog Mindset From DIII to NFL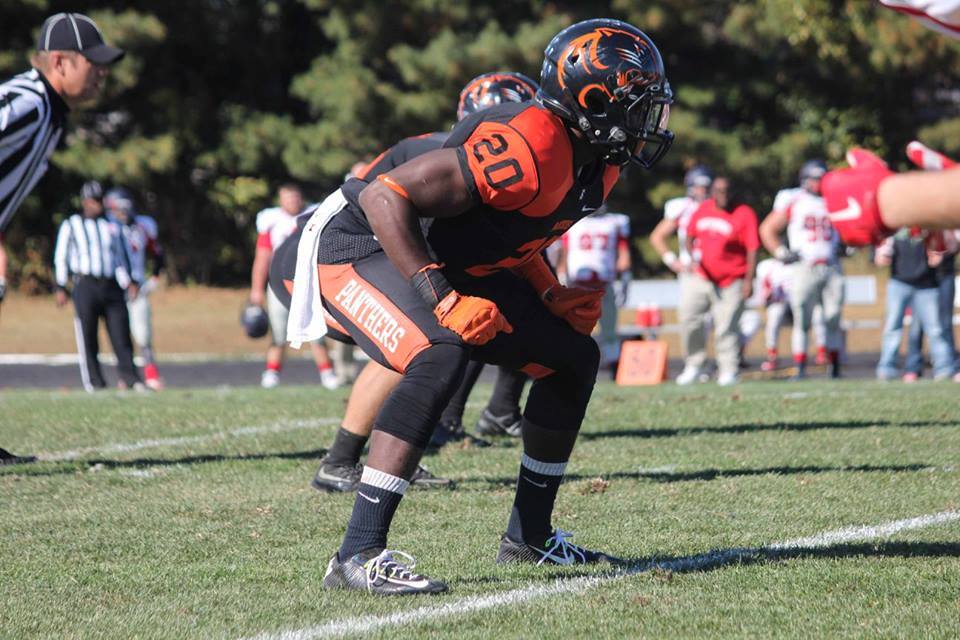 by Josh Tolentino, Philadelphia Inquirer

New Eagles linebacker Nicholas Morrow's NFL journey is atypical.

After he paid his own way to play at Division III Greenville University in rural Illinois, 50 miles east of St. Louis, Morrow arrived in the league as an undrafted free agent, signed by the Raiders in 2017.

Morrow was on the field for every single one of the Chicago Bears' defensive snaps (1,086) this season. In turn, Morrow led the Bears in tackles with 116 and was second with 11 tackles for loss. It was the first time in over six seasons that he started in every game. He's hoping to repeat that feat and more with the Eagles."

>> Field Awareness: "Morrow is one of a select group of players to progress from a DIII to the NFL and continues to use that underdog mindset in his daily approach."

>> Quotable: "In DIII, there's no scholarship," Morrow said. "You're paying to play. There's not that many people watching you play. There's not that many incentives. So you just play for the straight love of the game. You're working because you want to play next to your brothers and because you want to compete."

>> Keep Reading
A MESSAGE FROM D3PLAYBOOK

Help us help you. We are glad that you are enjoying D3Playbook. Now won't you help us continue our work? Your gift helps us offset the costs of operating the newsletter and enable us to continue to provide the quality you have come to expect. Please contribute today.
GOLF
4. On The Tee


The spring golf season is underway and the traditional powers find themselves ensconced in their usual location - the top 10 of the GCAA, WGCA and Golfstat rankings.

Men - GCAA
Christopher Newport (8)
Methodist (2)
Emory (1)
Piedmont
Carnegie Mellon
Wittenberg (1)
Illinois Wesleyan
Washington and Lee
Claremont-M-S (1)
Oglethorpe
Men - Golfstat
Emory
Christopher Newport
Methodist
Wittenberg
Guilford
Carnegie Mellon
Claremont-M-S
Piedmont
Oglethorpe
LeTourneau

>> Notable: Emory posted a 15-stroke victory over eight of the top-10 teams in the GCAA poll in last weekend's Jekyll Island Collegiate, including CNU and Methodist. Look for the Eagles to move into the top spot in the next coaches' poll.

>> Complete GCAA Poll (as of March 3)
>> Complete Golfstat Rankings (as of March 21)


Women - WGCA
Emory (12)
Redlands
George Fox
Washington U.
Carnegie Mellon
Washington and Lee
Texas-Dallas
Claremont-M-S
Methodist
Pomona-Pitzer
Women - Golfstat
Emory
Redlands
Washington U.
George Fox
Carnegie Mellon
Pomona-Pitzer
Texas-Dallas
Washington and Lee
Claremont-M-S
Saint Catherine

>> Complete WGCA Poll (as of March 17)
>> Complete Golfstat Rankings (as of March 21)
STREAMING
5.
Thursday's Watchlist

What we're watching today online.


WLX: #1 Middlebury (6-0) vs. #3 TCNJ (7-0), 4:00

MLX: Centre (5-1) vs. Pfeiffer (8-0), 4:00
NEWS
6. Lightning Round
News
Wrestling (W)
North Central's Yelena Makoyed is one of five finalists for the first USA Wrestling Women's College Wrestler of the Year. The award will be selected by a vote from three major constituent groups: wrestling journalists, women's college head coaches and the fans. Each of these groups will account for one-third of the vote.
Baseball
Basketball
Happy Birthday
Cake and candles for Brent Ridenour, head soccer coach, Franciscan; and Erin Monahan, head basketball coach, William Paterson
Do you know someone celebrating a birthday soon? Drop us a line at D3Playbook@gmail.com.
TRANSACTIONS

7. Comings and Goings
Copyright © 2022, D3Playbook.com All rights reserved.