written by STEVE ULRICH
your must-read briefing on what's driving the day in NCAA Division III
>> Hello, Wednesday! And welcome to February. One down, 11 to go.

>> Thanks for reading D3Playbook. Please refer a friend or two. Tell them what they are missing.

TOP STORY
1. "Joy In The Journey"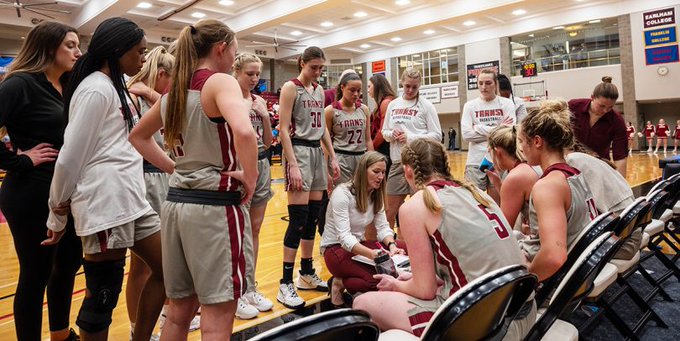 by Caroline Maskaukas, Lexington Herald Leader

Transylvania women's basketball coach Dr. Juli Fulks has an office filled with memorabilia, her players' dreams and — if you're lucky — a small dog named Chugs.

Now in her ninth season with the Pioneers after 10 seasons with Lewis & Clark College, Fulks has built an NCAA Division III powerhouse in Lexington on the unconventional athletic foundations of science and grace.

During her tenure at Transylvania, she has amassed an overall record of 197-38 (125-18 in the Heartland Collegiate Athletic Conference). Transylvania also owns the longest current home conference winning streak — 41 games and counting — of any team, in any sport, at any level, regardless of gender in the NCAA."

>> Background: "Fulks, who holds an undergraduate degree in biology and a minor in psychology from Capital University, a Master of Arts in education from Defiance College and, as of May 2022, a doctorate in leadership studies from the University of the Cumberlands, worked at the Columbus (Ohio) Health Department in vector control before transitioning to life as a coach. Her path began with a passion for problem solving."

>> Between The Lines: "The Pioneers operate using an algorithm created by Tim Whitesel, the team's director of statistical analytics. Whitesel, who's worked with Fulks since her days at Lewis & Clark in Oregon, has not only a B.S. in Biology and a B.A. in Philosophy from State University of New York at Fredonia, but also holds an M.S. in Zoology and a Ph.D. in Biological Sciences from the University of Rhode Island. And while many coaches will tell you that basketball cannot be summed up in a box score and statistical analysis, Fulks and Whitesel have built a pretty convincing argument to the contrary."

>> Quotable: "If, at best, teams shoot 40% on a good night," Fulks explained. "That still means 60% of every possession, both offense and defense, is a rebound. We are trying to skew everything we do to the most predictable things that happen. We start with rebounding because of that ... The highest point per possession is a free throw. We would much rather you make a layup, or these other things, and we never send you to the free-throw line."

>> What They're Saying: "Coach Fulks not only can coach the game of basketball as seen by her team's record each year," Transylvania Athletics Director Holly Sheilley said, "but she cares deeply about making sure the student-athletes learn life lessons during their four years with her. She has embodied that she is more than a coach and that she is an educator of young people."

>> Read More
A MESSAGE FROM MORNING BREW

2.6 million people wake up to this newsletter every morning

There's a reason over 2.6 million people start their day with Morning Brew - the daily email that delivers the latest news from Wall Street to Silicon Valley. Business news doesn't have to be dry and dense...make your mornings more enjoyable, for free.
NCAA
2. Sul Ross State Makes It Official
"The Sul Ross State University Athletic Department officially applied on Monday, Jan. 30, to compete in the NCAA Division II athletic programs.

SRSU currently competes in the Division III American Southwest Conference and has been invited to join the Division II Lone Star Conference.

Athletic Director Amanda Workman said the student-athlete experience at SRSU led the rationale for exploring the change, a transformational journey that started under the leadership of President Emeritus Pete P. Gallego."

>> Field Awareness: "SRSU student-athletes travel as far as 14 hours one way to compete, and rarely travel less than six hours. Because of the distance, many schools, including non-conference competitors, will not come to Alpine to play games, causing coaches to scramble to fill schedules each year and creating a significant impact on academics due to missed class time."

>> The Big Picture: "SRSU will receive notification from the NCAA sometime this summer. If accepted, the university will enter into a three-year provisional period that will include one more academic year in Division III and start Division II competition in the Lone Star Conference in Fall 2024. At the end of year three, as long as all membership criteria have been met, SRSU would become full members of Division II."

>> Continue Reading
VOLLEYBALL (M)
3. Quack Attack! Stevens No. 1

photo by Kelly Shea

There is a new No. 1 team in DIII men's volleyball and it resides in Hoboken, N.J. - Stevens. After toppling previously top-ranked Carthage, Messiah leaped six spots to No. 3.
Stevens (18), 7-1
Juniata (5), 7-0
Messiah, 5-0
Springfield, 4-1
Vassar, 3-1
Carthage, 3-3
New Paltz, 5-1
St. John Fisher, 7-2
Nazareth, 10-0
UC Santa Cruz, 7-1

>> Complete Poll
A MESSAGE FROM THE GIST

Women-led and written by women
Covers the biggest headlines in men's & women's sports
Provides a refreshing female voice and perspective on sports
And it's free
LISTS
4. Most-Played Women's Basketball Series

Here is our compilation of the most-played series in Division III women's basketball.

Now, here is our disclaimer about the lack of good all-time series statistics on many websites. If you have additions or corrections, feel free to send them our way at D3Playbook@gmail.com


STREAMING
5. Wednesday Watchlist

What we are watching online tonight. Game times are Eastern Time.


WBB: Webster (17-2) at Greenville (14-5), 6:30

MVB: #15 Rutgers-Newark (4-1) at #3 Messiah (5-0), 7:00

MBB: #4 Christopher Newport (18-3) at Mary Washington (15-5), 7:00

MVB: #7 New Paltz (5-1) at #4 Springfield (4-1), 8:00

WBB: Saint Benedict (14-5) at #22 Gustavus Adolphus (17-2), 8:00

WBB: Claremont-M-S (13-5) at La Verne (18-1), 10:00
NEWS
6. Lightning Round
News
Happy Birthday
Cake and candles for Craig Rundle, retired football coach, Albion; and Morgan McCrea, assistant basketball coach, Vassar.
Do you know someone celebrating a birthday soon? Drop us a line at
D3Playbook@gmail.com
.
TRANSACTIONS

7. Comings and Goings

Copyright © 2022, D3Playbook.com All rights reserved.