written by STEVE ULRICH
your must-read briefing on what's driving the day in NCAA Division III

>> It's Friday. It will warm up to 65 with sunny skies in San Antonio. Temps will drop into the 40s for conference dinners.

>> Thanks for reading D3Playbook. Consider sharing us with other department members or even those in the main administration building.

TOP STORY
1. Time To Vote at the NCAA Convention


Here is a look at Proposals 9-15 for the DIII Business Session at the 2023 NCAA Convention in San Antonio.

2023-9: To require an institution to have a bona fide invitation from an active Division III conference before applying for Division III membership and maintain a conference affiliation during the Division III membership process.

2023-10: The intent of this proposal is to be more permissible and flexible to enhance the overall student experience by allowing for a total of 114/144 days of athletically related contact with their coaching staff. These would be days that do not have to be consecutive in nature but must include at least one day off from activity/contact each week.

2023-11: To restructure the playing and practice seasons for all sports (except football) as follows: (1) eliminate using "weeks" as a measure for defining the seasons; (2) establish the fall and spring traditional segments by a start and end date; (3) increase the nontraditional segment interaction for fall and spring sports from 16 to 24 days; (4) measure the winter sports season by 114 days, with flexibility to use eight of those days before or after the season; and (5) measure period sports (golf, rowing and tennis) seasons by 114 days.

2023-12: To amend the preseason legislation for all fall sports, except football and men's water polo, as follows (1) to calculate the first permissible start date by counting back 18 days; (2) to require an acclimatization period during the first seven days during preseason practice; (3) to require one day off per defined week of the preseason, including the acclimatization period; and (4) to require all student-athletes, including those who arrive to preseason practice after the first day of practice to undergo the seven-day acclimatization period.

2023-13: To add stunt as an emerging sport for women and establish legislation related to playing and practice seasons and membership.

2023-14: To change the date when institutions may have public communications via social media with prospective student-athletes that have deposited, from May 1st to January 1st of their senior year in high school; and to clarify that the content of the public communication with the prospective student-athlete is not subject to the publicity limitations in Bylaw 13 (e.g., the public communications may include discussions about campus visits, commitment to attend the institution or acceptance to an institution).

2023-15: To eliminate the requirement for active member institutions and active multi-sport conferences to submit a comprehensive self-study guide at least once every five years.

>> Question and Answer Guide to Proposals

Friday's Schedule (all times CT)
Saturday's Schedule
A MESSAGE FROM BRIGHT CELLARS

Discover Wines You Love

Bright Cellars is the monthly wine club that matches you with wine that you'll love, based on an algorithm that selects wines based on your taste preferences. Created to not only deliver excellent wine, but to also give the added bonus of learning about your wines and own tastes.


NCAA
2. MIT's Groff Named Woman Of The Year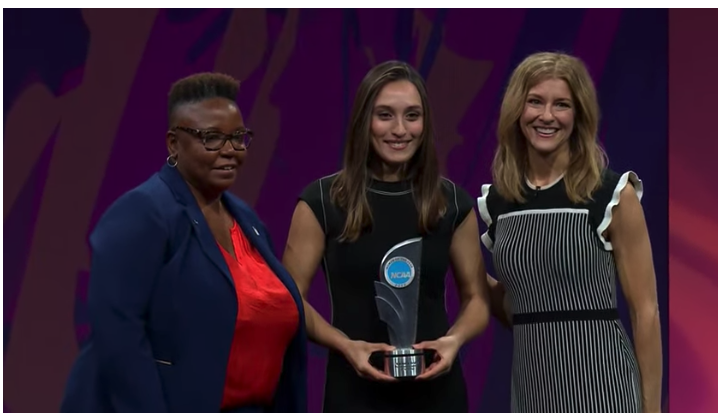 by Corbin McGuire, NCAA

"Karenna Groff, an All-America soccer player at MIT who majored in biological engineering, is the 2022 NCAA Woman of the Year. Groff was announced as the winner Thursday at the NCAA Convention in San Antonio during a celebration of the Top 30 honorees.

The Woman of the Year Award, created in 1991, recognizes graduating female student-athletes who have distinguished themselves in athletics, academics, leadership and community service. Groff is the second winner from MIT, joining 2016 Woman of the Year Margaret Guo.

A two-year captain, Groff was part of three New England Women's and Men's Athletic Conference championship teams and four NCAA tournaments, including a run to the quarterfinals in 2021. Her athletic honors include being named a first-team all-conference selection three times, a second-team All-American by the United Soccer Coaches in 2021 and a third-team All-American in 2022. In 2022, Groff was named the Division III Commissioners Association Region II Women's Student-Athlete of the Year and received the inaugural NEWMAC Student-Athlete of the Year Award, which recognizes academic achievement, athletics excellence, service and leadership."

>> Quotable: "Being a student-athlete has allowed me to learn so much about leadership that I never would have gotten the chance to learn otherwise. I think you learn so much about yourself and your leadership style and also other people's leadership styles and what works for you," Groff said. "Having that knowledge, that practice and experience allows you to feel confident to serve as a leader in the classroom, in other activities and walks of life. I honestly don't know what kind of person I would be if I wasn't exposed to that and didn't have that opportunity through soccer."

>> Worth Noting: "An aspiring physician, Groff is especially passionate about increasing access to high quality maternal health care. While at MIT, she helped implement software to reduce maternal mortality in Tamil Nadu, India, which saw a 50.1% decrease in maternal mortality during a two-year pilot study. She is also currently designing a low-cost, take-home anemia diagnostic and was awarded both a Sandbox Innovation Fund Grant and a Peter J. Eloranta Research Fellowship."

>> The Big Picture: "Groff, who was honored as a Tau Beta Pi engineering honor society inductee in 2022, published seven abstracts and four peer-reviewed papers on topics including epilepsy research and global health equity while at MIT. She's currently completing her Master of Engineering in biomedical engineering at MIT."

>> Continue Reading
A MESSAGE FROM THE GIST
Women-led and written by women
Covers the biggest headlines in men's & women's sports

Provides a refreshing female voice and perspective on sports
And it's free
STREAMING
3. Weekend Watchlist

A holiday weekend filled with great Division III action awaits. Here's what we are keeping an eye on.


Men
Women
Ice Hockey (M)
Ice Hockey (W)
Wrestling (M)
NEWS
4. Lightning Round
News
Bill McHenry, who worked at numerous Division III institutions including stints as AD at Washington and Lee and Wooster, passed away on January 4 at the age of 90. A graduate of W&L, he coached at Widener, Williams, and Lebanon Valley.

Three committee chairs in the New York State Senate are questioning Yeshiva University for accepting state funds as a secular institution, The New York Times reported. Yeshiva is currently fighting in court to refuse to recognize an LGBTQ organization. The university maintains that, as a religious institution, that is its right. But a letter from legislators notes that at least twice, Yeshiva has said it is a secular institution. By saying so, Yeshiva qualified for $230 million in state funds to build and renovate its facilities.
Happy Birthday
Cake and candles for Max Berkowitz, SID, FDU-Florham; Philip Wingert, former associate AD, Wilkes; Charlie Anastasi, director of partnerships, Rize Education (Sat.); Larry Happel, director of athletic communications, Central (Sat.); and Nichole Singleton, assistant commissioner, Coast-to-Coast Conference (Sun.)

Do you know of someone celebrating a birthday soon? Drop us a line at D3Playbook@gmail.com.
TRANSACTIONS
5. Comings and Goings
Copyright © 2022, D3Playbook.com All rights reserved.