written by STEVE ULRICH
your must-read briefing on what's driving the day in NCAA Division III

>> It's Friday. A somber anniversary.

>> Thanks for reading D3Playbook. Consider sharing us with other department members or even those in the main administration building.

TOP STORY
1. NCAA Convention Preview

by Justin Whitaker, NCAA

"Division III members will vote on 12 proposals and one resolution during the Division III Business Session on Jan. 14 at the 2023 NCAA Convention in San Antonio. All proposals have an Aug. 1, 2023, effective date unless otherwise noted.

The Presidents Council proposed special rules of order applicable only for the 2023 Division III Business Session at the NCAA Convention. The process, if approved by delegates during a Special Rules of Order Business Session on Friday morning, will result in establishing the voting order of similar proposals (i.e., playing and practice seasons and council composition) without discussion limitations imposed by the current rules of order.

The intent of the alternative voting method is to minimize procedural issues during Saturday's session, allow open discussion of generally similar proposals and ensure the opportunity for delegates to vote on their preferred proposal voting order.

There are both governance-sponsored and membership-sponsored legislative proposals regarding composition changes to the Management and Presidents Councils.

Opposing proposals from governance and membership regarding the division's playing and practice seasons also are up for discussion at the Division III Business Session."

>> Proposals / Resolution
>> Continue Reading
A MESSAGE FROM BRIGHT CELLARS

Discover Wines You Love

Bright Cellars is the monthly wine club that matches you with wine that you'll love, based on an algorithm that selects wines based on your taste preferences. Created to not only deliver excellent wine, but to also give the added bonus of learning about your wines and own tastes.


WRESTLING
2. National Duals Preview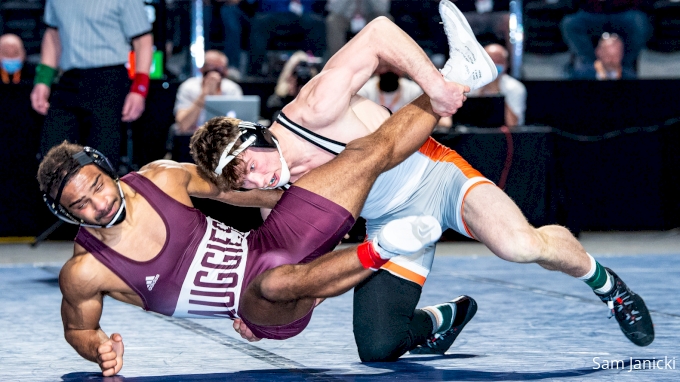 The 2023 National Wrestling Coaches Association National Dual Meet Championship begins today at the Kentucky Expo Center in Louisville, Ky.

Men - First Round
#24 Millikin vs. #22 New York U. | winner vs. #1 Wartburg
#10 Baldwin Wallace vs. Dubuque | winner vs. #9 UW-Whitewater
#15 Coe vs. RIT | winner vs. #5 North Central (Ill.)
#16 TCNJ vs. Mount Union | winner vs. #4 Johnson and Wales
#17 Castleton vs. Olivet | winner vs. #3 UW-La Crosse
#14 UW-Platteville vs. Wilkes | winner vs. #7 Wabash
#12 Loras vs. Cortland | winner vs. #8 UW-Eau Claire
Averett vs. #19 Luther | winner vs. #2 Augsburg

Women - First Round
UW-Stevens Point vs. #9 Gannon | winner vs. #1 King
#5 Augsburg vs. Limestone | winner vs. Lock Have/#4 McKendree
Presbyterian vs. #7 Adrian | winner vs. #3 Colorado Mesa/Lindenwood
Tiffin vs. #2 North Central (Ill.) | winner vs. #8 Sacred Heart/Emmanuel

(#) NWCA Dual Meet rankings

>> Read More

A MESSAGE FROM THE GIST
Women-led and written by women
Covers the biggest headlines in men's & women's sports

Provides a refreshing female voice and perspective on sports
And it's free
LACROSSE (M)
3. RIT Ready To Repeat


RIT, the defending national champion, is No. 1 in the Nike/USA Lacrosse Division III Men's Preseason Top 20, USA Lacrosse Magazine announced Thursday.
RIT
Christopher Newport
Bowdoin
Union
Tufts
Salisbury
York
Lynchburg
Wesleyan
Gettysburg
>> Conference Call: NESCAC (4), ODAC (4), CC (3), C2C (2), Liberty (2), MAC (2), AEC (1), E8 (1), NCAC (1)

>> Complete Ranking
LACROSSE (W)
4. 'Scary Good' Middlebury Tops Preseason Poll

by Laurel Pfahler, USA Lacrosse Magazine

"Middlebury is No. 1 in the Nike/USA Lacrosse Division III Women's Preseason Top 20, USA Lacrosse Magazine announced Thursday.

Middlebury had to wait two years to re-stake its claim as the top team in Division III college women's lacrosse, but the Panthers successfully defended their title from 2019 in their return to competition last season following COVID-19 cancelations.

They did that with a lot of players who had never played college lacrosse, and now, after minimal graduation impacts on the roster, the Panthers are expected to be what one coach described as "scary good."
Middlebury
Tufts
TCNJ
Salisbury
Gettysburg
Franklin & Marshall
Colby
William Smith
Washington and Lee
Wesleyan

>> Conference Call: NESCAC (6), Liberty (3), CC (2), SUNYAC (2), C2C (1), CCIW (1), Landmark (1), MAC (1), NCAC (1), NJAC (1), ODAC (1)

>> Complete Ranking
STREAMING
5. Weekend Watchlist
Men
Women
Ice Hockey (M)
Ice Hockey (W)
NEWS
6. Lightning Round
News
The Massachusetts State Collegiate Athletic Conference (MASCAC) has added Castleton University as an affiliate member of the conference in football beginning in 2024. Castleton joins Bridgewater State, Fitchburg State, Framingham State, Massachusetts Maritime, Plymouth State University, UMass Dartmouth, Western Connecticut State, Westfield State and Worcester State as the football competing members in the MASCAC.
Happy Birthday
Cake and candles for Christian Alvarado, assistant soccer coach, UW-Platteville; Curt Lamb, head sports performance coach, Cornell College (Sat.); Jenn Zuberbier, athletic trainer, UW-Oshkosh (Sat.); Thomas Bambach, head cross country coach, UW-Platteville (Sun.); JT Klopcic, associate cross country/track and field coach, Goucher (Sun.); and Tammy Fisher, director of marching band, UW-La Crosse

Do you know of someone celebrating a birthday soon? Drop us a line at D3Playbook@gmail.com.
TRANSACTIONS
7. Comings and Goings
Copyright © 2022, D3Playbook.com All rights reserved.