written by STEVE ULRICH
your must-read briefing on what's driving the day in NCAA Division III


>> Good Thursday Morning DIII. A day late, but I'll still recognize the 35th anniversary of the greatest dunk of all time. Send it in, Jerome!

>> Thanks for reading D3Playbook. Is your staff reading D3Playbook? Make like Ted Lasso and make the extra pass.

TOP STORY
1. How George Santos Made Baruch Volleyball Famous

by Billy Witz and Corey Kilgannon, New York Times | photo by Denis Gostev

"Display cases in the foyer of the Baruch College athletic department are cluttered with shimmering trophies. Framed photographs of championship teams line the cinder-block walls of the hallways. N.C.A.A. tournament banners hang from the gymnasium rafters.

Nowhere, though, is there any sign of the man who put the Baruch men's volleyball team on the map — and on social media, network news and "Saturday Night Live."

It is as if the collegiate athletic career of Representative George Santos — the self-described Baruch Bearcats volleyball star, whose teams vanquished Harvard and Yale and who gave so much to the game that he needed knee replacements when his playing days were over — did not exist."

>> Court Awareness: "It's one thing to apparently lie about having two college degrees, working at Goldman Sachs and Citigroup, losing four employees in the Pulse nightclub shooting, his grandparents surviving the Holocaust and his mother escaping the South Tower on 9/11. But being a volleyball star at a commuter school in the heart of Manhattan?"

>> The Big Picture: "The (late night comedic) jokes, though, obscure an honest endeavor — that of the Division III athlete, who plays without athletic scholarships, packed arenas or much expectation of going pro. Tuesday night's match was played before a few dozen spectators. Admission is free — as are the broadcasts on the internet. Baruch's players represent the quaint ideal of the student-athlete."

>> Why It Matters: "We like to utilize sport here as their outlet," said Heather MacCulloch, the athletic director. "Two hours in the pool where I'm not figuring out calculus calculations, I don't have to have my McDonald's uniform on and my mom isn't yelling at me for not taking out the trash. Those are hours of solace and rejuvenation."

>> What They're Saying: "Finding success at this level takes a certain mind-set, a certain resilience that you have to have when you're going into matches," said Ryan Oommen, the setter and co-captain. "We have a whole season ahead of us. Building that type of fighting back mind-set, it's great for success in life."

>> Continue Reading
A MESSAGE FROM HUDL/BLUEFRAME TECHNOLOGY
Ready to stream like a pro this season? With Hudl (formerly BlueFrame), powerful broadcasting tools meet the advanced capture capabilities of Hudl Focus, bringing your program unmatched opportunities to generate revenue and connect with your fans. Plus, you get the flexibility to select the streaming option that makes the most sense for your school. [
Learn More
]
WRESTLING
2. The Battle Of The Burgs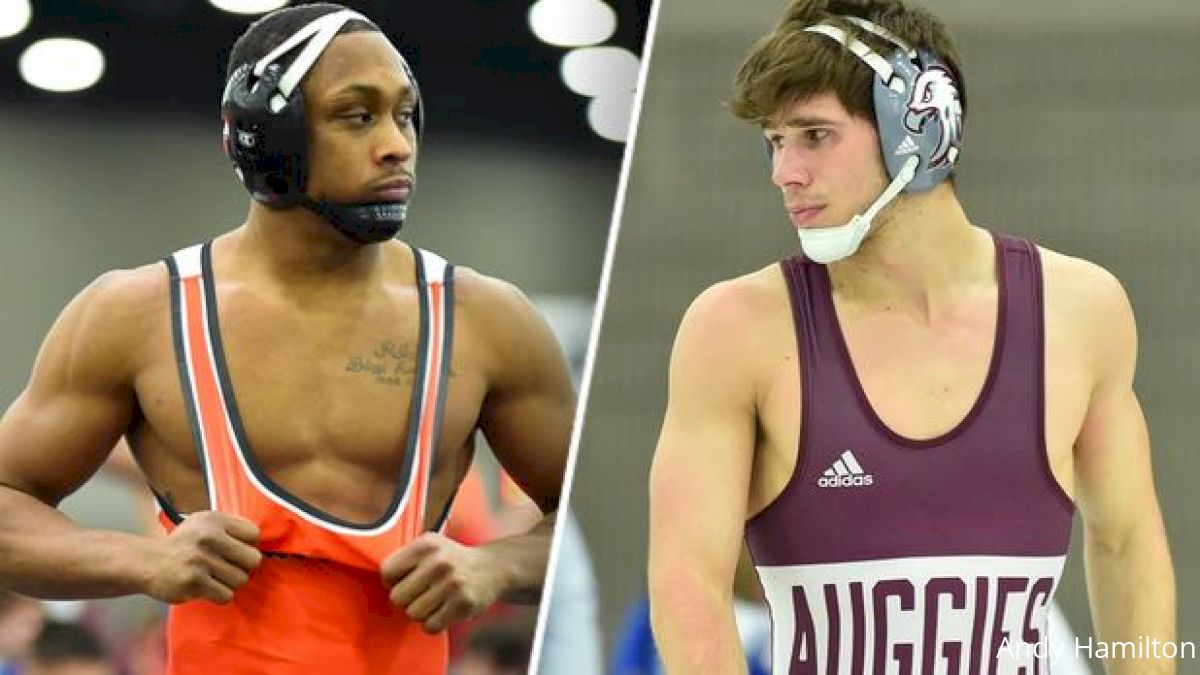 photo by Andy Hamilton

"The No. 3 Wartburg men's wrestling team (11-1 overall) will host No. 1 Augsburg (7-0) Thursday at 7 p.m. in the annual Battle of the Burgs. The Auggies received the top spot in the latest NWCA Dual rankings (Jan. 19), and the Knights are ranked No. 3.

The winner of the dual will own the Swens-Milboy trophy belt for the next year.

This title belt is named for the two coaches who built the Lutheran colleges to national prominence in small-college wrestling -- Augsburg's Jeff Swenson (1980-84, 1986-2007) and Wartburg's Jim Miller (1991-2013). Both coaches led their teams to 10 NCAA Division III national titles during their careers."

>> Why It Matters: "The rivalry between the two Lutheran schools is one of the most significant in all of NCAA Division III sports, as the DIII wrestling national championship has been won by either Augsburg or Wartburg every year since 1995."

>> DYK: "The rivalry is so fierce that it was featured on the front page of "The New York Times" sports page on March 5, 2012, in a story called Locked in a Struggle for Supremacy. It actually received top billing over Tiger Woods and the NBA."

>> Read More
LACROSSE (W)
3. Earley Named Preseason Player of Year

photo by Keith Lucas

Middlebury attacker Jane Earley was named USA Lacrosse Magazine's Division III Women's Preseason Player of the Year, the publication announced Wednesday in advance of the 2023 season.

Earley registered a school-record 80 goals and 99 points last season, helping Middlebury to a 22-1 finish and another national championship.

Gettysburg midfielder Caroline Sullivan, Franklin & Marshall defense Mary Pat McKenna, and Middlebury goalkeeper Annie Enrietto were also recognized as preseason position players of the year.

Preseason All-America First Team
A-Jordan Basso, Gettysburg
A-Jane Earley, Middlebury
A-Erin Scannell, Salisbury
A-Allie Schwab, Washington and Lee
M-Kate Balicki, Wesleyan
M-Maddie Montgomery, William Smith
M-Caroline Sullivan, Gettysburg
M-Kylee Garcia, FDU-Florham
D-Emmy Bryden, York
D-Erica Barr, Middlebury
D-Mary Pat McKenna, Franklin & Marshall
D-Eugenie Rovegno, Washington and Lee
G-Annie Enrietto, Middlebury

>> Complete Team
>> Read More
A MESSAGE FROM MORNING BREW

2.6 million people wake up to this newsletter every morning

There's a reason over 2.6 million people start their day with Morning Brew - the daily email that delivers the latest news from Wall Street to Silicon Valley. Business news doesn't have to be dry and dense...make your mornings more enjoyable, for free.

LACROSSE (M)
4. Auslander Earns Player of Year Nod

photo by Will Nelson

Christopher Newport midfielder Coby Auslander was named USA Lacrosse Magazine's Division III Men's Preseason Player of the Year, the publication announced Wednesday in advance of the 2023 season.

Last year, Auslander registered 76 points. In the process, he set a new school record for assists (46). Not a record for midfielders, mind you. He set the assist record for all positions.

Tufts attackman Jack Boyden, RIT defenseman Mike Grace, and Hamilton goalkeeper Seamus Fagan were also recognized as preseason position players of the year.

Preseason All-America First Team
A-Jack Boyden, Tufts
A-Luke Pilcher, RIT
A-Cross Ferrara, Salisbury
M-Coby Auslander, Christopher Newport
M-Jack Dowd, Salisbury
M-Riley Mitchell, Lynchburg
SSDM-Jake Titus, Union
FO-Ethan Barnard, Bowdoin
LSM-John DeFazio, Salisbury
D-Mike Grace, RIT
D-Kyle Adelmann, Tufts
D-Ryan Young, Christopher Newport
G-Seamus Fagan, Hamilton

>> Complete Team
>> Read More
NEWS
5. Lightning Round
News
Former Illinois Tech athletic director Joe Hakes passed away Monday. He was 69. Our condolences to his family, friends and the entire IIT community. May his memory be a blessing.

Oswego State received the DIII NCAA Team Works Community Service Competition award, which recognizes student-athletes' service to their respective communities through divisional competitions.

Hamline University's full-time faculty asked President Fayneese Miller, former chair of the DIII Presidents Council, to resign over her administration's handling of a Muslim student's complaint about an adjunct professor who showed ancient art in class that depicted the Prophet Muhammad.
Happy Birthday
Cake and candles for John Gatto, SID, Scranton, and Anthony Azama, associate vice chancellor, Washington U.
Do you know someone celebrating a birthday soon? Drop us a line at D3Playbook@gmail.com.
TRANSACTIONS

6. Comings and Goings
Copyright © 2022, D3Playbook.com All rights reserved.