written by STEVE ULRICH
your must-read briefing on what's driving the day in NCAA Division III
>> Good Wednesday Morning. It will be partly sunny in San Antonio with a high of 83. Enjoy the day.

>> Thanks for reading D3Playbook. Please refer a friend or two. Tell them what they are missing.

TOP STORY
1. Convention Preview
The 2023 NCAA Convention kicks into high gear today in San Antonio. We asked some Division III commissioners for their thoughts about the week ahead.

"I think the most watched proposal this week will be the vote on the Playing & Practice Seasons (days vs. weeks). That's the vote that most have an interest in around the Division as it could be a drastic change to our day-to-day operations." - Keri Luchowski, North Coast Athletic Conference

"I believe the two playing and practice seasons proposals are essential following the membership's request to see something different in that space. The modified voting procedure provides the possibility that both proposals are evaluated against the status quo. The additional acclimatization legislation, along with the adjusted playing and practice seasons models, adds a twist to the discussion which should be a fascinating debate on the floor." - Brad Bankston, Old Dominion Athletic Conference

"I do think a lot of coaches enjoyed the simplicity of the 114/144 days model we (the Division) implemented during Covid, which the membership proposal on this year's docket is largely based. However, some are concerned that the natural guard rails that Covid provided during that time are no longer in play. Taken to the limit, student-athletes may be looking at time commitments beyond what they are accustomed or desire - which is why I think you saw national SAAC come out in opposition to that model." - Dwayne Hanberry, Southern Collegiate Athletic Conference

" I am looking forward to seeing how the preseason acclimatization proposal plays out, as several different concerns weigh in on the conversation. There are student-athlete safety concerns, financial issues, and consistency across sport that all play significant roles in the discussion. In addition, does the membership feel best positioned to consider the proposal now, or is there a preference for future study and consideration? " - Gregg Kaye, Commonwealth Coast Conference

Today's Schedule (all times CT)
SAAC meeting, 7:30 a.m.
DIII Management Council meeting, 8 a.m.
Educational Sessions, 1 p.m.
ECFC Directors meeting, 3 p.m.
Honors Celebration, 5:30 p.m.
A MESSAGE FROM MORNING BREW

2.6 million people wake up to this newsletter every morning

There's a reason over 2.6 million people start their day with Morning Brew - the daily email that delivers the latest news from Wall Street to Silicon Valley. Business news doesn't have to be dry and dense...make your mornings more enjoyable, for free.
FOOTBALL
2. Sewanee's Shelby Denning A Role Model For Women In Football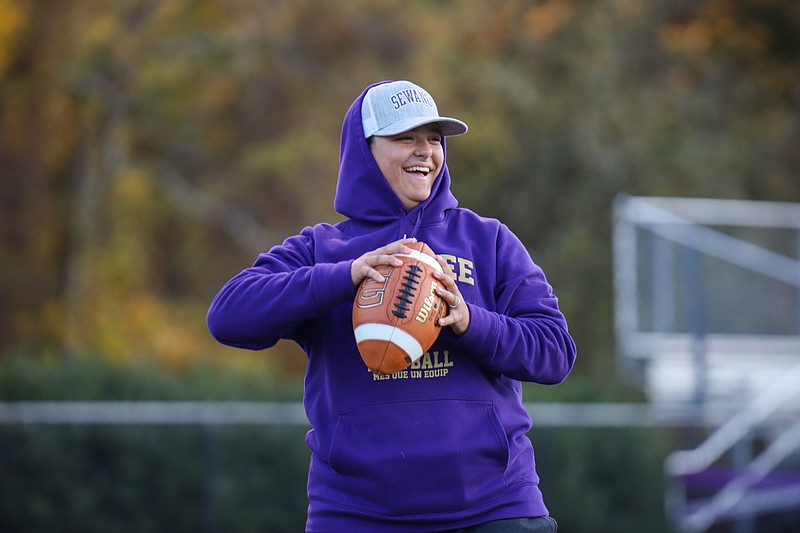 by Stephen Hargis, Chattanooga Times Free Press | photo by Olivia Ross

"From her perspective, Shelby Denning never thought of herself as - or even wanted to be - a pioneer. She was simply following a dream.

But for the past six months, Denning became just that, joining a minuscule fraternity of females who are trailblazing into the male-dominated profession of college football coach. The native Texan just completed her first season as receivers coach at the University of the South, more commonly known as Sewanee, making her one of only a handful of women working as on-field assistants with a position group.

"When I was hired and first got here, I could tell the players weren't so sure about me in the beginning," Denning said. "But being close to their age helped with communication, and I just tried to work to earn their respect."

>> Reality Check: "As a student at Southwestern Assemblies of God University, near her hometown, Denning worked as the football team's media coordinator and helped in recruiting. She also worked with a nearby junior high school's offensive coordinator. After graduating from SAGU, she applied to approximately 50 colleges across the nation that had advertised a variety of on-field job openings. "I never even heard back from most of the schools, but the ones I did, I could tell they weren't interested in hiring me," Denning said."

>> What They're Saying: "When we started talking to candidates for the position, Shelby just killed it in her interview," Sewanee head coach Travis Rundle said. "After her Zoom meeting with the rest of the staff, we discussed who we should hire and it was unanimous that she was the best choice. Later on, when I told my family that we were hiring a female as an assistant, I saw my daughter's face light up, and that let me know what kind of impact this could have. Shelby is so eager and hungry to learn, and she works hard at it every day. That's exactly what you want from any young assistant coach."

>> Of Note: "Looking back on it, I'm just very grateful for the opportunity because I realize that I'm getting to do something that seemed impossible just a few months ago," said Denning. "How cool is it to be on the field coaching? That's just where I've always wanted to be. I guess some of us are starting to break down those barriers."

>> Continue Reading
CONFERENCES
3. Kaye To Step Down As CCC Commisioner

Longtime Commonwealth Coast Conference (CCC) Commissioner, Gregg M. Kaye, has informed the CCC that he will step down as Commissioner at the end of the 2022–23 academic year. Kaye served as the first and only full-time CCC Commissioner since the role was established in 2007.

"I am extremely proud of the support and collaboration that I have enjoyed with numerous presidents, athletics directors, coaches, officials, and countless other institutional staff members during my 16 years as CCC Commissioner," said Kaye. "We had a united goal of advancing the CCC and providing the best possible athletic experience for the student-athletes we have served. I am excited to begin working towards achieving many personal goals inside and outside college athletics."

>> What They're Saying: "Under Kaye's leadership, the CCC has grown significantly by adding full members and associate members, expanding sponsorship and championship opportunities, and increasing its competitive profile both nationally and regionally," said Dr. Steven R. DiSalvo, Chair of the CCC and President of Endicott College.

>> Read More
VOLLEYBALL (M)
4. Carthage Picked As Preseason No. 1


Defending national champion Carthage is the near-unanimous preseason favorite to repeat as the NVA/AVCA preseason coaches poll was released on Monday.
Carthage (20)
Springfield (1)
Wentworth
Stevens
Vassar (2)
North Central, Ill.
New Paltz
Juniata
St. John Fisher
Rutgers-Newark
>> Complete Poll
A MESSAGE FROM THE GIST

Women-led and written by women
Covers the biggest headlines in men's & women's sports
Provides a refreshing female voice and perspective on sports
And it's free
STREAMING
5. Wednesday Watchlist

What we are watching online tonight. Game times are Eastern Time.


WBB: #18 Springfield (10-4) at #14 Babson (11-1), 5p

WBB: #4 Christopher Newport (14-0) at Mary Washington (14-2), 6p

WBB: #7 Baldwin Wallace (13-0) at #20 Ohio Northern (12-1), 7p

MBB: Kean (13-1) at Stockton (11-2), 730p

MBB: #5 Christopher Newport (15-2) at #2 Randolph-Macon (13-1), 8p

MBB: Carthage (11-2) at North Park (11-3), 8p
NEWS
6. Lightning Round
News
Manhattanville College in Purchase, N.Y., laid off eight tenured and tenure-track faculty members and froze various programs last month, citing realignment of academics with changing student demands. "Manhattanville is continuously monitoring, evaluating, and seeking to understand and adjust the academic curriculum and overall campus life to the needs of today's students," Louise Feroe, interim president, said in a related announcement. "This will result in both academic and administrative staff changes.
Swimming and Diving
The New Jersey Athletic Conference welcomed Salisbury, Mary Washington and Roger Williams as affiliate members beginning in 2023-24.
Football
George Fox All-America WR Leon Johnson will transfer to Oklahoma State for his final year of eligibility. He caught 55 passes for 1,156 yards with 14 scores last season.
Happy Birthday
Cake and candles for John Cochrane, athletic director, Wartburg, and Sinead McSharry, women's soccer coach, St. Lawrence.
Do you know someone celebrating a birthday soon? Drop us a line at
D3Playbook@gmail.com
.
TRANSACTIONS

7. Comings and Goings

Copyright © 2022, D3Playbook.com All rights reserved.