written by STEVE ULRICH
your must-read briefing on what's driving the day in NCAA Division III
>> Good Tuesday Morning DIII friends.

>> Looking For Conference Scheduling Help. Email us and let us know if we can help.

>> Thanks for reading D3Playbook. Is your staff reading D3Playbook? Share the love and the info.

TOP STORY
1. McDonald, Sweitzer Named Soccer Players of Year


It was a clean sweep for the Middle Atlantic Conference as Messiah's Matt McDonald and Misericordia's Emma Sweitzer were honored as the United Soccer Coaches' Division III Players of the Year.

McDonald led the Falcons with 23 goals and six assists in powering Messiah to the second round of the NCAA tournament. He was named the MAC Commonwealth Player of the Year and was a first-team All-MAC selection for the second consecutive season.

Sweitzer found the back of the net 24 times and assisted on 16 other tallies as the Cougars reached the NCAA sectional final. She was also named a CSC Academic All-American.
A MESSAGE FROM HUDL/BLUEFRAME TECHNOLOGY
Ready to stream like a pro this season? With Hudl (formerly BlueFrame), powerful broadcasting tools meet the advanced capture capabilities of Hudl Focus, bringing your program unmatched opportunities to generate revenue and connect with your fans. Plus, you get the flexibility to select the streaming option that makes the most sense for your school. [Learn More]
FEATURE
2. Rising to the Challenge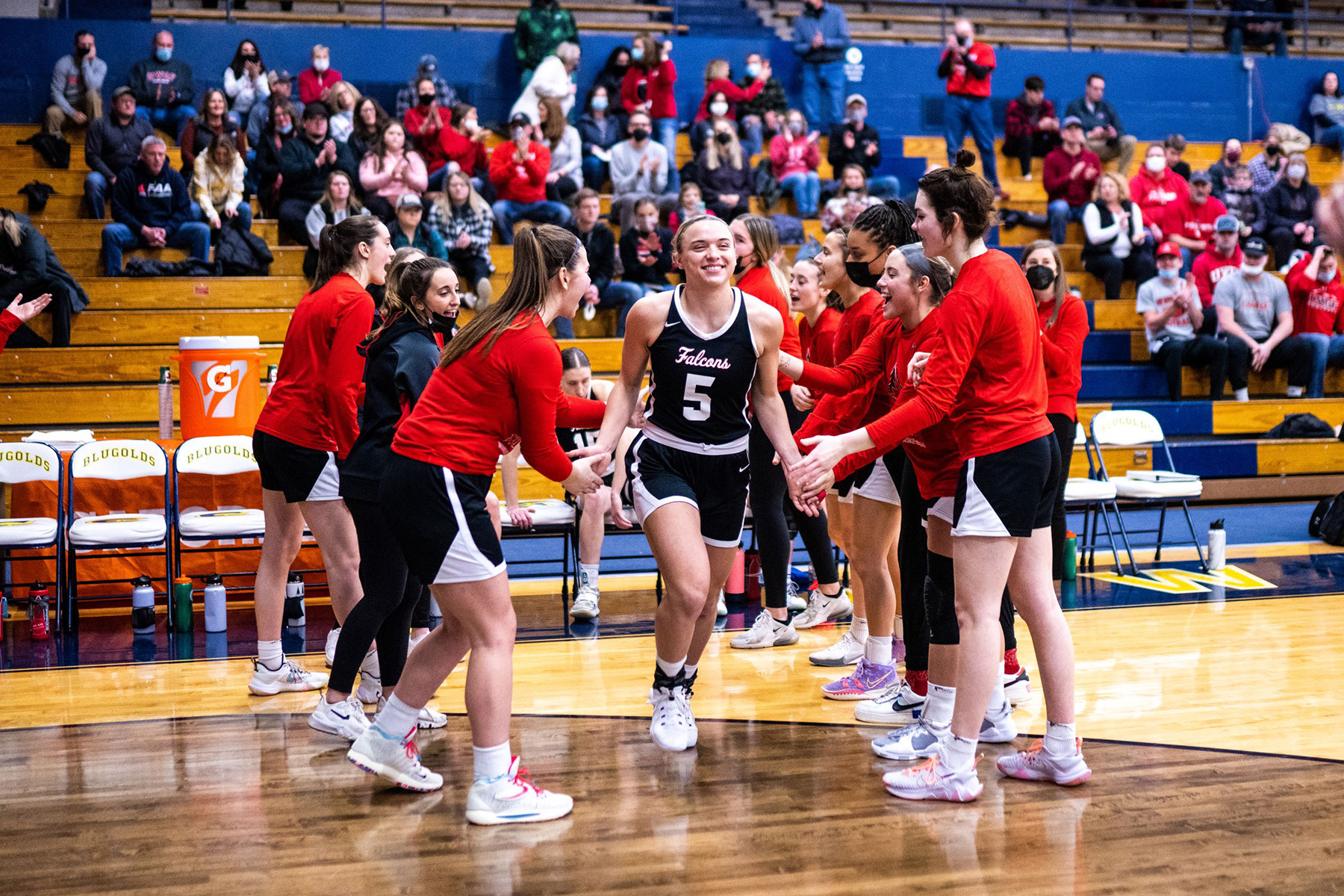 by UWRF Communications

"For most college students, studying for classes is a full-time job. That job becomes tougher for those who attempt to participate in a college sport.

Now imagine taking a full load of classes and playing two sports, all while managing a serious chronic disease. University of Wisconsin-River Falls dual sport athlete Kameri Meredith willingly tackles that challenge head-on, seemingly always with a smile on her face.

Meredith, a junior exercise and sport science major who excels in volleyball and women's basketball for the Falcons, was diagnosed with Type 1 diabetes on April 13, 2020 – about four weeks after her senior year at Colfax High School was cut short by the COVID-19 pandemic."

>> Court Awareness: "Her journey with Type 1 diabetes began in spring 2020 with a trip to the doctor after the normally energetic Meredith lost more than 20 pounds in three weeks and found herself feeling lethargic, extremely thirsty and in constant need of trips to the bathroom. Tests showed her blood sugar level was sky high, a telltale sign of Type 1 diabetes."

>> Between The Lines: "Though only 5-foot-7, Meredith uses her 28-inch vertical jump to sky for rebounds in basketball and to hit thunderous kills in volleyball. As of mid-October, she ranked second in the Wisconsin Intercollegiate Athletic Conference in points per set and led the Falcons in kills with 365 through 27 matches. She was the Falcons' second-leading rebounder in the 2021-22 season, her first in the basketball program."

>> Of Note: "During the fall crossover period when the two sports overlap, Meredith completes volleyball practice and then heads straight to the locker room, where she changes into basketball gear and returns to the court for hoops, possibly drinking a Gatorade or slamming a low-carb protein bar if her blood sugar needs a boost."

>> What They're Saying: "I think Kameri is an inspiration to many young children or athletes dealing with Type 1 diabetes," UWRF volleyball coach Dipen Patel said, recalling a message to that effect from the mother of a girl with Type 1 in response to a viral UWRF volleyball TikTok video of Meredith soaring for a kill. "She carries herself well to prepare those around her versus those in her circle not knowing."

>> Continue Reading
BASKETBALL (M)
3. Making Their Move


Williams took advantage of UW-La Crosse's loss to Trine to move into the No. 3 spot in the latest D3hoops.com men's basketball rankings.
Christopher Newport (23), 9-0
St. Joseph's, Conn. (2), 8-0
Williams, 9-0
Randolph-Macon, 7-1
Mount Union, 7-1
Keene State, 10-0
UW-La Crosse, 9-1
Rochester, 9-1
John Carroll, 7-1
Middlebury, 8-1

>> 0 In A Column: There are still 15 unbeaten teams and seven winless squads according to NCAA stats.

>> Games We're Watching: No. 1 Christopher Newport vs. Virginia Wesleyan (Thurs.); No. 9 John Carroll vs. Marietta (Sat.)

>> Complete Poll
A MESSAGE FROM MORNING BREW

2.6 million people wake up to this newsletter every morning

There's a reason over 2.6 million people start their day with Morning Brew - the daily email that delivers the latest news from Wall Street to Silicon Valley. Business news doesn't have to be dry and dense...make your mornings more enjoyable, for free.

BASKETBALL (W)
4. Little Movement In Top 10

The top eight teams in the country remained in place according to the latest D3hoops.com rankings released late Monday.
Hope (20), 9-0
New York U. (4), 8-0
Transylvania (1), 7-0
Trinity, Texas, 9-0
Christopher Newport, 9-0
Amherst, 7-0
Scranton, 8-0
Baldwin Wallace, 8-0
Babson, 7-0
Smith, 8-1

>> Clean Sheet: There are still 17 unbeaten and 18 winless teams according to NCAA stats.

>> Games We're Watching: No. 11 Springfield vs. Albertus Magnus (Wed.); No. 13 UW-Whitewater at No. 21 Chicago (Wed.); No. 1 Hope vs. No. 16 Trine (Sat.).

>> Complete Poll
ICE HOCKEY
5. Statesmen, Gusties Ranked No. 1


The Hobart men and Gustavus Adolphus women remained atop the latest USCHO.com DIII ice hockey rankings this week.

Men
Hobart (20), 11-0
Utica, 8-2-1
Adrian, 7-2-1
Augsburg, 7-3-1
St. Norbert, 8-3-1
Geneseo, 9-3-2
Endicott, 11-1
Norwich, 8-2-1
Oswego, 9-4
Aurora, 9-2-2

>> Perfect: There is only one team with an unblemished records in DIII men's ice hockey - Hobart.

>> Complete Poll

Women
Gustavus Adolphus (13), 11-1
UW-River Falls (7), 9-2
Plattsburgh, 11-2
Adrian, 10-1
Amherst, 7-1
Colby, 8-0
Norwich, 8-3
Middlebury, 5-3
UW-Eau Claire, 10-2
Elmira, 9-4
>> Spotless: There is only one women's ice hockey team in DIII with a spotless records - Colby.

>> Complete Poll
NEWS
6. Lightning Round
News
Happy Birthday
Cake and candles for Philip Locante, Buena Vista, instructor of sports business; Will Pilat, associate men's lacrosse coach, Wesleyan.

Do you know of someone celebrating an upcoming birthday? Drop us a line at D3Playbook@gmail.com
TRANSACTIONS
7. Comings and Goings
Copyright © 2022, D3Playbook.com All rights reserved.