written by STEVE ULRICH
your must-read briefing on what's driving the day in NCAA Division III

>> Happy Friday.

>> Thanks for reading D3Playbook. Consider sharing us with other department members or even those in the main administration building.

TOP STORY
1. Chicago, Williams Advance To Final

Victor Newman Photography

The national final is set for Saturday in the NCAA Division III men's soccer championship tournament as Chicago and Williams posted semifinal victories.

No. 2 Chicago d. No. 4 Stevens, 1-0
Williams d. No. 25 Mary Washington, 1-0
A MESSAGE FROM BRIGHT CELLARS

Discover Wines You Love

Bright Cellars is the monthly wine club that matches you with wine that you'll love, based on an algorithm that selects wines based on your taste preferences. Created to not only deliver excellent wine, but to also give the added bonus of learning about your wines and own tastes.


FOOTBALL
2. Elite Eight to Final Four

It is the national quarterfinal round of the Division III football championship.

No. 1 North Central, Ill. (12-0) vs. No. 10 Ithaca (12-0)
The defending national champion Cardinals lead DIII in scoring (55.1) and total offense (558.1), as well as scoring defense (4.8). The Bombers are averaging nearly 40 points per game (39.8) while surrendering 11.6.
No. 2 Mount Union (12-0) at No. 14 Delaware Valley (12-0)
The Purple Raiders lead the nation in total defense (174.7) and are fourth in total offense (527.5). The Aggies are second in total defense (180.7) and concede just 8.1 points per game.
No. 3 Mary Hardin-Baylor (11-1) vs. No. 13 Bethel (10-2)
The Cru can score, averaging 43.6 points per contest on the strength of 476 yards per game. Five of the Royals' 12 games have been decided by four points or less. Can Bethel's defense slow down UMHB?
Aurora (11-1) at No. 12 Wartburg (12-0)
The Spartans are second in the nation in scoring (48.5) and eighth in total offense (492.0). The Knights lead DIII in rushing defense (43.4) and are eighth in total defense (212.3)
A MESSAGE FROM EDGE SPRAY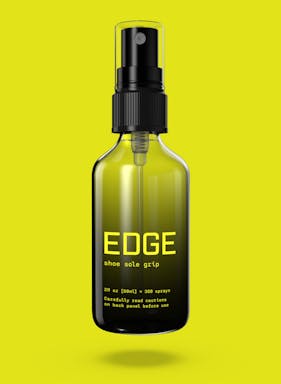 Instant Sneaker Grip in a Bottle

Don't get caught slipping or wiping your shoes with your hands - EDGE is a new shoe grip spray that has been endorsed by players, coaches, and trainers from AAU through D1 and Pro Sports. It's been blowing up in the NCAA basketball and volleyball communities, but it is also used for rock climbing, boxing, table tennis, futsal, racquetball, and more.

HONORS
3. Nantz, McGraw Honored By NCAA

CBS Sports' Jim Nantz and legandary basketball coach Muffet McGraw have been selected as the recipients of the 2023 Pat Summitt and Gerald R. Ford awards, respectively. The awards will be presented to McGraw and Nantz during the 2023 NCAA Convention in San Antonio.

The Gerald R. Ford Award honors an individual who has provided significant leadership as an advocate for intercollegiate athletics on a continuous basis over the course of a career. It was established in 2004 by then-NCAA President Myles Brand, with the recipient chosen by the NCAA president.

Since 2017, the NCAA's Pat Summitt Award annually has recognized an individual in the Association's membership who has demonstrated devotion to the development of college athletes and has made a positive impact on their lives. The winner receives a $10,000 honorarium to donate to an organization that combats or researches neurological diseases.

>> What They're Saying: "It is such a privilege to recognize Muffet and Jim for their tremendous contributions to college sports over the course of their careers," NCAA President Mark Emmert said. "When you think about the impact they have made and the lives they have touched, from the student-athletes to coaches to fans, it's hard to think of two people more deserving. Their commitment to their professions is truly unmatched."

>> What's Next: McGraw and Nantz will be presented their awards during the NCAA Saluting Excellence Luncheon at 11:30 Central time Friday, Jan. 13.

>> Continue Reading
WEEKEND
4. What We're Watching

In addition to watching the the men's and women's soccer semifinals and final, the football quarterfinals ... and the USMNT, we'll try to find time to watch these key matchups as well.

Ice Hockey (M)
No. 1 Hobart vs. No. 15 Skidmore
No. 6 Babson vs. No. 10 Norwich
Ice Hockey (W)
No. 3 Middlebury vs. No. 11 Amherst
No. 4 Plattsburgh vs. No. 15 Oswego
Basketball (M)
No. 10 Rochester vs. No. 13 Middlebury
No. 17 Calvin vs. No. 21 Wheaton (Ill.)
Basketball (W)
No. 1 Hope vs. Wittenberg
No. 10 Baldwin Wallace vs. Wilmington
Wrestling (M)
NEWS
5. Lightning Round
News
A pair of Division III athletic communications professionals - Nicole Remedios of Illinois Wesleyan and Kelsey Whaley of Luther - were named to the College Sports Communicators 30 Under 30 to recognize outstanding young professionals throughout the membership
Happy Birthday
Cake and candles for Matt Grawrock, AD, SUNY Morrisville; Greg Carroll, retired AD; Diane Gilbert, assistant AD, UW-Stevens Point; and Kelly Young, athletic communications director, Occidental.

Do you know of someone celebrating a birthday soon? Drop us a line at D3Playbook@gmail.com.
TRANSACTIONS
6. Comings and Goings
Copyright © 2022, D3Playbook.com All rights reserved.