written by STEVE ULRICH
your must-read briefing on what's driving the day in NCAA Division III

>> Happy Friday. Where did the semester go?

>> Thanks for reading D3Playbook. Consider sharing us with other department members or even those in the main administration building.

TOP STORY
1. Baker Named NCAA President

courtesy of NCAA

"The National Collegiate Athletic Association (NCAA) today announced that Charlie Baker, the Governor of the Commonwealth of Massachusetts, will serve as the next NCAA President, assuming the role effective March 2023.

A former collegiate athlete at Harvard, Governor Baker is credited with bringing bipartisan leadership to the state, successfully guiding Massachusetts through an exceptionally turbulent period for government officials. In addition to his two terms as Governor, he brings decades of experience spearheading transformations at high profile institutions in the private and public sectors.

Governor Baker succeeds Dr. Mark Emmert, a passionate leader and ambassador for college sports. Dr. Emmert will continue to serve the NCAA as a consultant through June 2023."

>> Background: "Baker is currently the 72nd Governor of the Commonwealth of Massachusetts. A Republican Governor serving a predominantly Democratic state, Governor Baker was re-elected to a second term in 2018 with 67 percent of the vote. Among his accomplishments during his two terms in office, Governor Baker has unleashed unprecedented investment into Massachusetts' K-12 education system, eliminated the state's structural budget deficit while cutting taxes, and led the nation in securing renewable energy sources to respond to climate change. As Governor, Baker oversees a 43,000-member workforce and is responsible for a $50 billion annual budget."

>> Court Awareness: "Governor Baker will be charged with building on the NCAA's ongoing transformation efforts. In early 2022, the NCAA ratified a new constitution, assigning greater powers of self-governance to each of its three divisions, its dozens of athletic conferences, and its member schools. The NCAA also appointed committees in Divisions I, II, and III to implement the new constitution at their respective levels, including a Division I Transformation Committee."

>> What They're Saying: "Governor Baker reached out to me this afternoon as the chair of the NCAA DIII Presidents Council. We had a terrific conversation about issues of interest to DIII and the NCAA as a whole. I think he was an excellent choice! I look forward to working with him." - James C. Schmidt, chancellor, UW-Eau Claire

>> Quotable: "Throughout our discussions, he not only demonstrated a command of the top issues confronting college sports but, more importantly, also displayed empathy, open-mindedness, and a desire to better understand and address student-athletes' perspectives," said Isaiah Swann, a former baseball student-athlete at the University of Texas-Dallas and a current second year MD-PhD student at the University of Virginia. "The Baker family's connection to collegiate athletics runs deep. He's one of us. He thinks like a student-athlete and will lead us forward with our perspectives in mind."

>> Continue Reading
>> Press Conference

A MESSAGE FROM BRIGHT CELLARS

Discover Wines You Love

Bright Cellars is the monthly wine club that matches you with wine that you'll love, based on an algorithm that selects wines based on your taste preferences. Created to not only deliver excellent wine, but to also give the added bonus of learning about your wines and own tastes.


FOOTBALL
2. Stagg Bowl Preview


Today is the day! It's the 48th Stagg Bowl, hosted by Stevenson University at the Navy Marine Corps Stadium in Annapolis, Md.

No. 1 North Central vs. No. 2 Mount Union, 7 p.m.
The Cardinals won the national championship in 2019 and were defeated in last year's national final by Mary Hardin-Baylor - a defeat that was avenged last week in a 49-14 triumph over the Cru.

RB Ethan Greenfield leads DIII in rushing yards (1,878) and TDs (25) to lead the nation's top scoring offense (54.1). Oh yes, NCC leads the country in scoring defense as well at 5.4 ppg.

The Purple Raiders have won 13 NCAA DIII titles with the last coming in 2017. Mount Union fell to UMHB, 24-16, in the 2018 Stagg Bowl.

Mount Union QB Braxton Plunk has thrown for a DIII-leading 4,317 yards with 48 TDs in powering the offense to 45.1 points per game. The Purple Raider defense is fourth nationally at 8.79 points allowed per contest.

>> Watch: ESPNU
>> Listen: WRMU 91.1 FM | WDPN 1310 AM | WONC 89.1 FM
>> Game Notes: North Central | Mount Union
A MESSAGE FROM EDGE SPRAY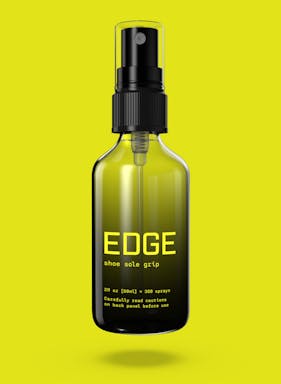 Instant Sneaker Grip in a Bottle

Don't get caught slipping or wiping your shoes with your hands - EDGE is a new shoe grip spray that has been endorsed by players, coaches, and trainers from AAU through D1 and Pro Sports. It's been blowing up in the NCAA basketball and volleyball communities, but it is also used for rock climbing, boxing, table tennis, futsal, racquetball, and more.

FOOTBALL
3. AP All-America Team


Mount Union quarterback Braxton Plunk was one of the three Purple Raiders on The Associated Press Division III All-America team released Thursday.

Plunk is also one of four finalists for the Gagliardi Trophy, which goes to the best player in Division III.

North Central running back Ethan Greenfield, another Gagliardi finalist, also was selected to the first team. He was one of five Cardinals named to the All-America first team, leading all schools.

The AP Division III All-America team is presented by Regions Bank. It was selected in conjunction with COSIDA.

First Team
QB-Braxton Plunk, Mount Union
RB-Ethan Greenfield, North Central (Ill.)
RB-Hunter Clasen, Wartburg
WR-Wayne Ruby, Mount Union
WR-DeAngelo Hardy, Mount Union
WR-Phil Lutz, Tufts
TE-Alex Larson, Saint John's
OL-Chris Toth, Aurora
OL-Boomer Warren, Hardin-Simmons
OL-Jeske Maples, North Central (Ill.)
OL-Matt Metcalf, Linfield
OL-Travis Sinclair, Bethel

DL-Michael Nobile, Delaware Valley
DL-Sante Parker Jr., Mary Hardin-Baylor
DL-Dan Lester, North Central (Ill.)
DL-Alexander Perkins, Millikin
LB-Rossy Moore, Mount Union
LB-Robert Coury, Carnegie Mellon
LB-Matt Mitchell, Hardin-Simmons
DB-C.J. Lyons, RPI
DB-Antwain Walker, North Central (Ill.)
DB-Michael Brown, UW-River Falls
DB-Will Pickren, Hampden-Sydney

AP-K.J. Miller, Mary Hardin-Baylor
K-Christian Hutra, Springfield
P-Vicente Garcia, Redlands

>> Complete Team
FEATURE
4. Transforming Into A National Force

by Dan D'Addona, Holland Sentinel

"After a repeat MIAA Championship the Hope College women's swimming and diving team finished with a flourish at successful NCAA Championships.

But it turns out that being a top 10 team at nationals was just the beginning.

Six school records have already been broken this year, with freshmen having a hand in four of them for a team now ranked No. 12 in the country."

>> Background: "The Flying Dutch are aiming for another MIAA title, which is always the first goal, but after the performances this year, Hope is looking to bring a large and consistent group to the NCAA Championships this year and for years to come as the team looks to be a top 10 team in the country."

>> Worth Noting: "I would love to tell you we were doing something cutting edge or really profound, but the goals we talk about are having more fun on the deck than we though possible, and swimming at a higher level than we though possible, and how those goals compliment each other."

>> What They're Saying: "I am really excited for the next few years to see what talent comes up and if we can keep breaking records, that would be awesome," freshman Laurel Wasiniak said. "We want to keep swimming at a national level."

>> Keep Reading
NEWS
5. Lightning Round
News
Ed Coll, former president of Alfred and a long-time member of DIII committees, passed away at 88.

NYU received a $100 million gift from alum John Paulson to go toward a new multipurpose building that will include NCAA regulation basketball courts, a six-lane pool and fitness and weight rooms, squash courts, and an indoor track
Happy Birthday
Cake and candles for Mary VandeHoef, interim assistant to the athletic director, Hope; Michael Goodrich, former baseball player, Trinity U.; And on Saturday - Penny Allen-Cook, former commish, MIAA (and one of our favorites); Kim Cosenza, field hockey coach, WPI; Rob Brandell, assistant soccer coach, Hobart.

Do you know of someone celebrating a birthday soon? Drop us a line at D3Playbook@gmail.com.
TRANSACTIONS
6. Comings and Goings
Copyright © 2022, D3Playbook.com All rights reserved.