written by STEVE ULRICH
your must-read briefing on what's driving the day in NCAA Division III


>> Good Thursday Morning DIII. So, Mary's dress "waves" or "sways'? Bruce Springsteen finally answers the decades-old question.

>> Thanks for reading D3Playbook. Is your staff reading D3Playbook? Make like Ted Lasso and make the extra pass.

TOP STORY
1. Whittier Whacks Football, Lax and Golf

by Fred Robledo, San Gabriel Valley Tribune

"Whittier College, which has been playing college football for 115 years, finally told its players on Tuesday that it was eliminating its football program one day after assistant coaches received termination letters and shared news with the football team of the school's intention to do so.

In a long statement and explainer from Board of Trustees Chairman Miguel Santana and school president Linda Oubre, Whittier College made it official on Tuesday night on its school website.

Whittier is not just eliminating its football program, but also men's and women's golf teams and men's lacrosse."

>> Situational Awareness: "After a three-year review process and much careful deliberation, Whittier College announces the discontinuation of Poet football," Whittier posted on its website. "This was a difficult decision, backed by the Board of Trustees, that aims to direct investment to the things that make Whittier College exceptional: our academic programs, our high-touch student experience including an expanded effort to support student Health and Wellness, and the 18 NCAA sports which will remain an integral part of the Whittier experience."

>> Why it Matters: "There is growing concern around contact sports – lacrosse and football—and chronic traumatic encephalopathy (CTE), a degenerative brain disease found in athletes and others with a history of repetitive brain trauma," the statement read. "When it comes to the health of our student-athletes, we must take this concern seriously."

>> History Lesson: "Whittier, which began playing football in 1907, is famous for having former President Richard Nixon play there as a tackle for the 1932 squad, and also for having NFL Hall of Fame coach George Allen lead the Poets from 1951-56."

>> The Big Picture: "I'm devastated, I feel cheated," Zach Fernandes, a freshman offensive lineman said. "I sacrificed everything to play the sport I love, and it was just taken away from me. I have absolutely no idea what I'm going to do now. I don't know if I'll ever play a down of football again."

>> Worth Noting: "With Whittier folding its program, it leaves only six colleges in California that compete in Division III. There are three local schools — Pomona-Pitzer, Claremont-Mudd-Scripps and the University of La Verne — playing football in Division III."

>> Read More
A MESSAGE FROM HUDL/BLUEFRAME TECHNOLOGY
Ready to stream like a pro this season? With Hudl (formerly BlueFrame), powerful broadcasting tools meet the advanced capture capabilities of Hudl Focus, bringing your program unmatched opportunities to generate revenue and connect with your fans. Plus, you get the flexibility to select the streaming option that makes the most sense for your school. [
Learn More
]
VOLLEYBALL
2. Quarterfinal Winners

The NCAA Division III Women's Volleyball Championship is down to the final four teams after quarterfinal action in Pittsburgh on Wednesday.

Trinity (Texas) d. MIT, 25-23, 25-19, 25-15
Sara Flynn had nine kills and three blocks, while Reagan Whatley added 10 kills as the Tigers advanced to their fourth NCAA semifinal.
New York U. d. Transylvania, 25-23, 23-25, 25-23, 25-21
Olivia Lewandowski had 23 kills and 21 digs as the Violets returned to the Final Four for the first time since 2004.
Northwestern d. Johns Hopkins, 16-25, 20-25, 25-14, 25-18, 15-13
Ari Schmidt and Kendra Hardy combined for 28 kills as the Eagles battled back from a two-set deficit to reach their first-ever national semifinal.
Juniata d. Hope, 25-16, 25-22, 13-25, 25-21
Lily Podolan had 14 kills, while Olivia Foley handed out 47 set assists as the Eagles advanced to the semifinals for the 27th time in program history
A MESSAGE FROM MORNING BREW

2.6 million people wake up to this newsletter every morning

There's a reason over 2.6 million people start their day with Morning Brew - the daily email that delivers the latest news from Wall Street to Silicon Valley. Business news doesn't have to be dry and dense...make your mornings more enjoyable, for free.

SOCCER (M)
3. What If DIII Had A World Cup Draw?

What might a 32-team draw look like if Division III had a soccer championship similar to the World Cup?

We decided to take a shot at it. Eight pools of four teams selected on their regular-season and conference tournament performance. The top three teams from each of the 10 DIII regions were placed in the field and two others were selected at-large. Pools were selected at random.

We can wonder, right?

Men
Pool A: Messiah, Bowdoin, UW-Eau Claire, John Carroll
Pool B: Chicago, Wheaton (Mass.), Willamette, North Park
Pool C: Amherst, Cortland, WPI, St. Olaf
Pool D: Stevens, Franklin & Marshall, Tufts, Mary Hardin-Baylor
Pool E: Kenyon, Rowan, St. Lawrence, St. Thomas
Pool F: Gustavus Adolphus, Washington and Lee, NYU, Calvin
Pool G: Babson, Ohio Northern, Johns Hopkins, Oneonta
Pool H: Christopher Newport, North Central (Ill.), Mary Washington, Montclair State

Women
Pool A: Misericordia, UW-La Crosse, Pacific Lutheran, Illinois Wesleyan
Pool B: Johns Hopkins, Dominican, Bowdoin, Wartburg
Pool C: Christopher Newport, Carnegie Mellon, MIT, Mary Hardin-Baylor
Pool D: Messiah, Emory, Ithaca, Washington (Mo.)
Pool E: Case Western Reserve, Rowan, York (Pa.), Cortland
Pool F: Trinity (Texas), William Smith, Montclair State, Babson
Pool G: Amherst, Emerson, Virginia Wesleyan, Calvin
Pool H: Loras, Williams, Ohio Northern, Puget Sound

>> Complete Bracket
FEATURE
4. A Historic Head Coach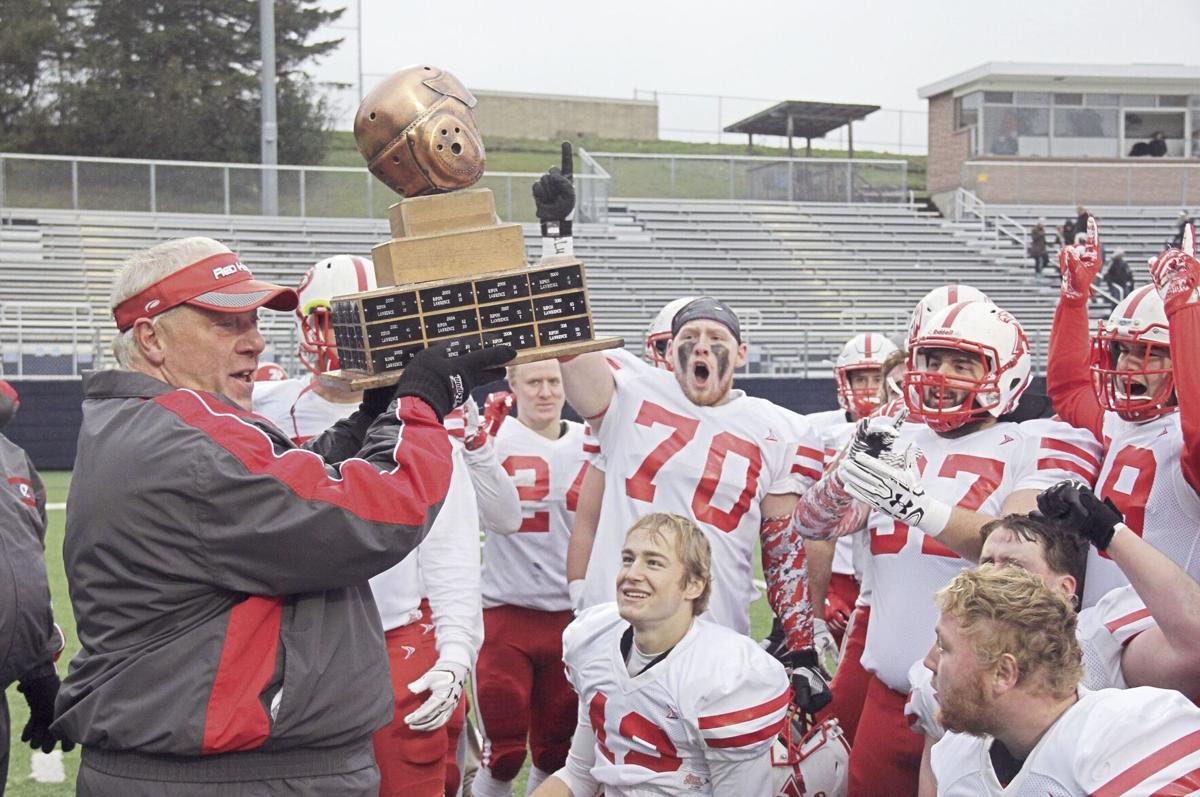 by Lance LeQue, Oshkosh Northwestern

"Ron Ernst walked off Ingalls Field for the final time Saturday the same way he had done many times before – as a winner.

Ernst, the all-time winningest football coach in Ripon College and Midwest Conference history, announced before the season he would retire following the end of this season after 32 years with the Red Hawks.

Ripon beat Lawrence 82-0 to finish the season with a 9-1 record, including 8-1 in the conference, and give Ernst a career record of 193-114."

>> Field Awareness: "After arriving in 1991 to a then-struggling football program, Ernst subsequently led Ripon College to 27 winning seasons, including this year, claiming three straight MWC North Division titles (1995-1997) in addition to two MWC championships (1996 and 2001)."

>> Quotable: "I've been doing it for 32 years and there's some elements of the job that I still really, really, really enjoy, but then there are elements of the job that I was just getting tired of," Ernst said. "Plus, I guess at the age that I'm at I'm old enough to retire. I feel like I can retire and yet feel young enough that I can still do some other things that I would like to do. So, I thought it was time, about that time to do it after 32 years."

>> What They're Saying: "Coach Ernst is a historic head coach," said senior Parker Campana. He's always willing to compete and that's what I like most about him because I'm always the person that's willing to compete. He's always looking for the best in each and every player, no matter if you're a first string, second string or even a scout team guy. To play for him throughout my past four years, I wouldn't have it any other way."

>> Continue Reading
NEWS
5. Lightning Round
News
Happy Birthday
Cake and candles for Edward "Skip" Noon, athletic director, Wisconsin Lutheran.

Do you know someone celebrating a birthday soon? Drop us a line at D3Playbook@gmail.com.
TRANSACTIONS

6. Comings and Goings
Copyright © 2022, D3Playbook.com All rights reserved.