written by STEVE ULRICH
your must-read briefing on what's driving the day in NCAA Division III

>> Happy Friday. World War I ended at the 11th hour of the 11th day of the 11th month. We now celebrate Veterans' Day on November 11. We remember and thank veterans for their service and sacrifice.

>> Thanks for reading D3Playbook. Consider sharing us with other department members, especially the newest ones!

TOP STORY
1. Three DIII Finalists For WOTY
by Carly Lyvers, NCAA

"The Woman of the Year Selection Committee has named nine student-athletes from the Top 30 honoree pool as finalists for the 2022 NCAA Woman of the Year award.

The nine finalists consist of three student-athletes from each NCAA division. Each finalist was selected for her outstanding achievements in academics, athletics, community service and leadership.

Division III finalists include Karenna Groff, MIT; Macy Klein, St. Catherine; and Erin Nicholas, Middlebury."

>> What's Next: "On Jan. 12, the Top 30 honorees will be celebrated during a luncheon at the NCAA Convention in San Antonio. There, the 2022 NCAA Woman of the Year will be named."

>> What They're Saying: "Read the finalists' biographies, including excerpts from their personal statements, to learn more about each of them."

>> Continue Reading
A MESSAGE FROM BRIGHT CELLARS

Discover Wines You Love

Bright Cellars is the monthly wine club that matches you with wine that you'll love, based on an algorithm that selects wines based on your taste preferences. Created to not only deliver excellent wine, but to also give the added bonus of learning about your wines and own tastes.


VOLLEYBALL (W)
2. First Round Results


The first round of the NCAA Division III women's volleyball championship tournament is in the books.

No. 1 Claremont-M-S d. Fontbonne, 3-0
Texas-Dallas d. No. 25 UC Santa Cruz, 3-1
Chicago d. Texas Lutheran, 3-2
No. 6 Trinity (Texas) d. Puget Sound, 3-0
No. 5 Emory d. Bethany, 3-0
No. 16 Transylvania d. Randolph-Macon, 3-0
No. 7 Berry d. Covenant, 3-0
Carnegie Mellon d. Southern Virginia, 3-0

No. 8 NYU d. Westfield State, 3-0
Salisbury d. Endicott, 3-0
Williams d. Stevenson, 3-1
No. 15 Wesleyan (Conn.) d. Eastern Nazarene, 3-0
No. 3 Calvin d. Aurora, 3-1
No. 12 UW-Oshkosh d. No. 17 Otterbein, 3-2
No. 20 Hope d. No. 9 Wittenberg, 3-0
No. 10 Washington (Mo.) d. Millikin, 3-2

Mary Washington d. Cedar Crest, 3-0
Eastern d. Marymount, 3-2
Stevens d. Manhattanville, 3-0
Johns Hopkins d. Hunter, 3-0
No. 4 Northwestern d. North Park, 3-1
No. 14 UW-Stevens Point d. No. 21 Coe, 3-0
No. 13 Gustavus Adolphus d. No. 22 UW-Eau Claire, 3-1
No. 11 UW-Whitewater d. Cornell, 3-1

No. 2 Juniata d. Keene State, 3-0
Cortland d. Rowan, 3-0
Christopher Newport d. SUNY Morrisville, 3-1
No. 24 Ithaca d. Alfred State, 3-0
No. 19 Tufts d. Johnson and Wales, 3-0
Babson d. Swarthmore, 3-0
Scranton d. St. John Fisher, 3-0
No. 18 MIT d. Maine Maritime, 3-0
A MESSAGE FROM EDGE SPRAY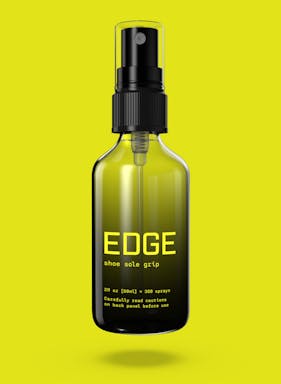 Instant Sneaker Grip in a Bottle

Don't get caught slipping or wiping your shoes with your hands - EDGE is a new shoe grip spray that has been endorsed by players, coaches, and trainers from AAU through D1 and Pro Sports. It's been blowing up in the NCAA basketball and volleyball communities, but it is also used for rock climbing, boxing, table tennis, futsal, racquetball, and more.

CROSS COUNTRY
3. Regional Championship Weekend

by USTFCCCA Communications

"Regional Championships Saturday is almost here!

You can feel the excitement in the air.

Let's find out which teams and individuals are headed to the 2022 NCAA Division III Cross Country Championships next Saturday at the Forest Akers East Golf Course in East Lansing, Michigan."

>> What's At Stake: "Remember that the winning team (one) per gender in each region automatically qualify for the NCAA Championships, while the other 22 teams will be at-large selections."

>> What We're Watching: The Midwest Region features three women's teams in the top 6 - Chicago (1), Wartburg (2) and Washington MO (6).

East Region: Bowdoin, host
Great Lakes Region: Hope, host
Metro Region: DeSales, host
Mid-Atlantic Region: Susquehanna, host
Mideast Region: St. Lawrence, host
Niagara Region: Rochester, host
North Region: St. Olaf, host
South Region: Christopher Newport, host
West Region: Whitworth, host

WEEKEND
4. What We're Watching
Field Hockey
No. 2 Middlebury vs. No. 11 MIT
No. 5 Messiah vs. No. 6 Tufts
Football
No. 4 Saint John's vs. No. 9 Bethel
No. 11 Cortland vs. No. 12 Ithaca
No. 20 Albion vs. Alma
Soccer (M)
No. 7 North Central (Ill.) vs. UW-Superior
No. 15 North Park vs. Rose-Hulman
No. 21 Middlebury vs. Rowan
Soccer (W)
No. 6 Trinity (Texas) vs. Pomona-Pitzer
No. 13 Mary Hardin-Baylor vs. No. 18 Pacific Lutheran
No. 16 Virginia Wesleyan vs. No. 21 Puget Sound
Volleyball
No. 3 Calvin vs. No. 12 UW-Whitewater
No. 4 Northwestern vs. No. 14 UW-Stevens Point
No. 5 Emory vs. No. 16 Transylvania
No. 10 Washington (Mo.) vs. No. 20 Hope
No. 11 UW-Whitewater vs. No. 13 Gustavus Adolphus
NEWS
5. Lightning Round
News
"Years of dwindling enrollment and ongoing financial challenges have led to deep cuts at Cabrini University as administrators seek long-term stability. Following the latest wave of cuts, university leaders are making an appeal for partnerships. And while a merger isn't their first choice, they say all options are on the table."
Happy Birthday
Weekend cake and candles for Tommy Murphy, assistant baseball coach, Hanover; Riley Zayas, sportwriter, True To The Cru; and Doug Ross, associate AD, Southwestern. Advance wishes to Natalie Dreyer, SWA, Ozarks; Meghan Roman, AD, Illinois College; Katie Marcella, head basketball coach, Union; Luke Jewett, track and field S-A, Muskingum (Sat.); and David Kurvink, head tennis coach, Muhlenberg (Sun.)

Do you know of someone celebrating a birthday soon? Drop us a line at D3Playbook@gmail.com.
Copyright © 2022, D3Playbook.com All rights reserved.