written by STEVE ULRICH
your must-read briefing on what's driving the day in NCAA Division III
>> Good Monday morning. Congratulations Conference Champions!

>> Ch-Ching. The Powerball jackpot will climb to at least $1.9 billion after the 40th consecutive drawing without a winner. The cash option for tonight's drawing is now an estimated $929.1 million.

>> Thanks for reading D3Playbook. Does your conference need some scheduling assistance? Email us.

TOP STORY
1. These Are The Champions

Here is our compilation of the teams that received their conference's automatic berth to the NCAA field hockey, soccer and volleyball championships this fall.


A MESSAGE FROM MORNING BREW

2.6 million people wake up to this newsletter every morning

There's a reason over 2.6 million people start their day with Morning Brew - the daily email that delivers the latest news from Wall Street to Silicon Valley. Business news doesn't have to be dry and dense...make your mornings more enjoyable, for free.

FIELD HOCKEY
2. Top-Ranked Salisbury Leads Field

The NCAA Division III Field Hockey Committee announced the 26 teams selected for the 2022 national tournament.

Seventeen teams received automatic qualification into the field as conference champions. One team was selected from those schools who did not come from a qualifying conference, while eight others receive at-large bids to the tourney.

The Pool B selection was top-ranked Salisbury. The eight Pool C at-large selections are Christopher Newport, MIT, Rochester, TCNJ, Trinity (Conn.), Tufts, Williams and York (Pa.)

First Round - Wednesday
DeSales at York (Pa.)
Johnson and Wales at Williams
Ohio Wesleyan at Washington and Lee
U. of New England at Rochester
Hartwick at William Smith
Cortland at MIT
Catholic at Trinity, Conn.
Wilson at TCNJ
Cabrini at Christopher Newport
Castleton at Tufts

Sectionals - Saturday/Sunday
DeSales/York winner at Salisbury
JWU/Williams winner vs. OWU/W&L winner

UNE/Rochester winner at Babson
Hartwick/William Smith winner vs. Johns Hopkins

Cortland/MIT winner at Middlebury
Catholic/Trinity winner vs. Wilson/TCNJ winner

Cabrini/CNU winner at Rowan
Castleton/Tufts winner vs. Messiah

Semifinals/Final - Friday and Sunday, November 18 and 20
Glassboro, N.J.

>> Complete Bracket
CHAMPIONSHIPS
3. Selection Show Schedule

Here is today's schedule for the announcement of the 2022 NCAA Division III championship fields in soccer and women's volleyball.

Volleyball (W) - 1p ET - LINK

Soccer (M) - 1:30p ET - LINK

Soccer (W) - 2p ET - LINK
A MESSAGE FROM 1440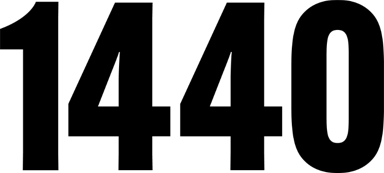 News Without Motives
1440 is the daily newsletter helping 2M+ Americans stay informed—it's news without motives, edited to be unbiased as humanly possible. The team at 1440 scours over 100+ sources so you don't have to. Culture, science, sports, politics, business, and everything in between - in a five-minute read each morning, 100% free.

FOOTBALL
4. Cardinals Remain First

North Central continues to top the D3football.com weekly rankings with Mount Union in the two hole.
North Central, Ill. (24), 9-0
Mount Union (1), 9-0
Mary Hardin-Baylor, 8-1
Linfield, 8-0
Saint John's, 8-1
Trinity, Texas, 9-0
UW-La Crosse, 8-1
Hardin-Simmons, 8-1
Bethel, 8-1
UW-Whitewater, 7-2

>> Battle of Unbeatens: No. 11 Cortland (9-0) vs. No. 12 Ithaca (9-0); No. 20 Albion (9-0) vs. Alma (9-0)

>> This Weekend: No. 2 Mount Union (9-0) vs. Baldwin Wallace (7-2); No. 5 Saint John's (8-1) vs. No. 9 Bethel (8-1); No. 15 Wartburg (9-0) vs. Coe (7-2); Mount St. Joseph (9-0) vs. Rose-Hulman (6-3); Mass-Dartmouth (8-1) vs. Plymouth State (8-1); Aurora (8-1) vs. Concordia, Wis. (8-1); DePauw (8-1) vs. Wabash (7-2); Springfield (7-2) vs. Catholic (6-3); Salisbury (8-1) vs. Christopher Newport (7-2); Claremont-M-S (7-1) vs. Pomona-Pitzer (7-2)

>> Unbeaten (16): Albion (9-0), Alma (9-0), Carnegie Mellon (9-0), Cortland (9-0), Delaware Valley (9-0), Endicott (9-0), Ithaca (9-0), Linfield (8-0), Mount St. Joseph (9-0), Mount Union (9-0), North Central (9-0), Randolph-Macon (9-0), Susquehanna (9-0), Trinity, Conn. (8-0), Trinity, Texas (9-0), Wartburg (9-0).

>> In The Field (14): Mary Hardin-Baylor (ASC), Susquehanna (CC), Endicott (CCC), North Central (CCIW), Cortland (E8), Gallaudet (ECFC), Ithaca (LL), Delaware Valley (MAC), Linfield (NWC), Randolph-Macon (ODAC), Carnegie Mellon (PAC), Trinity (SCAC), Northwestern (UMAC), Huntingdon (USAC)

>> Complete Poll
NEWS
5. Lightning Round
News
The University of Saint Joseph named its gymnasium after former head coach Jim Calhoun in a Thursday ceremony.
Happy Birthday
Cake and candles for Gabriel Marks, a junior football player at Muskingum.
Do you know of someone celebrating a birthday soon? Drop us a line at D3Playbook@gmail.com.
TRANSACTIONS

6. Comings and Goings
Copyright © 2022, D3Playbook.com All rights reserved.