written by STEVE ULRICH
your must-read briefing on what's driving the day in NCAA Division III

>> Happy Friday. It's Conference championship weekend in field hockey, soccer and volleyball. Good luck to all!

>> Thanks for reading D3Playbook. Consider sharing us with other department members, especially the newest ones!

TOP STORY
1. Pathway Program a 'Transformational" Opportunity For Administrators
by Corbin McGuire, NCAA

"Nearly halfway through the 2022-23 Pathway Program, members of this year's cohort used several attention-grabbing words to capture the essence of their experience so far.

Descriptors like challenging, humbling and inspiring were prevalent answers. Others mentioned the growth, camaraderie and collaboration they've experienced through the program, a yearlong initiative designed to prepare senior-level athletics administrators for their next career step as athletics directors or conference commissioners.

One descriptor that encompasses them all? "

>> Background: "The Pathway Program's track record speaks to the impact it can have. Created in 1997, it has produced more than 100 program alumni, with nearly 30% of its graduates moving on to become athletics directors or conference commissioners. Additionally, more than 70% of the program alumni have received some level of promotion in relation to their title or job responsibilities."

>> Between The Lines: "Within its overall mission, the Pathway Program is designed to help cement participants' leadership skills through an intense process that includes self-reflection and professional development. Participants identify how their personal and professional values fit into their leadership philosophy. Participants are then challenged to effectively articulate to different audiences how their personal story aligns with their passion to lead a school or conference."

>> Quotable: "The Pathway Program has been immensely impactful for me. I've been able to connect with new colleagues and learn from them across all three divisions, and we all have different stories and different experiences, which has been really helpful for me to even grow in the role I'm in right now," said Kellen Wells-Mangold, associate athletics director of compliance and student-athlete services at the University of Wisconsin-River Falls."

>> Continue Reading
A MESSAGE FROM BRIGHT CELLARS

Discover Wines You Love

Bright Cellars is the monthly wine club that matches you with wine that you'll love, based on an algorithm that selects wines based on your taste preferences. Created to not only deliver excellent wine, but to also give the added bonus of learning about your wines and own tastes.


FEATURE
2. Growing Up Around The Game

by Brian Lester, D3sports.com | photo: Darl Zehr photography

"Cortland's Zac Boyes and Ryan Bitka have been around college football a whole lot longer than most Division III student-athletes.

Their dads were long-time coaches at Buffalo State, and that meant Zac and Ryan spent more time at the football field than on the playground. Zac's father, Jerry, was the head coach at Buffalo State on two occasions (1986-2000 and 2009-18) and Ryan's dad, Terry, spent nearly 40 years at the same school, arriving on campus in 1986.

So, naturally, Zac and Ryan forged a strong friendship long before they became teammates at Cortland, which is in the midst of another impressive season."

>> Field Awareness: "Boyes is the starting quarterback of the Red Dragons, the same position his dad played at Ithaca. Bitka starts on the offensive line, which is where his dad played during his days at Cortland. Though they played at different high schools, they talked about maybe one day playing in college together."

>> Bloodlines: "Both are following in big footsteps. Zac's dad was a two-time All-American at Ithaca and earned a free agent tryout with the Browns. Ryan's dad is a graduate of Cortland and was a team captain there, earning best offensive lineman honors twice while in the program."

>> Quotable: "Growing up with dad in that environment and knowing the level of play it takes to play college ball, and being around it all the time helped with the transition to college," Bitka said. "I saw what kind of player I had to be if I wanted to play, and that made it easier to get to the college level."

>> Continue Reading
A MESSAGE FROM EDGE SPRAY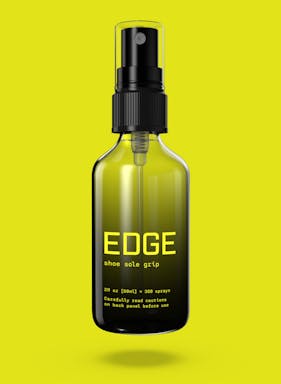 Instant Sneaker Grip in a Bottle

Don't get caught slipping or wiping your shoes with your hands - EDGE is a new shoe grip spray that has been endorsed by players, coaches, and trainers from AAU through D1 and Pro Sports. It's been blowing up in the NCAA basketball and volleyball communities, but it is also used for rock climbing, boxing, table tennis, futsal, racquetball, and more.

WEEKEND
3. What We're Watching

It's Conference championship weekend in field hockey, soccer and volleyball, while football has it penultimate Saturday.


Field Hockey
Soccer (M)
Soccer (W)
Volleyball
Football
NEWS
4. Lightning Round
News
Calvin University's board of trustees has allowed a group of faculty members to dissent from a clause in a confession of faith that regards sex outside of heterosexual marriage as sinful, enabling them to continue to work at the Christian school while also respecting their convictions.
Happy Birthday
Weekend cake and candles for Vanessa Fuchs, CEO, WeCoach; Megan Valentine, athletic director, SUNY Poly; and Bailey Middleton, SID, Southwestern.

Do you know of someone celebrating a birthday soon? Drop us a line at D3Playbook@gmail.com.
TRANSACTIONS
5. Comings and Goings
Copyright © 2022, D3Playbook.com All rights reserved.