written by STEVE ULRICH
your must-read briefing on what's driving the day in NCAA Division III
>> Hello Wednesday. We're taking the rest of the week off for Thanksgiving. We'll see you again on Monday.

>> Thank You. For your support of D3Playbook. It is appreciated.

>> Thanks for reading D3Playbook. Please refer a friend or two. Help me get to 2,000 subscribers by the end of the month.

TOP STORY
1. Jury Finds NCAA Not Responsible In Death

from ESPN News Services

"A Los Angeles jury on Tuesday rejected a claim by the widow of a former USC football player who said the NCAA failed to protect him from repeated head trauma that led to his death.

Matthew Gee, a linebacker on the 1990 Rose Bowl-winning squad, endured an estimated 6,000 hits that caused permanent brain damage and led to cocaine and alcohol abuse that eventually killed him at age 49, lawyers for his widow alleged.

The NCAA said it had nothing to do with Gee's death, which it said was caused by a sudden cardiac arrest brought on by untreated hypertension and acute cocaine toxicity. A lawyer for the governing body of U.S. college sports said Gee suffered from many other health problems not related to football, such as liver cirrhosis, that would have eventually killed him."

>> Court Awareness: "Hundreds of wrongful death and personal injury lawsuits have been brought by college football players against the NCAA in the past decade, but Gee's is the first one to reach a jury alleging that hits to the head led to chronic traumatic encephalopathy, a degenerative brain disease known by its acronym, CTE."

>> Reality Check: "The NCAA said the case hinged on what it knew at the time Gee played, from 1988 to '92, and not CTE, which was first discovered in the brain of a deceased NFL player in 2005."

>> What They're Saying: "You can't hold the NCAA responsible for something 40 years later that nobody ever reported,'' NCAA attorney Will Stute said in his closing argument. "The plaintiffs want you in a time travel machine. We don't have one at the NCAA. It's not fair.''

>> Continue Reading
A MESSAGE FROM MORNING BREW

2.6 million people wake up to this newsletter every morning

There's a reason over 2.6 million people start their day with Morning Brew - the daily email that delivers the latest news from Wall Street to Silicon Valley. Business news doesn't have to be dry and dense...make your mornings more enjoyable, for free.
FOOTBALL
2. Alma Winning With KILT Style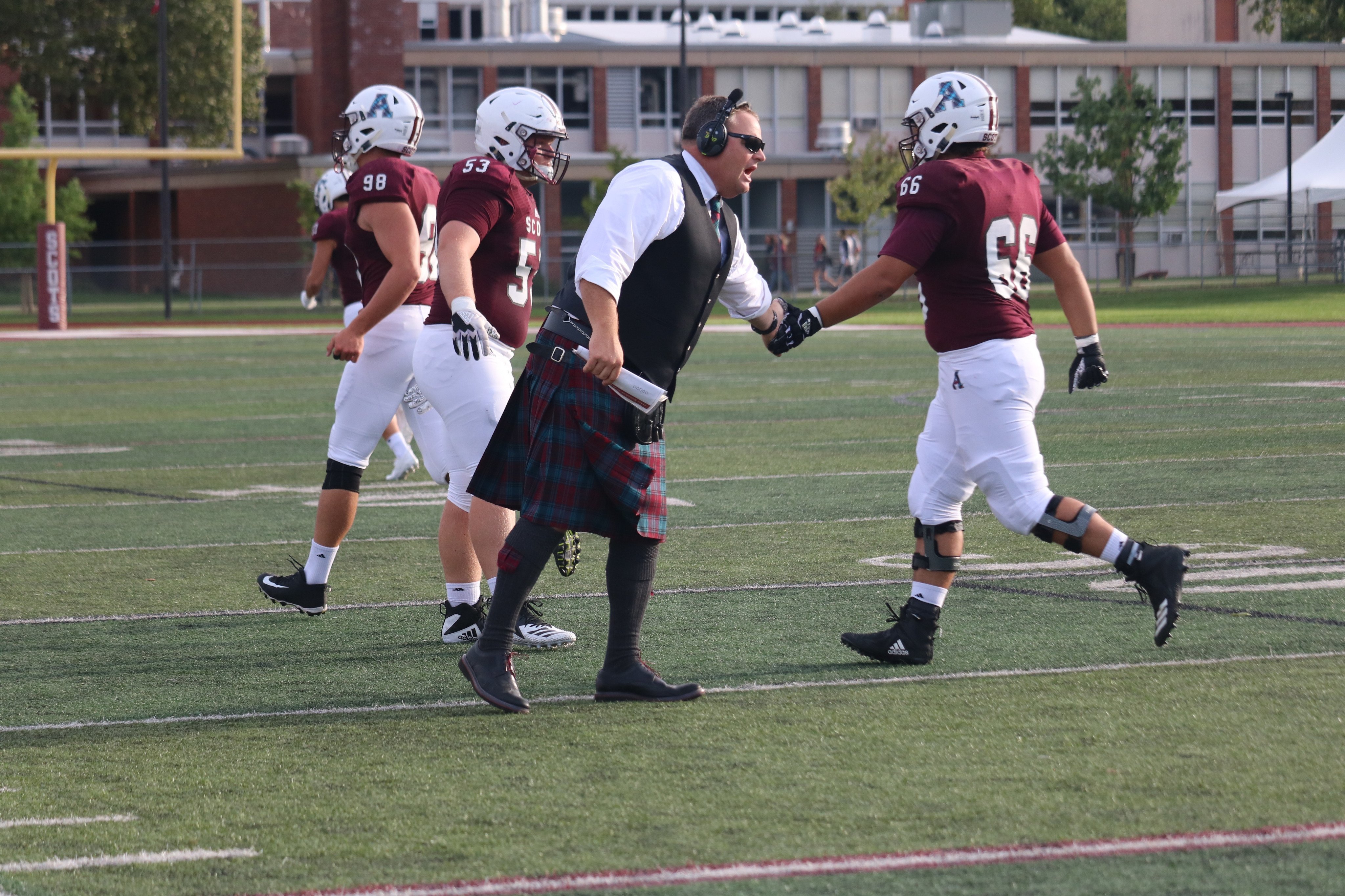 by Joe Sager, D3sports.com

"Cold legs are a good sign for Alma's Jason Couch.

The Scots are happy to keep their head coach shivering, too.

That's because he wears a kilt while patrolling the sidelines for all of the Scots' home games. After Saturday's 41-21 win over Mount St. Joseph – the program's first NCAA playoff win – Alma (11-0) will make Couch brave the frigid central Michigan elements once again when the team welcomes Aurora (10-1) for a second-round battle on Saturday."

>> Field Awareness: Now in his fifth season, Couch, a former Alma standout center, introduced the kilt for home games when he took over as head coach in 2018. "For me, as a former player and alum, it's a way to externalize my pride of being back here as head coach and part of this program. I am just thrilled to be back here and that was my way to kind of show it and it kind of stuck."

>> Why it Matters: The kilt is more than just for appearance, though. Couch and his coaches developed a philosophy around it, with each letter representing a core ideal: K for kinship, I for integrity, L for love and T for tenacity. Thus was born the team's motto of "KILTstyle." It's provided a solid foundation for the kind of program Couch and his coaches want to build.

>> What They're Saying: "Once you get the adrenaline of the game going, it's not so bad," Couch said with a laugh. "My kneecaps might be a still a little wind burnt and red, but that's OK. The wind was pretty gusty, too. I am just glad the kilt stayed down."

>> The Big Picture: After winning the program's first-ever NCAA tournament game, Alma (11-0) will take on Aurora (10-1) in the second round on Saturday.

>> Read More
FEATURE
3. Grove City's Rupp Answers The Call
by Mike Kilroy, exploreVenango.com

"Trenten Rupp just finished a particularly rough day of football practice at Grove City College when his cell phone rang.

It was a number he didn't recognize.

Usually, he ignored such calls. Not this one.

For some reason, Rupp felt compelled to answer.

Because he did, it may save the life of a 3-year-old girl."

>> Background: "Months earlier, the 2021 Redbank Valley graduate and sophomore cornerback for the Wolverines, submitted a DNA sample to the Be The Match organization when one of its representatives came to the Grove City campus. Rupp jumped at the chance to offer a sample, never really thinking he would be a match for anyone. But he was."

>> Why It Matters: "When he answered the phone on that fateful day at the end of September, the woman on the other end of the line explained he was a perfect match for a very sick 3-year-old girl. "You're the only person in our database of over two million who can give this girl a chance to live," she said."

>> What's Next: "The next step for Rupp was to have his blood tested even more rigorously to make sure he was, indeed, an idea match for the girl. If Rupp's blood checks out, the next step for him will be to fly him to a facility somewhere in the United States where either stem cells from his blood or bone marrow will be extracted."

>> Quotable: "One phrase I live by is, 'Your cause is bigger than yourself,'" Rupp said. "This story isn't about me. It's about contributing to more than just yourself. … I encourage everyone who is medically stable to join the Be the Match registry. You never know how many lives you can positively impact by simply sending in a DNA swab. A lot of people are making me out to be this hero after hearing my story. I didn't do anything super heroic. … Saving a life is something you'll never regret. I promise."

>> Continue Reading
TENNIS
4. Fall ITA Rankings


The Intercollegiate Tennis Association (ITA) released their final 2022 individual rankings for the fall season.

Singles (M)
1-Advik Mareedu, Claremont-M-S; 2-Tristan Bradley, Bowdoin; 3-Aiden Drover-Mattinen, RPI; 4-Reid Staples, Bowdoin; 5-Abhi Ramireddy, Washington (Mo.)

Doubles (M)
1-James Hopper/Vishwa Aduru, Case Western Reserve; 2-Derin Acaroglu/Vuk Vuksanovic, Tufts; 3-James Yu/Thomas Yu, Johns Hopkins; 4-Shaen Berdia/Jason Shuler, Williams; 5-Ramireddy/Phuc Huynh, Washington (Mo.)

>> Complete Rankings

Singles (W)
1-Sylwia Mikos, Chicago; 2-Sarah Pertsemlidis, MIT; 3-Olivia Soffer, Babson; 4-Ida Krause, NYU; 5-Katherine Wurster, Claremont-M-S.

Doubles (W)
1-Brooke Despriet/Katherine Petty, Sewanee; 2-Shianna Guo/Mikos, Chicago; 3-Perene Wang/Claudia Ng, Chicago; 4-Ansley Carpenter/Alice Hall, Sewanee; 5-Gabby Lee/Lindsey Eisenmann, Claremont-M-S.

>> Complete Rankings
A MESSAGE FROM TRENDS

Your next business idea, delivered weekly.
Trends tells you the next big thing – months before everyone else. Their dynamic team of business analysts already outlined 1,000+ vetted business ideas you can start in a weekend, and they send new ideas and market signals straight to your inbox weekly.

NEWS
5. Lightning Round
News
Happy Birthday
Cake and candles for Steve Francour, women's tennis coach, UW-Oshkosh; Dennis O'Donnell, former SID, Rochester and Ashley Hodges, athletic director, Notre Dame, Md. (Thurs.); Gabrielle Brown, track coach, Macalester (Fri.); and Bryan Moore, associate executive director, CCIW (Sat.).
Do you know someone celebrating a birthday soon? Drop us a line at
D3Playbook@gmail.com
.
TRANSACTIONS

6. Comings and Goings

Copyright © 2022, D3Playbook.com All rights reserved.