written by STEVE ULRICH
your must-read briefing on what's driving the day in NCAA Division III


>> Good Thursday Morning DIII.

>> Thanks for reading D3Playbook. Is your staff reading D3Playbook? Make like Ted Lasso and make the extra pass.

TOP STORY
1. Former Hopkins Football Player Elected Maryland Governor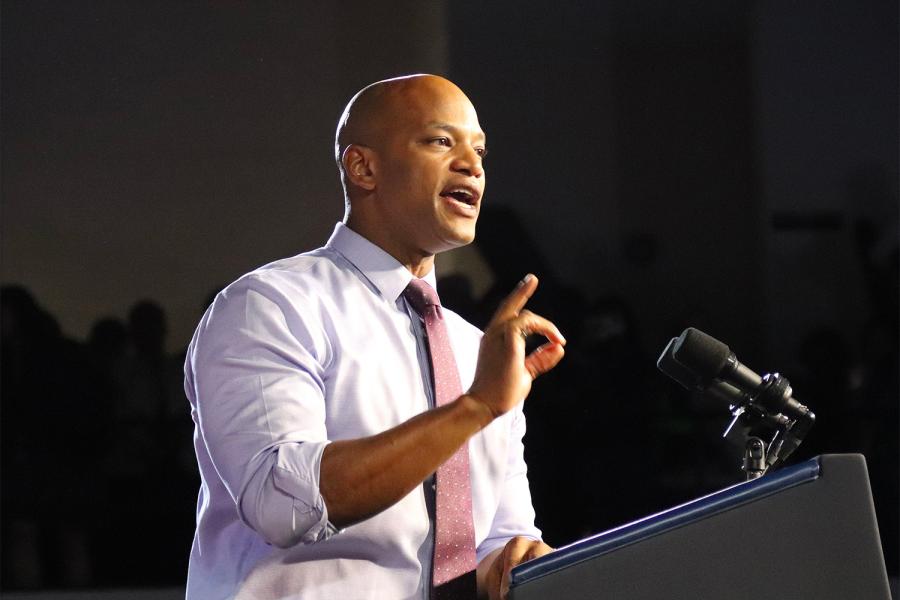 "Maryland's governor-elect is Johns Hopkins University alumnus Wes Moore, who will lead the state as its first Black governor. A member of the Krieger School Class of 2001, Moore, a Democrat, earned an estimated 60% of the vote during Tuesday's midterm elections, though ballots were still being counted Wednesday. When he takes office in January, he will become the third Black governor in U.S. history.

An Army combat veteran, best-selling author, youth advocate, and small business owner, Moore, 44, succeeds outgoing two-term Republican Gov. Larry Hogan."

Moore played football at Hopkins and graduated Phi Beta Kappa in 2001, earning a bachelor's degree in international relations.

>> Field Awareness: A game-breaking wide receiver, Moore averaged 25.2 yards per reception as a senior and remains the only football player in school history to earn a Rhodes Scholarship."

>> What They're Saying: "We already knew he was something special back then. You could just tell," said Army Col. David Arnel, who said his interactions with Moore influenced his military career. "He was like Superman."

>> Continue Reading
A MESSAGE FROM HUDL/BLUEFRAME TECHNOLOGY
Ready to stream like a pro this season? With Hudl (formerly BlueFrame), powerful broadcasting tools meet the advanced capture capabilities of Hudl Focus, bringing your program unmatched opportunities to generate revenue and connect with your fans. Plus, you get the flexibility to select the streaming option that makes the most sense for your school. [
Learn More
]
FIELD HOCKEY
2. Moving On


Ten teams advanced to the second round of the NCAA Division III Field Hockey championship tournament after posting first-round victories on Wednesday.
No. 6 Tufts 4, Castleton 1
No. 8 Williams 8, Johnson and Wales 0
No. 9 Trinity, Conn. 1, Catholic 0
No. 11 MIT 4, Cortland 1
No. 12 York, Pa. 4, DeSales 2
No. 13 Washington and Lee 3, Ohio Wesleyan 0
No. 15 TCNJ 7, Wilson 0
No. 16 Christopher Newport 3, Cabrini 1
No. 17 William Smith 4, Hartwick 0
No. 18 Rochester 2, U. of New England 0
>> Complete Bracket
A MESSAGE FROM MORNING BREW

2.6 million people wake up to this newsletter every morning

There's a reason over 2.6 million people start their day with Morning Brew - the daily email that delivers the latest news from Wall Street to Silicon Valley. Business news doesn't have to be dry and dense...make your mornings more enjoyable, for free.

FOOTBALL
3. Regional Rankings

The second regional rankings for Division III football were released on Wednesday. Here are the top teams by region.

I. Delaware Valley, King's, Endicott
II. Cortland, Susquehanna, Carnegie Mellon
III. Trinity TX, Randolph-Macon, Mary Hardin-Baylor
IV. Mount Union, Albion, Alma
V. North Central IL, Wartburg, Wheaton
VI. Linfield, Bethel, Saint John's

bold indicates clinched AQ

>> Complete Rankings
ICE HOCKEY
4. Adrian, Middlebury Top Polls


Defending national champions Adrian and Middlebury remain atop the weekly USCHO.com men's and women's ice hockey rankings.

Men
Adrian (19), 3-0-1
Hobart (1), 4-0
Geneseo, 3-1
St. Norbert, 1-0-1
Augsburg, 0-1-1 (tie)
Utica, 2-2 (tie)
U. of New England, 2-0
Babson, 2-1
Oswego, 3-1
Norwich, 3-0
>> Complete Poll

Women
Middlebury (19), 0-0
Gustavus Adolphus (1), 3-0
Plattsburgh, 2-0
Elmira, 3-0
Nazareth, 2-0
UW-River Falls, 1-1
Adrian, 4-0
UW-Eau Claire, 3-1
Norwich, 2-0
Colby, 0-0
>> Complete Poll
NEWS
5. Lightning Round
News
The NCAA staff has recently updated a two-page recruiting resource that provides thumbnail descriptions of the three NCAA divisions, as well as key facts and figures. This resource may be beneficial to Division III coaches and admissions counselors as they are promoting the benefits of Division III.

Whitman College intercollegiate soccer and lacrosse teams will train and compete year-round on a new FieldTurf synthetic field starting in the fall 2023 season. Fully funded by gifts of alumni and friends totaling $3.6 million, the facility will be named James K. Hayner Field in honor of the longtime Whitman College trustee and Walla Walla community leader.
Soccer
Field Hockey
Happy Birthday
Cake and candles for Chris Brown, commissioner, Michigan Intercollegiate Athletic Association; Madison Flowers, head basketball coach, Lesley; Anne Goodman James, head swimming coach, Colorado College.

Do you know someone celebrating a birthday soon? Drop us a line at D3Playbook@gmail.com.
TRANSACTIONS

6. Comings and Goings
Copyright © 2022, D3Playbook.com All rights reserved.