written by STEVE ULRICH
your must-read briefing on what's driving the day in NCAA Division III
>> Hello Wednesday. Let's DIII

>> Thanks for reading D3Playbook. Please refer a friend or two. Let's get to 2,000 subscribers by the end of the month.

TOP STORY
1. Women's Wrestling Continuing To Grow

by Steve Dittmore, Athletic Director U

"When Ursinus College hired Joe Jamison as its wrestling coach prior to the 2019-20 academic year, he was already thinking about how he could grow the sport by adding women.

"Wrestling has a long history of being inclusive and accessible, racially and by body type. We have weight classes for a variety of sizes," he told me. "However, we were excluding half of humanity."

As a result, conversations regarding how to add women's wrestling began almost immediately on the 1,500-student campus in Collegeville, Pa. And then Covid hit, and those discussions were paused. But Jamison remained focused on his goal to add women's wrestling."

>> Mat Awareness: "To be sure, Ursinus College was not the first university to sponsor a varsity women's wrestling program. Seven other programs already existed in the Commonwealth of Pennsylvania. But, by adding the sport, Urinsus joined the ranks of universities offering the fastest growing intercollegiate varsity sport, outside of esports."

>> Why It Matters: "With one exception, the University of Iowa, all of the teams added in this time period have been at enrollment-driven schools such as Ursinus. This fact is not lost on the Bears' athletic director Erin Stroble who explains the process at her school involved a proposal from athletics that gained approval from the enrollment staff, and, ultimately, the vice president group."

>> Quotable: ""This was an opportunity to support a new program without needing a brand new facility, at least right away," Stroble said, noting that growing enrollment was, indeed, a benefit to the decision."

>> Read More
CROSS COUNTRY
2. Diversity/Inclusion Social Media Campaign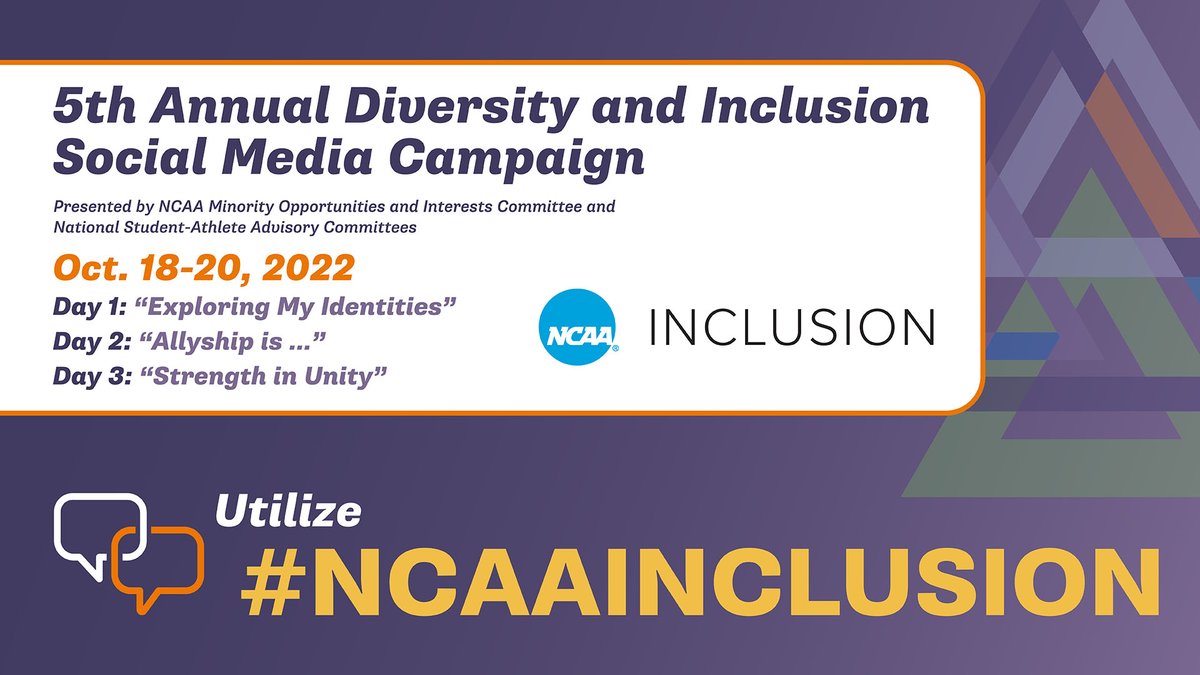 The fifth annual Diversity and Inclusion Social Media Campaign, presented by the NCAA Minority Opportunities and Interests Committee and the national Student-Athlete Advisory Committees, is underway.

The campaign is a prime opportunity for student-athletes, administrators, coaches and fans across the country to use their platform to create a dialogue surrounding diversity, equity and inclusion and to communicate the need for and importance of developing inclusive environments to enhance the student-athlete experience.

To learn more, click here for a comprehensive one-page handout about the campaign and visit the Diversity and Inclusion Social Media Campaign website, which contains a multitude of resources and strategies to assist you and your student-athletes.
A MESSAGE FROM MORNING BREW

2.6 million people wake up to this newsletter every morning

There's a reason over 2.6 million people start their day with Morning Brew - the daily email that delivers the latest news from Wall Street to Silicon Valley. Business news doesn't have to be dry and dense...make your mornings more enjoyable, for free.
SOCCER
3. Maroons, Captains Top Polls

The University of Chicago and Christopher Newport University remain atop the latest United Soccer Coaches Association DIII rankings.

Men
Chicago, 14-0
Messiah, 13-0-1
Kenyon, 12-0-1
Stevens, 12-0-2
Johns Hopkins, 11-0-3
North Park, 11-1-1
Middlebury, 9-1-2
Gustavus Adolphus, 10-0-4
Calvin, 12-1-2
Montclair State, 11-1-3
>>
Mr. Assister
: UW-Eau Claire soph
Carter Thiesfeld
leads D-III with 21 assists through 12 matches.
>>
What We're Watching This Weekend
: No. 4 Stevens vs. Misericordia; No. 7 Middlebury vs. Tufts; No. 16 Amherst vs. No. 25 Hamilton; No. 16 Christopher Newport vs. Mary Washington.
>>
Complete Poll
Women
Christopher Newport, 12-0-1
Misericordia, 12-0-1
Johns Hopkins, 11-0-2
Case Western Reserve, 12-0
William Smith, 11-1-2
Messiah, 11-1-2
Wartburg, 13-0-2
Trinity (Texas), 14-0-1
Carnegie Mellon, 9-1-2
Williams, 9-2-2
>>
Game Winners
: Trinity (Texas) soph
Michaela Bosco
, Montclair State junior
Aileen Cahill
and Pitt-Greensburg first-year
Megan Hickey
share the national lead with six game-winning goals.
>>
What We're Watching This Weekend
: No. 1 Christopher Newport vs. Mary Washington; No. 10 Williams vs. No. 23 Trinity, Conn.; No. 14 Mary Hardin-Baylor vs. Hardin-Simmons
>>
Complete Poll
A MESSAGE FROM PLUM DELUXE TEA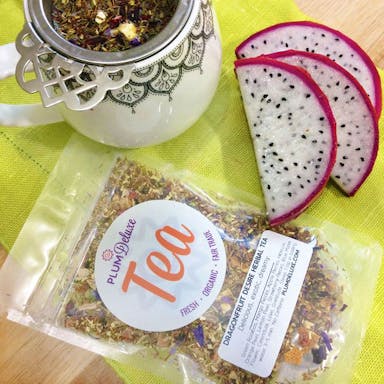 Plum Deluxe Tea

Plum Deluxe is well known for its tea of the month club, the leading tea subscription and one of the most well-liked "surprise and delight" subscriptions.

VOLLEYBALL
4. Athenas Are Unanimous
Claremont-M-S is the unanimous No. 1 team in the land as the latest AVCA women's volleyball rankings were released Tuesday.
Claremont-M-S (90), 20-0
Juniata, 20-1
Calvin, 19-3
Trinity (Texas), 17-3
Northwestern (Minn.), 21-2
NYU, 18-4
Washington (Mo.), 22-3
Berry, 16-3
Wittenberg, 16-3
UW-Whitewater, 21-5
>>
Accuracy
: Meredith junior
Lauren Bissette
leads D-III in hitting percentage at .443 (259 kills, 37 errors, 501 attacks)
>>
What We're Watching This Week
: No. 8 Berry vs. Birmingham-Southern; No. 19 MIT vs. No. 25 Tufts
>>
Complete Poll
FIELD HOCKEY
5. A New No. 1
Middlebury and Rowan remain locked in the top two spots in DIII according to this week's NFHCA coaches' poll.
Rowan, 14-0
Middlebury, 12-1
Salisbury, 13-0
Trinity (Conn.), 11-2
Amherst, 10-2
Tufts, 10-3
Johns Hopkins, 11-3
Messiah, 11-2
Babson, 12-3
Williams, 9-3
>>
Scoring Machine:
Castleton junior
Emily Harris
leads the country in goals (23) and points (54).
>>
What We're Watching This Week
: No. 1 Rowan vs. No. 3 Salisbury; No. 2 Middlebury vs. No. 6 Tufts; No. 7 Johns Hopkins vs. No. 18 Franklin & Marshall
>>
Complete Poll
NEWS
6. Lightning Round
News
Happy Birthday
Cake and candles for Matt Scialabba, assistant director of athletic communications, Susquehanna (and manager of Scialabba Dabba Toos in my fantasy baseball league); and Nairem Moran, director of athletic communications, St. Mary's (Md.).

Do you know someone celebrating a birthday soon? Drop us a line at
D3Playbook@gmail.com
.
TRANSACTIONS

7. Comings and Goings

Copyright © 2022, D3Playbook.com All rights reserved.