written by STEVE ULRICH
your must-read briefing on what's driving the day in NCAA Division III
>> Good Monday morning. Phils win. Bills win. A good weekend.

>> Thanks for reading D3Playbook. Does your conference need some scheduling assistance? Email us.

TOP STORY
1. Trinity Ends Midd's 42-Game Win Streak


No. 7 Trinity (Conn.) snapped top-ranked Middlebury's 42-game unbeaten streak with a 2-1 road victory over the Panthers.

Junior Demarest Janis notched the game-winner with 6:50 remaining in the final period to snap a 1-1 deadlock.

Middlebury had won 51 consecutive home matched dating to 2017. The Panthers (12-1) outshot the Bantams (11-2), 17-2.

>> Read More
A MESSAGE FROM MORNING BREW

2.6 million people wake up to this newsletter every morning

There's a reason over 2.6 million people start their day with Morning Brew - the daily email that delivers the latest news from Wall Street to Silicon Valley. Business news doesn't have to be dry and dense...make your mornings more enjoyable, for free.

SOCCER
2. Claremont-M-S Ends Men's Season
The men's soccer season at Claremont-Mudd-Scripps is over.

"On October 6, 2022, CMS Athletics, in partnership with Claremont McKenna College and Harvey Mudd College Deans of Students Offices, initiated a review of potential violations of CMS Athletics Student Code of Conduct and Hazing Policy by members of the CMS men's soccer team that took place on the evening of Saturday, October 1, on the CMC campus. The members of the men's soccer team cooperated fully with the coaches and college administrators' review of the incident.

While the investigation proceeded, CMS Athletics placed all team activities on hold and canceled the October 8 men's soccer game against Pomona-Pitzer.

The investigation found that nearly all members of the team, acting as a team, violated multiple conduct standards, including organizing and carrying out an event which subjected new team members to multiple acts of hazing. CMS Athletics educates all student-athletes on the definition of, and prohibition against hazing. All CMS Athletics teams meet with athletic administrators at the start of the season to review, understand, and sign the CMS Student Athlete Code of Conduct and Hazing Policy.

As a result, the remainder of the men's fall soccer season is canceled, including any opportunities for SCIAC and NCAA tournament play.

>> Continue Reading
A MESSAGE FROM THE IMPACT JOB

The Impact Job - Weekly Newsletter

Are you interested in the world of Social Impact & Sustainability? Well, look no further. The Impact Job is a weekly newsletter that mixes social impact news and jobs in a fun way. Like a 7/11 slurpee. Laughs guaranteed.

Want to join the 2,600+ weekly subscribers and guarantee yourself a laugh every Thursday?

TENNIS
3. National Champions


The ITA Cup crowned its small college champions last weekend in Rome, Ga.

Women - Singles
Sylwia Mikos (Chicago) d. Sarah Pertsemlidis (MIT), 4-6, 6-3, 6-2

Women - Doubles
Brooke Despriet/Katherine Petty (Sewanee) d. Claudia Ng/Perene Wang (Chicago), 6-3, 6-1

Men - Singles
Advik Mareedu (Claremont-M-S) d. Tristan Bradley (Bowdoin), 6-4, 5-7, 6-2

Men - Doubles
Vishwu Aduru/James Hopper (Case Western Reserve) d. Derin Acaroglu/Vuk Vuksanovic (Tufts), 5-7, 6-4, 10-3

>> Draws
FOOTBALL
4. NCC Holds Onto No. 1 Position

Only one change among the top-10 in the latest D3football.com rankings as Linfield and Trinity (Texas) trade places at Nos. 6 and 7.
North Central, Ill. (21), 6-0
Mount Union (4), 6-0
UW-Whitewater, 5-1
Mary Hardin-Baylor, 6-1
Saint John's, 5-1
Linfield, 5-0
Trinity, Texas, 6-0
Johns Hopkins, 6-0
UW-La Crosse, 5-1
Hardin-Simmons, 5-1

>> This Weekend: No. 1 North Central vs. No. 23 Washington (Mo.); No. 13 Cortland vs. Utica; No. 14 Delaware Valley vs. Wilkes; No. 20 Albion vs. Trine

>> Unbeaten: Four teams suffered their first loss last weekend, bringing the remaining total to 21 with unblemished records after seven weeks.

>> Catching Fancy: Mount Union senior Wayne Ruby leads D-III with 16 touchdown receptions.

>> Sack Masters: Merchant Marine senior C.J. Mustain and Heidelberg senior Zachary Blackiston top the nation with 10 sacks.

>> Complete Poll
NEWS
5. Lightning Round
News
Prayers go out to former Mount Union SID Lenny Reich who is battling cancer and finds himself in the ICU. One of the best.

Alabama's 52 points surrendered to Tennessee last Saturday was the most allowed by a Crimson Tide team since 1907 when Sewanee poured 54 on Bama.
Field Hockey
With losses by Middlebury and Shenandoah on Saturday, there are just three teams remaining with unblemished records - Rowan (14-0), Salisbury (13-0) and Johnson and Wales (12-0). The Profs and the Gulls meet on Wednesday.
Soccer (M)
Following Western Connecticut's draw against Drew on Oct. 11, there are just one side that remains unbeaten and untied - Chicago (14-0). There are 10 sides that have yet to lose.
Soccer (W)
With Calvin's scoreless draw with Adrian on Oct. 12, there is just one side that is unbeaten and untied - Case Western Reserve (12-0). There are 10 teams that are unbeaten.
Volleyball (W)
There are just one team remaining with a spotless record - Claremont-M-S (20-0).
Happy Birthday
Cake and candles for Aaron Spoelman, assistant SID/assistant basketball coach, Franciscan
Do you know of someone celebrating a birthday soon? Drop us a line at D3Playbook@gmail.com.
TRANSACTIONS

6. Comings and Goings
1 THING
7. Conkers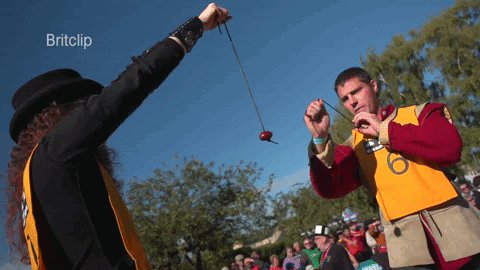 Competitive nut-swinging sounds like something not suitable for this newsletter, but that's just because you've never heard of conkers, Axios writes.
Driving the news: The 55th annual World Conker Championships took place on Sunday about 100 miles north of London, with roughly 5,000 spectators and over 300 competitors.
How it works: The centuries-old English game comprises trying to break your opponent's conker (a chestnut) by swinging your own conker-attached-to-a-string at theirs.
Strikers get three shots to make contact before switching. If the strings tangle, an extra shot is awarded to whomever yells "snags" first.
The game is over when the first conker breaks, unless they break simultaneously, in which case new conkers are selected and play continues.
>> The Final Word: An Emerging Sport?
Copyright © 2022, D3Playbook.com All rights reserved.