written by STEVE ULRICH
your must-read briefing on what's driving the day in NCAA Division III

>> Happy Friday. Thank you for the birthday greetings.

>> Today's Word Count: 1,188

>> Thanks for reading D3Playbook. Consider sharing us with other department members, especially the newest ones!

TOP STORY
1. The Perfect Football Tailgate

by Josh Planos, FiveThirtyEight

"The arrival of the college football season is accompanied by a communal loosening of belts as fans around the U.S. prepare to devour copious amounts (and types) of food and drink in the leadup to kickoff. If football is indeed America's sport, the tailgate is its market square, a time for many to numb the senses before shuffling into the bleachers.

The contemporary, corporatized iterations feature white tents, sprawling parties and expensive invoices, but its roots are more than a century deep and were built around community building for a broad cross section of society. Even the worst team in the country likely has some alumni downing liquor from an ice luge outside the stadium.

A football tailgate is as sacred as it is singular, perhaps the only moment of the day where camaraderie is prioritized over competition and a keg stand can draw political support. But that doesn't mean everyone wants to stuff their face with the same foods, nor does everyone have the same idea of what elements are most essential to curate the perfect tailgate atmosphere."

>> Field Awareness: "FiveThirtyEight sought to identify the optimal tailgate spread and setup. To do so, we relied on a brand-compliant scientific approach: this survey of 5,000 respondents from OnePoll on behalf of Hormel Foods. The survey took into account responses from all 50 states and generated acute insights into the literal belly of the sport."

>> The Key Stat: "Predictably, the pursuit of America's favorite tailgate food devolved into a meat advertisement. Burgers (66 percent) and hot dogs (56 percent), the two leading items, each earned at least 53 percent of top-three votes across five regions. Chips (52 percent) and pulled pork barbecue (26 percent) made valiant efforts for the top spot, but the former was no doubt hindered by standing alone in the absence of dip, which ranked fifth-most popular (20 percent) by itself."

>> Favorite Foods: Foods liked more than the average in the U.S.
Northeast: Pasta Salads
Southeast: Pulled Pork BBQ
Midwest/Southwest: Chips
Southwest: Hot Dogs
>> The Final Word: "The pregame spread is the primary entree — an excuse to break bread with the opposition, impress friends and family and at the very least one-up the tented offerings of the adjacent stall."

>> Continue Reading
A MESSAGE FROM BRIGHT CELLARS

Discover Wines You Love

Bright Cellars is the monthly wine club that matches you with wine that you'll love, based on an algorithm that selects wines based on your taste preferences. Created to not only deliver excellent wine, but to also give the added bonus of learning about your wines and own tastes.


SOCCER
2. Displaced Afghan Student Recounts Journey

by Jim Sheahan, Bard

"Mujtaba Naqib's first night on the Bard College campus was January 11, 2022. It was a blustery 15 degrees in Annandale. From bed, he stared at the ceiling in the room in his new home, Cruger Hall, and listened to the wind whipping outside.

He couldn't sleep. His mind was racing.

On Aug. 26 of the previous summer, he was forced to flee Afghanistan when the Taliban regained power. He was in the Kabul airport on the day a suicide bombing resulted in the deaths of 13 U.S. troops, and he had just the clothes on his back, a laptop and a small backpack. Without notice, he was flown to Qatar and lived under a tent for four days with 700 other people, then flown to Germany, where he lived in an encampment for 45 days with about 1,200 displaced people. Then, again without notice, he was flown to Philadelphia, and bussed to Quantico, Va., on Oct. 15.

Now, by some miracle, he was a student at Bard College. He was easily 20 pounds lighter than the day he left Kabul. And he couldn't sleep."

>> Field Awareness: "Playing on the concrete under the arched entryway to Cruger Hall were five freezing Bard students. They are members of the Bard men's soccer team. "We had set up two trash cans as goals and we were just playing," Reed Campbell said. "We saw this guy was watching us for a while so we just asked him if he wanted to play. So he took his shoes off - I think he was wearing Crocs anyway. And he immediately started cooking us. Some of the moves he was doing were insane. His dribbling skills were amazing."

>> What's Next: "(Head coach TJ) Kostecky invited Muji to join the team for spring practices, and even though he hadn't regained the weight he had lost and was still not at full strength, he held his own. The culmination of the spring workouts is the Andrew McCabe Memorial Alumni Game, and Muji scored a goal that day. Members of the team used the event to fundraise for Bard's Afghan Student Fund."

>> What They're Saying: "As we all know, this week's ethos is Heart. The way I look at heart is when a person is there for someone through good and bad times, whether they know each other or not. It reminds me of my first few months at Bard. I had just gone through the most traumatic experience of my life, and I was still healing from it when Russia invaded Ukraine. I remember seeing the pictures of Ukrainian people fleeing their own country, and it reminded me of how I was forced to flee my country. I'm going to end today's ethos by saying I love each and every one of you for making me feel included on this team, whether I'm on the field, or on the bench. Kicking the ball around with all of you really helped me during my tough times and because of all of you, I feel one thousand percent better. Thank you to everyone for being amazing, and I am very proud to be part of this community."

>> Yes. You'll Want to Continue Reading
A MESSAGE FROM EDGE SPRAY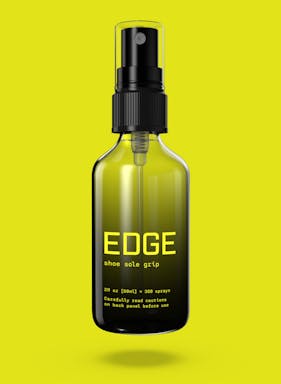 Instant Sneaker Grip in a Bottle!


EDGE is a new shoe grip spray that has been endorsed by players, coaches, and trainers from AAU through D1 and Pro Basketball. It's been blowing up in the NCAA basketball and volleyball communities, but it is also used for rock climbing, boxing, table tennis, futsal, racquetball, and more.

WEEKEND
3. What We're Watching
Field Hockey
New Paltz (7-2) vs. Geneseo (9-2)
Shenandoah (11-0) vs. Lynchburg (9-2)
Union (7-1) vs. Vassar (6-2)
Soccer (M)
MSOE (10-1-1) vs. Dominican (8-2-1)
Kenyon (9-0) vs. Wabash (8-2-1)
Washington and Lee (8-1-2) vs. Christopher Newport (8-2)
Franklin & Marshall (8-1-2) vs. Gettysburg (7-1-2)
Soccer (W)
Misiericordia (8-0-1) vs. DeSales (6-2-2)
Montclair State (10-0) vs. Rowan (6-0-2)
George Fox (5-0-2) vs. Pacific Lutheran (7-1-1)
Football
Hope (3-1) vs. Albion (4-0)
Nichols (3-1) vs. Endicott (4-0)
Cortland (4-0) vs. Brockport (3-1)
UW-La Crosse (3-0) vs. UW-Stout (3-1)
Birmingham-Southern (3-1) vs. Trinity TX (3-0)
Volleyball
Messiah (13-2) vs. Juniata (14-1)
Millikin (12-5) vs. Washington, Mo. (15-2)
Calvin (12-3) vs. MIT (14-2)
Centre (14-4) vs. Berry (12-2)
Texas Lutheran (17-4) vs. Trinity, Texas (13-2)
A MESSAGE FROM MORNING BREW


2.6 million people wake up to this newsletter every morning


There's a reason over 2.6 million people start their day with Morning Brew - the daily email that delivers the latest news from Wall Street to Silicon Valley. Business news doesn't have to be dry and dense...make your mornings more enjoyable, for free.
Copyright © 2022, D3Playbook.com All rights reserved.