written by STEVE ULRICH
your must-read briefing on what's driving the day in NCAA Division III

>> Happy Friday. The Boss - Bruce Springsteen - turns 73 today. Still worth the money to see him live!

>> Today's Word Count: 844

>> Thanks for reading D3Playbook. Consider sharing us with other department members, especially the newest ones!

TOP STORY
1. Utica Adds Three Sports


Utica University President Dr. Laura Casamento and Director of Athletics Dave Fontaine announced this morning that the university will add women's gymnastics, men's wrestling and women's wrestling to its roster of NCAA Division III intercollegiate sports. These additions bring the total number of intercollegiate sports at Utica to 29.

All three winter season sports will begin play for the 2023-24 season. The university has begun the process of hiring coaches, and once in place, the coaches will immediately begin recruiting first-year and transfer student athletes.

"Gymnastics and wrestling are wonderful complements to our existing Olympic sport offerings and both are recognized NCAA Emerging Sports for Women," Casamento said. "With the growing popularity of these sports, both in our region and across the state and country, we are excited to expand opportunities for athletes to compete at the college level."

>> Background: "Utica will join 111 other Division III institutions that offer men's wrestling, as well as 59 others that provide wrestling at the women's DIII level. The university will also add on to the 89 other institutions across the country that feature women's gymnastics, 17 of which come at the Division III level."

>> Quotable I: "As the Executive Director of the WCGA and the NCGA, I am proud to welcome Utica University to Division III Women's Gymnastics," said Jason Bauer, the Executive Director of the Women's Collegiate Gymnastics Association and the National Collegiate Gymnastics Association."

>> Quotable II: "I know I speak for our NWCA Board of Directors when I extend a heartfelt thanks to the Utica University administration for recognizing the educational value and diversity that a new intercollegiate men's and women's wrestling program will bring to their campus," said Mike Moyer, Executive Director of the National Wrestling Coaches Association."

>> Continue Reading
A MESSAGE FROM BRIGHT CELLARS

Discover Wines You Love

Bright Cellars is the monthly wine club that matches you with wine that you'll love, based on an algorithm that selects wines based on your taste preferences. Created to not only deliver excellent wine, but to also give the added bonus of learning about your wines and own tastes.


FOOTBALL
2. Hilbert Joins E8

"The Empire 8 Conference is pleased to announce the addition of Hilbert College as an affiliate member in the sport of football effective with the 2024-25 academic year.

"We are excited to welcome Hilbert to the Empire 8 Football family," said Empire 8 Commissioner Chuck Mitrano. "Their profile, location and leadership with President (Michael) Brophy, Tim Seil and Jim Kubiak make them an excellent addition. They are ambitious and we're excited to play a role in their growth and history."

Hilbert currently sponsors 18 Division III sports, the majority competing in the Allegheny Mountain Collegiate Conference. Football is playing in its inaugural season in 2022 as an independent. Hilbert will become the eighth Empire 8 football program in 2024, joining full-time members Alfred University, Hartwick College, St. John Fisher University and Utica University, in addition to fellow affiliate members SUNY Brockport, SUNY Cortland and SUNY Morrisville."

>> Read More
A MESSAGE FROM EDGE SPRAY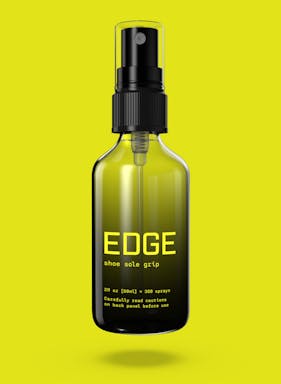 Instant Sneaker Grip in a Bottle!


EDGE is a new shoe grip spray that has been endorsed by players, coaches, and trainers from AAU through D1 and Pro Basketball. It's been blowing up in the NCAA basketball and volleyball communities, but it is also used for rock climbing, boxing, table tennis, futsal, racquetball, and more.

WEEKEND
3. What We're Watching

Why does every grab popcorn? Just bring something that you enjoy snacking on ... a favorite beverage ... and enjoy DIII sports on your computer or big screen this weekend. Here are some of the top games to watch, including a 2-3 matchup.



Field Hockey
Soccer (M)
Soccer (W)
Football
all game times ET
A MESSAGE FROM MORNING BREW


2.6 million people wake up to this newsletter every morning


There's a reason over 2.6 million people start their day with Morning Brew - the daily email that delivers the latest news from Wall Street to Silicon Valley. Business news doesn't have to be dry and dense...make your mornings more enjoyable, for free.
NEWS
4. Lightning Round
News
Mats Terwiesch, a 2018 graduate of Bates, is competing for US Rowing at the World Rowing Championships in the Czech Republic.
Happy Birthday

Cake and candles for
Sunday: Jake Wozniak, women's wrestling coach, UW-Stevens Point
Do you know of someone celebrating a birthday soon? Drop us a line at D3Playbook@gmail.com.
TRANSACTIONS
5. Comings and Goings
1 THING
6. That's a Lot of Ants


The planet has around 2.5 million ants for every human being, says a new study aiming to estimate the insects' total population, Alex reports.
That's about 20 quadrillion ants overall.
Details: The researchers, who published their work in the Proceedings of the National Academy of Sciences, took a look at nearly 500 previous studies to estimate ants' total biomass.
They came away with the figure of 12 megatons — meaning, if you could scoop up every ant on Earth and put them all on a scale, that's how much they'd weigh.
From there, you can estimate their overall population.
The idea of all those ants may be a little unsettling, but they play an essential role in the food chain — and wood-eating varieties can help return dying trees' nutrients to the soil (just keep an eye out for them around your house!).
Copyright © 2022, D3Playbook.com All rights reserved.