written by STEVE ULRICH
your must-read briefing on what's driving the day in NCAA Division III

>> Happy Friday. Celebrating a victory this morning. I try not to be obnoxious, but this #BillsMafia thing has got me under its spell.

>> Today's Word Count: 1,572

>> Thanks for reading D3Playbook. Consider sharing us with other department members, especially the newest ones!

TOP STORY
1. Rose-Hulman Gets Big Board

"A $1 million gift from alumnus Pat Noyes and his wife, Cindy, has helped Rose-Hulman complete recent additions to its athletic facilities including Cook Stadium with the addition of a state-of-the-art electronic scoreboard at the east end of Phil Brown Football Field and Bill Welch Outdoor Track."

The scoreboard will be unveiled during the Fightin' Engineers' first home football game on Saturday and dedicated during a special ceremony on Homecoming, October 8.

"The 40½-foot-long, 22½-foot-high structure, produced by the Daktronics large-format video display company, will showcase live in-game action, display game information and graphics, and highlight corporate and alumni sponsors.

It will be the largest electronic scoreboard at a NCAA Division III stadium east of the Mississippi River and third largest among all Division III institutions."

>> What They're Saying: "The scoreboard is icing on the cake for the wonderful renovations that have been taking place to Phil Brown Field," remarks Pat Noyes, "The best part of my student experience was playing football and baseball. With such a large percentage of the Rose-Hulman student body participating in extracurricular activities, my hope is that more students will find their overall college experience to be more fulfilling and meaningful."

>> Read More
A MESSAGE FROM BRIGHT CELLARS

Discover Wines You Love

Bright Cellars is the monthly wine club that matches you with wine that you'll love, based on an algorithm that selects wines based on your taste preferences. Created to not only deliver excellent wine, but to also give the added bonus of learning about your wines and own tastes.


VOLLEYBALL
2. Voeck Named Secretary-Rules Editor

"Julie Voeck, a collegiate volleyball official for over two decades, was named the NCAA secretary-rules editor for women's volleyball last month.

Voeck will begin her new role Sept. 1, 2023. Over the next year, she will shadow Anne Pufahl, the current NCAA secretary-rules editor for the sport whose term will end after 12 years of service."

>> Court Awareness: "During her time on the court, Voeck has officiated the NCAA Division I Women's Volleyball Championship from 2004-21. In addition, she officiated the NCAA Division III Women's Volleyball Championship finals in 2011, 2012, 2021 and 2022, and the NCAA Division III Men's Volleyball Championship title match in 2014, 2018 and 2022."

>> Quotable: "I'm looking forward to getting perspective from coaches on how they would like to see the game shaped," said Voeck, who served on the National Association of Sports Officials board of directors from 2015-19. "I want to know what coaches want to see and what can we do in terms of training and the rules to improve the game. I am interested in that input."

>> Continue Reading
A MESSAGE FROM CHI ALPHA SIGMA



Chi Alpha Sigma is the first, and only, national scholar-athlete society to honor those four-year collegiate student-athletes who have excelled in both the classroom and in athletic competition.

Founded in 1996 and with over 300 active chapters nationwide, Chi Alpha Sigma recognizes undergraduate college student-athletes who participate in a sport at the varsity intercollegiate level, achieve junior academic standing or higher after their fifth full time semester, and earn a 3.4 or higher cumulative grade point average. One institutional chapter membership will induct all eligible student-athletes each year and the student-athletes are recognized for life and never asked to pay any fees themselves.

To start a chapter on your campus today, contact Kellen Wells-Mangold, Executive Director, at kellen@ncahs.org or visit chialphasigma.org for more information.
WEEKEND
3. What We're Watching

Why does every grab popcorn? Just bring something that you enjoy snacking on ... a favorite beverage ... and enjoy DIII sports on your computer or big screen this weekend. Here are some of the top games to watch, including a 1-2 and a 2-3 matchup.



Field Hockey
No. 1 Middlebury at No. 11 Amherst, 11:00
No. 3 Rowan at No. 2 Johns Hopkins, 6:00
No. 8 Messiah at No. 12 Salisbury, 1:00
Soccer (M)
Soccer (W)
Volleyball (W)
No. 1 Claremont-M-S vs. No. 2 Trinity, Texas, 11:30
No. 15 Otterbein vs. No. 20 Birmingham-Southern, 12:00
No. 7 Johns Hopkins vs. No. 14 Emory, 2:30
Football
No. 1 Mary Hardin-Baylor at No. 6 UW-Whitewater, 1:00
No. 8 Wheaton, Ill. at No. 9 Trinity, Texas, 7:00
all game times ET
A MESSAGE FROM MORNING BREW


2.6 million people wake up to this newsletter every morning


There's a reason over 2.6 million people start their day with Morning Brew - the daily email that delivers the latest news from Wall Street to Silicon Valley. Business news doesn't have to be dry and dense...make your mornings more enjoyable, for free.
NEWS
4. Lightning Round
News
Water woes continue in Jackson, Miss. - home of Millsaps College and Belhaven University - as the Pearl River, which runs through the city, flooded and knocked the city's water treatment plant off-line Aug. 29. It left the city of more than 150,000 without safe tap water and extremely low water pressure for about a week.

Wittenberg recently announced the launch of its Tiger Up Exchange - a partnership with INFLCR, which bills itself as a "leading athlete branding-building & NIL business management app empowering athletes from over 250 collegiate & pro organizations."

Remember the old Beloit Mindset List? Well, Marist took it over and here's the annual list of what college first-years (I still prefer freshmen) know ... and more importantly, don't know.
Happy Birthday
Saturday: Katelyn Sire, asst. women's basketball coach, Montclair State; Allie Oosterhoudt, asst. commissioner, North Atlantic Conference; Ari Ross, asst. athletic communications director, Rochester; John Voynovich, Carthage

Do you know of someone celebrating a birthday soon? Drop us a line at D3Playbook@gmail.com.
TRANSACTIONS
5. Comings and Goings
1 THING
6. Fantasy Football Season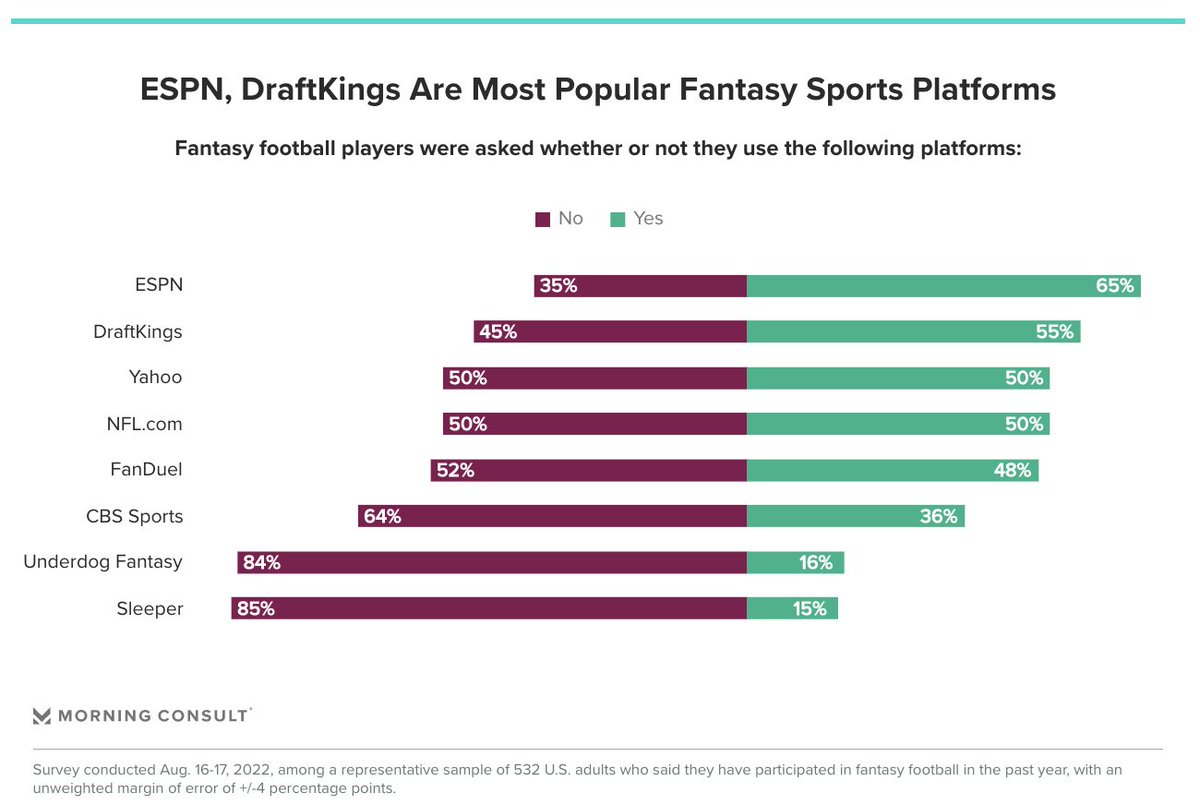 A new Morning Consult survey underscores the heightened popularity of fantasy sports in America, specifically football. About 4 in 5 survey respondents who participated in any fantasy sport in the past year (82%) said they played fantasy football. One in 4 U.S. adults (24%) said they are either "very" or "somewhat" interested in fantasy sports leagues, while nearly 1 in 3 self-identified sports fans and self-identified NFL fans (32%) answered similarly.
"Fantasy football is king," said Mitesh Mehta, senior vice president of betting and gaming at NBC Sports Next, a subdivision of NBC Sports Group. "It's 1A, B and C."

>> Read More
Copyright © 2022, D3Playbook.com All rights reserved.