written by STEVE ULRICH
your must-read briefing on what's driving the day in NCAA Division III
>> Hello Wednesday. On this day in 1814, Francis Scott Key was inspired to write the poem "Defence of Fort McHenry" (later "The Star-Spangled Banner") after witnessing the American flag flying over the Maryland fort following a night of British naval bombardment during the War of 1812

>> Today's Word Count: 971

>> More Numbers: 1,914 subscribers, 4,145 twitter followers.

>> Thanks for reading D3Playbook. Please refer a friend. We'd like to get to 2,000 subscribers by the end of the month.

TOP STORY
1. Mitchell, NEC Join GNAC


The Great Northeast Conference announced the addition of Mitchell College and New England College as its 15th and 16th core members on Tuesday.

Both the Mariners and the Pilgrims will join the conference beginning next fall in the 2023-24 academic year.

Most recently, Elms College joined the GNAC in 2021 after Dean College joined in 2020. Prior to that, Regis College was added in 2017 and Colby-Sawyer College came aboard in 2018.

>> What They're Saying: "The addition of Mitchell and New England College will provide continued stability to our current 22 championship offerings, and possibly allow for more GNAC championship opportunities in the future," said Commissioner Joe Walsh. "The geographical location of the two schools also allows our administrators to discuss further divisional play options, while it also helps reduce student-athlete missed class time academically."

>> Mitchell: "Mitchell College is honored to have been invited to join the Great Northeast Athletic Conference," said Dr. Tracy Y. Espy, president of Mitchell. Mitchell sponsors 12 varsity sports, all of which will compete within the GNAC - baseball, men's and women's basketball, men's and women's cross country, men's golf, men's and women's lacrosse, men's and women's soccer, softball, and women's volleyball.

>> NEC: "New England College is honored and delighted to be invited to join the GNAC," said Dr. Michele Perkins, NEC Chancellor. Thirteen of NEC's 22 sports will operate under the GNAC umbrella – baseball, men's and women's basketball, men's and women's cross country, field hockey, men's golf, men's and women's lacrosse, men's and women's soccer, softball, and women's volleyball."

>> Read More
ENROLLMENT
2. Notre Dame (Md.) To Add Men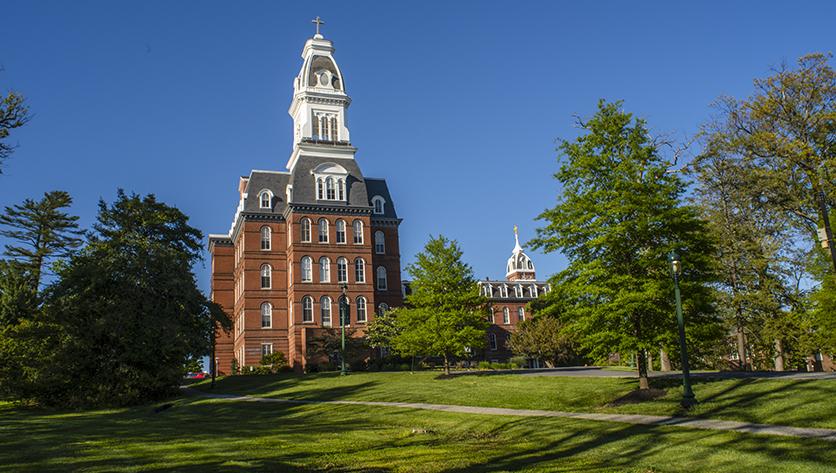 For more than 125 years, Notre Dame of Maryland University has broken barriers to provide high quality higher education to generations of diverse students. NDMU has continuously expanded its reach to create new educational opportunities for underserved populations and build inclusive communities. On Sept. 12, 2022, the NDMU Board of Trustees voted unanimously that the University become co-educational and enroll men into the traditional undergraduate program starting in fall 2023.

The decision came nearly a year after the Board formed an Enrollment Task Force to review the enrollment trends of women's colleges, as well as undergraduate data nationally and statewide. By becoming co-ed, NDMU is honoring and expanding its historical mission to educate leaders to transform the world. This decision will allow NDMU to provide its distinctive model of inclusive transformational education to more women and men.

NDMU will remain an NCAA Division III university. Teams for men are planned to begin in academic year 2023-24."

>> Quotable: "The Board recognized that in order for NDMU to flourish for years to come, we needed to expand our mission to admit women and men who want a co-ed college experience," said Patricia McLaughlin, SSND '66, chair of the Board of Trustees."

>> FAQ
A MESSAGE FROM CHI ALPHA SIGMA
Chi Alpha Sigma
is the first, and only, national scholar-athlete society to honor those four-year collegiate student-athletes who have excelled in both the classroom and in athletic competition.
Founded in 1996 and with over 300 active chapters nationwide, Chi Alpha Sigma recognizes undergraduate college student-athletes who participate in a sport at the varsity intercollegiate level, achieve junior academic standing or higher after their fifth full time semester, and earn a 3.4 or higher cumulative grade point average. One institutional chapter membership will induct all eligible student-athletes each year and the student-athletes are recognized for life and never asked to pay any fees themselves.
To start a chapter on your campus today, contact Kellen Wells-Mangold, Executive Director, at
kellen@ncahs.org
or visit
chialphasigma.org
for more information.
RANKINGS
3. Champs Hold Onto Top Spots

Defending champions Connecticut College and Christopher Newport remain atop the United Soccer Coaches latest men's and women's rankings.

Men
Connecticut College, 1-0-1
Amherst, 2-0-1
Chicago, 5-0
Messiah, 3-0-1
Tufts, 1-0-1
North Park, 4-0
Rochester, 3-0
Kenyon, 4-0
Middlebury, 1-0-1
Calvin, 4-0-1
11-15: Stevens, Johns Hopkins, Washington and Lee, Pacific Lutheran, Brandeis
16-20: Gustavus Adolphus, Cortland, Carnegie Mellon, Oneonta, Montclair State
21-25: St. Thomas, Babson, Covenant, Wartburg, York (Pa.)
>>
Complete Poll
Women
Christopher Newport, 4-0-1
Misericordia, 5-0
Messiah, 3-0-1
Amherst, 3-0
Johns Hopkins, 2-0-2
William Smith, 2-1
Wartburg, 5-0
Carnegie Mellon, 2-1-1
Trinity (Texas), 3-0-1
Wesleyan (Conn.), 2-0
11-15: Babson, Montclair State, Chicago, TCNJ, Centre
16-20: Mary Hardin-Baylor, Case Western Reserve, North Central (Ill.), Tufts, UW-La Crosse
21-25: Endicott, MIT, Plattsburgh State, Pomona-Pitzer, Franklin & Marshall
>>
Complete Poll
A MESSAGE FROM TRENDS
Your next business idea, delivered weekly.
Trends tells you the next big thing – months before everyone else. Their dynamic team of business analysts already outlined 1,000+ vetted business ideas you can start in a weekend, and they send new ideas and market signals straight to your inbox weekly.
Try Trends for a week for only $1

VOLLEYBALL
4. CMS Holds No. 1 Spot
Claremont-M-S remains on top as the latest AVCA women's volleyball rankings were released Tuesday.
Claremont-M-S (90), 7-0
Juniata, 6-0
Trinity (Texas), 5-2
Emory, 5-2
Calvin, 5-1
NYU, 6-1
Northwestern, 6-0
Gustavus Adolphus, 7-0
Hope, 6-1
Colorado College, 7-0
11-15: Otterbein, Berry, UW-Eau Claire, Johns Hopkins, UW-Whitewater
16-20: Wittenberg, Wesleyan (Conn.), MIT, Tufts, Washington (Mo.)
21-25: UW-Stevens Point, Albion, Babson, Augsburg, Birmingham Southern
>>
Welcome
: Wittenberg, Washington U., Albion, Augsburg
>>
See Ya
: Wartburg, Susquehanna, Southwestern, Mary Hardin-Baylor
>>
Complete Poll
FIELD HOCKEY
5. Panthers Remain on Top
Defending national champion Middlebury remains the No. 1 team in the land according to this week's NFHCA coaches' poll.
Middlebury, 3-0
Rowan, 4-0
Johns Hopkins, 3-1
Tufts, 2-0
Trinity, Conn., 2-0
Salisbury, 4-0
Babson, 2-1
Williams, 2-0
Kean, 3-1
Messiah, 2-2
11-15: TCNJ, Amherst, Bowdoin, Washington and Lee, Bates
16-20: MIT, Ursinus, Christopher Newport, Cortland, Vassar
>>
Welcome
: Bates
>>
See Ya
: New Paltz
>>
Complete Poll
NEWS
6. Lightning Round
News
CBS Sports has a feature called "Candid Coaches" and the most recent question was 'How many team should be playing Division I basketball?' Our favorite line - "I have coached now at the D-I, D-II and D-III levels in my career, and in my opinion there are many D-II and D-III programs that far outclass some of the low D-I programs that I have seen."
Happy Birthday
Cake and candles for John Peterson, Muskingum

Do you know of someone celebrating a birthday soon? Drop us a line at D3Playbook@gmail.com.
TRANSACTIONS

7. Comings and Goings

Copyright © 2022, D3Playbook.com All rights reserved.