written by STEVE ULRICH
your must-read briefing on what's driving the day in NCAA Division III


>> Welcome to Thursday. Summer turns to fall tonight.

>> Apologies. Here is the correct link to yesterday's top story: Girls Are Leaving HS Basketball. Why?

>> Today's Word Count: 891

>> Thanks for reading D3Playbook. Is your staff reading D3Playbook? Make like Ted Lasso and make the extra pass.

TOP STORY
1. Hartford Addresses DIII Transition

by Gabrielle Lucivero

"Dr. Sharon Beverly likens it to being on a road without a map. As the Vice President of Athletics and Recreation at the University of Hartford, she's been tasked with leading the change from Division I to Division III athletics, something just two schools have done before.

"I only saw the positives, absolutely," said Beverly, who started at the school the month after the Board of Regents voted to make the transition. "To build in and develop a program, in the opposite direction. Usually, you see, sometimes schools going from III to I, you know, to have the institution determine that it was best for us to move from Division I to Division III, was a challenge I wanted to take on."

The initial feasibility study outlined the financial incentives of the plan, though now, Beverly said, it is less about finances and more about lining up with the university's mission.

"We want to support our student-athletes in every way possible, not just their athletic endeavors, but their academic endeavors. And Division III gives you that time to do that," Beverly said."

>> Situational Awareness: "NBC Connecticut reviewed the numbers in the NCAA transfer portal, which shows 20% of student-athletes have left for other schools since the rumors of the move started in April of 2021. If you factor in graduates and graduate transfers, that number is 35%. According to the university, just 62 athletes have transferred in that same span while they've brought in 200."

>> By The Numbers: "The university had 348 student-athletes at the end of the 2020-21 school year. For the start of the 2022-23 year, the school said they have 284. While a dip during a transition can be expected, the school-led feasibility study only made projections for the financial impact of having 325, 400 and 500 student-athletes. There was no consideration for a deficit."

>> Reality Check: "Students protested the decision and have continued to speak out since. A handful of student-athletes, who have since transferred, have an active lawsuit against the school. Hartford men's basketball head coach John Gallagher is suing a member of the Board of Regents over alleged misrepresentation. Defendants in both suits have denied the allegations. Neither are filed against Beverly."

>> Continue Reading
>> Transition Timeline
A MESSAGE FROM HUDL/BLUEFRAME TECHNOLOGY
Did you know
BlueFrame Technology
has advanced integrations with top automated cameras like the
Hudl Focus
? Showcase your teams and student-athletes with BlueFrame's full streaming service priced perfectly for D3 budgets….or use their
Production Truck
software to stream with your current provider.
Step up your game this year and STREAM LIKE A PRO with BlueFrame.
Learn more today
!
FOOTBALL

2. Four Named to Good Works Team


Allstate and the American Football Coaches Association (AFCA) announced the final roster for the 31st Allstate AFCA Good Works Team®, recognizing 22 college football student-athletes and an honorary head coach for outstanding contributions to their communities.

"For 31 years, the Allstate AFCA Good Works Team has reminded us how to use our position in life — whatever that may be — to lift up those around us," said Tim Tebow, two-time national champion, Heisman Trophy winner and 2009 Allstate AFCA Good Works Team member.

Allstate will continue its tradition of rewarding these athletes with an NIL opportunity as well as a charity match from The Allstate Foundation.

Division III Honorees
Matthew Feldick, Bethel
Alan Gorny, Johns Hopkins
Matt Lilja, Mount Union
Michael Wozniak, Saint John's

>> Complete Team / Release
A MESSAGE FROM EDGE SPRAY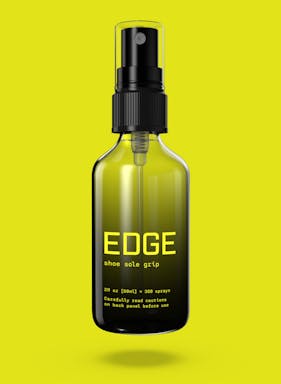 Instant Sneaker Grip in a Bottle!

EDGE is a new shoe grip spray that has been endorsed by players, coaches, and trainers from AAU through D1 and Pro Basketball. It's been blowing up in the NCAA basketball and volleyball communities, but it is also used for rock climbing, boxing, table tennis, futsal, racquetball, and more.

CROSS COUNTRY (W)
3. Knights of the 6K Course

Geneseo continues to sit atop the latest USTFCCCA DIII women's cross country rankings. The Knights went head-to-head with No. 3 Johns Hopkins and downed the Blue Jays by 15 points. Amherst and Pomona-Pitzer joined the top 10.
Geneseo
Wartburg
Johns Hopkins
Chicago
Claremont-M-S
MIT
Washington (Mo.)
Amherst
UW-La Crosse
Pomona-Pitzer
11-15: Carleton, Hope, Middlebury, Tufts, St. Olaf, Williams
17-20: John Carroll, Loras, Bates, Carnegie Mellon
21-25: UC Santa Cruz, UW-Eau Claire, Calvin, Dickinson, Lynchburg

>> Welcome: UC Santa Cruz, NYU, Misericordia

>> Complete Poll
CROSS COUNTRY (M)
4. Pomona-Pitzer On Top

Pomona-Pitzer, the two-time defending national champions, remains atop the USTFCCCA DIII men's cross country ranking this week. Three teams entered the top 10 - North Central (Ill.), Johns Hopkins and Claremont-M-S.

Men
Pomona-Pitzer
MIT
Wartburg
UW-La Crosse
North Central (Ill.)
Johns Hopkins
John Carroll
UW-Whitewater
Claremont-M-S
RPI
11-15: Washington (Mo.), Williams, Carnegie Mellon, Lynchburg, UC Santa Cruz
16-20: Otterbein, Haverford, St. Olaf, Geneseo, Chicago
21-25: Emory, Bates, Calvin, Loras, Connecticut College

>> We See You: NYU

>> Complete Poll

NEWS
5. Lightning Round
Soccer
Field Hockey
Happy Birthday
Cake and candles for Joe Ginley, SID, John Carroll; Katie Tarr, associate AD, Bryn Mawr; Jake Wozniak, head women's wrestling coach, UW-Stevens Point; and Benjamin Lane, Lasell

Do you know of someone celebrating a birthday soon? Drop us a line at D3Playbook@gmail.com.
TRANSACTIONS

6. Comings and Goings
1 THING
7. Good Catch
Copyright © 2022, D3Playbook.com All rights reserved.