written by STEVE ULRICH
your must-read briefing on what's driving the day in NCAA Division III
>> Good Monday morning. The U.S. Open tennis championship begins today

>> Today's Word Count: 1,029

>> Trivia: Four teams have posted undefeated records in DIII women's volleyball since 1989 (not counting 2020). Can you name them?

>> Thanks for reading D3Playbook. Record books need some updating? Maybe your administration would like a feasibility study? Email us.

TOP STORY
1. Men's Soccer Preview


The 2022 NCAA Division III men's soccer season gets underway on Thursday with two major changes affecting matches that end in draws after 90 minutes.

Beginning this fall, overtime in regular-season matches is history. A match that is even after 90 minutes is recorded as a draw.

And the magic that is the golden goal is also gone. The NCAA Soccer Rules Committee now requires both overtime periods to be played to completion in the postseason.

Although we "supposedly" have preseason soccer polls from United Soccer Coaches, they are actually just repeats of the final rankings from the previous season.

>> Players to Watch: F-Michael Meese, Soph., Trinity (Texas); F-Amer Lukovic, Soph., Montclair State; M-Augie Djerdjaj, Sr., Connecticut College; M-Victor Gaulmin, Jr., St. Olaf; D-Johnny Kraemer, Sr., North Central (Ill.); D-Griffin Wada, Sr., Chicago; D-Jake Lent-Koop, Sr., Messiah; GK-Jack Viles, Sr., Southwestern; GK-Ryan Grady, Jr., Middlebury

>> Most All-Americans by School: Williams 33, Trinity (Texas) 28, Messiah 19, Ohio Wesleyan 17, Middlebury 15, Wheaton (Ill.) 13, Kenyon 11, St. Lawrence 11, Elizabethtown 10

>> Winningest Active Coaches: Jay Martin, Ohio Wesleyan, 738-153-76; Skip Roderick, Elizabethtown, 557-168-70; Paul McGinlay, Trinity (Texas), 531-87-37; Joe Clarke, Washington (Mo.) 469-201-82; Jon Anderson, Babson, 428-194-77

>> More Records
A MESSAGE FROM CHI ALPHA SIGMA


Chi Alpha Sigma is the first, and only, national scholar-athlete society to honor those four-year collegiate student-athletes who have excelled in both the classroom and in athletic competition.

Founded in 1996 and with over 300 active chapters nationwide, Chi Alpha Sigma recognizes undergraduate college student-athletes who participate in a sport at the varsity intercollegiate level, achieve junior academic standing or higher after their fifth full time semester, and earn a 3.4 or higher cumulative grade point average. One institutional chapter membership will induct all eligible student-athletes each year and the student-athletes are recognized for life and never asked to pay any fees themselves.

To start a chapter on your campus today, contact Kellen Wells-Mangold, Executive Director, at kellen@ncahs.org or visit chialphasigma.org for more information.
ADMINISTRATION
2. Conversation With Stockton's Tony Berich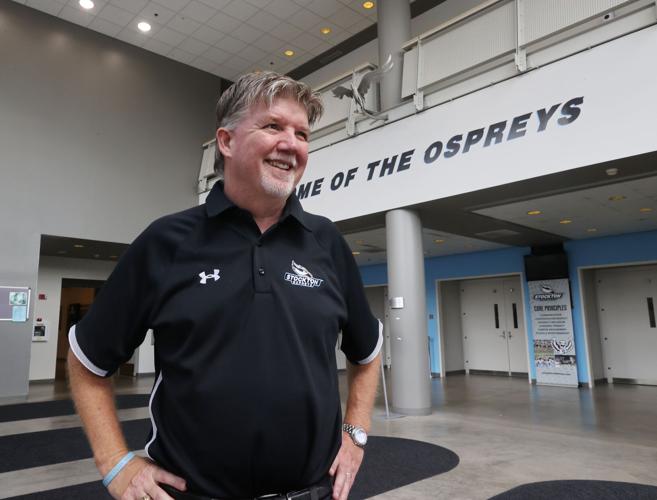 by Patrick Mulranen, Press of Atlantic City

"Tony Berich enjoys his job.

Berich has served as Stockton University's director of athletics and recreation for 13 months. He was named the interim athletic director last year and had the interim tag removed in July. Berich was the AD at Randolph College in Virginia for three years and at the University of Pittsburgh-Greensburg for 10. He also was the assistant AD at Philadelphia University (now Jefferson University).

Overall, he arrived at Stockton with 24-plus years of experience in college athletics.

The 51-year-old resident of the Marmora section of Upper Township also coached the men's golf teams at Pittsburgh-Greensburg and Philadelphia University, where he earned a master's degree in business administration in 2003. Berich earned a bachelor's degree in English from the University of Pittsburgh in 1993."

>> Changes in College Landscape: "The NIL really hasn't affected us a whole lot. Division III, it's a little bit tougher for our kids to get involved in something like that. Certainly the transfer portal we are seeing more and more of that now. That's something that, I think, is making it easier for kids to get their name out there."

>> State of the Conference: "The NJAC is one of the top Division III conferences in the country. Without question. I felt like I came from one of the other ones, the Old Dominion Athletic Conference. The ODAC is a tremendous conference, as well. But I felt the competitive level they play at here is unparalleled across the country."

>> Adding New Programs: "We would certainly take a look at any of the programs down the road. I think maybe the most natural will be men's rowing to make varsity because I know they wouldn't be structured any differently financially."

>> Read More
A MESSAGE FROM THE NEWSETTE
Start your morning with The Newsette - a newsletter for women, written by women, about topics that are important to women. They break down trending topics in news, fashion, and lifestyle to keep you up to date but not weighed down.
It's like getting the news from your BFF.
Subscribe for free

CEO
3. The Four Stages of a Presidential Life Cycle

by Karen M. Whitney, Chronicle of Higher Education

"While there are many ways to become, and succeed as, a college president, I believe that every chief executive generally goes through the same presidential life cycle. Based on my own experience as a former university president, I see this cycle as having four stages: aspiring, acquiring, attending, and adjourning.

What follows is a leadership model based on those stages. I offer it in the hope that it will help you — either as a would-be or a current president — to evaluate your own career path and create a plan of action.
Aspiring. "Figure out which leadership or management experiences and which areas of expertise you might want to cultivate over time."

Acquiring. "I looked for positions where I felt I met all the minimum qualifications and where I saw an alignment with how I wished to lead and manage."

Attending to. "As president, everyone really does watch you and judge you. How you choose to present yourself is significant to a successful presidency."

Adjourning. "This stage is about how to end and transition out graciously. It's about completing the appointment and securing one's legacy."

>> Continue Reading
A MESSAGE FROM MORNING BREW

There's a reason over 2.6 million people start their day with Morning Brew - the daily email that delivers the latest news from Wall Street to Silicon Valley. Business news doesn't have to be dry and dense...make your mornings more enjoyable, for free.
Check it out!

TRANSACTIONS

5. Comings and Goings
1 THING
6. College Reprieve


College inflation isn't as bad as portrayed, Axios chief financial correspondent Felix Salmon writes.
Costs for private four-year colleges have actually been falling.
Why it matters: President Biden's decision to forgive billions of dollars in student debt has stirred renewed debate about college costs.
What's happening: The amount that Americans pay for college tuition is ultimately set according to the rules of supply and demand. Due to overbuilding, a falling birth rate, and a decline in foreign students, there's significantly more supply than there is demand.
That means flat or declining prices.
Thanks for starting your day with us.

Trivia answer. Bates (36-0, 1989), Washington U. (40-0, 1992), Central (40-0, 1999) and Johns Hopkins (35-0, 2019)
What did you think of today's newsletter?
Please invite your friends to sign up for
D3Playbook
Copyright © 2022, D3Playbook.com All rights reserved.