written by STEVE ULRICH
your must-read briefing on what's driving the day in NCAA Division III
>> Good Monday morning. Can you believe we are halfway through July already?

>> Today's Word Count: 1,224. Start your day with an easy six-minute read.

>> Thank You. A heartfelt note of thanks to all those who reached out to me last week after the passing of my mother.

>> Thanks for reading D3Playbook. Athletic record books in need of an overhaul? We compile statistical records. Email us.

TOP STORY
1. NCAA Women of Year Candidates Named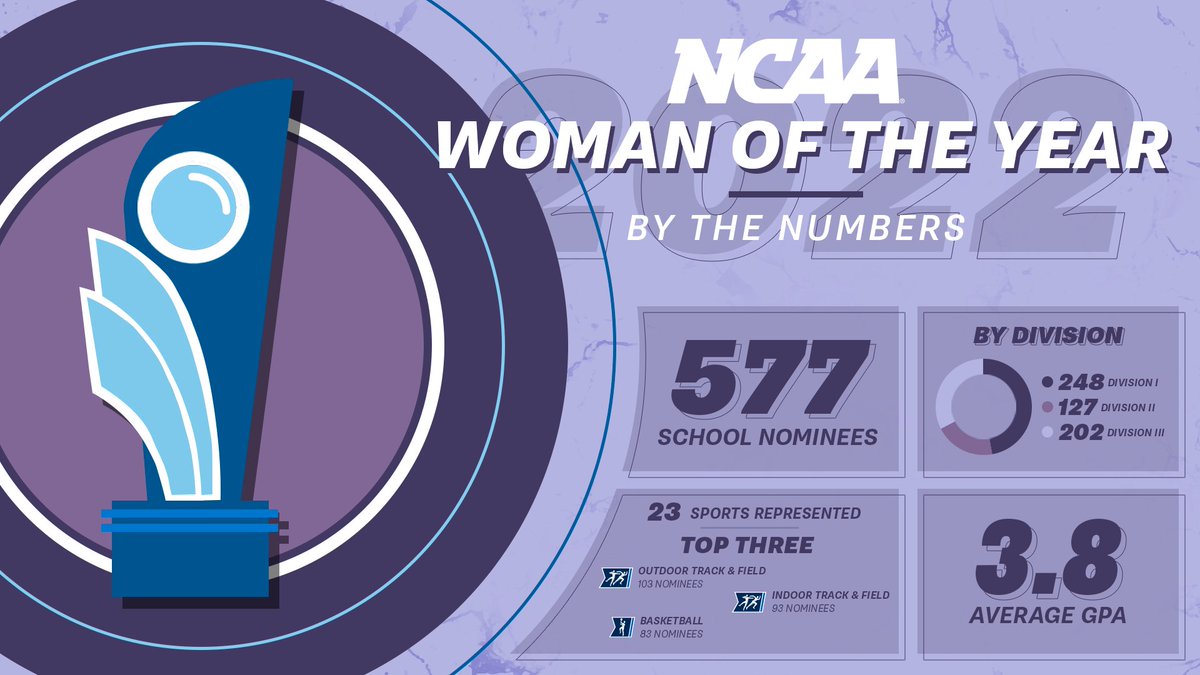 NCAA Division III institutions have nominated 202 students for the 2022 NCAA Woman of the Year Award.

Established in 1991, the award recognizes female student-athletes who have exhausted their eligibility and distinguished themselves in their community, in athletics and in academics throughout their college careers. There are a total of 577 nominations across all three NCAA Divisions, representing 23 sports.

Conference offices will select up to two students from the nominations to move onto the next round (If two are chosen, one must be an international student-athlete or student-athlete of color.).

The Woman of the Year Selection Committee will then select 10 student-athletes from each division, determining the Top 30 honorees.

Of the Top 30, the Woman of the Year Selection Committee will announce nine finalists, three from each NCAA division. The NCAA Committee on Women's Athletics will review the finalists and name the 2022 NCAA Woman of the Year.

For the first time in the award's history, the Top 30 honorees will be celebrated and the Woman of the Year will be named at the NCAA Convention. The 2023 Convention will take place in January in San Antonio.

>> Read More
>> List of Nominees
A MESSAGE FROM BLUEFRAME TECHNOLOGY

Did you know BlueFrame Technology has advanced integrations with top automated cameras like the Hudl Focus? Showcase your teams and student-athletes with BlueFrame's full streaming service priced perfectly for D3 budgets….or use their Production Truck software to stream with your current provider. Step up your game this year and STREAM LIKE A PRO with BlueFrame. Learn more today!
LISTS
2. Women's Volleyball History


We continue our historical look at fall championships with NCAA Division III women's volleyball.

Most Championships
Washington MO 10, UC San Diego 7, Calvin 3, Central 3, Elmhurst 2, Emory 2, Juniata 2, La Verne 2, UW-Whitewater 2, Cal Lutheran 1, Claremont-M-S 1, Hope 1, Johns Hopkins 1, St. Thomas MN 1, UW-Eau Claire 1, Wittenberg 1.

Most Appearances Without a National Title
Ohio Northern 33, Colorado College 31, Trinity TX 26, Cortland 25, Ithaca 24, Saint Benedict 23, Eastern 20, MIT 20, Christopher Newport 18, Benedictine 17, Eastern Connecticut 17, UW-Oshkosh 17.

Most Wins in NCAA Tournament
Juniata 113, Washington MO 104, Calvin 68, Emory 61, UC San Diego 54, La Verne 50, Wittenberg 50, UW-Whitewater 49, Ohio Northern 38, Trinity TX 37.

Most Final Four Appearances
Juniata 27, Washington MO 18, UC San Diego 13, Calvin 11, La Verne 9, Emory 8, UW-Whitewater 8, Wittenberg 6, Elmhurst 4, UW-Oshkosh 4.

Most Final Fours Without a National Title
UW-Oshkosh 4, Benedictine 3, Carthage 3, Ithaca 3, Trinity TX 3, Christopher Newport 2, Eastern 2, MIT 2, NYU 2, Ohio Northern 2, Wellesley 2, UW-La Crosse 2.

italics indicate no longer member of NCAA DIII
A MESSAGE FROM TEXTING.IO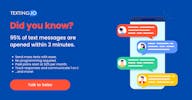 Mass texting can help you keep your customers engaged and coming back for more. By sending timely updates and special offers, you can remind them why they chose to do business with you in the first place.
RULES
3. Baseball Proposes Action Clock Changes

The NCAA Baseball Rules Committee recommended modifications to the 20-second action clock with runners on base.

All rule proposals must be approved by the NCAA Playing Rules Oversight Panel, which is scheduled to discuss baseball proposals Aug. 11. The action clock proposal would take effect in the 2022-23 academic year.

Under the proposal, with runners on base, a pitcher would be required to start the motion of throwing a pitch or making a pickoff throw to avoid violating the action clock.

Pitchers would be allowed one step-off or fake throw to a base per batter to reset the clock.

The committee recommended that all action clocks be visible on the field by Jan. 1, 2025 for all Division III games.

Elsewhere:
The committee proposed expanding umpires' use of video replay review.
Committee members recommended a minimum 3-foot fence or protective netting on the field side of dugouts.
Starting with the 2023 season, celebratory props would not be allowed outside the dugout.
Either by conference rule or mutual consent between the two teams, all extra innings (10th inning of a nine-inning game or eighth inning of a seven-inning doubleheader game) would start with a runner on second base.

>> Quotable: "With this being a new rule the last couple of years, there have been some growing pains with it," said Doug Aiken, committee chair and associate athletics director at Chapman. "We had to see these things play out in real time. The committee wanted to take out the fake or feinting of throws because it has had a negative impact on the game."

>> Continue Reading
A MESSAGE FROM MORNING BREW
2.6 million people wake up to this newsletter every morning
Morning Brew covers the latest business news in a fun and engaging way
Long gone are the days of dry and dense traditional business news, with Morning Brew you can stay informed and entertained
Absolutely free, and delivered to you Monday-Saturday
Gets you up to speed on business, finance, and tech in just 5 minutes
Check it out today!
NEWS
5.
Lightning Round
News
Happy Birthday

Cake and candles to
Monday: Mike Christie, assistant commissioner, USA South Conference

Tuesday: Iggy Rodriguez, Swarthmore alum, program analyst at Dept. of State; Chuck Yrigoyen, commissioner of HCVL; Greg Lewis, coordinator of athletic faciltiies, Emory

Do you know of someone celebrating a birthday soon? Drop us a line at D3Playbook@gmail.com
TRANSACTIONS

6. Comings and Goings
1 THING
7. The "Lego" Office
Lego revealed its highly anticipated model of Dunder Mifflin Scranton, the workplace for "The Office," Axios' Ina Fried writes.
The 1,164-piece set costs $119.99 and ships from Oct. 1. In the U.S., Walmart.com has the exclusive.
The set comes with 15 mini-figures: Michael Scott, Dwight Schrute, Jim Halpert, Pam Beesly, Ryan Howard, Angela Martin, Oscar Martinez, Kevin Malone, Stanley Hudson, Kelly Kapoor, Phyllis Lapin Vance, Meredith Palmer, Creed Bratton, Toby Flenderson and Darryl Philbin — along with Garbage, one of Angela's cats.

>> Read More
Copyright © 2022, D3Playbook.com All rights reserved.