written by STEVE ULRICH
your must-read briefing on what's driving the day in NCAA Division III


>> Welcome to Thursday. Got big plans for the weekend?

>> Today's Word Count: 1,402. A little more than 5 minutes. Top off your coffee and grab a pastry.

>> Thanks for reading D3Playbook. Is your staff reading D3Playbook? Share the love and the info.

TOP STORY
1. Management Council Recap
by Justin Whitaker, NCAA

"The Division III Management Council this week approved several measures at a meeting at the NCAA national office in Indianapolis.

Division III's strategic plan, championship budget initiatives and governance-sponsored legislative proposals for the 2023 NCAA Convention were on the agenda during the two-day meeting.

The council approved the Strategic Planning and Finance Committee's recommendations from its June meeting, which were aimed at better supporting student-athletes. The championship initiatives include per diem increases in all sports, reimbursement for local ground transportation, a day of rest for select sports, and the expansion of some brackets and travel parties.

The council voted to sponsor several legislative proposals for the 2023 NCAA Convention. As a result of the 2022 Division III membership survey and feedback specific to governance committees, the council will sponsor a proposal that adjusts the composition of the Presidents Council, Management Council and six governance committees."

>> What They're Saying: "Over two productive days, Management Council continued progress on supporting Division III student-athletes, institutions and conferences," said Michelle Morgan, chair of the Management Council and senior director of athletics at John Carroll.

>> What's Next: The council elected Holly Sheilley, vice president of athletics at Transylvania, as chair and Michelle Walsh, director of athletics and physical education at Vassar, as vice chair effective with the close of the 2023 NCAA Convention.

>> Read More
Did you know
BlueFrame Technology
has advanced integrations with top automated cameras like the
Hudl Focus
? Showcase your teams and student-athletes with BlueFrame's full streaming service priced perfectly for D3 budgets….or use their
Production Truck
software to stream with your current provider. Step up your game this year and STREAM LIKE A PRO with BlueFrame.
Learn more today
!
LISTS
2. Field Hockey History


Most Championships
TCNJ 11, Middlebury 6, Salisbury 5, Bowdoin 4, Cortland 3, William Smith 3, Bloomsburg 2, Ithaca 1, Lock Haven 1, Messiah 1, Rowan 1, Tufts 1, Ursinus 1.

Most Appearances Without a National Title
Lynchburg 19, Lebanon Valley 16, Skidmore 15, Denison 14, Keene State 13, Franklin & Marshall 12, Johns Hopkins 11, Williams 11, Christopher Newport 10, Elizabethtown 10, New England College 10.

Most Wins in NCAA Tournament
TCNJ 81, Messiah 56, Salisbury 55, Middlebury 49, Cortland 43, William Smith 33, Bowdoin 32, Tufts 21, Ursinus 21, Rowan 20.

Most Final Four Appearances
TCNJ 23, Messiah 16, Salisbury 14, Middlebury 12, Bowdoin 9, Cortland 9, Ursinus 7, William Smith 6, Franklin & Marshall 5, Rowan 5, Tufts 5.

Most Final Fours Without a National Title
Franklin & Marshall 5, Lebanon Valley 4, Johns Hopkins 3, Denison 2, Hartwick 2, Mary Washington 2, Springfield 2.

italics indicate no longer member of NCAA DIII
TITLE IX
3. The State of Women in College Sports

"The NCAA's Title IX at 50 report, "The State of Women in College Sports (PDF)," illustrates the participation gains for female student-athletes, especially for racially and ethnically diverse populations. But the milestone report also outlines the challenges that remain for women in leadership positions and the allocation of resources at member campuses.

Both male and female student-athletes continue to set participation records. Throughout the 2000s, participation rates for male student-athletes slightly outpaced those for females. From 2002 to 2020, men gained nearly 73,000 participation opportunities, while women gained over 67,000.

Women hold approximately 25% of all NCAA head coaching and athletics director positions and 30% of conference commissioner positions.

>> Quotable: "Now is an important time to take inventory on where we've seen progress across college sports," said Amy Wilson, NCAA managing director of inclusion and the author of the NCAA's Title IX at 50 report. "Though we've made gains in certain areas, we obviously still have work to do. The 50th anniversary of Title IX is a time to celebrate all that's been done and the accomplishments of so many important figures, but it's also an occasion to identify where we need extra attention in the future."

>> Continue Reading
A MESSAGE FROM BRIGHT CELLARS
Bright Cellars is a monthly wine club that matches you with wines you'll love.
Founded by two MIT grads (#whyD3)
who were intimidated by the vast and complex world of wine, Bright Cellars was created to help wine drinkers discover and learn about wine in a fun, interactive way.
Bright Cellars creates a wine experience tailored just for you. Based on an algorithm, wine selections are calculated to match your taste preferences. As you try the wines, you're encouraged to rate them on the website to fine-tune your taste profile even further. Your matches improve as the algorithm gets to know you better, making each shipment better than the last.
D3Playbook readers are invited to get 50% off
your first 6-bottle box from Bright Cellars. That's a $45 value. Each box will include a wine education card for each bottle that details servings temps, food pairings, background on the region and more.
Take
our 30-second quiz
to start your weekend right.
CONFERENCES
4. Brown Named Commissioner of MIAA

The Michigan Intercollegiate Athletic Association (MIAA) President's Council has announced Dr. Christopher Brown as the 10th commissioner of "America's First Conference".

Brown comes to the MIAA with a range of experiences under his belt. From September 2014 to July 2018, Brown worked at the NCAA National Office. His primary duties were interpreting NCAA rules and processing waivers. While at the National Office, Brown also worked with institutions as they transitioned between NCAA divisions, drafted NCAA rules, and helped manage the association's legislative process.

After studying at the University of Kansas, Brown served as both a Lecturer and as Chief Diversity Officer for the Jayhawks. He also served as a consultant for the Great Northeast Athletic Conference (GNAC), the Knight Commission on Intercollegiate Athletics, and many other institutions. In December 2021, Brown was named the Senior Associate Athletic Director of Diversity, Equity, and Inclusion at Delaware.

>> What They're Saying: "I look forward to serving the student-athletes, presidents, athletics directors, and coaches across the MIAA as we continue our tradition of excellence both academically and athletically," said Brown.

>> Keep Reading
NEWS
5. Lightning Round
Baseball
A pair of Division III players were selected in the 2022 MLB Draft. Salve Regina LHP Dom Perachi was picked by the Pittsburgh Pirates in the 11th round, while Illinois Wesleyan RHP Quinn Gudaitis was chosen in the 16th round by the Detroit Tigers. Penn State Abington OF Ryan McCarty was signed as a free agent by the Toronto Blue Jays.
Football
Another new Division III football bowl game is coming to the midwest this season, as runners-up in the Midwest Conference and Northern Athletics Collegiate Conference will meet in the Cousins Subs® Lakefront Bowl. It's the second Division III football bowl game in the midwest, following the Culver's Isthmus Bowl, played in Madison, Wisconsin, between runners-up in the Wisconsin Intercollegiate Athletic Conference and the College Conference of Illinois and Wisconsin.
News
Sports Business Journal's Abe Madkour writes that we should not anticipate a new NCAA President soon. Recruitment of potential candidates is not likely to begin until late fall, after the Board of Governors forms a selection committee.

RIT Executive Director of Intercollegiate Athletics Jackie Nicholson has been selected president of The National Association of Academic and Student-Athlete Development Professionals for 2022-23.
Happy Birthday

Cake and candles to:
Today: Ryan Sullivan, assistant swimming coach, Mary Washington; Kay Cowperthwait, Colby alum.
Friday: Jim Dixon, D3baseball.com; James Manion
A MESSAGE FROM TEXTING.IO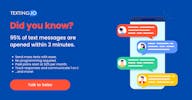 Mass texting can help you keep your customers engaged and coming back for more. By sending timely updates and special offers, you can remind them why they chose to do business with you in the first place.
Get started!

Copyright © 2022, D3Playbook.com All rights reserved.