written by STEVE ULRICH
your must-read briefing on what's driving the day in NCAA Division III


>> Welcome to Thursday. Heading to NACDA? Safe travels. See you there.

>> Today's Word Count: 1,486. A third devoted to transactions!

>> Thanks for reading D3Playbook. Is your staff reading D3Playbook? Share the love and the info.

TOP STORY
1. Hartford Joins CCC


by Shreyas Laddha, Hartford Courant

"The University of Hartford will join the Division III Commonwealth Coast Conference at the start of the 2023-24 academic year, the school announced Tuesday.

Hartford has been searching for an athletic home since the decision was made to drop down from Division I to Division III in the spring of 2021. The Hawks will become the 11th member of the CCC, which includes schools in Massachusetts, Rhode Island and Maine.

The transition to the CCC conference comes after the NCAA approved UHart's move from Division I in March. Hartford approached the conference initially.

"It was almost like a mutual occurrence," Hartford Athletic Director Sharon Beverly told The Courant. "We had been thinking about the CCC, we just weren't sure where they were on adding another institution. We reached out and they were amiable to having a discussion."

>> Field Awareness: "Hartford currently offers 17 sports and hopes to add tennis, field hockey and ice hockey in the future. There is also an esports program and plans to construct a new track and field facility in 2023."

>> What They're Saying: "Kudos to (CCC Commissioner) Gregg Kaye for seeing all the positives that [we] as a conference institution," Beverly said. "Some of the conferences we were looking at could only see negatives. We didn't feel we were bringing negatives. We were bringing positives. We were fully committed to the Division III philosophy and the goals of Division III."

>> Geography Lesson: "Hartford joins the conference, founded in 1984, that includes Roger Williams and Salve Regina in Rhode Island; Western New England, Nichols, Wentworth, Curry, Endicott, Suffolk and Gordon in Massachusetts; and the University of New England in Biddeford, Maine."

>> Continue Reading
>> CCC Release
>> Hartford Release
Did you know
BlueFrame Technology
has advanced integrations with top automated cameras like the
Hudl Focus
? Showcase your teams and student-athletes with BlueFrame's full streaming service priced perfectly for D3 budgets….or use their
Production Truck
software to stream with your current provider. Step up your game this year and STREAM LIKE A PRO with BlueFrame.
Learn more today
!
NCAA
2. Three Named to NCAA Governors Board

The NCAA announced today the members of its new Board of Governors as outlined by the new NCAA constitution (PDF) adopted in January by member schools and conferences.

The new board includes nine voting members: four from Division I (at least one school president and one conference commissioner), one from the Division II Presidents Council, one from the Division III Presidents Council, two independent members and one graduated student-athlete.

Nonvoting ex officio members are selected by virtue of their position and include the NCAA president, the chairs of the Division I Council and Divisions II and III Management Councils, the president of one historically Black college or university and one former NCAA student-athlete from each of the two divisions not represented by the voting student-athlete.

The new voting Board of Governors members include:
Mary-Beth Cooper, president, Springfield College
TBD, student-athlete
The ex officio members include:
Michelle Morgan, Division III Management Council chair and athletics director at John Carroll University
TBD, student-athlete
TBD, student-athlete
The voting student-athlete will be chosen by the Board of Governors at its August meeting. The graduated student-athletes who will serve on the board include:
Division III — Isaiah Swann, former baseball student-athlete at the University of Texas at Dallas.

>> Complete Release
STUDENTS
3. Cline Hopes To Launch Scouting Career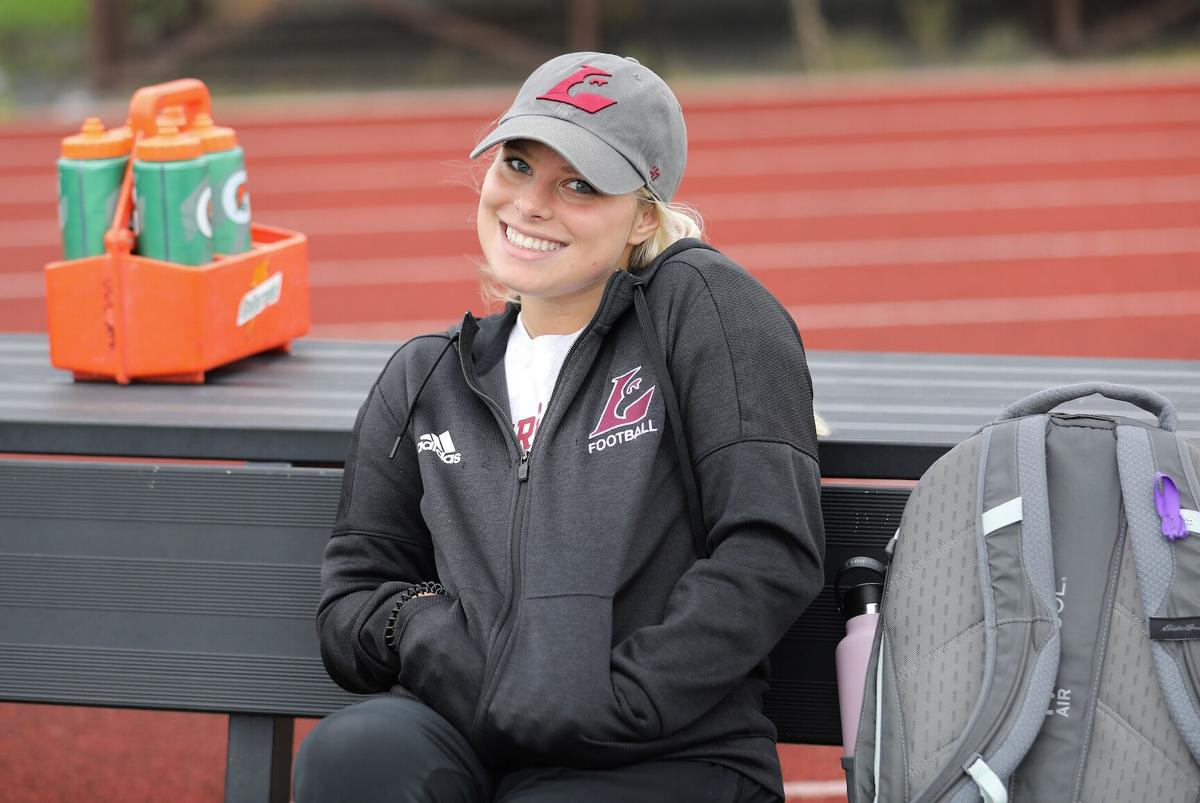 by James Krause, La Crosse Tribune | photo by Jim Garvey, UWL

"The newest coach on the UW-La Crosse football staff will not only be breaking into the sport for her first coaching job, she'll be breaking down boundaries.

Kelly Cline will join the Eagles staff this season as a student assistant coach working with linebackers, the team announced on May 23. The sports management major came to UW-L with no prior football experience, but just a few years later, Cline hopes her first coaching gig helps launch her toward a dream job.

"My end goal is to scout for the NFL," Cline said. "This coaching will really boost my confidence, and I want to understand the game deeper."

>> Situational Awareness: "Cline is slowly adapting to coaching, expecting to slowly get into the process of learning plays, breaking down film and running practice drills. The job is a huge jump from her other sports experiences as a marketing intern, previously for the Durham Bulls and currently with the Madison Mallards."

>> What They're Saying: "Kelly has been a big piece of our program the last few years," head coach Matt Janus said. "She did a fantastic job with our film and that side of things. From the standpoint of what she wanted to do, we had that conversation. Kelly said she wanted to get into scouting and that side of things. We moved from there with the mindset of figuring out how she could help us and how we could help her."

>> Quotable: "I definitely in the future want more of an on-field role instead of in the office," Cline said. "I'm very hands on in my learning style. I love marketing, it's fun for a creative person like me. It's definitely one of my passions, but coaching is going to give me this experience."

>> Keep Reading
Search through our 40+ golf resort partners to find the perfect location for your next golf trip, based on pricing, location, weather, social options, resort details, golf course details, lodging accommodations and more.




We've created a centralized location where golfers can search for their perfect golf trip based on their group's specific needs – pricing, location, weather, social options.




At Above Par Trips, we hope to make your life a little easier in finding your next golf adventure. We have partnered with 40+ golf resorts (and growing) to create a centralized repository to match each golf group with their perfect destination.



RULES
4. Water Polo Rules Recap

"The NCAA Playing Rules Oversight Panel during a virtual call Tuesday approved reducing the shot clock in women's water polo to 30 seconds for the 2022-23 academic year. Previously, the shot clock was 35 seconds.

The Men's and Women's Water Polo Rules Subcommittee, which proposed the change, thinks a reduction in the women's shot clock will reduce the holding and grabbing that occurs while the ball is in play.

The panel also approved a change to the penalty for simulation."

>> Read More
NEWS
5. Lightning Round
News
Average full-time faculty salaries decreased by 5 percent in the 2021-22 academic year when adjusted for inflation, the largest single-year drop in the 50 years that the American Association of University Professors has tracked academic wages.
Happy Birthday
Cake and candles to Amy Reifert, head soccer coach at Chicago. Early wishes to Joseph Campbell, assistant athletic director at Dean (Fri.); Nate Hart, assistant AD for communications at SUNY Canton and Becki Shearer, associate athletic trainer at Franklin & Marshall (Sat.); and William Bellamy, former student-athlete at Union (Sun.)
A MESSAGE FROM BRIGHT CELLARS
Bright Cellars is a monthly wine club that matches you with wines you'll love.
Founded by two MIT grads (#whyD3)
who were intimidated by the vast and complex world of wine, Bright Cellars was created to help wine drinkers discover and learn about wine in a fun, interactive way.
Bright Cellars creates a wine experience tailored just for you. Based on an algorithm, wine selections are calculated to match your taste preferences. As you try the wines, you're encouraged to rate them on the website to fine-tune your taste profile even further. Your matches improve as the algorithm gets to know you better, making each shipment better than the last.
D3Playbook readers are invited to get 50% off
your first 6-bottle box from Bright Cellars. That's a $45 value. Each box will include a wine education card for each bottle that details servings temps, food pairings, background on the region and more.
Take
our 30-second quiz
to start your weekend right.
TRANSACTIONS

6. Comings and Goings
Copyright © 2022, D3Playbook.com All rights reserved.