written by STEVE ULRICH
your must-read briefing on what's driving the day in NCAA Division III


>> Welcome to Thursday. Have a safe and happy Fourth! We will see you back here on Tuesday, July 5.

>> Today's Word Count: 1,221

>> Thanks for reading D3Playbook. Is your staff reading D3Playbook? Share the love and the info.

TOP STORY
1. Strategic Planning & Finance Recap

by Justin Whitaker, NCAA

"At its meeting via videoconference June 24, the Division III Strategic Planning and Finance Committee approved several 2023 fiscal year budget recommendations. They await final approval by the Division III Management and Presidents Councils during their summer meetings.

The committee approved recommendations made during last week's Championships Committee meeting, including per diem increases in all sports, reimbursement for local ground transportation, a day of rest for select sports, and the expansion of some brackets and travel parties.

The Strategic Planning and Finance Committee also agreed to updates to the Enrichment Fund, previously known as nonchampionships initiatives, including additional funding for the Conference Grant Program to support the division's strategic initiative of diversity, equity and inclusion. The committee tasked the NCAA grant administrator to collaborate with the Division III Commissioners Association to finalize the grant parameters."

>> Of Note: "Salary increases to the Division III Ethnic Minorities and Women's Internship from $23,660 to $30,000 were approved beginning Sept. 1, 2023. This increase matches Division II's raise and allows the internship to be more competitive in today's employment market."

>> Worth Noting: "To reduce excess funds above the mandated reserve, the Strategic Planning and Finance Committee approved Division III to overspend its operating budget in fiscal years 2023 and 2024. With the start of the 2025 fiscal year, Division III will see an overall 11% revenue increase due to the CBS/Turner Sports broadcast agreement."

>> What They're Saying: "Our main focus as a committee is meeting the needs of our student-athletes, conferences and membership while exhibiting fiscal responsibility," said Jim Schmidt, chair of the Strategic Planning and Finance Committee and chancellor at Wisconsin-Eau Claire."

>> Continue Reading
Did you know
BlueFrame Technology
has advanced integrations with top automated cameras like the
Hudl Focus
? Showcase your teams and student-athletes with BlueFrame's full streaming service priced perfectly for D3 budgets….or use their
Production Truck
software to stream with your current provider. Step up your game this year and STREAM LIKE A PRO with BlueFrame.
Learn more today
!
TITLE IX
2. Kauffman Recalls Struggles for Women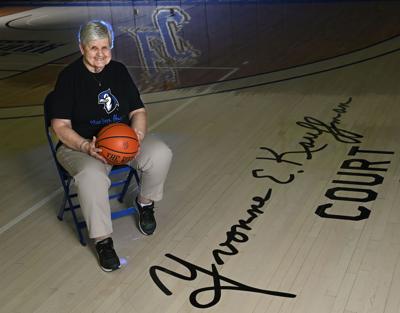 by Mike Gross, LNP | photo by Chris Knight

"When President Richard Nixon signed Title IX into law in 1972, he didn't know he was changing American sports. No one did.

The legislation was, on its face, an almost under-the-radar provision in the Education Amendments Act. It reads: "No person in the United States shall, on the basis of sex, be excluded from participation in, be denied the benefits of, or be subjected to discrimination under any education program or activity receiving federal financial assistance."

There's no mention of the participation of women or girls in sports. But the interpretation of the new code lit the fuse on a revolution in sports.

It wasn't the end of a fight, but a beginning.

And it was a fight Yvonne Kauffman has been waging since she was a little girl growing up in Manheim, just wanting to play baseball and basketball and tennis and any other game that happened to be going on."

>> Court Awareness: "Kauffman ended up building a life in sports, going on to coach basketball, field hockey and tennis at Elizabethtown College for a cumulative total of 89 seasons and 1,143 wins — making her one of the winningest coaches in the history of American sports."

>> Reality Check: She coached (field hockey, basketball and tennis) from 1970-83. In the early years, she had no assistant coaches, and she coached the varsity and the JV. She carried a heavier course load than any other physical education teacher — Elizabethtown was 60% women, and she was the only woman in the athletic department."

>> The Key Stat: "She was an active and diligent recruiter when, in small-college women's sports, not everyone was. In the 1981-82 school year, Kauffman won the national title in hoops, reached the NCAA Final Four in field hockey, and one of her tennis players, Beckie Donecker, won the D-III singles national championship."

>> Read More
ALUMNI
3. What's Next for Ryan Turell?

by Jacob Gurvis, Jerusalem Post

"Yeshiva University star basketball player Ryan Turell was not selected in Thursday's NBA Draft, putting his dream of being the first Orthodox Jewish player in the league on hold.

According to ESPN, Turell is mulling his options, including a move to Israel or the NBA's minor league organization.

Turell had been set to appear at the NBA's G League combine in May, a scouting showcase for prospects who were not invited to the main NBA Draft event, but he sustained an injury during a workout that forced him to drop out. The injury will now keep him out of the NBA's Summer League in Las Vegas next month as well."

>> Court Awareness: "The Los Angeles native was the Division III player of the year, shooting 59% overall and 47% from three-point range, which is well above the NBA average."

>> Quotable: "The 6-foot-7 guard knows he has an uphill battle. But as he told JTA back in March, he won't be discouraged. "They just motivate me to work even harder," he said."

>> Continue Reading
Search through our 40+ golf resort partners to find the perfect location for your next golf trip, based on pricing, location, weather, social options, resort details, golf course details, lodging accommodations and more.




We've created a centralized location where golfers can search for their perfect golf trip based on their group's specific needs – pricing, location, weather, social options.




At Above Par Trips, we hope to make your life a little easier in finding your next golf adventure. We have partnered with 40+ golf resorts (and growing) to create a centralized repository to match each golf group with their perfect destination.



NEWS
4. Lightning Round
News
New Jersey City University's president is out amid the declaration of a financial emergency that has the college seeking a $10 million lifeline from the state government. The Board of Trustees declared the financial emergency at its Monday meeting; the president stepped down the same day, according to NJ.com. Outgoing president Sue Henderson, who was the subject of a no-confidence vote by NJCU's Faculty Senate in September, is under fire for the depletion of university financial reserves under her leadership.

Will Hardy has been named head coach of the NBA's Utah Jazz. A 2010 graduate of Williams, he becomes the youngest head coach in the association at 34.
Happy Birthday
Cake and candles

Today: Britni Mohney, Penn College SWA, and Tom Rambo, Roanoke Dean of Students.
Friday: Kathleen Westfall, Defiance Associate AD
Saturday: Savannah Terry, Smith assistant volleyball coach
Sunday: Vanessa Walby, Washington U. head volleyball coach
A MESSAGE FROM BRIGHT CELLARS
Bright Cellars is a monthly wine club that matches you with wines you'll love.
Founded by two MIT grads (#whyD3)
who were intimidated by the vast and complex world of wine, Bright Cellars was created to help wine drinkers discover and learn about wine in a fun, interactive way.
Bright Cellars creates a wine experience tailored just for you. Based on an algorithm, wine selections are calculated to match your taste preferences. As you try the wines, you're encouraged to rate them on the website to fine-tune your taste profile even further. Your matches improve as the algorithm gets to know you better, making each shipment better than the last.
D3Playbook readers are invited to get 50% off
your first 6-bottle box from Bright Cellars. That's a $45 value. Each box will include a wine education card for each bottle that details servings temps, food pairings, background on the region and more.
Take
our 30-second quiz
to start your weekend right.
TRANSACTIONS

5. Comings and Goings
Copyright © 2022, D3Playbook.com All rights reserved.