written by STEVE ULRICH
your must-read briefing on what's driving the day in NCAA Division III
>> Good Monday morning. It's American Craft Beer Week. And I'm here for that.

>> Today's Word Count: 1,084

>> Thanks for reading D3Playbook. Looking for some help compiling statistical records? Perhaps some conference scheduling? Email us.

TOP STORY
1. LaGrange Mourns Loss of Two Players

by The LaGrange Daily News

"Two LaGrange College baseball players were killed in a two-vehicle accident Saturday night.

Jacob Brown, 19, from Duluth and Stephen Bartolotta, 18, from Palm City, Fla., were the players killed."

The Georgia State Police preliminary report said a 2015 Honda Accord, driven by Brown, passed a 2019 Honda Accord in a no-passing zone. The Accord struck a GMC Sierra traveling the opposite direction. Both Brown and Bartolotta were pronounced dead at the scene.

>> Background: "Hours before the crash, the LaGrange baseball team has just secured its fifth consecutive USA South Tournament title with a 10-7 win over North Carolina Wesleyan, sending the team to the NCAA Division III tournament. Brown was the winning pitcher.

>> What They're Saying: Dr. Susanna Baxter, president of LaGrange, issued a statement. "Coming on the heels of the team's conference championship win yesterday, this news hits our baseball players especially hard. There simply are no words. As we all work to process this tragedy, please care for one another. We will walk through this together as a campus family with God as our strength. Please support one another as the caring community that I know we are."

>> Be Smart: Hug those that you love today. You just never know.
GOLF (M)
2. Lucky 13 for Monarchs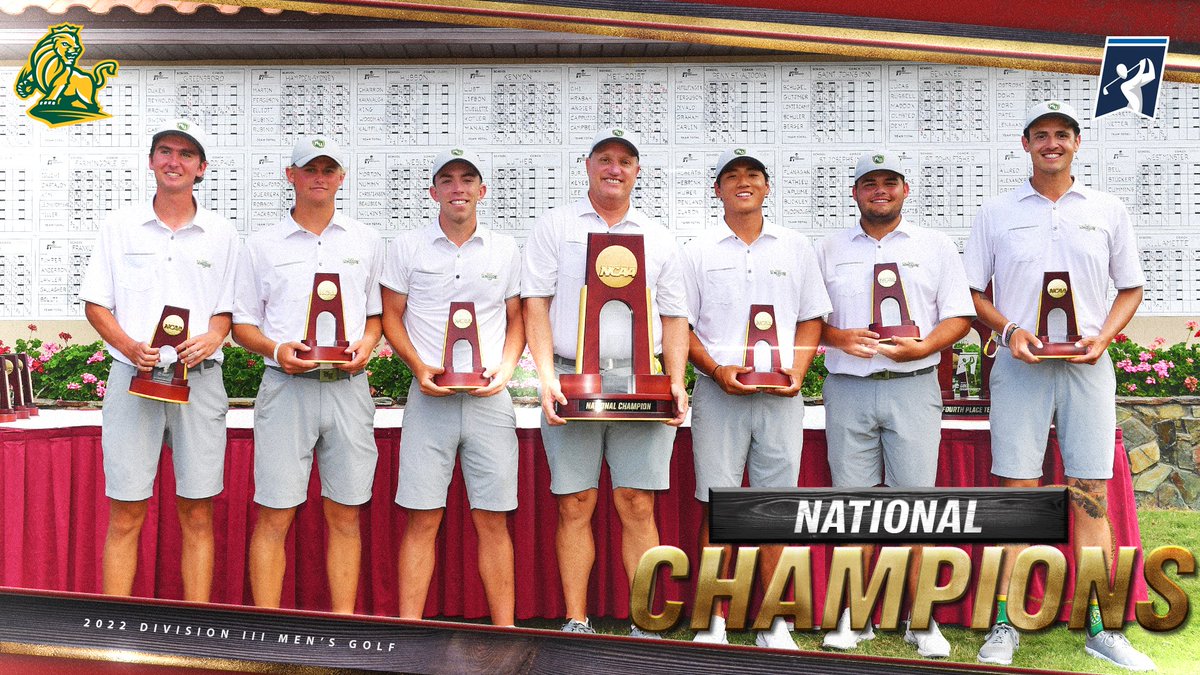 "For the 13th time in program history, Methodist men's golf has won the national title after capturing the 2022 NCAA Division III Men's Golf Championship, on Friday afternoon. On their final day around the El Campeon course, the Monarchs shot a 295 (+7) to give them a four-day total of 1,168 (+20).

With this victory, Methodist take sole possession of an NCAA Division III Championship record for the most title won by an institution. They were previous tied with Stanislaus State that won 12 national titles, in the late 1970's and 80s."

The Monarchs won the title by eight shots over Hampden-Sydney and 14 better than Huntingdon.

"Picking up some individual honors was senior Andre Chi, who hung onto his first-place spot to be the medalist champion. Chi becomes the 10th Monarch golfer to win this accolade and the first since 2001, when Methodist Athletic Hall of Famer Chad Collins led the field."

Chi (-4) was two shots better than Webster's Will Hocker (-2), while H-SC's Nick Rubino and Wittenberg's JF Aber tied for third at one-under.

>> Team Results
>> Individual Results
Are you a marketer looking to reach decision makers who care about sports? Consider advertising with D3Playbook:
Reach decision-makers in college and university athletics.
Achieve your KPIs around business development, awareness, and product sales.
A large segment of our audience earns six figures per year and makes business purchasing decisions.
GOLF (W)
3. Fly Eagles Fly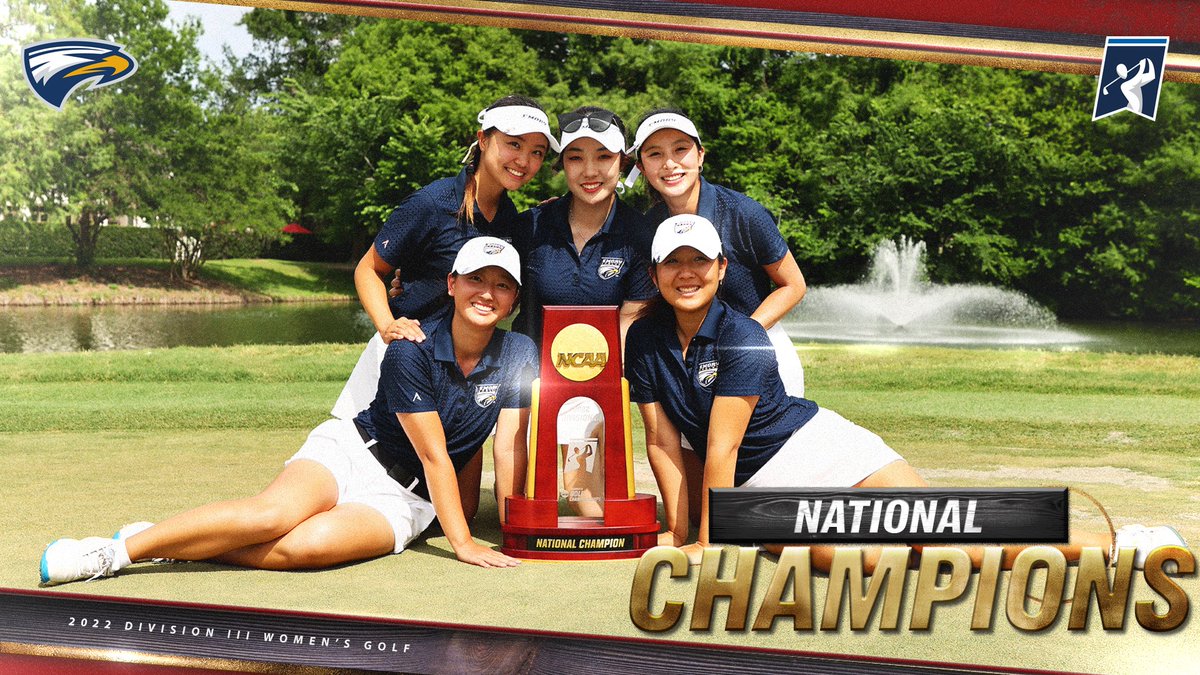 "Following a dominating four-day stretch in Houston, the Emory University women's golf team captured the first-ever national championship in program history!

The Eagles shot under 300 all four days of the competition on their way to shattering the NCAA Division III championship record for a four-round team total. After posting round totals of 291, 296 and 292, the women concluded the final round with a score of 296 to bring their total to a 23-over par 1175, nearly 40 strokes lower than the previous record and 24 strokes better in relation to par. The previous strokes record was held by Methodist (1,214) established in 2001 and the previous low score in relation to par was back in 2007 when Methodist won with a 47-over 1,215.

The University of Redlands finished in second place at this year's championship 26 strokes back of the Eagles with George Fox University taking third 28 strokes behind. It is the largest margin of victory at the NCAA DIII women's golf championships since 2013.

The Eagles were paced by freshman Ellen Dong who captured the individual national championship, winning the tournament in a one-hole playoff against George Fox's Alison Takamiya."

>> Team Results
>> Individual Results
TENNIS (W)

4. The Net Elite

The elite eight are set for the 2022 NCAA Division III women's tennis championship after regional action last weekend.
No. 3 Wesleyan d. No. 15 Mary Washington, 5-2
No. 8 Emory d. No. 10 Sewanee, 5-0
No. 4 Claremont-M-S d. No. 12 Case Western Reserve, 5-0
No. 7 MIT d. No. 13 Williams, 5-0
No. 1 Chicago d. No. 35 Grinnell, 5-0
No. 9 Amherst d. No. 6 Tufts, 5-4
No. 2 Pomona-Pitzer d. No. 16 Redlands, 5-1
No. 5 Middlebury d. No. 11 Carnegie Mellon, 5-2
>> Results
>> Bracket

TENNIS (M)
5. Eight to Quarterfinals

The quarterfinals are set for the 2022 NCAA Division III men's tennis championship after regional action last weekend.
No. 1 Chicago d. No. 16 Gustavus Adolphus, 5-2
No. 13 Emory d. No. 8 Trinity (Texas), 5-4
No. 5 Claremont-M-S d. No. 11 Pomona-Pitzer, 5-0
No. 3 Tufts d. No. 14 North Carolina Wesleyan, 5-3
No. 2 Case Western Reserve d. No. 39 UW-Whitewater, 5-3
No. 6 Williams d. No. 9 Bowdoin, 5-1
No. 4 Middlebury d. No. 22 RPI, 5-2
No. 7 Washington (Mo.) d. No. 10 Denison, 5-2
>> Results
>> Bracket
NEWS
6. Lightning Round
Eric Gregory, Gallaudet
Baseball
Lacrosse (M)
Next weekend's pods are set. Christopher Newport will host one group of four that includes York (Pa.), Gettysburg and Union. The northern pod will be hosted by RIT and include Bowdoin, Salisbury and Tufts.

Gettysburg ended Dickinson's undefeated season by downing the Devils, 17-7, in a storm-delayed 2nd round contest.

York (Pa.) defenseman Ryan Kennedy has signed with the Premier Lacrosse League's Redwoods.
Lacrosse (W)
The Denison and Gettysburg women pulled out overtime victories to advance to the Sweet 16. The Big Red edged Catholic, 13-12, while the Bullets squeezed past Roanoke, 9-8.

Middlebury, Gettysburg, TCNJ and Tufts will serve as regional sites this weekend.
Softball
The super regionals are set for next weekend.

No. 1 CNU vs. No. 9 Va. Wesleyan
Tufts vs. WPI
No. 3 E. Connecticut/Kean winner vs. No. 16 Randolph-Macon
Millikin vs. No. 25 Wartburg
No. 4 Salisbury vs. Mount St. Joseph
No. 12 Bethel vs. No. 10 Berry
No. 2 Texas Lutheran vs. No. 5 Belhaven
No. 20 Trine vs. No. 25 Case Western Reserve
Happy Birthday
Cake and candles to Amanda Christovich, reporter for Front Office Sports, and Nate Wahle, assistant men's basketball coach at DePauw.

Do you know of someone celebrating a birthday this month? Drop us a line at D3Playbook@gmail.com.
Copyright © 2022, D3Playbook.com All rights reserved.