written by STEVE ULRICH
your must-read briefing on what's driving the day in NCAA Division III
>> Hello Tuesday. Welcome back after a long, holiday weekend. Let's finish off May in style.

>> Today's Word Count: 1,289

>> Thanks for reading D3Playbook. Is your staff reading D3Playbook? Share the love and the info.

TOP STORY
1. Just Like Old Times

by Brian Logue, USA Lacrosse Magazine

"It's been 1,099 days since then-freshman Jane Earley helped lead Middlebury to the 2019 NCAA Division III Women's Lacrosse Championship.

A lot has changed since then. The 2020 season was cut short by the COVID-19 pandemic that wiped out the NCAA championship. While many schools around the country competed in 2021 coming out of the pandemic, including several of Middlebury's New England Small College Athletic Conference rivals, the Panthers did not.

Instead, Middlebury watched Salisbury, the team it beat in the 2019 final, beat its NESCAC rival, Tufts, to capture the 2021 championship.

But on Sunday at Roanoke College in Salem, Va., it seemed like nothing had changed since that May day in 2019 when Middlebury ruled the roost. Earley scored three of the first six goals of the game to stake Middlebury to an early 5-1 lead over Tufts and the Panthers went on to beat the Jumbos, 13-5, capturing their eighth NCAA title overall and third since 2016."

>> Worth Noting: "Earley, the one-time Boston College commit, scored more than 400 goals in her high school career at Falmouth (Mass.) Academy before deciding to play collegiately at the Division III level."

>> Read More
>> Middlebury release
A MESSAGE FROM BLUEFRAME TECHNOLOGY

Did you know BlueFrame Technology has advanced integrations with top automated cameras like the Hudl Focus? Showcase your teams and student-athletes with BlueFrame's full streaming service priced perfectly for D3 budgets….or use their Production Truck software to stream with your current provider. Step up your game this year and STREAM LIKE A PRO with BlueFrame. Learn more today!
LACROSSE (M)
2. RIT Goes Back-to-Back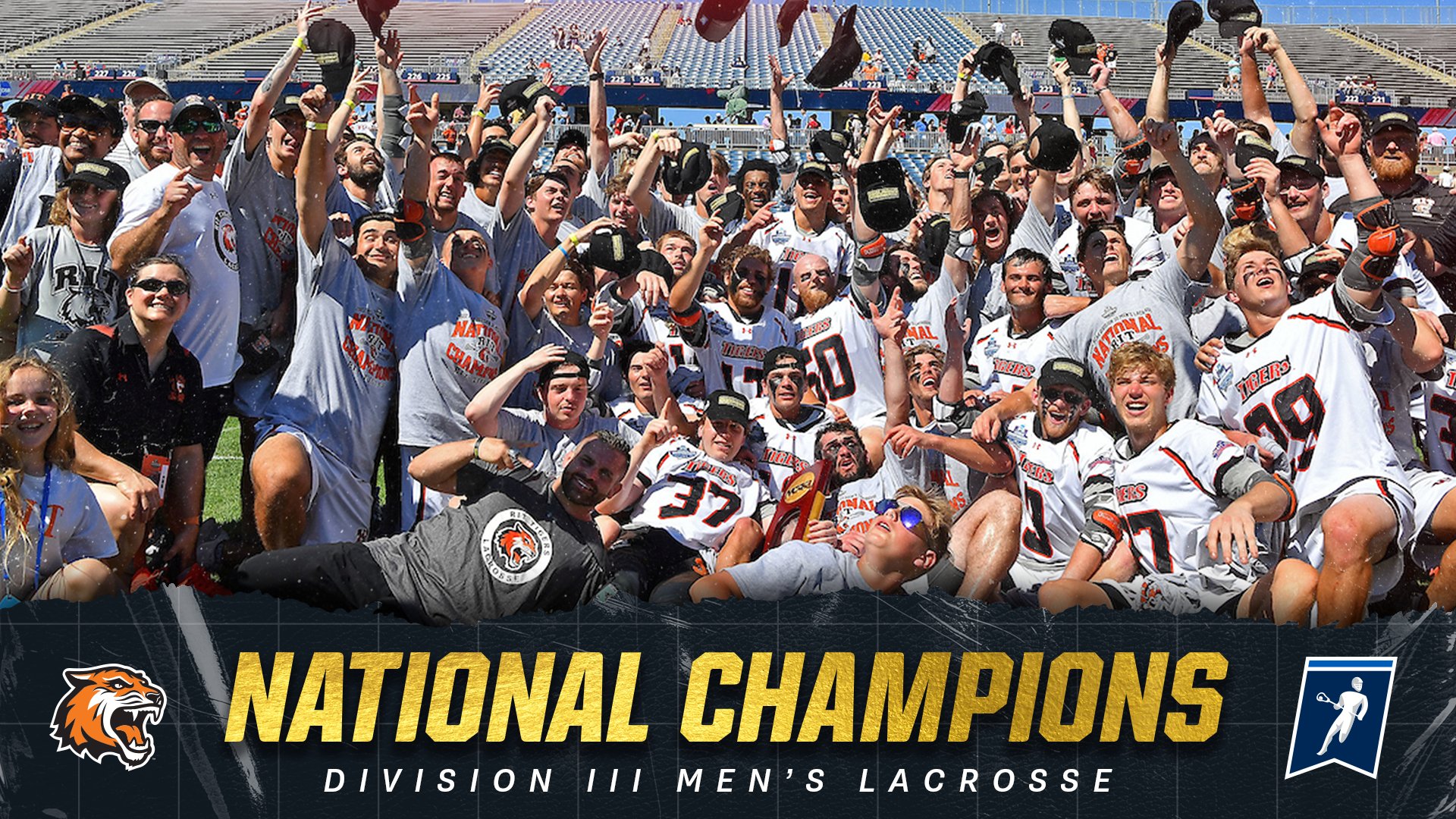 by Bob Chavez, Rochester Democrat & Chronicle

"RIT has never really been known as a second-half team because it's never really had to be one.

But on Sunday, it became one. And as a result, the Tigers became a two-time defending national champion.

The Rochester Institute of Technology men's lacrosse team won the 2022 NCAA Division III national championship for a second straight year, riding a wave of momentum the Tigers created themselves in the second half en route to a 12-10 win over Union College in East Hartford, Conn."

>> Situational Awareness: "Sunday's victory made RIT an NCAA champ for a second straight season and it's now 2-2 in the national championship game after losing in the 2013 and 2017 finals. The Tigers also became the sixth team in Division III history to win consecutive titles."

>> What They're Saying: "We talked a bit about the legacy piece and leaving our mark as the sixth team ever in Division III to win back-to-back titles, so it's incredible to be part of that small group of fantastic lacrosse programs," said head coach Jake Coon.

>> Continue Reading
>> RIT Release
Are you a marketer looking to reach decision makers who care about sports? Consider advertising with D3Playbook:
Reach decision-makers in college and university athletics.
Achieve your KPIs around business development, awareness, and product sales.
A large segment of our audience earns six figures per year and makes business purchasing decisions.
TRACK AND FIELD (W)
3. Great Day to be a Duhawk

by Taylor Mayforth, USTFCCCA

"It came down to the 4×400 relay.

What more could you ask for out of a national championship meet?

Loras led through 19 events, but UW-La Crosse surged ahead thanks to nine points from its athletes in the triple jump. That gave the Eagles a two-point lead over the Duhawks, setting up the climatic finish. And based on pre-meet form charts, Loras had the stronger 4×400 relay squad – ranked second nationally coming into the meet – but anything could happen when adrenaline is pumping and nerves are running high.

Through two legs of the relay, Loras sat second with UW-La Crosse five spots behind. Then, after three legs, the Duhawks handed the baton off second once again, while the Eagles made up some ground to fifth. That would be as close as UW-La Crosse – or anybody else, for that matter – got to Loras, as Alyssa Pfadenhauer dropped a 53.18 anchor to send the Duhawks to their third consecutive national title."

>> Read More
>> Meet Results
>> Loras release
TRACK AND FIELD (M)
4. Blugolds Blow By Competition

by Tyler Mayforth, USTFCCCA

"It's only fitting that a program known as MultiU in NCAA DIII almost scores in 10 events to win the national title.

That's what UW-Eau Claire did this past weekend, as it snared at least four points in nine different events on its way to a dominant victory. The Blugolds scored 73 points, the most by a men's team champion since UW-La Crosse stockpiled 99 in 2007.

Kenneth Wei made history for MIT, as he became the first male athlete in NCAA DIII history to win the 110-meter hurdles and the long jump at the same Championships. Wei didn't just win the long jump: he soared to a meet record 7.88m (25-10¼) on his final attempt of the competition and moved up to No. 3 in NCAA DIII history in the process."

>> Continue Reading
>> Meet Results
>> UWEC release
ROWING (W)
5. Tangled Up In Blue

photo by Mike Janes

"Wellesley College crew captured the 2022 NCAA Division III National Championship on Saturday afternoon at Nathan Benderson Park. The national title is the program's second and the first since 2016.

The Blue finished in second in both the Varsity 8+ (V8+) and Second Varsity 8+ (2V8+) Grand Finals to place first in the team standings with 51 points. Bates finished as the team runner-up with 50 points. WPI was third overall with 48 points on the strength of their first overall finish in the Varsity 8+ race.

Wellesley is now one of only four women's rowing programs to capture multiple NCAA Division III titles since 2002. Wellesley placed third at the 2019 NCAA DIII Championships after finishing as the runner-up in 2018. The Blue did not compete in 2020 or 2021 due to the COVID-19 Pandemic."

>> Read More
>> Results
TENNIS



6. Big Net Day for NESCAC




Middlebury's Stan Morris and Tufts' Elle Christensen won the singles titles at the Division III men's and women's individual tennis championships in Orlando.

Morris downed Johns Hopkins' Vishnu Joshi, 5-7, 7-5, 6-2, while Christensen, unseeded in the 32-woman NCAA singles tournament field, defeated fourth-seed Angie Zhou from Pomona-Pitzer, 6-4, 7-5 to win the championship

It was a grand day for the Tufts' first-year, as she teamed with junior Tilly Rigby and took the NCAA Division III doubles title by downing Williams' Erica Ekstrand and Yuu Ishikawa, 6-1, 6-3. It's the first time since 2017 that the singles and doubles national champions came from the same school.

Case Western Reserve University junior James Hopper and graduate student Jonathan Powell bested Emory University's Andrew Esses and Nolan Shah in straight sets, 6-4, 6-1, to claim the men's doubles title.

>> Men's Brackets
>> Women's Brackets
NEWS
7. Lightning Round
Softball
Baseball
Elite 90
Congratulations to these NCAA Elite 90 award winners - Katherine Pawlak, WPI, and Ryan Beard, Westminster, Pa. (Track and Field); Dylan Bruno, RIT and Katie Fullowan, Gettysburg (lacrosse); Lindsey Ambrosino, WPI (softball); and Ashley Schuliger, WPI (women's rowing).
In Memoriam
Our condolences to the family and friends of Washington University basketball standout Justin Hardy, who succumbed to cancer last weekend. If you aren't familiar with his story, you can watch here.
Happy Birthday
Cake and candles to Paul Morgan, associate AD at Norwich.

Do you know of someone celebrating an upcoming birthday? Drop us a line at D3Playbook@gmail.com.
TRANSACTIONS
8. Comings and Goings
Copyright © 2022, D3Playbook.com All rights reserved.