written by STEVE ULRICH
your must-read briefing on what's driving the day in NCAA Division III


>> Welcome to Thursday. It's National Beer Day. Enjoy responsibly.

>> Today's Word Count: 1,153

>> Would you be interested in sponsoring D3Playbook and having your business reach nearly 2,000 administrators? Give us a shout for all the details.

>> Thanks for reading D3Playbook. Is your staff reading D3Playbook? Share the love and the info.

TOP STORY
1. The 21st Century Model

by Tom Hindle, TopDrawerSoccer

"In 2000, a group of prominent men's Division I college soccer coaches approached the NCAA with a vague idea. They'd seen their players toil through condensed seasons, and wanted to stretch the schedule out from fall through to the end of spring. College sport's governing body had a fairly straightforward answer.

"We were basically told to go away," Maryland coach Sasho Cirovski said in a news conference.

Almost 22 years later, that original suggestion has been fleshed out into a viable plan. And that response might just be flipped, too.

For over two decades, a group of leaders in college soccer — players, coaches, and conference officials — has put together a plan to alter the season. Arguing that the current model hurts player welfare, media coverage, development, and, perhaps most importantly, the quality of the game on the pitch, they've developed a new approach to the season. And soon, they'll finally see if their work has amounted to change, when the Division I college council votes on their so-called 21st Century Model."

>> Field Awareness: "Cirovski and other top minds in college soccer pieced together a plan that would lengthen the season, stretching it from August through to a College Cup in May. They identified key areas that needed amending, such as a lack of recovery time between games, and a drastically short preseason — both of which impacted player development. But there's also an academic factor. Such a tight schedule allows little time for freedom of choice in classes, as well as small windows to study and complete assignments."

>> Of Note: "A vote was originally scheduled for 2020, but the COVID-19 pandemic halted the momentum — and pushed back the vote. That interruption, though, provided a perfect tester for a two-semester model. The ACC toyed with a COVID-flex plan, which spread out the season to nearly seven months. And those teams enjoyed successful years."

>> What's Next: "So, what started as a slighted suggestion has turned into a full-fledged movement. A tentative vote has been scheduled for mid April, and the model's proponents insist it will pass."

>> What They're Saying: "The numbers don't lie. The solution is pragmatic. It's time for the information to get out that this is the right thing to do," Cirovski said."

>> Be Smart: If it is adopted by Division I, it won't be long until it comes to DIII.

>> Continue Reading
>> The 21st Century Model
>> CoSIDA Response
FOOTBALL
2. And Then There Were Five

by Tom Haley, Rutland Herald / photo by Todd Poole

"The Castleton University football program will be playing in a league with only five teams soon unless the Eastern Collegiate Football League powers are able to lure another team into the fold.

It was announced several days ago that Keystone College will be leaving the ECFC for the Landmark Conference after the 2022 season.

That came on the heels of SUNY Maritime announcing they will be leaving the ECFC for the NEWMAC Conference — Norwich University's league — following the 2022 campaign.

That leaves Castleton, Anna Maria, Alfred State, Dean College and Gallaudet University as the five schools."

>> Why It Matters: "The significance of all this is that the conference champion would no longer automatically get a berth in the NCAA Division III playoffs. A league must have at least six teams to have the AQ for its champion. A playoff spot for the ECFC champion, in fact, would be unlikely, as the league is considered a bottom tier conference in the Division III pecking order at this time."

>> Between The Lines: "One possibility of "that team out there" that comes up frequently is Hillbert College, a school that only recently added football and is located in Hamburg, New York."

>> Quotable: "It's a great league. We want to stay in the league," Gallaudet head coach Chuck Goldstein said. "I have been in the league since it started in 2009. (But) it will be tough to schedule six non-conference games."

>> Read More
#WHYD3
3. Chicago FB Players Step Up for Coach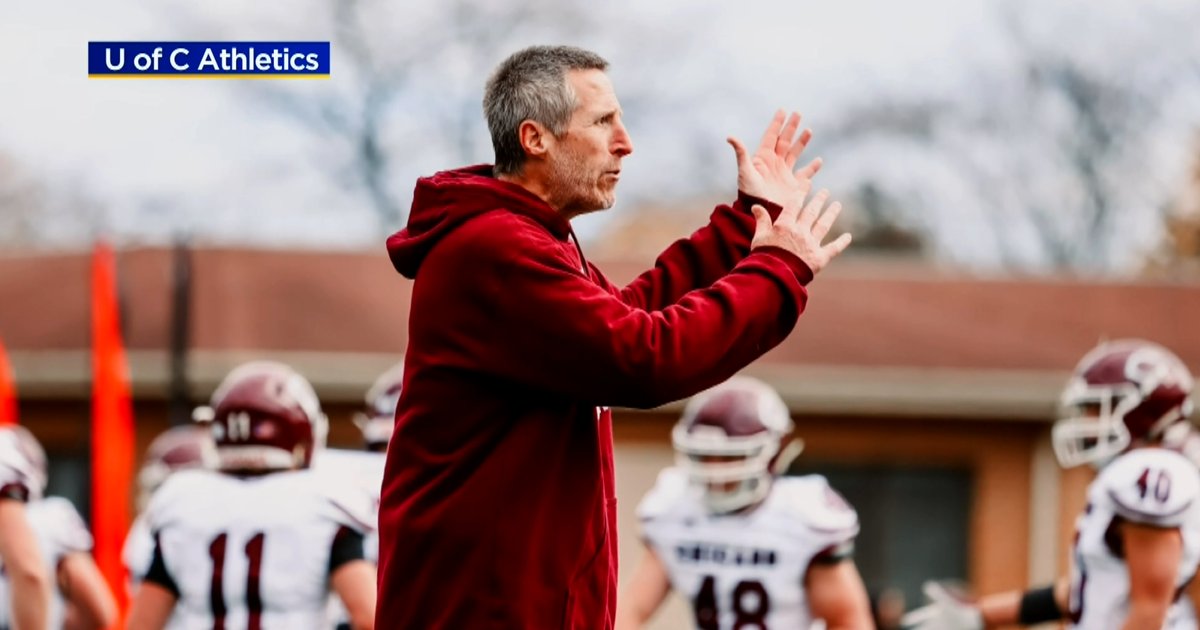 by Jackie Kostek, CBS Chicago

"Coaches help their players in so many ways, and now, players are helping a football coach at the University of Chicago in his time of need.

As CBS 2's Jackie Kostek reported Friday night, U of C Maroons football players for a decade now have never had to look farther than the sideline to find a truly special coach in John Kropke.

Kropke is an old-school kind of coach - reliable, consistent, and there when you need him.

"I have not met a single person that does not love Coach Kropke," said Maroons football player and recent grad Davis Govrik.

But in late March, the beloved assistant coach took an unexpected hit - suffering a stroke that left him unable to speak or move the right side of his body."

>> Field Awareness: "When the news of Kropke's stroke hit, the players knew they had to do something. So they started a GoFundMe page. But over the past few days, it hasn't just been money that has poured in, but memories. The money was matched only by the recognition of a legacy created in many small moments."

>> The Bottom Line: Within 24 hours, the fund had reached $25,000. It is now over $47,000.

>> The Big Picture: "The players are now showing up for their coach, who doctors say has a long road ahead of him. Hopeful for a full recovery, with the full team behind him."

>> What They're Saying: "Raising some money and putting some letters together and doing what we could was the least we could do," said Oliver Morton, a U of C Maroons football player and recent grad.

>> Read/Watch More
VOLLEYBALL
4. Regional Rankings


Here are the latest Division III men's volleyball regional rankings.

Region I: Springfield, Wentworth, Lasell
Region II: Rutgers-Newark, Stevens, Southern Virginia
Region III: Carthage, Dominican, North Central (Ill.),

>> Complete Rankings
NEWS
5. Lightning Round
Eastern Connecticut 3B Luke Broadhurst and John Jay RHP Ismael Tatis named NCBWA Player and Pitcher of the Week.


Former Mount Union standout and current Iowa State head football coach Matt Campbell is one of four members of the CoSIDA Academic All-America Hall of Fame Class of 2022.


In a top-five showdown, No. 4 Union held off No. 5 St. John Fisher, 13-12. Dan Donahue made 23 saves for the Dutchmen.


Cake and candles to former Bryn Mawr basketball coach Rebecca Tyler and SUNY Canton assistant men's basketball coach Mason Griffin.
SPONSORED BY PRESTO SPORTS

TRANSACTIONS

6. Comings and Goings