written by STEVE ULRICH
your must-read briefing on what's driving the day in NCAA Division III
>> Good Monday morning. Hope you had a great weekend.

>> Today's Word Count: 1,148.

>> Thanks for reading D3Playbook. Looking for some help compiling statistical records? Perhaps some conference scheduling? Email us.

TOP STORY
1. Is DI Breakup 'Inevitable'?
by Pat Forde, Sports Illustrated

"Notre Dame athletic director Jack Swarbrick told Sports Illustrated that he believes the breakup of college sports at the NCAA Division I level is "inevitable," and puts a potential target date on that seismic change as the mid-2030s. Swarbrick also said there are "so many" schools trying to leave their current conferences, but they're handcuffed by existing contracts.

In a wide-ranging interview with SI, the only athletic director who is part of the College Football Playoff Management Committee said the fracture lines within the 130-member FBS could leave two disparate approaches: schools that still operate athletics within a traditional educational structure, and those who tie sports to the university in name only.

The expectation is that the Big Ten and SEC will continue to leave the rest of the Power Five conferences behind in terms of revenue. The widening gap will place more stress on the current landscape, leading some schools to move away from their existing conference affiliations—and possibly leading some leagues to boot longtime members that don't bring as much to the revenue trough."

>> What They're Saying: "We're going to have these two conferences that have so distanced themselves from anyone else financially," Swarbrick said. "That's where I see it starting to break down. There are so many schools trying to get out of their current conference, and they can't get there."

>> Prediction I: "Asked if the current Name, Image and Likeness landscape is sustainable, the answer was a blunt no. Recruiting inducements were not the original idea, but that's what NIL has become in many instances. "We went from what people thought was an overly restrictive market to the most unrestricted labor market in the history of sports.""

>> Prediction II: "Swarbrick predicts that the current NIL marketplace will severely damage Olympic sports, as investments and donations continue to tilt toward revenue-producing sports. 'If all of this revenue is disproportionately coming to men, even if you didn't set it up, how does Title IX analyze that?'"

>> Be Smart: The storm clouds are gathering and Division III needs to keep a watchful eye on what is happening here. DIII's funding model - and perhaps its future as we know it - depends on it.

>> Continue Reading
VOLLEYBALL (M)
2. Firebirds Go Back-to-Back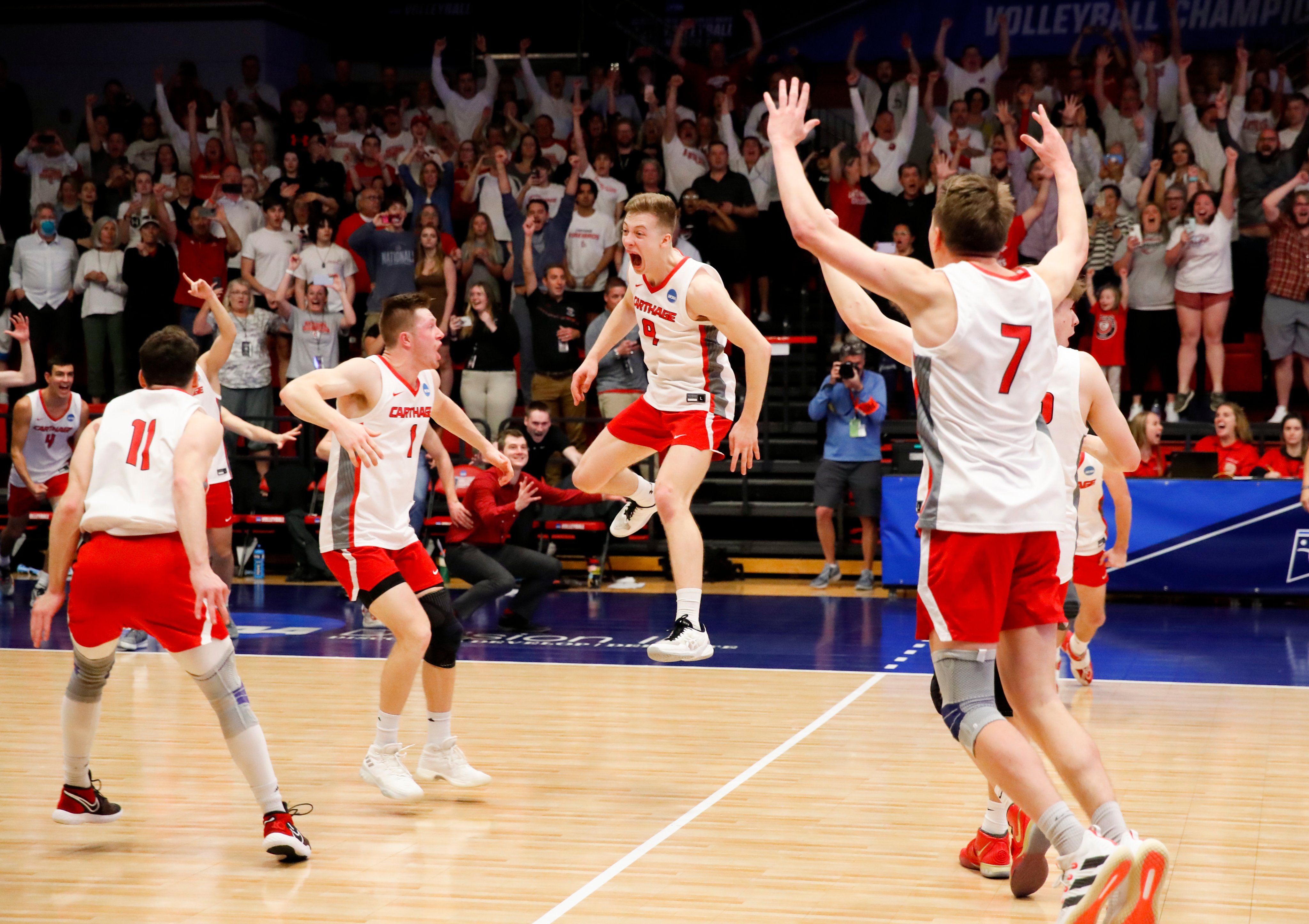 by Mike Ramczyk, Kenosha News

"Oh, what a feeling.

Carthage College players, coaches, fans and students removed hardwood floor planks more than one hour after Saturday's NCAA Division 3 men's volleyball national championship.

They posed for photos with family members that drove as far as St. Louis and the south side of Chicago.

They thanked everyone and their mother, and father, including the city of Kenosha and the college for continued support in this two-year journey.

It's the kind of euphoric state reserved for something as big as the top of one's craft, or passion, a national championship."

>> Court Awareness: Carthage defeated top-ranked Springfield in four sets on the Firebirds' home court to repeat as DIII Men's Volleyball champions.

>> The Key Stat: "Playing in his last collegiate game, (Matt Slivinski), the 6-foot-3 outside hitter from Willow Spring, Ill. slammed home a match-high 18 kills, with an impressive .368 hitting percentage, and seemed to counter every Springfield punch with a bigger, more booming counterpunch."

>> What's Next: "Several players mentioned taking their individual NCAA championship trophies out on the town. Zach Bulthuis, who added nine kills and three blocks, said the guys were going to try to talk head coach JW Kieckhefer into bringing the large trophy to their favorite Kenosha establishment."

>> The Final Word: "Last year was amazing, but it's really hard to repeat," said senior Kyle Cohan. "It means everything to do it in front of my family that came up from St. Louis. It's my last year of volleyball, so it's a great ending."

>> Read More
>> Post-Game Interview
SPONSORED BY HEDGEHOG TRIVIA
Hedgehog Trivia hosts live virtual trivia games for remote teams. These events are designed with challenging but approachable questions to get the entire team interacting and having fun. Our professional hosts are great at entertaining and engaging the whole group and we've built our own software to provide a much more immersive experience than Zoom-based trivia games can deliver.

We've hosted games with the likes of Google, Facebook & Dropbox and they keep coming back because of the mix of intimate breakout rooms and larger team interaction.

Sign your team up today!
TRACK AND FIELD
4. Lightning Fast


Two NCAA Division III men's track records fell by the wayside last weekend, courtesy of Knox's Derrick Jackson and Centre's JP Voight.

Jackson, a senior, shattered a mark that stood for 39 years in the 100-meter dash, hitting the tape in 10.17 seconds. That bettered the old standard of 10.18 set by Mount Union's Derrick Rippy back in 1983.

Voight, a junior, finished fourth in the 200 at the University of Kentucky Open but set a DIII record in the event in 20.66. That mark bested the old standard of 20.80 set by Oneonta's Sean Bernstein in 2012.

>> What They're Saying: "I can't even put In words about what just happened today," said Jackson. "The moment they shot the gun and I finally got the start I've been working on I knew it was some heat, but 10.17 woahhhh."

>> Weekend Wrapup

NEWS
6. Lightning Round
Garrison Paillet, Thomas
Baseball
Track and Field
It was a weekend of sweeps for the George Fox, Washington U., and Trinity U. men's and women's track and field teams, winning the Northwest Conference, UAA and SCAC titles, respectively.
Tennis
Golf (M)
Westminster (Pa.) junior Sam Napper registered a hole-in-one on the 158-yard 15th hole in the final round of the Presidents Athletic Conference championship.
Rowing (W)
Softball
RHP Nina Mardjetko twirled a no-hitter to salvage a split of Illinois Wesleyan's twinbill with Carthage. She struck out one and allowed four free passes.
Happy Birthday
Cake and candles to Oberlin head men's basketball coach Shiva Senthil
Do you know of someone celebrating a birthday this month? Drop us a line at D3Playbook@gmail.com.
TRANSACTIONS

7. Comings and Goings
1 THING
8. Sports.
Copyright © 2022, D3Playbook.com All rights reserved.