written by STEVE ULRICH
your must-read briefing on what's driving the day in NCAA Division III

>> Happy Friday! And Happy Earth Day. Enjoy your weekend.

>> Today's Word Count: 1,173

>> Thanks for reading D3Playbook. Is your staff reading D3Playbook? Share the love and the info.

TOP STORY
1. Football Rule Changes Coming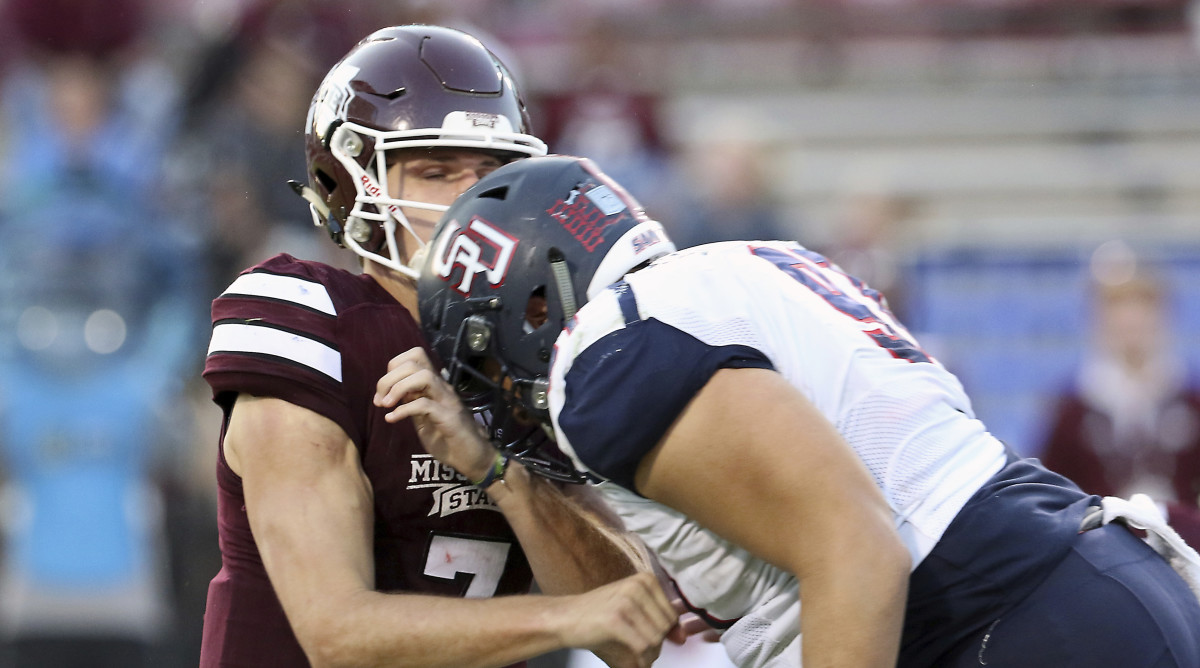 by Greg Johnson, NCAA

"The NCAA Playing Rules Oversight Panel on Wednesday approved football measures intended to strengthen the accuracy of the targeting rule, limit blocking below the waist and address teams that appear to fake injuries to gain an advantage.

All these rules changes will take effect in the 2022 season.

In games that have instant replay, when a targeting foul occurs in the second half, the carryover penalty (of sitting out the first half of that player's next game) will be eligible for further appeal.

The process will begin with a conference submitting a request to the NCAA national coordinator of officials, who would review video of the play. If it is obvious that a player was incorrectly penalized for targeting, the call would be overturned, and the player would be cleared to play in the first half of the next game."

Elsewhere ...
To address teams that are awarded an injury timeout through deceptive actions, panel members approved a reporting and investigation process. Schools and conferences will be able to report questionable scenarios to the national coordinator of officials, who will review and provide feedback to the conference for further action.

The panel approved a proposal to improve safety and simplify the rules governing blocking below the waist. The proposal will allow blocking below the waist only by linemen and stationary backs inside the tackle box.
>> Continue Reading
VOLLEYBALL
2. Final Four Preview


The semifinals and final of the 2022 NCAA Division III Men's Volleyball Championship are slated for this weekend in Kenosha, Wis., on the campus of Carthage College.

The host Firebirds are the defending national champion and welcome top-ranked Springfield, No. 4 Stevens and No. 10 Wentworth to Tarble Arena.

Here is a preview of today's semifinals.

No. 1 Springfield vs. 4 Stevens, 5 p.m.

Springfield Pride (28-1)
National Titles (5): 2012-13-14-17-18
Trips to the DIII Final Four (9): 2012-13-14-15-16-17-18-19-22
Points per Set: Jarrett Anderson, 4.6
Kills per Set: Brennan Brandow, 3.34
Set Assists per Set: Matt Lilley, 9.35
Service Aces: Anderson, 78
Blocks: Nate Reynolds, 80
Statistics

Stevens Ducks (30-3)
National Titles (1): 2015
Trips to the DIII Final Four (6): 2015-16-17-18-19-22
Points per Set: Koby Sherman, 4.14
Kills per Set: Sherman, 3.44
Set Assists per Set: Louden Moran, 9.38
Service Aces: Sherman, 39
Blocks: Connor Feulner, 112
Statistics

No. 3 Carthage vs. No. 10 Wentworth, 7:30 p.m.

Carthage Firebirds (22-3)
National Titles (1): 2021
Trips to the DIII Final Four (4): 2012-14-21-22
Points per Set: Matt Slivinski, 4.92
Kills per Set: Slivinski, 3.68
Set Assists per Set: Gene McNulty, 10.79
Service Aces: Slivinski, 74
Blocks: Zach Bulthuis, David Markes, 56
Statistics

Wentworth Leopards (30-4)
Best NCAA DIII Finish: 3rd (2017)
Trips to the DIII Final Four (2): 2017-22
Points per Set: Jacob LaBouliere, 4.8
Kills per Set: LaBouliere, 4.21
Set Assists per Set: Connor Adams, 9.36
Service Aces: Adams, 47
Blocks: David Marsh, 85
Statistics

>> Watch LIVE
A MESSAGE FROM BRIGHT CELLARS

Bright Cellars is a monthly wine club that matches you with wines you'll love.
Founded by two MIT grads (#whyD3)
who were intimidated by the vast and complex world of wine, Bright Cellars was created to help wine drinkers discover and learn about wine in a fun, interactive way.
Bright Cellars creates a wine experience tailored just for you. Based on an algorithm, wine selections are calculated to match your taste preferences. As you try the wines, you're encouraged to rate them on the website to fine-tune your taste profile even further. Your matches improve as the algorithm gets to know you better, making each shipment better than the last.
D3Playbook readers are invited to get 50% off
your first 6-bottle box from Bright Cellars. That's a $45 value. Each box will include a wine education card for each bottle that details servings temps, food pairings, background on the region and more.
Take
our 30-second quiz
to start your weekend right.
TRACK AND FIELD
3. Profs, Duhawks Top Ratings

Here is the newest edition of the NCAA DIII Outdoor Track & Field National Rating Indices for the 2022 season, as released by the U.S. Track & Field and Cross Country Coaches Association (USTFCCCA).

Men
Rowan, 184.00
Pomona-Pitzer, 130.94
Carnegie Mellon, 108.32
Hardin-Simmons, 104.65
Claremont-M-S, 104.50
Williams, 94.46
John Carroll, 89.51
Mount Union, 82.50
Wartburg, 67.91
UW-Stout, 66.16

>> Conference Call: WIAC (4), SCIAC (3), ARC (3), ASC (2), Ohio (2), UAA (2), Liberty (1), NACC (1), NESCAC (1), NEWMAC (1), NJAC (1), NWC (1), ODAC (1), SAA (1), SUNYAC (1)

>> Men's Rating Index

Women
Loras, 164.62
Washington, Mo., 142.78
Johns Hopkins, 128.60
Geneseo, 124.69
Claremont-M-S, 111.77
Nebraska Wesleyan, 101.15
George Fox, 97.66
UW-La Crosse, 95.60
Wartburg, 92.55
WPI, 81.77

>> Conference Call: ARC (4), NESCAC (3),SCIAC (3), NEWMAC (2), Ohio (2), UAA (2), WIAC (2), Centennial (1), MAC (1), MIAA (1), MIAC (1), NWC (1), PAC (1), SUNYAC (1)

>> Women's Rating Index
ALUMNI
4. DIII Players Who Made "The Show"


by Tyler O'Shea, JokerMag
"Many kids dream of becoming a professional baseball player. Donning the uniform of their favorite team. Running out under the lights to thousands of screaming fans. Hitting a walk-off homer in Game 7 of the World Series.

But, you need to beat long odds to get there.

According to Casino.org, only 5.8% of high school seniors ever play for an NCAA baseball program. And just 0.5% of those senior boys get drafted by an MLB team. Even then, per Baseball America, only 17.6% of players drafted make it all the way to the big leagues.

Here is a breakdown of Division 3 players who made it to Major League Baseball – now and throughout history."

Current Players
Collin McHugh, Berry (pictured above)
Tim Locastro, Ithaca
Josh Fleming, Webster
Stephen Ridings, Haverford
Former Players
Billy Wagner, Ferrum
Erik Kratz, Eastern Mennonite
Jordan Zimmerman, UW-Stevens Point
Terry Mulholland and Kent Tekulve, Marietta
>> Continue Reading
NEWS
5. Lightning Round
MIT's Seraphin Castelino and Coast Guard's Banks Evans named ITA Players of the Week.


Carnegie Mellon senior William Knauth is one of five finalists for the Byron Nelson Award, given annually to the outstanding Division I, II, III, or NAIA scholar-athlete of the year. The recipient must be a graduating senior and is recognized for his achievement in the classroom, on the course and in his community.


Cake and candles to Moravian assistant AD Brynn Seidenstricker, Washington U. assistant volleyball coach Greg Selle (Sat.) and former Ohio Northern AD and men's basketball coach Gale Daugherty (Sun.). And belated wishes to Shenandoah AD Bridget Lyons and Robert Ball who celebrated Thursday.
A MESSAGE FROM D3PLAYBOOK


Help us help you. We are glad that you are enjoying D3Playbook. Now won't you help us continue our work? Your gift helps us offset the costs of operating the newsletter and enable us to continue to provide the quality you have come to expect. Please contribute today.

SCHEDULE
6. Weekend Watchlist
Baseball
Lacrosse (M)Lacrosse (W)SoftballTennis (M)Tennis (W)
Copyright © 2022, D3Playbook.com All rights reserved.