written by STEVE ULRICH
your must-read briefing on what's driving the day in NCAA Division III

>> Happy Friday! Let's crown some champions.

>> Today's Word Count: 1,023, but remember, no wagering.

>> Thanks for reading D3Playbook. Are you looking to advertise for a job opening? Or are you a business looking to reach a desirable demographic? Email us.

TOP STORY
1. Whitewater, Hope to Play for Title

Aleah Grundahl, UW-Whitewater / photo by Michael McLoone

It will be Whitewater against Hope for the 2022 NCAA Division III women's basketball title.

The Warhawks punched their ticket to the final with a 55-51 victory over Amherst. Aleah Grundahl scored 18 points as UWW outscored the Mammoths, 14-7, over the final 10 minutes. UWW (28-4) is making its first trip to the final since 2013 and is in search of its first national title.

The Flying Dutch held off a furious Trine rally to down the Thunder, 57-52. Trine trailed by as many as 16 points late in the third period before storming back to tie the game at 52 with 3:35 left. But Sydney Muller's jumper moments later put Hope ahead to stay. Kenedy Schoonveld led the victors (31-1) with 15. Hope is playing for its third national title.

The championship game is scheduled for 2 p.m. EDT on Saturday and will be televised live on the CBS Sports Network.
ICE HOCKEY (M)
2. Quarterfinal Preview



Peter Bates, St. Norbert / photo by Patrick Ferron



The 2022 NCAA Division III men's ice hockey quarterfinals take place on Saturday at campus sites.

No. 8 U. of New England at No. 2 Utica, 2:00
Jared Christy leads the Nor'easters (22-3-1) with 16 goals. UNE is on a 12-game win streak. Sean Dickson has a 1.35 GAA and a .928 save percentage in goal for the Pioneers (25-2-1)
No. 5 Babson at No. 3 Geneseo, 7:00
Ryan Black leads the Beavers (20-5-2) with 19-19-38. Matt Petizian has a 1.56 GAA and a .936 save percentage for the Knights.
No. 7 Hobart at No. 1 Adrian, 7:00
Luke Aguaro has 16 goals and 16 assists for the Statesmen (20-5-2). Alessio Luciani has 15-29-44 for the top-ranked Bulldogs (28-1) who have not lost since the season opener vs. Utica.
No. 6 St. Norbert at No. 4 Augsburg, 7:00
Peter Bates is one of the top marksmen in DIII with 28-30-58 for the Green Knights (24-6). Austin Martinsen leads the Auggies (24-4) with 15-21-36.

>> Complete Bracket
ICE HOCKEY (W)
3. Hoff Headlines All-America Team

Chiara Pfosi, Aurora / photo by Steve Woltmann

Callie Hoff, a senior forward from the University of Wisconsin-River Falls, is the recipient of the 2022 Laura Hurd Award. The award, voted on by the nation's Division III head coaches, is presented to the best player at the NCAA Women's Division III level.

Hoff, the back-to-back WIAC Player of the Year, recently completed her decorated career with a UWRF single-season record 67 points off 26 goals and 41 assists during her final year as a Falcon. She led UWRF to a program-record 27 wins while the team reached the NCAA Tournament Quarterfinals along with the WIAC regular season title and O'Brien Cup Championship.

She currently is the Division III scoring leader this season with her point total of 67, in which she averaged 2.58 per game while scoring six power play goals, five shorthanded, and six game-winners.

All-America First Team
East
G-Nina Prunster, Colby
D-Jenny Heath, Elmira
D-Erin McArdle, Plattsburgh State
F-Eliza Beaudin, Elmira
F-Annie Katonka, Plattsburgh State
F-Madie Leidt, Middlebury

West
G-Chiara Pfosi, Aurora
D-Ava Jaschke, St. Norbert
D-Kayl Vrieze, Gustavus Adolphus
F-Callie Hoff, UW-River Falls
F-Sophie Rausch, Hamline
F-Abigail Stow, UW-River Falls

>> Complete Team
A MESSAGE FROM BRIGHT CELLARS

Bright Cellars is a monthly wine club that matches you with wines you'll love.
Founded by two MIT grads (#whyD3)
who were intimidated by the vast and complex world of wine, Bright Cellars was created to help wine drinkers discover and learn about wine in a fun, interactive way.
Bright Cellars creates a wine experience tailored just for you. Based on an algorithm, wine selections are calculated to match your taste preferences. As you try the wines, you're encouraged to rate them on the website to fine-tune your taste profile even further. Your matches improve as the algorithm gets to know you better, making each shipment better than the last.
D3Playbook readers are invited to get 50% off
your first 6-bottle box from Bright Cellars. That's a $45 value. Each box will include a wine education card for each bottle that details servings temps, food pairings, background on the region and more.
Take
our 30-second quiz
to start your weekend right.
SWIMMING
4. Day 2 Recap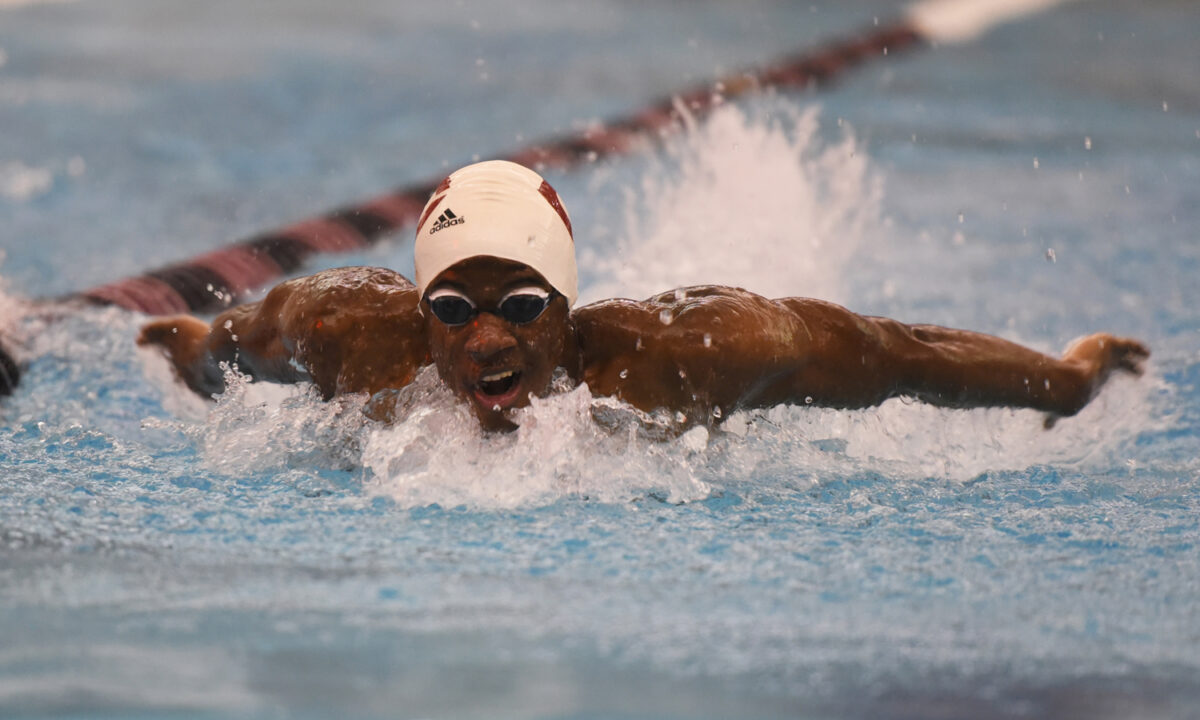 Chicago's Jesse Ssengonzi was a double winner to highlight the men's performances on the second night of the 2022 NCAA Division III Swimming and Diving Championships in Indianapolis.

Ssengonzi won the 100 fly and swam a leg of the Maroons' victorious 400 medley relay. Emory has a comfortable lead over Denison in the team standings, 243-179. Johns Hopkins, Williams and Chicago are 3-4-5.

Kenyon's 200 free and 400 medley relay set national women's records. The free relay of Alexandra White, Sydney Geboy, Crile Hart and Emmie Mirus touched the wall in 1:30.39. The medley relay of Olivia Smith, Jennah Fadely, Hart and Mirus finished first in 3:38.05. The Ladies hold a 2.5-point advantage over Denison, 248-245.5, while Emory is hot on their heels at 215. Williams and Pomona-Pitzer are fourth and fifth, respectively.

>> Complete Results
TENNIS
5. Huge Weekend

Four of the top 10 teams in the country will meet at the annual Stag-Hen Tennis Classic this weekend.

No. 3 Washington (Mo.) is the highest-ranked team, followed by No. 4 Claremont-M-S, No. 5 Emory and No. 8 Trinity (Texas). Also in the field is No. 15 Gustavus Adolphus, No. 19 Pomona-Pitzer, Amherst and Bowdoin.

Friday's opening matches pit CMS vs. Gustavus, Pomona-Pitzer vs. Emory, WashU vs. Amherst and Trinity vs. Bowdoin.
A MESSAGE FROM D3PLAYBOOK


Help us help you. We are glad that you are enjoying D3Playbook. Now won't you help us continue our work? Your gift helps us offset the costs of operating the newsletter and enable us to continue to provide the quality you have come to expect. Please contribute today.

SCHEDULE
6. Weekend Watchlist
Basketball (M)
National Semifinal: No. 1 Randolph-Macon vs. No. 2 Marietta
National Semifinal: No. 15 Wabash vs. No. 16 Elmhurst
National Final: Saturday, 6 p.m.
Basketball (W)
National Final: No. 2 Hope vs. No. 12 UW-Whitewater
Baseball
No. 10 Webster vs. No. 11 Wheaton, Mass. (Fri-Sat)
No. 8 Salisbury vs. No. 16 Shenandoah (Sun)
Lacrosse (W)
No. 5 Middlebury vs. No. 17 Trinity, Conn.
No. 9 Tufts vs. No. 23 Chicago
Lacrosse (M)
No. 4 Christopher Newport vs. No. 10 Gettysburg (Fri)
No. 5 York vs. No. 8 Franklin & Marshall (Fri)
No. 4 CNU vs. No. 7 Lynchburg (Sat)
Softball
No. 3 Virginia Wesleyan vs. No. 13 Roanoke
No. 4 Christopher Newport vs. No. 13 Roanoke
Tennis (M)
No. 9 Brandeis vs. No. 16 Denison
Tennis (W)
No. 3 Pomona-Pitzer vs. No. 16 Bowdoin
No. 4 Claremont-M-S vs. No. 8 Sewanee
Volleyball (M)
No. 2 Dominican vs. Loras
No. 8 Rutgers-Newark vs. No. 12 Marymount
SPONSORED BY PRESTO SPORTS
TRANSACTIONS
7. Comings and Goings
Copyright © 2022, D3Playbook.com All rights reserved.