written by STEVE ULRICH
your must-read briefing on what's driving the day in NCAA Division III
>> Good Monday morning. Thirty years ago today, Christian Laettner made one of the most famous shots in college basketball history. Where were you?

>> Today's Word Count: 1,260

>> Thanks for reading D3Playbook. Are you looking to advertise for a job opening? Or are you a business looking to reach a desirable demographic? Email us.

TOP STORY
1. The Flutie Effect?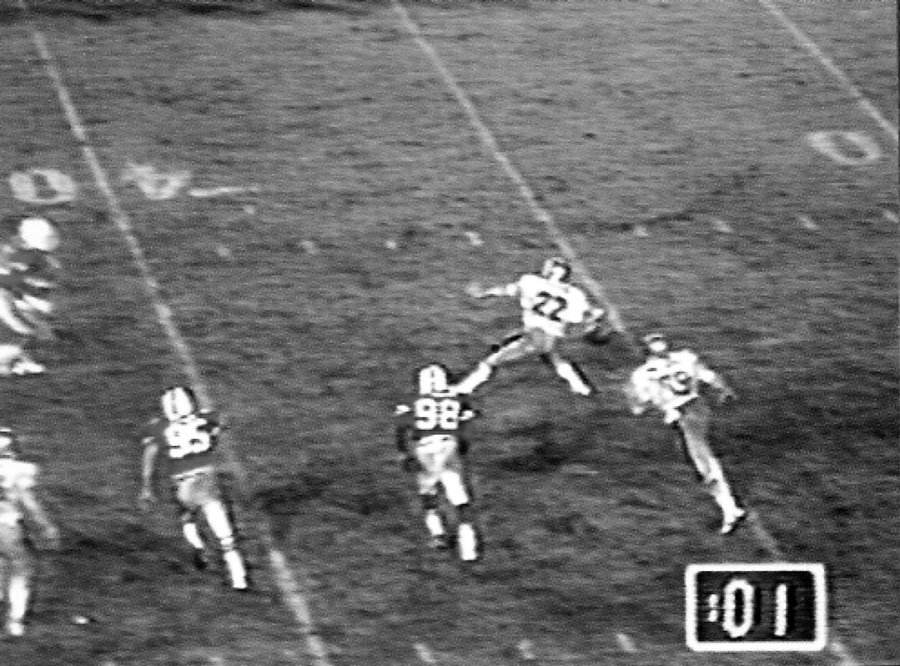 It's hard to believe, but Doug Flutie's "Hail Mary" touchdown pass that lifted Boston College to a 45-43 football victory over Miami (Fla.) was 38 years ago.

Because the game was nationally-televised over a holiday weekend (Nov. 23), the TV audience was introduced to BC and the school's admissions office saw its applications rise 30 percent in two years. The so-called, "Flutie Effect."

The theory has been debated among enrollment and athletic people for years, as the question grows as to spending on intercollegiate athletics. It has come to the forefront with Saint Peter's University's run to the NCAA Elite Eight.

So, we figured that a dive into DIII enrollment trends based on athletic success might be in order.

>> Situational Awareness: Thanks to Jon Boeckenstadt, enrollment VP at Oregon State, who writes the excellent Higher Ed Data Stories blog.

"A look at applications, admits, and enrolls over the last twenty years, and three key ratios that are based on those numbers: Admit rate, or the percentage of applicants offered admission; yield rate, or the percentage of those offered admission who enroll; and the lesser-known draw rate, which is calculated by dividing the yield rate by the admit rate. It's a much better indication of market power and market position, and it's much harder to manipulate than admit rate; in fact, if you try to manipulate admit rates, it's likely the cost will be a lower yield and a drop in draw rate."

>> What We Reviewed: We took a look at data for the 2012 champions in football (Mount Union), soccer (Messiah), basketball (UW-Whitewater, Illinois Wesleyan), baseball (Marietta), softball (Pacific Lutheran) and lacrosse (Salisbury, Trinity CT). The data included admit, yield and draw rates.

>> What We Found: Three of the eight institutions saw applications rise during the time frame from 2012-2020. Six of the eight saw their admit rate increase, while six saw their yield and draws rates fall.
Applications: Mount Union (+29.0), IWU (+18.2), UWW (+6.1), Salisbury (-1.9), PLU (-6.9), Messiah (-19.2), Trinity (-22.9), Marietta (-41.4)

Admit Rate: IWU (-2.6), UWW (-1.7), Trinity (+2.3), Mount Union (+3.0), Marietta (+6.3), PLU (+9.7), Messiah (+13.3), Salisbury (+22.9).

Yield Rate: Marietta (+4.8), Trinity (+3.9), UWW (-1.3), PLU (-3.6), Messiah (-4.1), IWU (-5.1), Salisbury (-8.3), Mount Union (-12.0).

Draw Rate: Trinity (+0.7), Marietta (+0.4), UWW (-0.1), IWU (-0.7), PLU (-0.9), Messiah (-0.15), Mount Union (-0.17), Salisbury (-0.27).

>> The Key Stat: Granted, it's a small sample size. Although we used an eight-year period, rather than 1-2 years, it appears that the "Flutie Effect" does not really take hold in Division III. Rates are more important to enrollment managers than raw numbers (i.e. applications) - despite what admission brochures and news releases might say. Only two institutions saw their admit rate fall - but their yield rate fell as well. Marietta and Trinity saw their yield and draw rates increase during the eight-year period.

>> Look at Your School's Numbers
ICE HOCKEY (M)
2. Beware of Bulldogs

by Kristopher Lodes, The Daily Telegram

"Some penalties are more costly than others.

The top-ranked Adrian College men's hockey team made sure third-ranked SUNY Geneseo would look back at a five minute major in the first period of Saturday's NCAA Division III national championship game and think, what if.

"You can't put a team like Adrian on the power play," said Knights' head coach Chris Schultz. "I'd like to see the outcome without that five minute."

The Bulldogs scored twice in a three-minute span of 5-on-4 after a penalty of their own negated the first two minutes of the major and went on to win its first national title, 5-2."

>> Turning Point: "The Knights (24-4-1) controlled the tempo of the game to start, but a hit by Nicolas Elia on Jaden Shields had Adrian (31-1) head coach Adam Krug asking for a replay. The officials reviewed it and handed Elia a five-minute major."

>> The Details: Leading 3-2 midway through the final period, Ryan Pitoscia notched an insurance goal and Sam Ruffin ended it with an empty-net tally. Cameron Gray finished with 28 saves for Adrian.

>> History-Making: "The win not only gives the Bulldogs their first national title in the program's 15-year history, but also the first NCAA team title for the school."

>> What They're Saying: "It's a testament to our team play and our buy in," Gray said. "It's a commitment to detail and team structure and playing for one another and that's why I think we can call ourselves national champions."

>> Continue Reading

Do you currently invest in stocks? What about a retirement account? Take your investing to the next level by diversifying your portfoilo into asset classes like fine wine, real estate, crypto, NFTs and more.

Track Your Portfolio & Assess Your Risk - Connect and track all of your investments, across all asset classes, from one place (no more spreadsheets!). MoneyMade members (membership is 100% free) also receive a portfolio analysis to see their portfolio's diversification, risk, asset allocation and more. Try us today.
LACROSSE (W)
3. Stunner in Sparks

Annie Eddy, Colby

Ninth-ranked Colby came south to Sparks, Md. - the headquarters of US Lacrosse - and stunned No. 1 Salisbury, 14-13, on an overtime goal from Annie Eddy.

The Mules held a 13-8 advantage entering the final period before the Sea Gulls (9-1) came storming back, scoring five unanswered including the equalizer by Emma Skoglund with 0:37 remaining.

Colby GK Emily Podgorni made a pair of saves on free positions during extra time and Eddy ended it with her fourth goal of the day to improve Colby's record to 6-1.

The loss ended Salisbury's 29-game win streak.

>> Read More
GYMNASTICS
4. Titans on Top
Emily Buffington captured first place on the uneven bars and Trinity Sawyer earned a pair of All-America awards to lead UW-Oshkosh to the team title at the National Collegiate Gymnastics Association Championship Saturday in Ithaca, N.Y.

UW-Oshkosh won the six-team meet with a school-record score of 194.100. It is the fifth national title for the Titans.

Team Results
UW-Oshkosh, 194.100
Brockport, 192.600
UW-La Crosse, 192.575
Ithaca, 192.325
UW-Whitewater, 191.975
Springfield, 186.700

Individual Results
All-Around: Emily North (UW-Whitewater), 38.60
Vault: Mikala Bugge (UW-Stout), Kennedy O'Connor (Winona), 9.80
Uneven Parallel Bars: Taylor Bushey (Brockport), Winter Osborne (Springfield), Kerrie Legault (UW-La Crosse), Emily Buffington (UW-Oshkosh), 9.80
Balance Beam: Sarah Knetzke (UW-Whitewater), 9.875
Floor Exercise: Kyra Fugrelli (Brockport), 9.90
NEWS
5. Lightning Round
Arjun Asokumar, Chicago
Tennis (M)
No. 2 Chicago (10-1) turned back No. 5 Trinity (Texas), 7-2, in the marquee match of the weekend. The Maroons' Christian Alshon defeated Cameron Krimbill, 6-4, 6-2, at No. 1 singles.
Softball
After dropping game one of a twinbill, Averett stormed back to hand top-ranked Christopher Newport (23-1) its first loss of the season, 8-5. Hannah Thompson homered and scored three times.
Baseball
Lacrosse
Congratulations to the Mount Aloysius women on the occasion of the program's first-ever win - a 19-11 decision against Wilson. Maddie Waite scored eight goals and had three assists.
Happy Birthday
1 THING
7. Plays of the Weekend
Copyright © 2022, D3Playbook.com All rights reserved.