written by STEVE ULRICH
your must-read briefing on what's driving the day in NCAA Division III
>> Good Monday morning. What. A. Weekend.

>> Today's Word Count: 977

>> Thanks for reading D3Playbook. Are you looking to advertise for a job opening? Or are you a business looking to reach a desirable demographic? Email us.

>> Conference Scheduling: Would you like assistance with conference scheduling? After 2020-21, I'd bet the answer is YES. Give us a chance to show what we can provide for you. After all, it's 26 years of experience working for YOU.


TOP STORY
1. How Sweet It Is

photo by Steve Frommell, UW-Oshkosh

We are down to the Sweet 16 in the men's and women's basketball championship tournaments.

On the women's side, Amherst, Hope, Tranyslvania and UW-Whitewater will serve as sectional hosts. For the men, Case Western Reserve, Illinois Wesleyan, Marietta and Randolph-Macon will play host.

Women - Sweet 16
(1) Christopher Newport vs. (13) Trinity, Texas; (11) Tufts at (8) Amherst
(10) Baldwin Wallace vs. UW-Oshkosh; (16) Smith at (12) UW-Whitewater
(7) New York U. vs. (9) Scranton; Millikin at (2) Hope
(5) Trine vs. Springfield; (21) Mary Hardin-Baylor at (3) Transylvania

>> Wrapup, courtesy of D3hoops.com
>> Complete Bracket

Men- Sweet 16
(16) Elmhurst vs. Calvin; (6) Mary Hardin-Baylor at Case Western Reserve
(15) Wabash vs. (22) Williams; (18) Wheaton, Ill. at (7) Illinois Wesleyan
(4) Christopher Newport vs. (23) Stockton; (17) Oswego State at (2) Marietta
(13) WPI vs. RPI; Mass-Dartmouth at (1) Randolph-Macon

>> Wrapup, courtesy of D3hoops.com
>> Complete Bracket
ICE HOCKEY
2. Conference Champions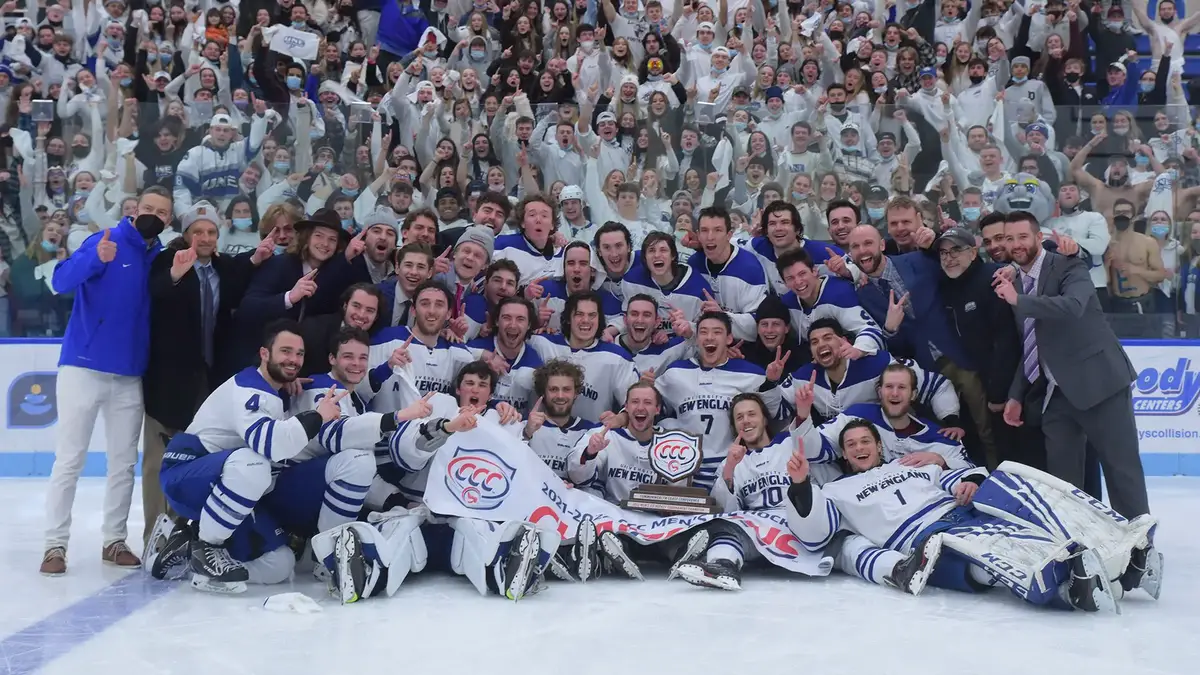 photo by Tristan Durgin, UNE athletics

It wasn't all basketball last weekend, as conferences determined their champions in ice hockey. The Division III women's championship field was announced last night, while the men's selection show commences at 10 a.m. ET this morning.

Women's Bracket
First Round - Wednesday
Aurora (21-6) at UW-River Falls (26-1)
UW-Eau Claire (23-5) at Gustavus Adolphus (22-3-2)

Quarterfinals - Saturday
First Round winners
Endicott (19-4-1) at Middlebury (24-0)
Elmira (24-2-1) at Nazareth (27-1)
Colby (16-5-1) at Plattsburgh State (24-2-1)

>> Complete Bracket

Conference Championships
Women
CCC: (8) Endicott d. U. of New England, 2-1
MIAC: (6) Gustavus Adolphus d. Hamline, 6-1
NCHA: Aurora d. St. Norbert, 5-1
NEHC: (3) Elmira d. Castleton, 4-0
NESCAC: (1) Middlebury d. Amherst, 2-0
NEWHL: (2) Plattsburgh d. Cortland, 4-3 (OT)
UCHC: (7) Nazareth d. Manhattanville, 7-0
WIAC: (4) River Falls d. (5) Eau Claire, 6-3

Men
CCC: (11) U. of New England d. (13) Endicott, 3-2 (OT)
MASCAC: Plymouth State d. Salem State, 8-4
MIAC: St. Olaf d. (4) Augsburg, 5-2
NCHA: (1) Adrian d. (5) St. Norbert, 12-3
NEHC: (6) Babson d. Skidmore, 5-3
NESCAC: Trinity, Conn. d. (14) Colby, 4-1
SUNYAC: (3) Geneseo d. (12) Oswego, 6-1
UCHC: (2) Utica d. (8) Wilkes, 7-4
WIAC: Eau Claire d. (9) Stevens Point, 6-2

>> Watch the men's selection show
A MESSAGE FROM FULTON
Discover the world's most comfortable, supportive, and sustainable insole
Fulton is a modern brand of arch support. They developed sustainable, supportive and comfortable insoles that improve your alignment and posture, preventing injury through:
A cork base, which absorbs shock and molds to your unique arch to provide custom support

A deep heel cup to provide maximum stability and prevent injury

Arch support and natural latex foam to improve overall comfort

Entirely natural and biodegradable materials to support not only you, but the planet
TENNIS (W)
3.
Sweet Home Chicago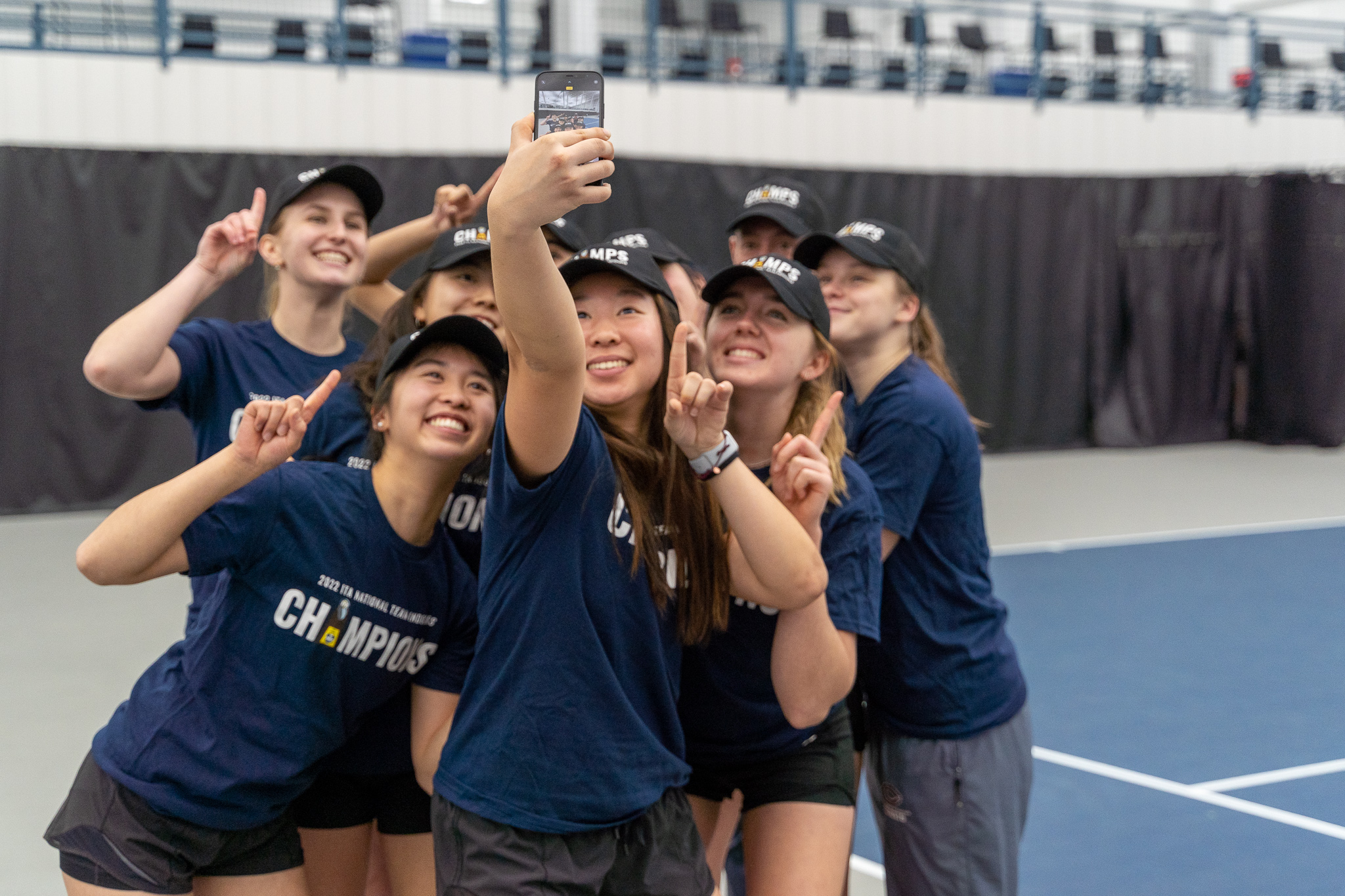 The University of Chicago won its first ITA Division III Indoor National championship with a thrilling 5-4 victory against Emory.

The Maroons also defeated MIT and Pomona-Pitzer by 5-4 counts on their way to the title. The Eagles captured all three doubles matches to take the early lead. But freshman Shianna Guo and junior Claudia Ng battled back from first-set defeats to pull out third-set wins for the championship.

The Sagehens downed Claremont-M-S, 5-1, to take third place.

>> Box Score
>> Tournament Central
A MESSAGE FROM D3PLAYBOOK


Thank you for considering a gift to D3Playbook. Your gift helps us offset the costs of operating the newsletter and enables us to continue to provide the quality you have come to expect. My heartfelt thanks to those who have already generously contributed. Join them today.

WRESTLING (W)
4. Best in Class
Emily Shilson, Augsburg
North Central (Ill.) was the top Division III team finisher at the National Collegiate Women's Wrestling Championships at Adrian College.
The Cardinals finished fourth overall with 128 points, while Augsburg took sixth place with 82. McKendree University captured the team championship.
Augsburg 109
Emily Shilson
was one of three DIII individual weight class champions. Shilson registered a technical fall against NCC's Sydney Petzinger, 10-0, in the final
for her fourth national crown
.
Other gold medalists included Adrian 136
Zoe Nowicki
, who
decisioned Augsburg's Nina Makem
, 4-0, and North Central 170
Yelena Makoved
, who defeated McKendree's
Joye Levendusky
, 3-1, to
win her second straight crown
.
NCC's
Niya Teresita Gaines
was second at 130, while Augsburg's
Marlynne Deede
placed third at 155.
Team Standings
McKendree, 188
King, 166
Simon Fraser, 145.5
North Central, Ill., 128
Colorado Mesa, 89
Augusburg 82
Tiffin, 75.5
Adrian, 42.5
Emmanuel; Gannon, 38.5
NEWS
5. Lightning Round
Kailey Chachere, Belhaven
Track and Field
Softball
Baseball
Lacrosse (M)
Lacrosse (W)
Happy Birthday

TRANSACTIONS

6. Comings and Goings
WHKY | NICOLE UNSWORTH CALLED GAME! The senior from Milwaukee scored perhaps the biggest goal of her career, burying the puck on a breakaway to give @CardinalsWHKY a 4-3 overtime win and its fourth straight NEWHL title! Cards have the NEWHL's AQ into the NCAA Tournament. pic.twitter.com/5n5N1jiBH5

— Plattsburgh State Cardinals (@PlattsAthletics) March 5, 2022
How Sweet It Is!

Sam Hourihan's game-winner at the buzzer lifted the #SpringfieldCollege women's basketball team to a 73-71 overtime win over Ithaca as the Pride punched its ticket to the NCAA Division III Championship Sweet 16! #d3hoops #SCTop10 @ESPNAssignDesk @SCWBB pic.twitter.com/zQq9sT61LB

— SpringfieldAthletics (@SC_Pride) March 6, 2022
Div. III Special: MIA ROY hit the GAME TYING STEP BACK 3 AT THE BUZZER for Bates U (@BatesSports) to force OT with Roger Williams which they would win 68-64 in and advance in the NCAA Div. III Women's Basketball Tournament, (Requested by @InkblotSports) pic.twitter.com/iAccyhp11Q

— NCAA Buzzer Beaters & Game Winners (@NCAABuzzerBters) March 5, 2022
Div. III Special: Cole Frilling (@ColeFrilling) Put the game winning layup up and in with 10.9 seconds left for Case Western Reserve to beat #1 Overall seed Oshkosh in the Div. III NCAA Tournament, in their first ever appearance in the Tournament. (Requested by @InkblotSports) pic.twitter.com/05C9b4z4Li

— NCAA Buzzer Beaters & Game Winners (@NCAABuzzerBters) March 6, 2022
Down by as many as 20 in the first half, @UMassDMensHoop hits this go ahead 3 with under 0:20 for the win! What a great game! @UMassDAthletics @d3hoops @d3hoopsville pic.twitter.com/BAon54fCn5

— UMass Dartmouth Football (@CorsairFootball) March 4, 2022
The shot to send us into the second round of the NCAA Tournament 😱@kate127_palmer SINKS it. #TGOE #d3hoops #SCTop10 @ESPN_WomenHoop @espnW https://t.co/JuyPFL0ZzA pic.twitter.com/4zOt83yyHH

— Illinois Wesleyan Women's Basketball (@IWUWomensBball) March 5, 2022
Copyright © 2022, D3Playbook.com All rights reserved.