written by STEVE ULRICH
your must-read briefing on what's driving the day in NCAA Division III
>> Hello Tuesday. Happy Mardi Gras.

>> Today's Word Count: 1,174

>> Would you be interested in sponsoring D3Playbook? Give us a shout for all the details.

>> Thanks for reading D3Playbook. Is your staff reading D3Playbook? Share the love and the info.


TOP STORY
1. Hoop, There It Is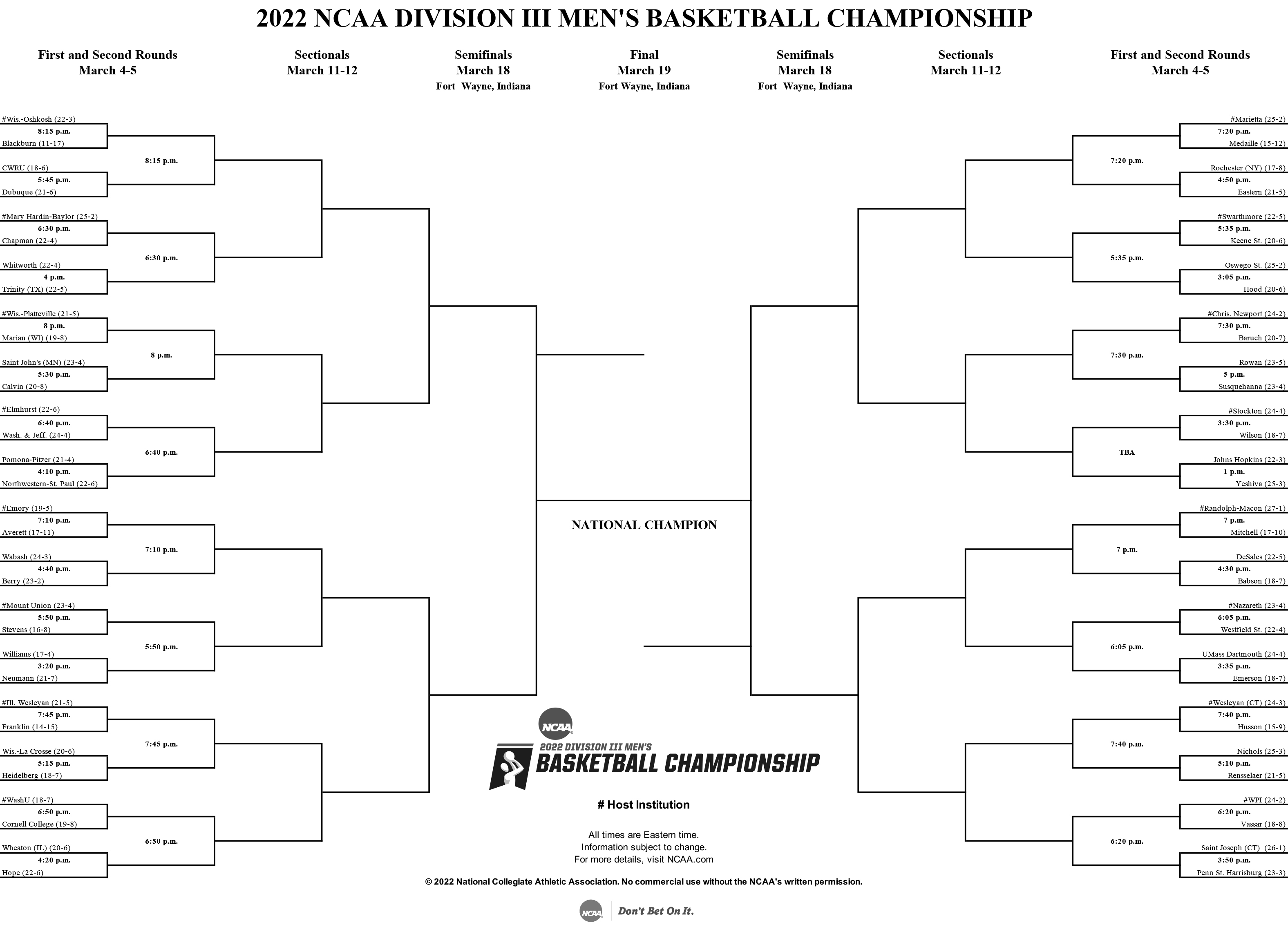 Selection Monday set the fields for the 2022 NCAA Division III men's and women's basketball championship tournaments. The first two rounds will be held Friday and Saturday. The host team is listed in bold (and the men have preference in hosting if both teams from the same school are in the field). D3hoops.com ranking in (#).

Men
Blackburn at (3) UW-Oshkosh; Case Western Reserve vs. Dubuque
Chapman at (6) Mary Hardin-Baylor; (25) Whitworth vs. Trinity, Texas
Marian at (5) UW-Platteville; (24) Saint John's vs. Calvin
Washington & Jefferson at (16) Elmhurst; Pomona-Pitzer vs. Northwestern
Averett at (12) Emory; (15) Wabash vs. (21) Berry
Stevens at (11) Mount Union; (22) Williams vs. Neumann
Franklin at (7) Illinois Wesleyan; (14) UW-La Crosse vs. Heidelberg
Cornell at Washington, Mo.; (18) Wheaton, Ill. vs. Hope

Medaille at (2) Marietta; Rochester vs. Eastern
Keene State at (20) Swarthmore; (17) Oswego State vs. Hood
Baruch at (4) Christopher Newport; Rowan vs. Susquehanna
Wilson at (23) Stockton; (10) Johns Hopkins vs. (19) Yeshiva
Mitchell at (1) Randolph-Macon; DeSales vs. Babson
Westfield State at Nazareth; Mass-Dartmouth vs. Emerson
Husson at (8) Wesleyan; Nichols vs. RPI
Vassar at (13) WPI; (9) St. Joseph's, Conn. vs. Penn State Harrisburg

>> Consecutive Tournament Streaks: Emory 9, Marietta 7, Christopher Newport 6, Whitman 6, Wisconsin-Oshkosh 6

>> Rookies: Case Western Reserve, Eastern, Vassar, Wilson

>> Welcome Back: Washington & Jefferson is making its first trip to the NCAAs since 1994.

>> Streak Broken: Wooster had made every tournament since 2003 but fell in OT to Wabash in the NCAC final

>> Complete Bracket
>> Complete D3hoops.com poll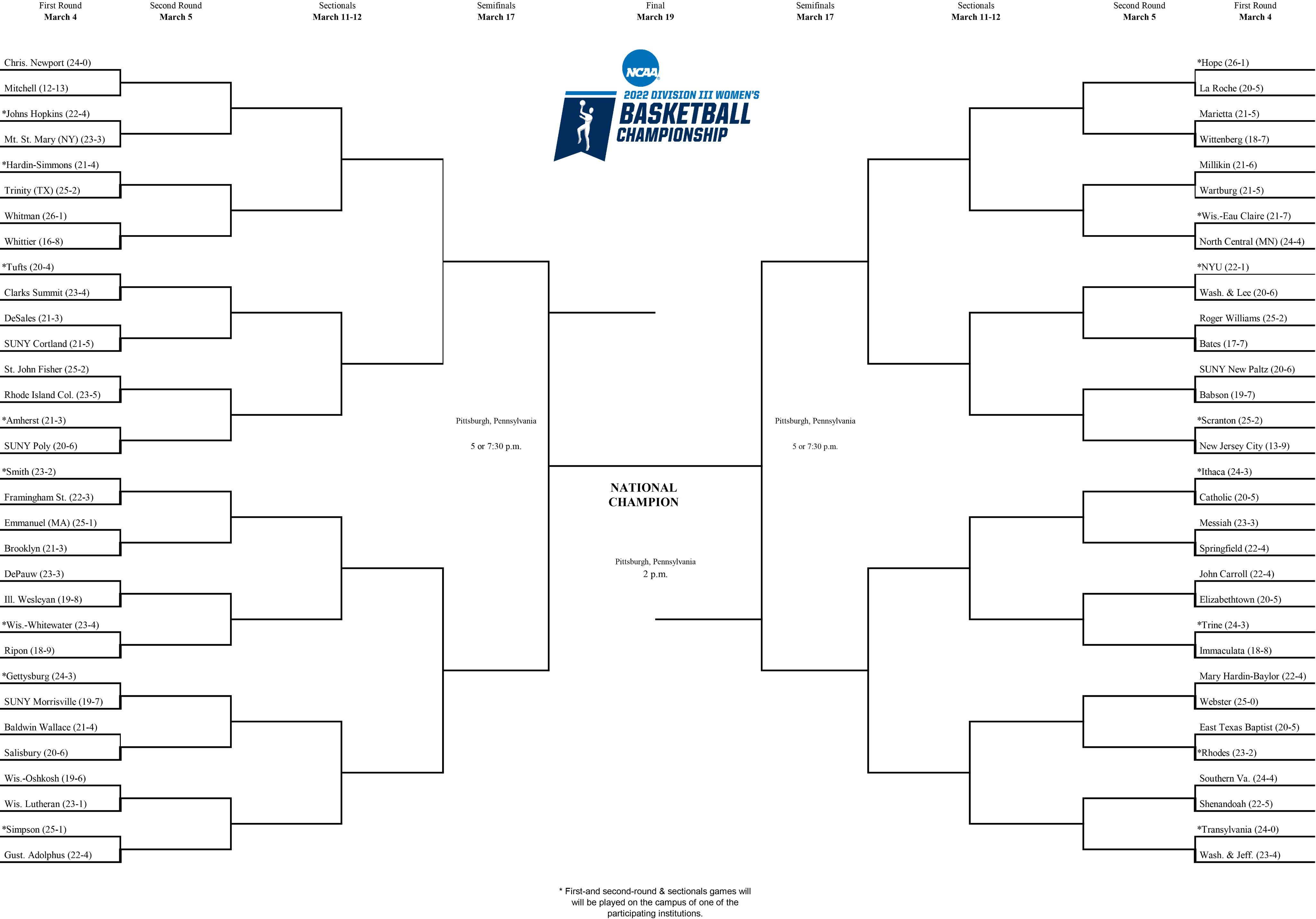 Women
(1) Christopher Newport vs. Mitchell; Mount St. Mary at Johns Hopkins
(13) Trinity, Texas at (22) Hardin-Simmons; (6) Whitman vs. Whittier
Clarks Summit at (11) Tufts; DeSales vs. Cortland
(20) St. John Fisher vs. Rhode Island College; SUNY Poly at (8) Amherst
Framingham State at (16) Smith; Emmanuel vs. Brooklyn
(15) DePauw vs. Illinois Wesleyan; Ripon at (12) UW-Whitewater
Morrisville State at (25) Gettysburg; (10) Baldwin Wallace vs. Salisbury
UW-Oshkosh vs. (18) Wisconsin Lutheran; Gustavus Adolphus at (4) Simpson

La Roche at (2) Hope; Marietta vs. Wittenberg
Millikin vs. (23) Wartburg; North Central, Minn. at (24) UW-Eau Claire
Washington and Lee at (7) New York U.; Roger Williams vs. Bates
New Paltz vs. Babson; New Jersey City at (9) Scranton
Catholic at (19) Ithaca; (17) Messiah vs. Springfield
(14) John Carroll vs. Elizabethtown; Immaculata at (5) Trine
(21) Mary Hardin-Baylor vs. Webster; East Texas Baptist at Rhodes
Southern Virginia vs. Shenandoah; Washington & Jefferson at (3) Transylvania

>> Streaks Alive: DePauw 18, Amherst 14, Tufts 10, Hope 9, Scranton 9

>> Streaks Ended: Bowdoin had made every tournament field since 2001.

>> New Names: Clarks Summit, Immaculata, Mitchell, Morrisville, New Jersey City, North Central (Minn.), Southern Virginia, Whittier

>> Back to the Future: Elizabethtown is returning to the field for the first time since 2001.

>> Complete Bracket
A MESSAGE FROM BLUEFRAME TECHNOLOGY

Did you know BlueFrame Technology has advanced integrations with top automated cameras like the Hudl Focus? Showcase your teams and student-athletes with BlueFrame's full streaming service priced perfectly for D3 budgets….or use their Production Truck software to stream with your current provider. Step up your game this year and STREAM LIKE A PRO with BlueFrame. Learn more today!


BlueFrame Games to Watch
WRESTLING
2. National Qualifier List

The NCAA Division III Wrestling Committee announced the participants in the 2022 NCAA Division III Wrestling Championships.

The championships will be held March 11-12 at the Alliant Energy Powerhouse in Cedar Rapids, Iowa. The American Rivers Conference will serve as the host.

A total of 180 participants will compete in the championships. Student-athletes qualified for the championship by placing top-three in their respective weight classes at one of the six NCAA regional tournaments held on February 25, 26, and 27.

The complete seeded bracket will be available on Monday, March 7

Five or More Qualifiers
7: Augsburg, Baldwin Wallace, Wabash, Wartburg
6: Coe, TCNJ
5: Coast Guard, Johnson and Wales, Ithaca, North Central, Ill., UW-Eau Claire

>> Full List of Qualifiers
SWIMMING
3. National Qualifier List
The NCAA Division III Men's and Women's Swimming and Diving Committee announced today the swimming participants in the 2022 NCAA Division III Men's and Women's Swimming and Diving Championships.

The championships will be held March 16-19 at the IUPUI IU Natatorium in Indianapolis, Indiana. Franklin College and the Indiana Sports Corp will serve as hosts. A total of 579 participants (526 swimmers and 53 divers) will compete in the championships. Student-athletes qualified for the swimming portion of the championships by meeting the established minimum time for the events in which they entered.

10 or More Swimming Qualifiers - Women
18: Denison, Emory
16: Chicago, New York U.
15: Johns Hopkins, Kenyon
12: Pomona-Pitzer, Tufts, Williams
11: Bates, Claremont M-S

>> Complete List of Swimming Qualifiers

10 or More Swimming Qualifiers - Men
18: Emory, Johns Hopkins
15: Denison
14: Williams
13: Kenyon
10: Chicago, Washington (Mo.)

>> Complete List of Swimming Qualifiers
A MESSAGE FROM D3PLAYBOOK


Help us help you. We are glad that you are enjoying D3Playbook. Now won't you help us continue our work? Your gift helps us offset the costs of operating the newsletter and enable us to continue to provide the quality you have come to expect. Please contribute today.

SOCCER
4. Rules Committee Meeting Recap



by Greg Johnson, NCAA



"The NCAA Men's and Women's Soccer Rules Committee during a virtual meeting last week proposed changes to overtime rules for both the regular season and the postseason, effective for the 2022 season.

For the regular season, committee members proposed eliminating overtime periods, meaning the game would end in a tie. Currently, teams play two 10-minute overtime periods in a sudden-victory (golden goal) format, and if neither team scores, the game is a tie.

In the conference tournament and NCAA postseason games, the committee recommended eliminating the sudden-victory component and, instead, having the teams play two 10-minute overtime periods. Also, when a substitution is made by the winning team in the last five minutes of the second overtime, the game clock would stop.

If the game remains tied, a penalty-kick shootout would be held to determine the winner."

>> Remember: "All rules changes must be approved by the NCAA Playing Rules Oversight Panel, which is scheduled to discuss soccer rules recommendations April 20."

>> Read More
NEWS
5. Lightning Round
Salisbury retained the top spot in the latest IWLCA poll after a thrilling win against No. 5 Washington and Lee. Middlebury moved into the top 10.


The NCAA is changing its cannabinoid testing policies. The NCAA Committee on Competitive Safeguards and Medical Aspects of Sports aligned with THC threshold levels established by the World Anti-Doping Agency, raising the threshold for student-athletes from 35 to 150 nanograms per milliliter. The threshold adjustment is effective immediately and applicable to drug tests administered in fall 2021 or later.


Cake and candles to Teelah Grimes, associate athletic director at Valley Forge.
SPONSORED BY PRESTO SPORTS
TRANSACTIONS
6. Comings and Goings
1 THING
7. What Are You Listening To?

Data: Insider Intelligence. Chart: Jacque Schrag/Axios

Amazon Music is poised to surpass Pandora as the second most popular music app by total listeners, Axios Closer co-author Nathan Bomey writes from new Insider Intelligence data.
Nearly 53 million people will listen to Amazon Music at least once a month in 2022, compared with 49 million to Pandora.
But Spotify maintained its lead by a long shot.
Copyright © 2022, D3Playbook.com All rights reserved.