written by STEVE ULRICH
your must-read briefing on what's driving the day in NCAA Division III


>> Welcome to Thursday. Michael Jordan turns 59 today. Feeling old?

>> Today's Word Count: 1,022

>> Would you be interested in sponsoring D3Playbook and having your business reach nearly 2,000 administrators? Give us a shout for all the details.

>> Thanks for reading D3Playbook. Is your staff reading D3Playbook? Share the love and the info.

TOP STORY
1. Time to Revisit NIL Laws

by Michael H. Leroy, Sportico

"A year ago, state NIL laws achieved overdue progress for college athletes. Then the Supreme Court shut out the NCAA in a 9-0 antitrust decision, shattering the amateur athlete model. By mid-summer, 25 states had passed an NIL law. From January 2020 through July 2021, I analyzed each law, assigning them points based on the number of pay restrictions.

I was surprised by the variance in scores. New Mexico had the most permissive law, with four pay restriction points. My home state of Illinois had the most restrictions, an astounding 45 points. Mississippi (29 points), and Arkansas and Alabama (each with 28 points) were near the top in NIL restrictions.

Many NIL laws advance a reasonable institutional interest. However, two provisions raise possible antitrust concerns in the NIL laws of Illinois and Mississippi: They authorize schools to be paid market value as a condition for approving an athlete's use of school marks and logos, and they bar athletes from suing schools for unfair competition and business torts in NIL deals."

>> Why It Matters: "In 2020, I assumed that any state NIL law was better than none for athletes. But my thinking changed with two years of research. First, I did not anticipate the total demise of the amateur model. Second, I never imagined the NCAA would issue its own NIL policy. Third, I could not foresee that by July 1, 2021, half the states would have an NIL law, half would not, and the NCAA's new policy would undercut the advances for athletes in state laws."

>> The Bottom Line: "Two years into my research, I have concluded that state NIL laws are destabilizing college athletics. For the welfare of college sports, state lawmakers should pass laws—or amend existing laws—to mimic California. Otherwise, D-I schools will lose competitive balance and at the far extremes, face potential antitrust enforcement."

>> Read More
Did you know
BlueFrame Technology
has advanced integrations with top automated cameras like the
Hudl Focus
? Showcase your teams and student-athletes with BlueFrame's full streaming service priced perfectly for D3 budgets….or use their
Production Truck
software to stream with your current provider. Step up your game this year and STREAM LIKE A PRO with BlueFrame.
Learn more today
!
BlueFrame Game to Watch
SWIM
: NEWMAC championships
FEATURE
2. Women's Hockey a Natural at MSOE

by Nicole Haase, USCHO.com

"When an alumna donated a rumored $4 million dollars earmarked for expansion of women's sports opportunities at Milwaukee School of Engineering (MSOE), it seemed natural that one of the first programs added was women's hockey. The university already fields a men's hockey team and has their own rink, so few structural changes were necessary.

One big missing piece at the Kern Center, the recreation facility on campus that houses the ice rink in the basement, was a need for women's locker rooms and additional coaches offices in order to immediately add five new women's teams – lacrosse, hockey, swim, golf and bowling – as well as expand their women's track and field options.

The announcement of the monetary gift and women's sports expansion was made in late 2021 – not an ideal time to be searching for a hockey coach. It turned out to be serendipitous that former Rochester Institute of Technology and Adrian College coach Chad Davis was available.

The combination of experience at a DIII school where he brought where he brought the team to national promise and knowledge of how to recruit student-athletes to a STEM school that Davis garnered at RIT made him a near perfect fit for this role."

>> Situational Awareness: "Vice President of Enrollment Management And Student Services Timothy A. Valley joked about needing to pinch himself to verify that the donation that has made this expansion possible is real and that things have gone so smoothly in exercising the plan to make expansion possible. He gave credit to the Athletic Department, coaching staffs, but also pointed out that support for student-athletes from their professors has been unwavering."

>> What's Next: "There are nine other Division III women's hockey programs in Wisconsin, but MSOE offers an urban campus in downtown Milwaukee with on-campus facilities, a highly-rated, specialized academic program and now a well-respected coach. This puts MSOE in a pretty singular spot to recruit from not just local programs, but also from the greater hockey hotbed Chicago-area, long a large recruiting base for MSOE, regardless of athletics."

>> Continue Reading
A MESSAGE FROM D3PLAYBOOK


Help us help you. We are glad that you are enjoying D3Playbook. Now won't you help us continue our work? Your gift helps us offset the costs of operating the newsletter and enable us to continue to provide the quality you have come to expect. Please contribute today.

NEWS
3. Leadership Development Programs

Student-athletes, coaches and athletics administrators in the NCAA membership can now apply to participate in five transformational, in-person leadership development offerings.

Applications will be accepted via the NCAA Program Hub and must be fully completed by 5 p.m. ET on March 4 for consideration.
POLLS
4. Regional Rankings


The first women's basketball regional rankings were released on Wednesday.

Regional Rankings (top 3)
Amherst, Tufts, Emmanuel
Smith, Springfield, Roger Williams
Ithaca, St. John Fisher, Cortland
New York U., DeSales, Stevens
Scranton, Gettysburg, Messiah
Christopher Newport, Rhodes, Washington and Lee
Trine, DePauw, Hope
Transylvania, Wisconsin Lutheran, Millikin
Simpson, UW-Whitewater, UW-Eau Claire
Mary Hardin-Baylor, Whitman, East Texas Baptist
>> Complete Rankings
NEWS
5. Lightning Round
Armani Tinsley, UW-Stout
The UW-Stout men (16-8) upended No. 7 UW-La Crosse (19-5), 76-66, in overtime as Armani Tinsley scored 24 points.


No. 7 UW-Whitewater and No. 10 Baldwin Wallace fell in women's action. Nikki Arneson scored 16 points as UW-Oshkosh (18-5) downed the Warhawks (22-3), 60-57. No. 13 John Carroll (19-3) got a double-double from Olivia Nagy in downing the Jackets (17-4), 67-54.


Happy birthday to Lynchburg assistant softball coach Destiny Martinez and Skidmore athletic communications and marketing manager Kyle Lancto.
STREAMING
6. Watchlist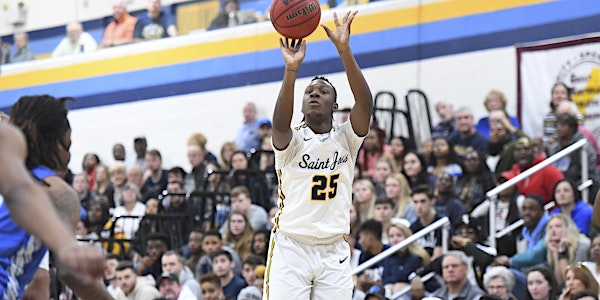 Tyree Mitchell, University of St. Joseph


MBB: St. Joseph's, Conn. vs. Yeshiva, 8 p.m. ET
SPONSORED BY PRESTO SPORTS

TRANSACTIONS

7. Comings and Goings
Copyright © 2022, D3Playbook.com All rights reserved.