written by STEVE ULRICH
your must-read briefing on what's driving the day in NCAA Division III
>> Good Monday morning. Happy Valentine's Day.

>> Today's Word Count: 1,313 or a little more than 5 minutes. Enjoy!

>> Thanks for reading D3Playbook. Are you looking to advertise for a job opening? Or are you a business looking to reach a desirable demographic? Email us.

TOP STORY
1. Shattered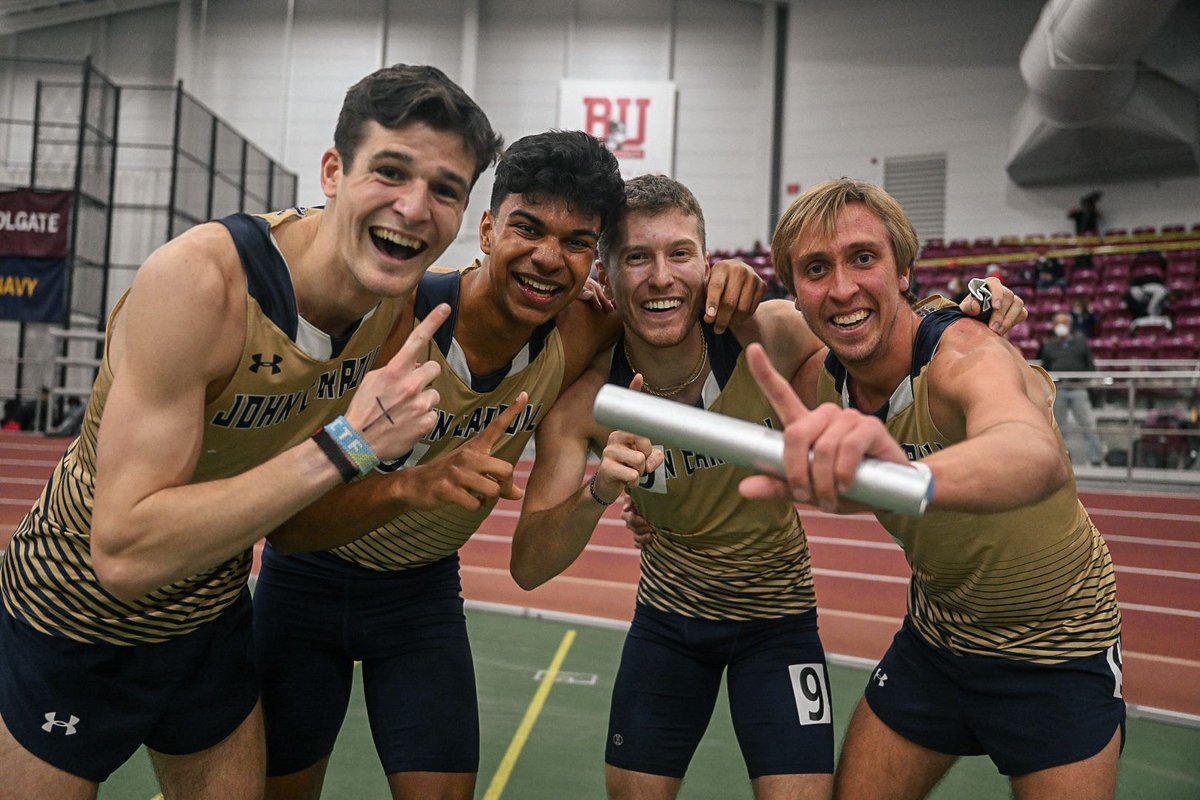 photo by Johnny Zhang
Another week ... another Saturday with new Division III indoor track and field records.

John Carroll Men, Distance Medley
The JCU team of Ian Pierson, Garrett Clark, Caleb Correia, and Alex Phillip established a new standard in the distance medley on Friday at the Boston University David Hemery Valentine Invitational in 9:41.56. The quartet topped the five-year-old mark of 9:46.95 set by Middlebury and bested the previous school record by a half-minute. Runner-up Williams also bettered the previous standard, running a 9:42.29.

Quotable: "This is a special group. There's a reason these four did it today. They are some of the most hard-working kids you'll coach, and they're good people," said JCU coach Kyle Basista. "I give so much credit to them. It couldn't happen to a better group of guys. This is just ultimate elation."
Kassie Parker, Loras, 5000 Meters
Last week, Parker clocked the second-fastest, all-time, all-conditions mark in DIII history in the 3K. On Saturday, he turned her attention to the 5K and became the fastest female athlete in NCAA DIII indoor history in the 5000, regardless of track size. Parker crossed the finish line in 15:58.58, taking down the old mark of 16:05.36 set by Parley Hannan two years ago.
Ella Baran, Johns Hopkins, 3000 Meters
A week after setting a DIII record in the mile, Baran put her name atop the record books in the 3K, crossing the line in 9:13.32. Her time bettered the old standard of 9:20.85 set by Missy Buttry of Wartburg in 2003. Baran held her own against a predominately NCAA Division I field, placing ninth out of 13 athletes.
SWIMMING
2. Kings, Queens of the Pool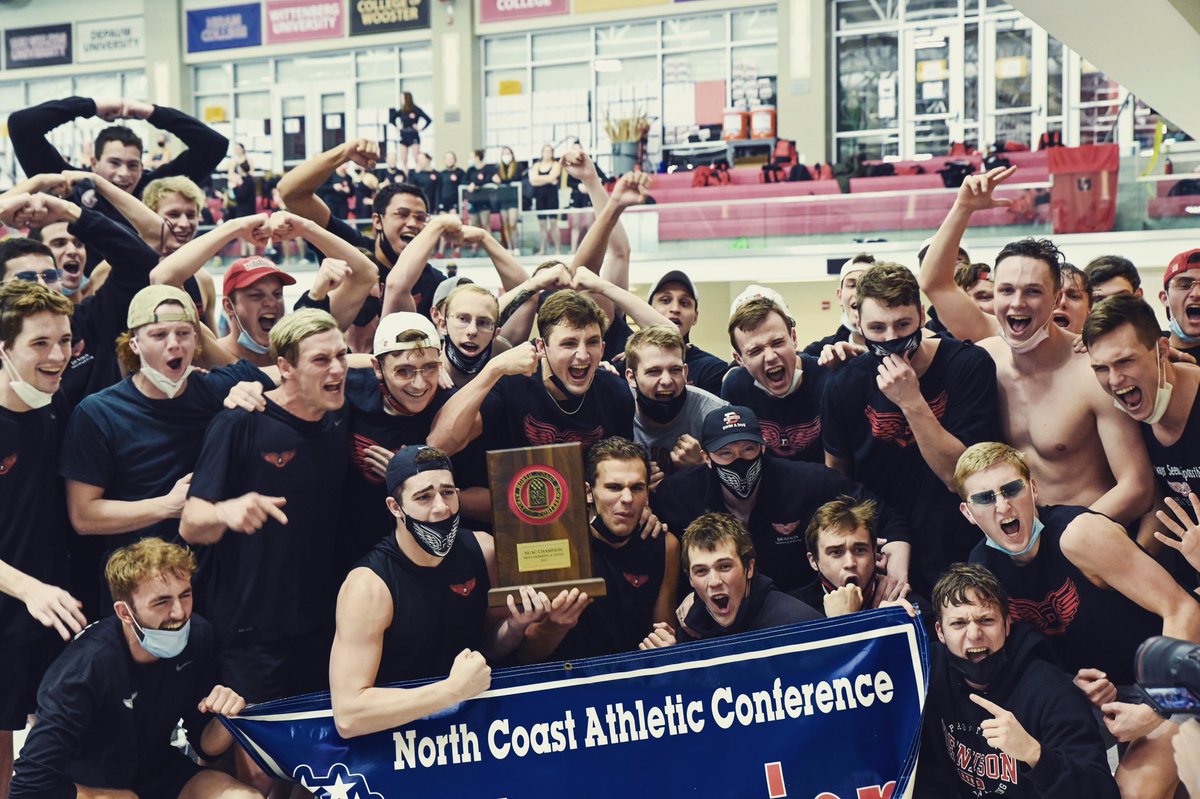 It was another outstanding weekend in the pool as nine conferences determined champions and qualified swimmers for the upcoming NCAA Division III championship meet.
This Weekend's Meets
Trusted by the world's top recruiters.
Deliver personalized candidate outreach campaigns that automatically follow-up.
Keep teams aligned with shared outreach history
Easily find and validate prospect email addresses
Do it all from the tools you know, trust and already use!

COVID
3. Relaxing Restrictions, Urging Caution

by Abbi Ross, Chronicle of Higher Education

"Colleges, like other institutions across the country, are loosening their public-health protocols as Covid-19 cases decline from their historic peak.

At the Johns Hopkins University, officials cited lower active case numbers on campus, as they lifted some restrictions related to guests in dormitories and for club and athletic events in early February. The decision came a week after officials announced that indoor university dining would reopen at half capacity.

Bowdoin College, in Brunswick, Me., made similar alterations at the end of January. Officials announced a return to in-person dining for students, at 50-percent capacity for two dining halls, and said that masked and vaccinated spectators will be allowed at home athletic events.

Experts cautioned that colleges should be careful about how they alter their safety restrictions. "I think we have to be careful," said Gerri Taylor, co-chair of the Covid-19 task force for the American College Health Association. "I think we have to be thoughtful and intentional about what we do when we decide to lift our mitigation practices that we've had in place."

>> Situational Awareness: "Kaye Bender, president of the American Public Health Association, noted the importance of institutions working with local health departments to understand their situations specifically as they make plans to change protocols. "We're not in a cookie-cutter situation right now," Bender said. "We're in a situation where what it might be OK to do in one part of the country, or in one state, might vary significantly in the next state."

>> Reality Check: "While the case numbers from the Omicron surge are dropping, Taylor said, we have no way of knowing if a similar surge will happen again. "We can't predict whether it will change back again with a new variant or if things will get worse," Taylor said."

>> Read More
A MESSAGE FROM D3PLAYBOOK


Thank you for considering a gift to D3Playbook. Your gift helps us offset the costs of operating the newsletter and enables us to continue to provide the quality you have come to expect. My heartfelt thanks to those who have already generously contributed. Join them today.

BASKETBALL
4. Hoop Roundup
Naomi Johnson, Webster (photo by Adam Froeckmann)
Just another Saturday for the men in the WIAC. No. 3 UW-Oshkosh (19-3) held off a late charge to down No. 7 UW-La Crosse, 80-77. And unranked UW-River Falls (12-9) stunned No. 5 UW-Platteville, 74-71.
The NACC has to be the nation's most interesting men's league. With one week remaining in the regular season, five teams are tied for first place at 10-6, three more at 9-6 and another at 8-6.

On the women's side, 23 of 24 ranked teams in action came away with victories, including No. 1 Christopher Newport (21-0) who extended its winning streak to 38 games.
Suffolk outscored Curry, 46-0, over a 17:07 span of the second and third periods in a 94-26 win over the Colonels. The Rams led 27-14 after one quarter and did not surrender another point until 2:53 remained in the third.

Clinched First Place/Top Seed


(M): Dubuque (A-R-C), St. Joseph's, Conn. (GNAC), Hanover (HCAC), Susquehanna (Landmark), DeSales (MACF), Saint John's (MIAC), Wabash (NCAC), Marietta (OAC), Oswego (SUNYAC)

(W): Simpson (A-R-C), Mary Hardin-Baylor (ASC), Clarks Summit (CSAC), Brooklyn (CUNYAC), St. John Fisher (E8), Transylvania (HCAC), DeSales (MACF), Framingham State (MASCAC), Ripon (MWC), Wisconsin Lutheran (NACC), DePauw (NCAC), Trinity, Conn. (NESCAC), Kean (NJAC), Whitman (NWC), Washington & Jefferson (PAC), Rhodes (SAA), Trinity, Texas (SCAC), Redlands (SCIAC), Whitewater (WIAC)


Men's Unbeatens (1): Saint Joseph's, Conn. (21-0)

Women's Unbeatens (4); Christopher Newport (21-0), Webster (20-0), Wisconsin Lutheran (20-0), Transylvania (19-0)
NEWS
5. Lightning Round
Thiel University wrestling
Ice Hockey (M)
No. 1 Adrian made a statement with a weekend sweep of No. 5 St. Norbert, 8-4 and 6-2. The Bulldogs captured the NCHA regular-season title and home ice for the Harris Cup playoffs.

Clinched First Place/Top Seed: Augsburg (MIAC), Adrian (NCHA), Hobart (NEHC), Utica (UCHC), Stevens Point (WIAC)
Ice Hockey (W)
Hamline (12-8) upended No. 6 Gustavus Adolphus on Friday night by a 3-2 count in OT on a Rae Robert goal. The Gusties evened the weekend with a 4-2 triumph on Saturday.

Clinched First Place/Top Seed: Elmira (NEHC), Plattsburgh State (NEWHL)

Squash (W)
NESCAC (W) Tufts, Trinity

These are the top five DIII men's and women's teams in the latest CSA rankings. Men: Trinity (3), Rochester (10), Chatham (13), MIT (14), St. Lawrence (15). Women: Trinity (2), Tufts (11), Williams (13), Amherst (14), Franklin & Marshall (16).
Track and Field
Congratulations to the Bridgewater State men and women for capturing the MASCAC team titles over the weekend.
GNAC
Wrestling
Wartburg (A-R-C), Washington and Lee (Centennial), Thiel (Presidents), New York U. (UAA) and UW-La Crosse (WIAC) captured conference titles over the weekend.
Baseball
Piedmont spotted No. 7 Birmingham-Southern a 7-0 lead and then reeled off 18 unanswered runs on its way to an 18-9 victory. Kyle Carlson went 3-for-3 with three RBI.
STREAMING
6.
Watchlist

Not going out for Valentine's Day ... tune in to this top game of the night.



WBB: Gustavus Adolphus at Hamline, 5:45 p.m. CT
The Gusties (17-4, 15-3) and the Pipers (17-5, 15-4) try to keep pace with front-running Augsburg in the MIAC chase. Emma Kniefel averages 11.3 points and shoots 53.7 percent from the floor for Gustavus. Larisa O'Neil is second in the MIAC in threes (56) for Hamline.
TRANSACTIONS
7. Comings and Goings
Copyright © 2022, D3Playbook.com All rights reserved.