written by STEVE ULRICH
your must-read briefing on what's driving the day in NCAA Division III

>> Happy Friday! What a combination. It's National Drink Wine Day and also National Girl Scout Cookie Weekend. Enjoy responsibly.

>> Today's Word Count: 1,001

>> Thanks for reading D3Playbook. Are you looking to advertise for a job opening? Or are you a business looking to reach a desirable demographic? Email us.

TOP STORY
1. Executive Pay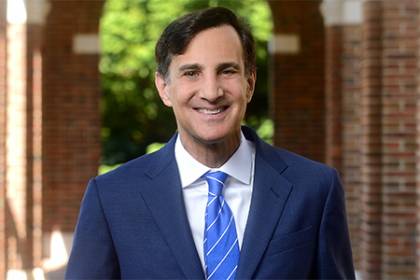 by Julia Piper and Brian O'Leary, Chronicle of Higher Education (Ron Daniels, pictured)

The Chronicle of Higher Education's executive-compensation package includes the latest data on more than 1,700 chief executives at more than 600 private colleges from 2008 to 2019 and nearly 290 public universities and systems from 2010 to 2020.

Division III Private Schools
Ronald J. Daniels, Johns Hopkins, $3.23 million
Mark S. Wrighton, Washington, Mo., $2.862M
Brian Rosenberg, Macalester, $2,234M
Barbara Snyder, Case Western Reserve, $1,940M
Shirley Ann Jackson, Rensselaer, $1,882M
Robert J. Zimmer, Chicago, $1,856M
Daniele Struppa, Chapman, $1,602M
Nariman Farvardin, Stevens, $1,593M
Farnam Jahanian, Carnegie Mellon, $1,380M
Raynard Kington, Grinnell, $1,337M
Division III Private Liberal Arts
Brian Rosenberg, Macalester, $2,234 million
Raynard Knighton, Grinnell, $1,337M
Greene A. David, Colby, $1,175M
Joanne Berger-Sweeney, Trinity, Conn., $890K
M. Lee Pelton, Emerson, $884K
Michael S. Roth, Wesleyan, Conn., $881K
David R. Harris, Union, N.Y., $760K
Carolyn Martin, Amherst, $746K
Mary-Beth A. Cooper, Springfield, $731K
Gabi Starr, Pomona, $725K
Division III Public Schools
Eric J. Barron, Pennsylvania State University, $1,149M
Jay A. Perman, University System of Maryland, $1,065M
Ali A. Houshmand, Rowan, $794K
Martin T. Meehan, University of Massachusetts system, $749K
Richard C. Benson, University of Texas at Dallas, $679K
Devinder Malhorta, Minnesota State Colleges and Universities system, $529K
Raymond W. Cross, University of Wisconsin system, $509K
Robert E. Johnson, University of Massachusetts at Dartmouth, $475K
Kristina M. Johnson, State University of New York system, $452K
Dannel P. Malloy, University of Maine system office, $440K
>>
Continue Searching
TRACK AND FIELD
2. Conference Championship Weekend I
It is the first of two big weekends of indoor track and field championship action at the conference level.
A MESSAGE FROM BRIGHT CELLARS

Bright Cellars is a monthly wine club that matches you with wines you'll love.
Founded by two MIT grads (#whyD3)
who were intimidated by the vast and complex world of wine, Bright Cellars was created to help wine drinkers discover and learn about wine in a fun, interactive way.
Bright Cellars creates a wine experience tailored just for you. Based on an algorithm, wine selections are calculated to match your taste preferences. As you try the wines, you're encouraged to rate them on the website to fine-tune your taste profile even further. Your matches improve as the algorithm gets to know you better, making each shipment better than the last.
D3Playbook readers are invited to get 50% off
your first 6-bottle box from Bright Cellars. That's a $45 value. Each box will include a wine education card for each bottle that details servings temps, food pairings, background on the region and more.
Take
our 30-second quiz
to start your weekend right.
EMERGING
3. Triathlon Reaches the Goal

by Kevin MacKinnon, Triathlon Canada

"The news that Cal Poly Humboldt in Arcata, Calif., will offer a women's triathlon program in the fall means that the sport has met one of the milestones required for it to become a full-fledged NCAA program. Humboldt becomes the 40th school to offer a program – in 2014 triathlon became an "NCAA Emerging Sport for Women," which meant it had 10 years to "demonstrate sustainability and success at the NCAA varsity level." One of the parameters was to have at least 40 schools offer the program.

There are more steps to be reached including "committee, council, divisional and budget approvals," but today's announcement is a huge step."

>> Situational Awareness: "Women's triathlon takes place in the fall with athletes competing over the sprint distance – 750 m swim, a draft-legal 20 km bike and 5 km run."

>> What They're Saying: "Getting to this point has been a 13-year process with contributions from so many," said Tim Yount, USA Triathlon Chief Sport Development Officer."

>> Quotable: "Continuing to increase opportunities for women is an important initiative for the Committee on Women's Athletics and we are grateful for the schools who have committed this far." - Jason Doviak, Alfred State, chair

Division III Teams (14)
Alvernia University (Reading, Pa.)
Calvin College (Grand Rapids, Mich.)
Central College (Pella, Iowa)
Coe College (Cedar Rapids, Iowa)
Concordia University Wisconsin (Mequon, Wis.)
Eastern Mennonite University (Harrisonburg, Va.)
Greensboro College (Greensboro, N.C.)
Guilford College (Greensboro, N.C.)
Millikin University (Decatur, Ill.)
North Central College (Naperville, Ill.)
Northern Vermont University-Johnson (Johnson, Vt.)
Transylvania University (Lexington, Ky.)
Trine University (Angola, Ind.)
Willamette University (Salem, Ore.)

>> Read More 967
A MESSAGE FROM D3PLAYBOOK


Help us help you. We are glad that you are enjoying D3Playbook. Now won't you help us continue our work? Your gift helps us offset the costs of operating the newsletter and enable us to continue to provide the quality you have come to expect. Please contribute today.

SCHEDULE
4. Weekend Watchlist
Here's a list of the games/matches/events that we are keeping an eye on this weekend ... we hope.

Basketball (M)
Basketball (W)Ice Hockey (M)Ice Hockey (W)Volleyball (M)BaseballLacrosse (W)Lacrosse (M)
NEWS
5. Lightning Round
SPONSORED BY PRESTO SPORTS
TRANSACTIONS
6. Comings and Goings
1 THING
7. I'm Ready, Are You?
Copyright © 2022, D3Playbook.com All rights reserved.