written by STEVE ULRICH
your must-read briefing on what's driving the day in NCAA Division III
>> Good Wednesday morning. Make it a great day.

>> Today's Word Count: A concise 1,170.

>> Would you be interested in sponsoring D3Playbook? Give us a shout for all the details.

>> Thanks for reading D3Playbook. Is your staff reading D3Playbook? Share the love and the info.

TOP STORY
1. Endowments Soar, Part Deux

Part Two in our series on college and university endowments.


Largest Change in Market Value
Washington, Mo., 60.8%
Colby-Sawyer, 57.0%
Bowdoin, 52.6%
Centenary, N.J., 50.6%
Southern Virginia, 49.7%
Wesleyan, Conn., 49.4%
MIT, 48.8%
Carnegie Mellon, 48.5%
Amherst, 47.2%
Nichols, 47.1%
Largest Decline in Market Value
Albright, -2.4%
Messiah, 5.9%
Curry, 5.9%
William Peace, 13.8%
Juniata, 15.2%
Cornell College, 15.6%
Regis, 15.6%
Lasell, 15.7%
DePauw, 15.7%
Potsdam State, 16.3%

>> A Closer Look: D3Playbook will take a deeper dive into DIII endowments throughout the week. Tomorrow, we look at the differences between conferences and their members.
VOLLEYBALL
2. Rule Changes
by Greg Johnson, NCAA

"The NCAA Playing Rules Oversight Panel on Tuesday approved allowing women's volleyball teams to begin with two video coach's challenges in all matches, starting with the 2022 season.

If a challenge results in the reversal of the original call, the team will retain the challenge. If the original call is confirmed or there isn't video evidence to overturn the original call, the coach loses the challenge.

If a match reaches the fifth set, each team will be awarded an additional challenge. Teams will be allowed to carry a maximum of two challenges into the fifth set."

Protecting Officials
"A new rule that goes into effect next season is that the head coach will be the only person allowed to address the officials when the ball is out of play."

Jewelry
"Players will be allowed to wear small, secured articles of jewelry, like post stud earrings, during play."

>> Read More
A MESSAGE FROM FULTON

Discover the world's most comfortable, supportive, and sustainable insole
Fulton is a modern brand of arch support. They developed sustainable, supportive and comfortable insoles that improve your alignment and posture, preventing injury through:
A cork base, which absorbs shock and molds to your unique arch to provide custom support

A deep heel cup to provide maximum stability and prevent injury

Arch support and natural latex foam to improve overall comfort

Entirely natural and biodegradable materials to support not only you, but the planet
Fulton is offering free shipping and free returns, so your order is risk free, learn more about Fulton here
ICE HOCKEY
3. Unanimous
The Middlebury women and the Adrian men are the unanimous No. 1 choices in the latest USCHO.com Division III ice hockey rankings.

Shana Cote, Suffolk
Women
Middlebury (15), 21-0
Plattsburgh, 22-2-1
Elmira, 22-2-1
UW-River Falls, 23-1
UW-Eau Claire, 21-4
Gustavus Adolphus, 19-3-2
Nazareth, 24-1
Endicott, 17-4-1
Colby, 15-4-1
Norwich, 19-7

>> Lighting The Lamp: Annie Katonka (Plattsburgh State) 29, Georgiana Santullo (Utica) 27, Erica Sloan (Utica) 24, Shana Cote (Suffolk) 23, Callie Hoff (UW-River Falls) 21.

>> Complete Poll


Timmy Kent, Curry

Men
Adrian (20), 26-1
Utica, 22-2-1
Geneseo, 20-3-1
Augsburg, 22-3
Hobart, 19-4-2
St. Norbert, 22-5
Elmira, 18-5-2
Babson, 17-5-2
Wilkes, 18-4-1
UW-Stevens Point, 19-5-1

>> In and Out: Colby returns to the poll at No. 15, replacing Norwich.

>> Goal Scoring Leaders: Peter Bates (St. Norbert) 27, Liam Fraser (St. Norbert) 22, Timmy Kent (Curry) 19, Thad Marcola (Trine) 17.

>> Complete Poll
TRACK AND FIELD
4. Division Doesn't Matter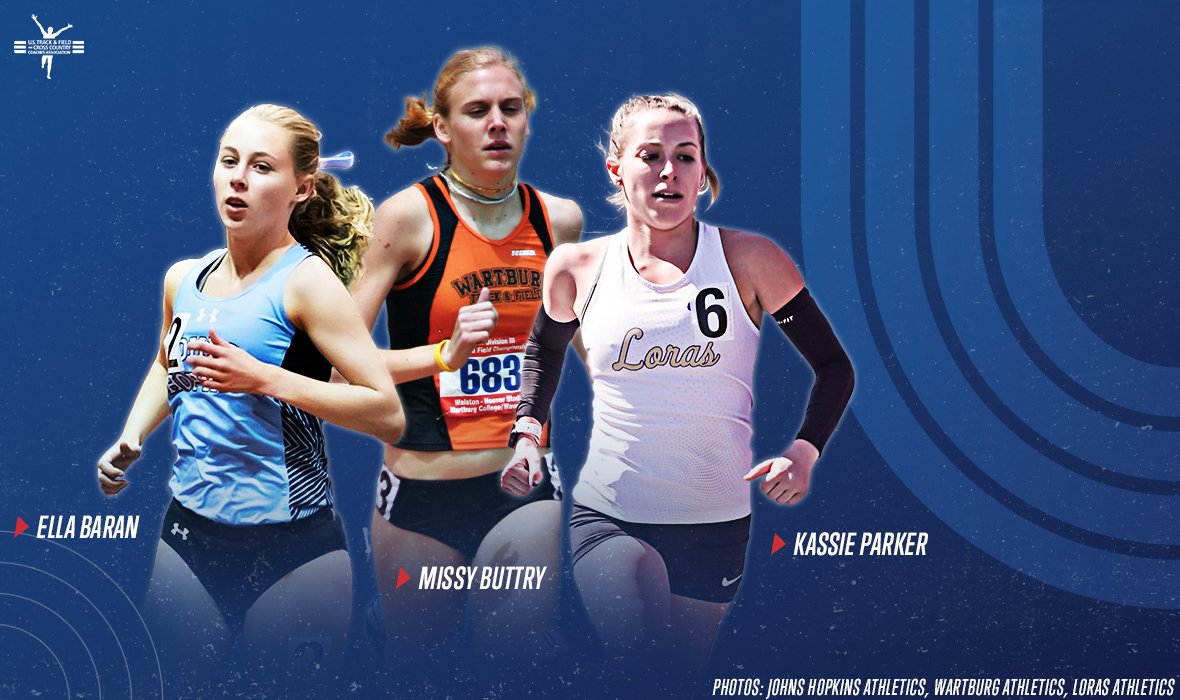 by Tyler Mayforth, USTFCCCA
"Calls and texts flooded Missy Rock's phone late Saturday afternoon.

By then, Rock (nee Buttry) already heard the news: Ella Baran broke her longstanding NCAA Division III record in the mile by three seconds at the Dr. Sander Columbia Challenge in New York; Kassie Parker came within 0.09 seconds of doing the same to her all-time divisional best in the 3000 meters at the Notre Dame-hosted Meyo Invitational in Notre Dame, Indiana.

"It makes me really excited, actually," said Rock, who set both of those standards 17 years ago and is now an assistant cross country coach at Bethel University (Rock's husband, fellow NCAA DIII legend and Olympic gold medalist Andrew Rock, is the head track & field coach). "Those records meant a lot to me when I set them. Seeing Ella and Kassie going after those times is truly a testament to their talent and most importantly, their hard work. It takes dedication to do that."

>> That Was Then: During the 2004-05 season, "Rock became the first athlete to win three consecutive individual titles at the NCAA Cross Country Championships, regardless of division or gender. Then, in the winter, Rock set the mile record of 4:43.92 during her two-title outing at the NCAA Indoor Championships, which came not long after she lowered her all-time best in the 3000 to 9:13.02* in a solo effort at the Iowa State Invitational. The former Wartburg Knight capped her sensational career with two more titles at the NCAA Outdoor Championships, giving her 14 across all three sports combined."

>> This Is Now: "Fast forward to the present day and both Baran and Parker are blazing their own trails in Rock's signature events, not only in NCAA DIII but across the entire collegiate landscape. Case in point, both Baran and Parker were among the top-10 performers on the All-College Descending Order List from this past weekend in their respective events: Baran sat seventh in the mile at 4:40.53; Parker found real estate as the eighth-fastest over 3000 meters at 9:13.10."

>> What They're Saying: "Just because we're not running for scholarships in NCAA DIII, we can still run with the best," said Rock. "It's not easy coming from DIII. You're looked at as a second-hand athlete, but we continue to prove we have A-plus talent."

>> Continue Reading
A MESSAGE FROM D3PLAYBOOK


Help us help you. We are glad that you are enjoying D3Playbook. Now won't you help us continue our work? Your gift helps us offset the costs of operating the newsletter and enable us to continue to provide the quality you have come to expect. Please contribute today.

WRESTLING (M)
5. Knights Top Tourney Poll

Cornell Beachem Jr., Mount St. Joseph

The National Wrestling Coaches Association released its final tournament team rankings of the year and Wartburg holds down the top spot.
Wartburg
North Central, Ill.
Wabash
Baldwin Wallace
Coast Guard
Augsburg
Loras
Mount Union
UW-La Crosse
Stevens; Coe (tie)
Regional Strength
Central: Wabash (3), Baldwin Wallace (4), Mount Union (8), Mount St. Joseph (14), Olivet (15)
Lower Midwest: Wartburg (1), North Central, Ill. (2), Loras (7), Coe (10), Millikin (20)
Southeast: Stevens (10), Averett (22), York (24)
Upper Midwest: Augsburg (6), UW-La Crosse (9), UW-Oshkosh (12), UW-Eau Claire (16), UW-Stevens Point (T18), Chicago (T18), Elmhurst (21), UW-Whitewater (23)
Mideast: RIT (17), Johns Hopkins (25)
Northeast: Coast Guard (5), Johnson and Wales (12)
>>
Complete Poll
Individual Rankings
125: Jacob Decatur (Baldwin Wallace)
133: Robbie Precin (North Central)
141: Jordin James (Mount Union)
149: Brett Kaliner (Stevens)
157: Kaidon Winters (RIT)
165: Kyle Hatch (Wartburg)
174: Cornell Beachem (Mount St. Joseph)
184: Kyle Briggs (Wartburg)
197: Beau Yineman (UW-Oshkosh)
285: Max Bishop (Wartburg)
>>
Complete Rankings
STREAMING
7. Watchlist
WLX: #8 Messiah vs. #9 Gettysburg, 4:00 ET
WBB: #11 Whitewater vs. Oshkosh, 8:00 ET
The Warhawks (22-3) square off with the Titans (19-5) in a WIAC semifinal.
Copyright © 2022, D3Playbook.com All rights reserved.