written by STEVE ULRICH
your must-read briefing on what's driving the day in NCAA Division III

>> Happy Friday! Good luck to our friends who are digging out of the snow today.

>> Today's Word Count: 1,208

>> Thanks for reading D3Playbook. Are you looking to advertise for a job opening? Or are you a business looking to reach a desirable demographic? Email us.

TOP STORY
1. Ch-Ch-Changes


A number of DIII conferences have made alterations to their championship tournament format for winter sports due to COVID-related issues.

Most have opted to involve all conference members in a single-elimination tournament to determine either the champion, the AQ, or both.
This list is not comprehensive
FEATURE
2. A Creative Desire to Explore
by Michaela Jarvis, MIT (photo by Brian Foley)

"When Laura Rosado was headed to MIT four years ago, she was undecided about choosing a major. Asked what she wanted to study, she would answer with a bit of a dodge, saying, "Well, right now my favorite class is math."

Then, in the spring semester of her first year, she signed up for Class 2.00a (Fundamentals of Engineering Design). That semester, the focus of the class — taught by Professor Daniel Frey — was aircraft, and the requirements of the final project were wide open: Design something that flies and is radio controlled. Rosado and her lab partner decided on a project that was "ridiculously" ambitious for first-year students: a Chitty Chitty Bang Bang-style flying car.

"The creative freedom that I was given in that class was eye-opening," says Rosado, who will graduate in May. "Being allowed to explore and learn without hard constraints completely sold me. I thought this just makes me very excited to be a mechanical engineer."

>> Planes, Trains, Automobiles: "Around age 2, Rosado embarked on a lifelong romance with trains, and she says a current research interest in transportation infrastructure can be connected to those early days of carefully assembling her collection of tracks. Other influences on Rosado's direction in life worked their magic along the way. The swim coach she had from about age 11 to 16 taught her to push herself really hard, to "be honest with myself and always aim higher."

>> The Big Picture: "Around the same time that Rosado was avoiding the question of what she would major in at college, the New Haven native had already earned herself the title of 2017 Southern Connecticut Conference Swimmer of the Year. Wanting to continue swimming competitively, she sought a Division III school, where she could achieve a balance with academics. She jokingly says she chose MIT because it had the "best pool in the Northeast," and speaks very highly of her experience of swimming all four years."

>> Worth Noting: Rosado is a five-time NEWMAC champion and All-American. She has the 10th fastest time in DIII in the 200 Back (2:01.65) this season. Rosado is a double-major in mechanical engineering and creative writing.

>> Quotable: "I'd say swimming is the reason I stayed sane," she says. "It's like having a space to push myself that's not academic. It's kind of meditative to be in the water during practice."

>> Read More
A MESSAGE FROM BRIGHT CELLARS

Bright Cellars is a monthly wine club that matches you with wines you'll love.
Founded by two MIT grads (#whyD3)
who were intimidated by the vast and complex world of wine, Bright Cellars was created to help wine drinkers discover and learn about wine in a fun, interactive way.
Bright Cellars creates a wine experience tailored just for you. Based on an algorithm, wine selections are calculated to match your taste preferences. As you try the wines, you're encouraged to rate them on the website to fine-tune your taste profile even further. Your matches improve as the algorithm gets to know you better, making each shipment better than the last.
D3Playbook readers are invited to get 50% off
your first 6-bottle box from Bright Cellars. That's a $45 value. Each box will include a wine education card for each bottle that details servings temps, food pairings, background on the region and more.
Take
our 30-second quiz
to start your weekend right.
SPORTS SCIENCE
3. Heart Month

February is Heart Month. Does your school have a cardiac care plan for student-athletes? This Cardiovascular Care Checklist provides schools with Best Practices to provide cardiac care for student-athletes.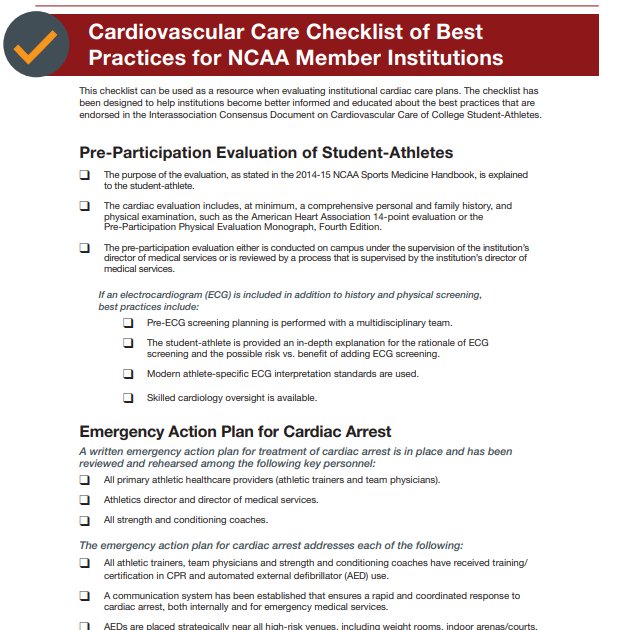 A MESSAGE FROM D3PLAYBOOK


Help us help you. We are glad that you are enjoying D3Playbook. Now won't you help us continue our work? Your gift helps us offset the costs of operating the newsletter and enable us to continue to provide the quality you have come to expect. Please contribute today.

SCHEDULE
4. Weekend Watchlist
Here's a list of the games/matches/events that we are keeping an eye on this weekend ... we hope.

Basketball (M)
Basketball (W)Ice Hockey (M)Ice Hockey (W)Wrestling (M)
NWCA dual meet rankings
Volleyball (M)
NEWS
5. Lightning Round
Mount Union's Christian Parker and Framingham State's Flannery O'Connor were named the U.S. Basketball Writers Association Division III National Players of the Week

Twin brothers will coach against each other for the first time on Saturday when Bryn Athyn (Pa.) takes on Great Lakes Christian (Mich.). Lion head coach Sean Westerlund will face off against his brother, Richard, and the Crusaders.

Adrian 136 Zoe Nowicki and Augsburg 109 Emily Shilson were named the NWCA Regional Wrestlers of the Month.

Cake and candles to Ron Boeger and Mary Simonson, who celebrate on Saturday, along with CWRU associate AD Missy Ackerman who celebrates on Sunday.
TRANSACTIONS
6. Comings and Goings
1 THING
7. Here's Looking at You, Kid
by Geoffrey McNab, Yahoo! News
"At least
Ingrid Bergman
and
Humphrey Bogart
didn't have to self-isolate, take PCR or lateral flow tests and fill in passenger locator forms.
Casablanca
, which celebrates its 80th anniversary this year, is set in the middle of a war, not a pandemic. Nonetheless, one reason why this classic black and white Warner Bros movie still exercises such fascination today is that it portrays a world just like our own, in which everything is out of joint. All of its main characters are in transit or a very long way from home. Bureaucracy dominates their lives. To get anywhere, they need exit visas or letters of transit but borders are closed. They're forced to wait and wait and wait.
Film critics and cultural historians have spent decades trying to work out why
Casablanca
turned out so well. Academic treatises have been written on the subject, rounding up all the usual arguments. Was it the onscreen chemistry between Bergman and Bogart, the barbed wit in the dialogue, or the doomed romanticism encapsulated in Dooley Wilson's performance at the piano of the torch song "As Time Goes By"?"
Who can forget these memorable lines?
Of all the gin joints in all the towns in all the world, she walks into mine.
Round up the usual suspects.
Play it, Sam. Play 'As Time Goes By.'
Louis, I think this is the beginning of a beautiful friendship.
and of course, Here's looking at you, kid.
>>
Read More
>>
More Quotes
Copyright © 2022, D3Playbook.com All rights reserved.