written by STEVE ULRICH
your must-read briefing on what's driving the day in NCAA Division III
We interrupt your Thursday afternoon with important news

Our goal is to keep you - the influencers in DIII athletics - apprised of what's happening around Division III. We hope you enjoy D3Playbook and that you'll share this with your friends, colleagues and co-workers.

BREAKING NEWS
Lycoming, Wilkes to Join Landmark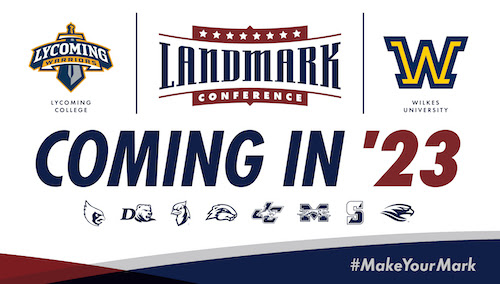 The Landmark Conference added two new institutions to its membership today as Lycoming College and Wilkes University will join the fold in the summer of 2023.

The Conference's Presidents Council also unanimously voted to add football as a conference-sponsored sport in fall 2023. Lycoming and Wilkes will join Catholic, Juniata, Moravian and Susquehanna as football-playing members.

When the Landmark receives an automatic berth to the NCAA Division III football championship, that will bring the total number of AQs in football to 28, leaving just four at-large berths to the 32-team field.

Lycoming and Wilkes are leaving the Middle Atlantic Conference, while Juniata, Moravian and Susquehanna will be departing the Centennial Conference where they have resided as associate members in football. Catholic will leave the NEWMAC.

"The additions of Lycoming College and Wilkes University builds on the already
strong Landmark brand while also creating new competitive opportunities and strategic goals for the league," said Landmark Commissioner Katie Boldvich.

This expansion marks only the third change to conference membership in the past 15 years. Lycoming and Wilkes will be the second full-time additions to the league's membership in the past eight years, with Elizabethtown coming as the other addition in 2014.

Football Conference Memberships
Landmark (6): Catholic, Juniata, Lycoming, Moravian, Susquehanna, Wilkes.
Centennial (7): Dickinson, Franklin & Marshall, Gettysburg, Johns Hopkins, McDaniel, Muhlenberg, Ursinus.
Middle Atlantic (10): Albright, Alvernia, Delaware Valley, Eastern (2023), FDU Florham, King's, Lebanon Valley, Misericordia, Stevenson, Widener
>> Complete Release

Follow us on Twitter @D3Playbook
If you have a business and would like to reach an affluent audience that works in higher education and college sports ... drop us a line at d3Playbook@gmail.com.
Copyright © 2021, D3Playbook.com All rights reserved.