written by STEVE ULRICH
your must-read briefing on what's driving the day in NCAA Division III
>> Good Monday morning. Welcome 2022. Let's make it a great year!

>> Today's Word Count: 1,071

>> Thanks for reading D3Playbook. Is your staff reading D3Playbook? Forward this email to them and tell them to subscribe today.


TOP STORY
1. Spectators Not Welcome


Unfortunately, the first story of 2022 centers around COVID-19 and its impact on Division III athletics. A large number of contests were postponed or canceled during the break and more will be on the way. As teams conclude non-conference play and prepare for league competition, what will conferences do regarding postponements? Can contests be rescheduled in the small window available? Should they?

As of this morning, it appears that colleges and universities are prepared to continue athletic competition, as an ever-growing list of schools moves to remote and/or online instruction for the start of January.

Many schools are moving to a restriction or prohibition on spectators.

Restricted (15)
These schools are mostly restricting spectators to those within the college community.

Connecticut (3): Connecticut College, Trinity, Wesleyan
Maine (3): Bates, Bowdoin, Colby
Massachusetts (5): Amherst, MIT, Smith, Tufts, Williams
New York (3): Hamilton, Hunter, RPI
Vermont (1): Middlebury

No Spectators Until Further Notice (15)
These schools are prohibiting all spectators as we understand.

California (1): Chapman
Connecticut (1): Mitchell
Georgia (1): Emory
Illinois (1): Knox
Maryland (1): Goucher
Massachusetts (2): Dean, WPI
Missouri (1): Washington U.
New Jersey (1): Ramapo
New York (2): St. Joseph's (L.I.), SUNY Poly
Ohio (1): Hiram
Pennsylvania (2): Swarthmore, Widener
Tennessee (1): Rhodes

The list is not complete nor comprehensive.
ABOUT US
2. Who We Are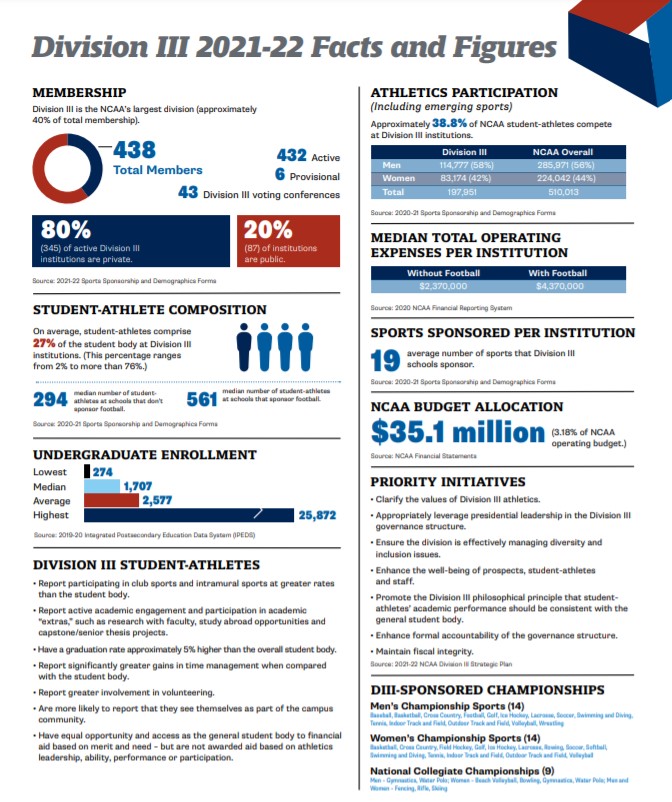 A MESSAGE FROM D3PLAYBOOK


A moment to say thank you to those who donated to D3Playbook during 2021. Your gift helps us offset the costs of operating the newsletter and enable us to continue to provide the quality you have come to expect.

BY THE NUMBERS
3. Learfield Cup Standings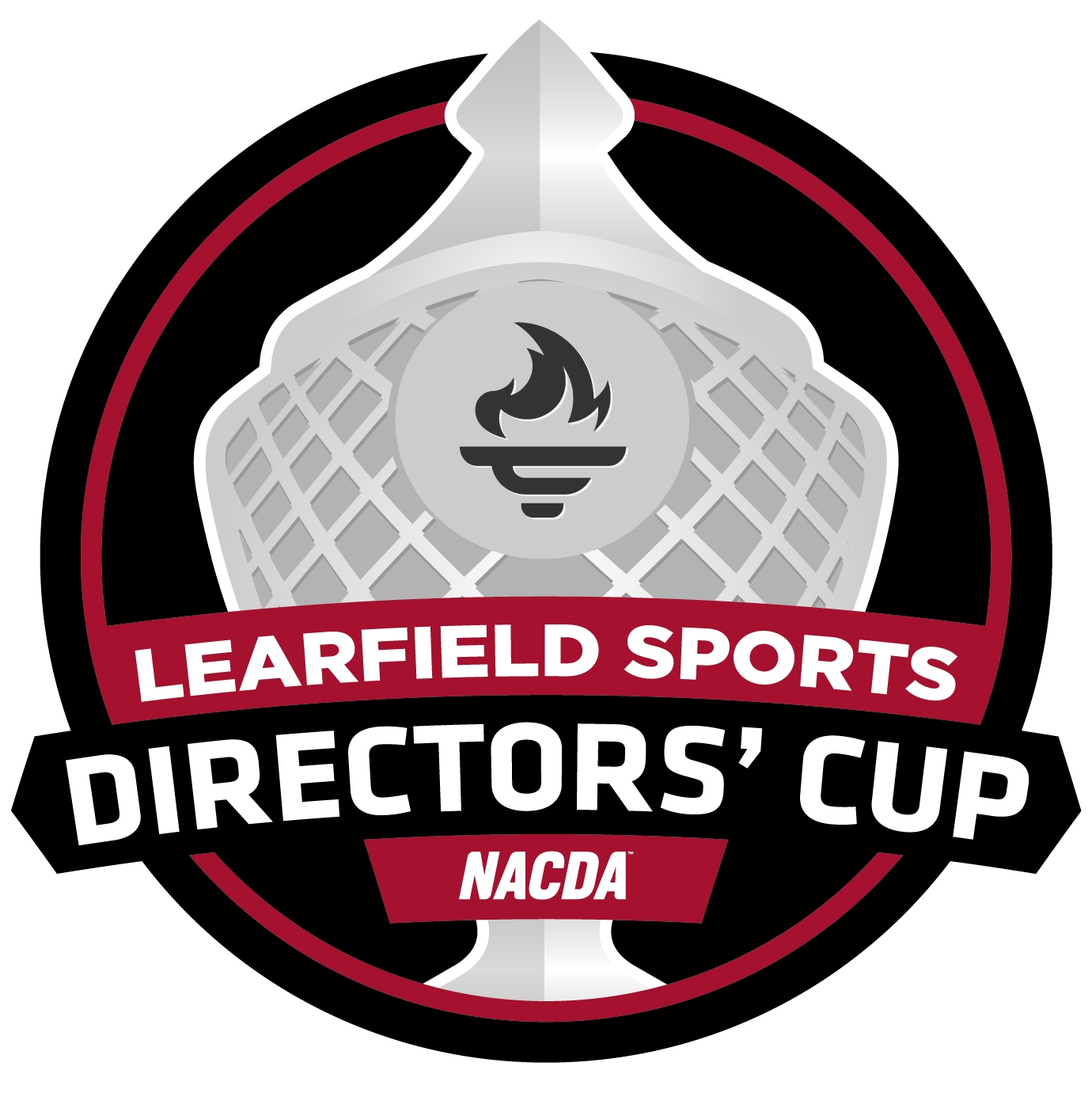 The final Learfield Directors' Cup fall standings were released prior to the holiday and Johns Hopkins sits atop the list.

The Blue Jays have 471 points and a 73.5-point advantage over runner-up Middlebury. Tufts, Chicago and Calvin round out the top five.

>> Complete List

Leaders by Conference
Allegheny Mountain (Penn State Behrend)
American Rivers (Wartburg)
American Southwest (Mary Hardin-Baylor)
Atlantic East (Cabrini)
CCIW (North Central, Ill.)
Centennial (Johns Hopkins)
Coast-to-Coast (Christopher Newport)
Commonwealth Coast (Endicott)
CSAC (Bryn Athyn, Cedar Crest, Rosemont, Wilson)
CUNYAC (Baruch, Brooklyn, John Jay)
Empire 8 (St. John Fisher)
GNAC (Johnson and Wales)
Heartland (Hanover)
Landmark (Scranton)
Liberty (RPI)
Little East (Eastern Connecticut)
Middle Atlantic (Messiah)
MASCAC (Framingham State)
Michigan (Calvin)
Minnesota (St. Olaf)
Midwest (Beloit, Cornell, Knox, Lake Forest)
NACC (Dominican)
North Coast (Ohio Wesleyan)
NECC (Eastern Nazarene, Lesley, New England College)
NESCAC (Middlebury)
NEWMAC (MIT)
New Jersey (Rowan)
North Atlantic (Maine Maritime)
Northwest (Pacific Lutheran)
Ohio (John Carroll)
ODAC (Washington and Lee)
Presidents (Bethany, Chatham, Westminster, Pa.)
SAA (Centre)
SCAC (Trinity, Texas)
SCIAC (Claremont-Mudd-Scripps)
Skyline (Farmingdale State, Merchant Marine, Mount St. Vincent)
St. Louis (Greenville)
SUNYAC (Cortland)
UAA (Chicago)
UMAC (Northwestern-St. Paul, UW-Superior)
United East (Penn State Harrisburg)
USA South (Covenant)
Wisconsin (UW-La Crosse)
conferences not listed did not have any school receiving points

>> Complete List
NEWS
4. ICYMI

Basketball (M)
Top-ranked Yeshiva had its 50-game unbeaten streak snapped by No. 4 Illinois Wesleyan at home, 73-59. Five Titans reached double figures and Matt Leritz set a program record with 25 rebounds.

UW-Platteville now holds the longest winning streak in DIII men's basketball (16).
Basketball (W)
Top-ranked Hope won its 56th straight game with a 98-42 trouncing of Central. The Flying Dutch hold the longest winning streak in all of NCAA basketball and the sixth-longest in DIII history.

The New Year started out with a pair of top-12 teams falling by the wayside. as Carroll took down No. 5 UW-Whitewater, 71-62, and St. Joseph's (Maine) toppled No. 12 Bowdoin, 60-55. The past year came to a close with Piedmont edging No. 9 DePauw, 75-74.
Ice Hockey (M)
Ty Enns registered a hat trick to power top-ranked Adrian past No. 4 Augsburg, 5-2.
COVID
5. More Campuses Requiring Boosters

The list of Division III institutions that will require students and employees to receive a booster shot is at 84 and growing. The latest additions to the list are in red.

California (4): Cal Lutheran, Occidental, Pitzer, Pomona
Connecticut (2): Trinity, Wesleyan
Georgia (2): Agnes Scott, Emory
Illinois (1): Chicago
Indiana (2): DePauw, Saint Mary's
Maine (5): Bates, Bowdoin, Colby, St. Joseph's, U. of New England
Maryland (2): McDaniel, Washington College
Massachusetts (19): Amherst, Bay Path, Brandeis, Clark, Curry, Emerson, Lasell, Mass-Boston, Mass-Dartmouth, MCLA, MIT, Mt. Holyoke, Smith, Suffolk, Tufts, Wentworth, Wheaton, Williams, WPI
Minnesota (3): Carleton, Macalester, St. Olaf
New Jersey (1): Stevens
New York (26): Baruch, Brockport, Brooklyn, Buffalo State, Cazenovia, CCNY, Cortland, Fredonia, Geneseo, Hobart and William Smith, Hunter, Ithaca, John Jay, Lehman, Medgar Evers, New Paltz, NYU, Oneonta, Oswego, Plattsburgh, Potsdam, Rochester, St. Lawrence, Union, Vassar, York
Oregon (2): Lewis & Clark, Pacific, Willamette
Pennsylvania (5): Allegheny, Carnegie Mellon, Franklin & Marshall, Haverford, Muhlenberg
Rhode Island (3): Johnson and Wales, Roger Williams, Salve Regina
Vermont (1): Middlebury
Virginia (2): Christopher Newport, Marymount, Washington and Lee
Washington (2): Puget Sound, Whitman

>> Complete Vaccination List

some data courtesy of the Chronicle of Higher Education
TRANSACTIONS
6. Comings and Goings
Copyright © 2022, D3Playbook.com All rights reserved.