written by STEVE ULRICH
your must-read briefing on what's driving the day in NCAA Division III

>> Happy Friday! You made it to the weekend. Cheers.

>> Today's Word Count: 1,471

>> Thanks for reading D3Playbook. I hope you enjoy our daily get-together over DIII. Share with a friend or colleague as we reach for 1,800 subscribers.

TOP STORY
1. Omicron Changes Plans

by Melissa Korn, Wall Street Journal

"University of Rochester President Sarah Mangelsdorf said she felt confident when sending a note to the school's students and staff two days before Christmas, detailing plans for their spring-term return to campus.

But when weekly Covid-19 figures arrived on Jan. 3 for Monroe County, where the New York school is situated, her confidence waned. New cases had nearly tripled that week, and she learned a local hospital had begun diverting ambulances. By Jan. 5, one week before classes were set to begin, she had ditched her playbook: The school would hold the first two weeks of the spring semester online.

"Thank you again for your flexibility and patience as we navigate this rapidly changing world together," Dr. Mangelsdorf wrote in an update.

Colleges nationwide are now scrambling to map out the new term amid the current rise in Covid-19 cases, fueled by the fast-spreading Omicron variant."

>> Rinse, Repeat: "The flurry of reversals and updates is reminiscent of schools' planning process in summer 2020 when dozens flipped to remote instruction on short notice."

>> What's Next: "Some schools are tightening mask-wearing rules to include vaccinated individuals, and many that already required vaccinations for students and staff have tacked on a mandate that they get booster shots. On-campus testing is picking up pace again, too. College administrators say their decisions are partly about resources, expressing concerns over isolation capacity, staffing shortages and strained hospitals."

>> What They're Saying: "Some of the students feel I misled them, but I changed my mind because the data changed," said Dr. Mangelsdorf. "It is a time of tremendous uncertainty."

>> Continue Reading
COACHING
2. More Women Coaching Men's Soccer
by Michael Rosen, Sports Illustrated

"Kim Wyant's life in soccer has spanned multiple decades. Her accomplishments span from a spot on the first United States women's national soccer team in 1985, to becoming the first and only woman head coach of a college men's soccer team, leading NYU to an NCAA tournament appearance this past season.

Under her guidance the last six seasons, Wyant has led the Violets to three Eastern College Athletic Conference championships and two NCAA tournament appearances. Their most recent appearance this past fall saw them win their opening-round match in overtime against Saint Joseph's College of Maine.

But her success with NYU begs the question: Why aren't there more women serving as head coaches of men's college teams? It isn't uncommon to see men coach women's teams, but Wyant is the lone head coach of a men's team at the collegiate level."

>> Seeing The Whole Field: "Wyant's current role did not come by chance; she has worked and played at all levels of the sport since high school. Wyant didn't begin playing soccer until she was an upperclassman in high school. By the time her high school added a soccer team, she had already established herself as a star athlete in volleyball, basketball and softball. Then the head coach of the new soccer team approached Wyant after one of her basketball games and convinced her to try out."

>> Between The Lines: "Wyant first came to NYU in 2011 as an assistant coach on the women's soccer team but was named the head coach of the men's team during the '15 season, becoming the first woman in the NCAA to take on the role. Although Wyant says she is happy with where she's at now in her career, she sometimes wonders what her next step could be in the NCAA."

>> Reality Check: "I have spoken to a colleague who has told me he isn't sure if there is an athletic director out there who has the guts to hire a woman to coach their men's team. It's a shame, but it is probably true," she says. "It's like they feel they are taking a big risk by doing that. But is hiring someone like Jill Ellis really a risk? She is one of the best coaches in the world and is more than qualified to be considered for a lot of these jobs. It is probably going to take an athletic director who doesn't see it as a risk, but there are a lot out there that do."

>> Keep Reading
A MESSAGE FROM BRIGHT CELLARS

Bright Cellars is a monthly wine club that matches you with wines you'll love.
Founded by two MIT grads (#whyD3)
who were intimidated by the vast and complex world of wine, Bright Cellars was created to help wine drinkers discover and learn about wine in a fun, interactive way.
Bright Cellars creates a wine experience tailored just for you. Based on an algorithm, wine selections are calculated to match your taste preferences. As you try the wines, you're encouraged to rate them on the website to fine-tune your taste profile even further. Your matches improve as the algorithm gets to know you better, making each shipment better than the last.
D3Playbook readers are invited to get 50% off
your first 6-bottle box from Bright Cellars. That's a $45 value. Each box will include a wine education card for each bottle that details servings temps, food pairings, background on the region and more.
Take
our 30-second quiz
to start your weekend right.
COVID

3. Spectator Policies

I wish we didn't need to keep this section going ... but schools continue to make announcements about their spectator policies. Because of that, we will continue to make you - our readers - aware of the changes.

Restricted (42)
These schools are mostly restricting spectators to those within the college community or those on a pass list.

Connecticut (3): Connecticut College, Trinity, Wesleyan
Illinois (6): Elmhurst, Illinois College, Illinois Wesleyan, Lake Forest, North Central, Wheaton
Indiana (2): Earlham, Manchester
Maine (3): Bates, Bowdoin, Colby
Minnesota (2):

Augsburg

, Saint John's
Massachusetts (10): Amherst, Anna Maria, MIT, Regis, Smith, Tufts, Wellesley, Williams, WPI, Worcester State
New York (7): Bard, CCNY, Hamilton, Hunter, Ithaca, John Jay, RPI
Ohio (1): Baldwin Wallace
Pennsylvania (5): Arcadia, Chatham, Franklin & Marshall, Ursinus, Washington & Jefferson
Vermont (1): Middlebury
Wisconsin (2): Alverno, Carroll

Must Show Proof of Vaccination or Recent Test (25)
These schools are mostly restricting spectators to those who can display proof a vaccination/booster or a recent COVID-19 negative test.

California (1):

Chapman


Connecticut (4): Albertus Magnus, Coast Guard, Eastern Connecticut, Saint Joseph's
Georgia (1): Agnes Scott
Illinois (3): Augustana, Illinois Tech, North Park
Maine (1): Southern Maine
Massachusetts (2): Babson, Springfield
Michigan (1): Kalamazoo
Minnesota (1): St. Olaf
New Jersey (4): FDU-Florham, New Jersey City, Rutgers-Newark, William Paterson
New York (6): Baruch, Hartwick, Nazareth, Oneonta, RIT, Union
Ohio (1): Denison
Pennsylvania (1): Muhlenberg

No Spectators Until Further Notice (87)
These schools are prohibiting all spectators as we understand.

California (2): Redlands, UC Santa Cruz
Connecticut (2): Mitchell, Western Connecticut
District of Columbia (2): Catholic, Gallaudet
Georgia (1): Emory
Illinois (1): Knox
Kentucky (1): Transylvania
Maine (3): Maine Maritime, Saint Joseph's, Thomas
Maryland (3): Goucher, Johns Hopkins, Notre Dame
Massachusetts (14): Brandeis,

Bridgewater State

, Clark, Dean, Eastern Nazarene, Elms, Emerson, Gordon, Mass-Boston, MCLA, Salem State, Simmons, Suffolk, Wentworth
Minnesota (3): Carleton, Macalester, Saint Mary's
Missouri (2): Fontbonne, Washington U.
New Hampshire (2): Keene State, Rivier
New Jersey (3): Ramapo, Saint Elizabeth, Stevens
New York (19): Brooklyn, Farmingdale State, Keuka, Manhattanville, Maritime, Medaille, Merchant Marine, Mount St. Mary, Mount Saint Vincent, NYU, Old Westbury, Purchase, Rochester, St. Joseph's (Brooklyn), St. Joseph's (L.I.), Sarah Lawrence, SUNY Poly, Vassar, Yeshiva
Ohio (3): Case Western Reserve, Hiram, Wilmington
Pennsylvania (21): Alvernia, Bryn Athyn, Bryn Mawr, Cairn, Carnegie Mellon, Cedar Crest, Clarks Summit, Dickinson, Eastern, Haverford, Keystone, King's, Misericordia, Rosemont, Saint Vincent, Swarthmore, Thiel, Valley Forge, Widener, Wilkes, Wilson
Rhode Island (1): Rhode Island College
Tennessee (1): Rhodes
Vermont (1):

Castleton


Virginia (2): Mary Baldwin, Marymount

The list is not complete nor comprehensive.
A MESSAGE FROM D3PLAYBOOK


A moment to say thank you to those who donated to D3Playbook during 2021. Your gift helps us offset the costs of operating the newsletter and enable us to continue to provide the quality you have come to expect. Join them today.

VOLLEYBALL
4. Firebirds Top Preseason Poll
photo by Mike Tripp, Sideline Media
The defending national champion Carthage Firebirds are the preseason No. 1 as the American Volleyball Coaches Association released its opening Division III poll of the new season.
Carthage (19 first-place votes)
Springfield (2)
Dominican
Benedictine
Vassar
Messiah
Southern Virginia
New Paltz
Rutgers-Newark
Wentworth
>> Conference Call: United (5), Continental (3), NACC (2), CCIW (1), GNAC (1), Independent (1), MAC (1), Midwest (1)

>> New Programs for 2022: Coe, Drew, Mt. Aloysius

>> Complete Poll
NEWS
5.
Weekend Watchlist
Here's a list of the games/matches/events that we are keeping an eye on this weekend ... we hope.

Basketball (M)
Basketball (W)Ice Hockey (M)Ice Hockey (W)Wrestling (M)
1 THING
7. Ice Ring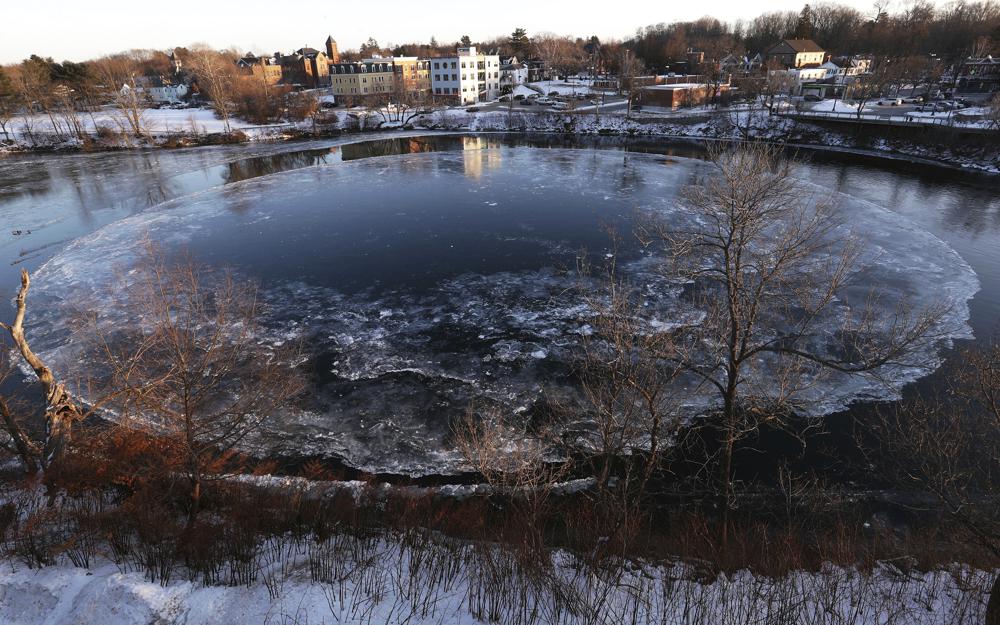 photo by Ben McCanna, Portland Press Herald

Maine's famous rotating ice disk is back.

Ice disks form as a result of a current and vortex under the ice. Ice sheets begin to spin and then form into circles. But ice disks this large rarely form in locations like Westbrook.

City officials discouraged anyone from attempting to go out on the ice: "It is not safe."

>> Go Deeper, but Not Out On the Ice
Copyright © 2022, D3Playbook.com All rights reserved.