written by STEVE ULRICH
your must-read briefing on what's driving the day in NCAA Division III
>> Good Monday morning. A day of service. And that means more than shoveling the snow from your driveway.

>> Today's Word Count: 1,411 to start the new week.

>> Thanks for reading D3Playbook. I hope you enjoy our daily get-together over DIII. Share with a friend or colleague as we reach for 1,800 subscribers.

TOP STORY
1. "More Work to Do"

by Charlie Henry, NCAA

"As delegates from NCAA member schools and conferences prepare to vote on a new constitution at the 2022 NCAA Convention, three leaders in the movement to reform college sports sat down with correspondent Andy Katz on this week's Social Series to discuss the importance of next week's vote and why the work is just beginning for each division.

Georgia President Jere Morehead (Division I), Minot State President Steven Shirley (Division II) and Hamline President Fayneese Miller (Division III) all serve on the NCAA Board of Governors and chair the highest-ranking committees within their NCAA divisions, so they have seen the process play out since the board called for a Special Convention last summer.

The path to a new constitution was a collaborative one, led by the NCAA Constitution Committee but informed by meetings, conversations, surveys and other forms of feedback at multiple points over the past several months.

NCAA members first discussed an initial draft of the constitution during a Special Convention on Nov. 15. The entire membership will vote on a new version Jan. 20."

>> What They're Saying: "I think that all of the divisions were looking for change and looking for 'How do we structure our own identity within the context of the NCAA?' This constitution allows us, each division, to structure (our) own identity within that context," said Miller. "I will have to say, if we think the work is done, it's not. We still have lots more work to do."

>> Go Deeper
FEATURE
2. Just Built Different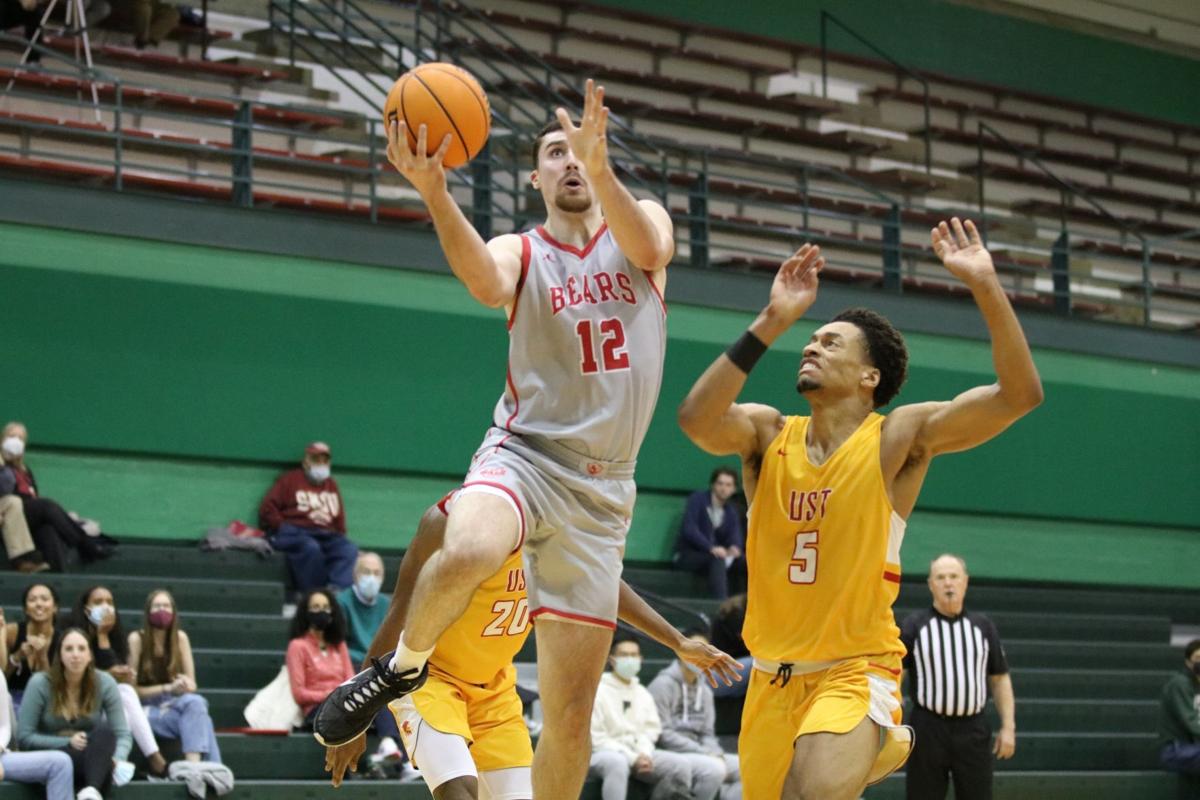 by Stu Durando, St. Louis Post-Dispatch (photo by Alex Rubin, Wash U)

"The day before Justin Hardy tested positive for COVID-19, he talked to his sister Jackie, who has been on high alert regarding his health since the day she drove him to an emergency room last April.

As a doctoral student at Washington University's medical school, Jackie is Justin's only family member in St. Louis as he finishes his career playing basketball for the Bears. She keeps tabs on her younger brother, who she considers the equivalent of a twin.

On that day she was adamant. He needed to be careful. His compromised immune system would be susceptible to COVID. She recalled his response, which might have sounded flippant to anyone else.

"I told him he couldn't get COVID because he's been through so much," she said. "He told me, 'I'm not afraid of it.'"

>> Court Awareness: "COVID was not a trivial matter to Justin Hardy, but he already had been dealt a tougher opponent. The seven days of isolation that followed were nothing compared to his 10-month journey with stage 4 stomach cancer, a diagnosis he received last spring after suffering abdominal pains that led to the ER trip."

>> Why It Matters: "What followed was a sequence of events as amazing as it has been harrowing. At the center of the story is an athlete with a rare disease for his age, 22, returning to college basketball and playing in every game this season."

>> Quotable: "At some point I had to come to terms. This is my life now and one day it changed forever. If I want to live life, I have to choose to put my best foot forward and attack it with a positive mentality. Someone said, 'Positivity kills cancer.' I don't feel happy with the situation, but I do with where I am in life."

>> Worth Your Time
A MESSAGE FROM D3PLAYBOOK


Thank you for considering a gift to D3Playbook. Your gift helps us offset the costs of operating the newsletter and enables us to continue to provide the quality you have come to expect. My heartfelt thanks to those who have already generously contributed. Join them today.

ENFORCEMENT
3. Probation for Brockport Wrestling
by Meghan Durham, NCAA
"The former SUNY Brockport men's wrestling head coach committed NCAA violations when he used physical education courses he taught to engage student-athletes in wrestling practice prior to the first permissible practice date, according to a decision released by the Division III Committee on Infractions. The coach also arranged for impermissible off-campus training during the COVID-19 pandemic.

The NCAA enforcement staff and university agreed that over the course of four years, the wrestling head coach taught two physical education wrestling courses — introductory and intermediate wrestling — for which 89% of the enrolled students were members of the men's wrestling team. The head coach encouraged incoming freshmen to enroll in both classes, and he then used those classes to acclimate incoming student-athletes into his program prior to the start of the wrestling season. He also did not allow non-student-athletes enrolled in the classes to engage in wrestling drills.

The enforcement staff and university also agreed that on one occasion in September 2020, the head coach arranged during the off-season for an off-campus gym to provide members of the men's wrestling team with an opportunity to train because the university had implemented contact restrictions on campus due to the pandemic."

Penalties include:
Three years of probation.
A $2,500 fine (self-imposed by the university).
A three-year show-cause order for the former men's wrestling head coach. During that period, any NCAA member school employing him must restrict him from any athletically related duties unless it shows cause why the restrictions should not apply.
>> Read More
NEWS
4. Lightning Round
Ice Hockey (M)
Chris Janzen made 27 saves as No. 10 Elmira upended No. 6 Babson, 5-3. The Beavers rebounded on Sunday with a 5-3 victory at No. 5 Hobart as Brad Arvanitis stopped 36 shots.

Conference Leaders: Endicott (CCC), Plymouth State (MASCAC), Augsburg (MIAC), Adrian/Trine (NCHA), Hobart (NEHC), Williams (NESCAC), Geneseo (SUNYAC), Utica (UCHC), River Falls/Stevens Point (WIAC)
Ice Hockey (W)
Top-ranked Middlebury (11-0) was pushed to the limit by Wesleyan (6-3) before Madie Leidt scored in overtime to lift the Panthers to a 1-0 victory. Rei Halloran stopped 47 shots for the Cardinals.

Gustavus Adolphus head coach Mike Carroll won his 450th career game as the Gusties blanked St.Olaf, 4-0. He is just the second coacg in DIII history to reach the plateau.

Conference Leaders: Endicott (CCC), Gustavus Adolphus (MIAC), Lake Forest (NCHA), Elmira (NEHC), Middlebury (NESCAC), Plattsburgh (NEWHL), Nazareth (UCHC), Eau Claire/River Falls (WIAC)
Basketball (M)
McMurry needed triple overtime to finally subdue Howard Payne, 125-112. HPU led 83-80 with 1.3 seconds remaining before Elias Garcia hit a halfcourt buzzer-beater to force extra time. CJ LeBlanc led the War Hawks with 42 points, 11 boards and eight assists.

Unbeatens (2): UW-Platteville (16-0), Saint Joseph's, Conn. (10-0)
Basketball (W)
No. 1 Hope and No. 2 Christopher Newport kept their winning streaks intact. The Flying Dutch made it 59 in a row with a 79-56 win against Albion (13-3). The Captains have 31 straight victories following a 68-61 triumph against No. 22 Mary Washington (13-2).

No. 5 Simpson scored 67 first-half points on 24-of-30 shooting, including eight triples, to roll past Dubuque, 97-59.

Unbeatens (9): Christopher Newport (14-0), Hope (14-0), Springfield (14-0), New York U. (12-0), Roger Williams (12-0), North Central, Minn. (11-0), Transylvania (12-0), Webster (11-0), Wisconsin Lutheran (11-0)
Wrestling
Birthdays
Happy birthday to Jacqueline Nicholson, executive director of athletics at RIT, and Brian Oswald, chair of the Board of Trustees at Moravian College.
STREAMING
5.
Watchlist

Here's a list of the games/matches/events that we are keeping an eye on tonight ... we hope.

MBB: No. 3 Illinois Wesleyan vs. No. 13 Elmhurst, 3 p.m.
The Titans (11-2, 4-1) and the Bluejays (11-2, 3-1) battle for first place in the CCIW. Watch
WBB: Penn State Behrend vs. Pitt-Greensburg, 5:30 p.m.
The Nittany Lions (12-2, 6-0) and the Panthers (10-2, 5-0) square off with the top spot in the AMCC on the line. Watch
TRANSACTIONS
6. Comings and Goings
Copyright © 2022, D3Playbook.com All rights reserved.