written by STEVE ULRICH
your must-read briefing on what's driving the day in NCAA Division III
>> Good Monday morning. Hurts to be a fan of the losing team in an instant classic. #BillsMafia

>> Today's Word Count: 1,217

>> Thanks for reading D3Playbook. I hope you enjoy our daily get-together over DIII. Share with a friend or colleague as we strive for 1,900 subscribers.

TOP STORY
1. Convention Recap


The 2022 NCAA Convention is now in the books and the Division III delegates cast votes on nine proposals at their Saturday business session.

Prop 1: To permit the Division III Presidents Council to sponsor and adopt emergency legislation under defined circumstances. Adopted 452-1-1

Prop 2: To utilize the NCAA Eligibility Center in certifying the amateur status of international student-athletes to provide more consistency and efficiency to the certification process. Adopted 430-23-0

Prop 3: To specify that a student-athlete would be charged with a season of eligibility if the student-athlete competes at any point during the traditional season. Referred 233-216-4

Prop 4: To permit Division III member institutions with Division I sports to apply all Division I legislation, including Bylaw 15 (financial aid), to the Division I sports Sponsors. Adopted 388-18-39

Prop 5: To reduce the minimum number of conference members required for automatic qualification for Division III championships from seven to six. Adopted 281-167-2

Prop 6: To reduce the minimum number of member institutions required to form a single-sport conference from seven to six. Adopted 327-123-3

Prop 7: To specify permissible contact opportunities and equipment use for the football preseason, regular season and spring period. Adopted 295-68-87

Prop 8: To add equestrian as an emerging sport for women and to establish legislation related to playing and practicing seasons and membership. Defeated 154-195-101

Prop 9: To eliminate the option for a student-athlete to sign a waiver declining the sickle cell solubility test. Adopted 253-185-11

>> Read More
LACROSSE
2. Racism Remains a Challenge
by Kyle Melnick, Washington Post (photo by Katharine Frey)

"The moment Tiana Griffin began thinking differently about her lacrosse experiences arrived in July 2018 in a University of Maryland dorm room.

Griffin was listening to rap music with her roommates — one Black, one White — during a lunch break at a lacrosse camp that featured many of the D.C. area's top players. The White girl asked a question: "If you can say [the n-word], how come I can't call you that?"

Griffin, who would begin high school the next month, couldn't grasp at the time why the comment upset her, but she erupted in tears on her family's couch when she returned home. Griffin's mother, Kim, had tried to shield her daughter from racism, but she thought Griffin deserved an explanation as she hugged her and wiped tears from her cheeks.

"Okay, baby, let me tell you just a little bit about this world," Kim began."

>> Field Awareness: "In a sport that has long been overwhelmingly White, top Black players such as Griffin have navigated challenges to rise in its ranks. Griffin, a sophomore at Severn School in Severna Park, was one of 22 players selected for the U.S. under-16 national team this past fall. For both Severn and the U-16 team, Griffin is the only Black player."

>> Data Download: "According to the NCAA's data from 2021, there were 421 Black women's players across its three divisions. Meanwhile, there were 10,807 White players. Lacrosse's diversity problems extend to the coaching ranks. According to the NCAA, there were 22 Black coaches — including assistants — among its three women's lacrosse divisions last year. There were 1,032 White coaches."

>> Reality Check: "Last year, a college coach expressed interest in Griffin, who then contacted a Black friend who also had pursued that school. Griffin soon dropped the program from her top options. Her friend had heard from others that players and students at the school weren't welcoming of Black players. Without other Black peers to offer insight, Griffin took her word for it."

>> Quotable: "I never questioned if I belonged here," Griffin said, "because I know that I can be a trailblazer for people behind me."

>> Worth. Your. Time.
A MESSAGE FROM D3PLAYBOOK


Thank you for considering a gift to D3Playbook. Your gift helps us offset the costs of operating the newsletter and enables us to continue to provide the quality you have come to expect. My heartfelt thanks to those who have already generously contributed. Join them today.

BASEBALL
3. Preseason All-Americans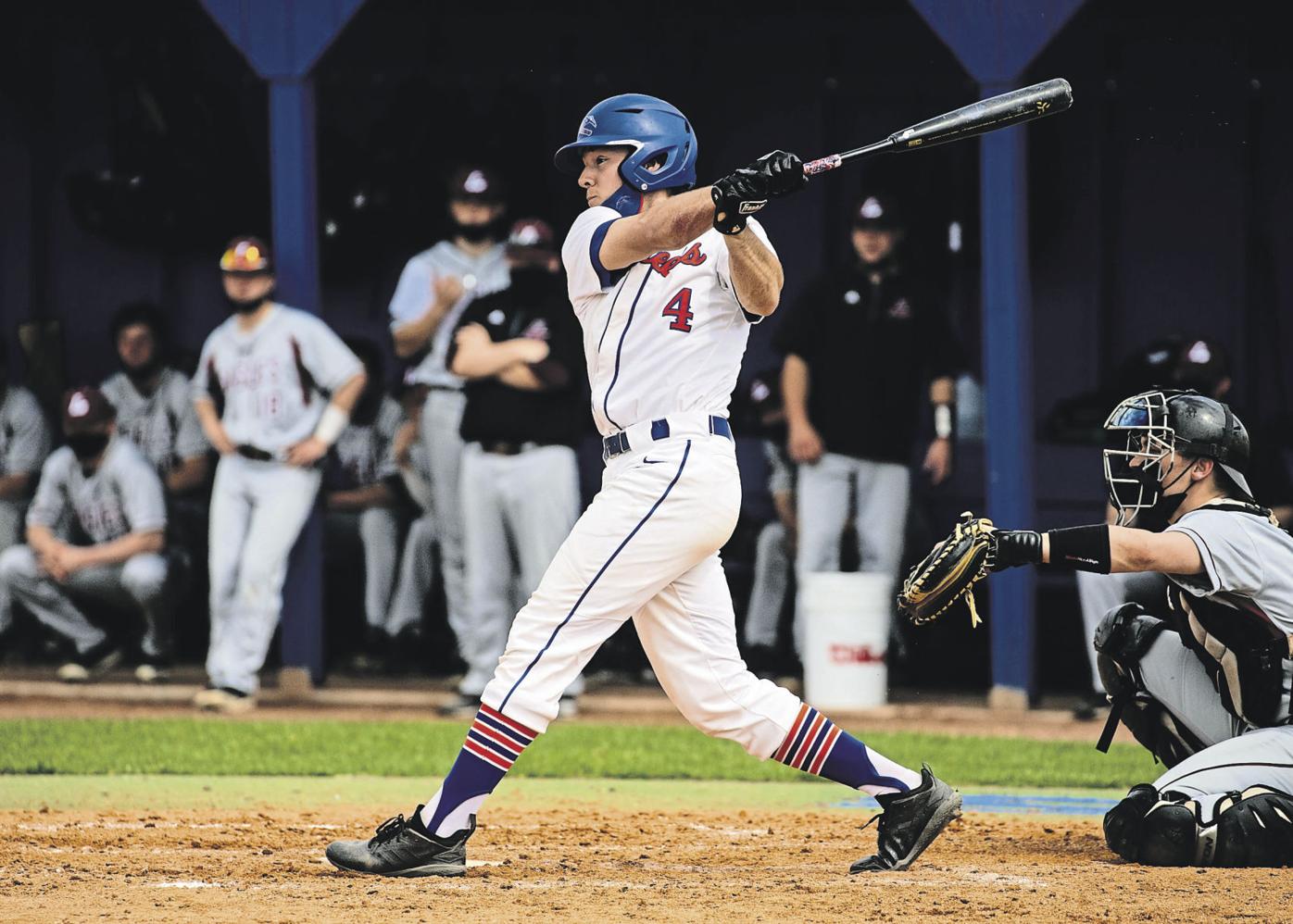 Jonathan Kelso, UW-Platteville

The D3baseball.com Preseason All-America team is chosen from previous years' All-American and All-Region nominations.

First Team
C-Clay Sowell, Tufts
1B-Jack Barry, York (Pa.)
2B-Colby Martin, Shenandoah
3B-Luke Broadhurst, Eastern Connecticut
SS-Austin Denlinger, York (Pa.)
OF-Turner Hill, Marietta
OF-Jonathan Kelso, UW-Platteville
OF-Aaron Whitley, Rochester
DH-Max Nyrop, Saint John's
UTL-Tyler Horvat, Washington & Jefferson
SP-Luke Lamm, North Central (Ill.)
SP-Henry Litman, Washington & Jefferson
SP-Westin Muir, UW-Whitewater
SP-Kyle Roche, Franklin & Marshall
RP-Drew Bryan, Chicago

>> Complete Team
NEWS
4. Lightning Round
Basketball (M)
No. 11 Swarthmore's 35-game Centennial Conference win streak was snapped at Dickinson, 52-48.

UMass-Dartmouth (12-2) made a statement with a 104-94 win against No. 15 Wesleyan behind a 23-point, 10-assist performance by Marcus Azor.

Unbeatens (1): Saint Joseph's, Conn. (13-0)

Basketball (W)
No. 8 Whitman (16-1) won its fourth game in five days, downing Lewis and Clark, 69-46.

Tough day in the top 10 as No. 6 UW-Whitewater and No. 7 Amherst fell to No. 18 UW-Eau Claire and Hamilton, respectively.

Unbeatens (8): Christopher Newport (16-0), Hope (16-0), Springfield (16-0), Roger Williams (15-0), Transylvania (14-0), New York U. (13-0), Webster (13-0), Wisconsin Lutheran (13-0)

Ice Hockey (M)
No. 1 Adrian (18-1, 12-0 NCHA) and No. 7 St. Norbert (16-3, 12-0) remained on a collision course toward their Feb. 11-12 series with weekend sweeps.

No. 6 Hobart and No. 8 Elmira split a weekend home-and-home series with both teams winning on the road.

Ice Hockey (W)
No. 7 Elmira (15-2-1) handed No. 3 Nazareth its first loss of the season, 2-1, after 16 wins to open the campaign.

Top-ranked Middlebury (13-0) is the lone undefeated team remaining in the NCAA after a weekend road sweep at Colby. It is the Panthers' best start to a season since the 2005-06 team won 18 straight.

Wrestling
No. 2 Loras edged No. 3 Coe, 19-18, at the A-R-C Duals, battling back from a 12-0 deficit. 184 Shane Liegel picked up the deciding points with a 6-2 decision.

Swimming (W)
No. 9 MIT upset No. 5 Tufts, 168-132. Katarina Augustyn was a triple-winner for the Engineers.

Swimming (M)
No. 6 MIT turned back No. 8 New York U. and No. 11 Williams in a double-dual. Roderick Huang won three individual events for the Engineers.

Birthdays
Cake and candles to Nick Jallet, assistant SID at Vassar; Curtis Madson, head men's volleyball coach at Concordia Wisconsin; and Evan Coleman, Emory U. alum.
STREAMING
5.
Watchlist

Here's a list of the games/matches/events that we are keeping an eye on tonight ... we hope.

MHKY: U. of New England at Salve Regina, 8 p.m.
The Pilgrims (8-2-1) and the Seahawks (11-4) meet in a critical Commonwealth Coast matchup. Watch
MBB: Elmhurst at North Central, Ill., 8 p.m.
The Bluejays (12-4) and the Cardinals (10-5) both need a win to keep pace in the CCIW. Watch
TRANSACTIONS
6. Comings and Goings
Copyright © 2022, D3Playbook.com All rights reserved.