written by STEVE ULRICH
your must-read briefing on what's driving the day in NCAA Division III


>> Welcome to Thursday. One day closer to the weekend.

>> Today's Word Count: 1,007

>> More Numbers: 1,810 subscribers, 3,412 twitter followers.

>> Thanks for reading D3Playbook. I hope you enjoy our daily get-together over DIII. Share with a friend or colleague as we reach for 1,900 subscribers.

TOP STORY
1. Battle of the 'Burgs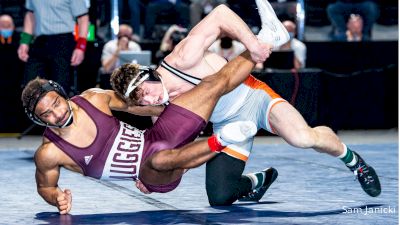 It may be the best rivalry in Division III wrestling - Wartburg vs. Augsburg.

The top-ranked Knights and the third-ranked Auggies meet in Minneapolis tonight for the 39th time. Over the past four years, one of the two teams have been ranked No. 1 in the country and 2022 is no exception.

The annual "Battle of the Burgs" dual meet features the two teams that have dominated NCAA Division III wrestling over the last three decades. Since 1995, every Division III national title has rested at either Augsburg or Wartburg, with defending national champion Augsburg winning 13 titles since 1991 and Wartburg winning 14 titles since 1996. With the NCAA Division III National Tournament not being held in either 2020 or 2021 due to the COVID-19 pandemic, Augsburg will enter the 2022 championships as the "defending" national champion, having won the last NCAA tournament in 2019.

Wartburg holds a 22-16 lead in the series and has won 10 of the last 11 duals.

The key matchups:

141: #2 Sam Stuhl (A) vs. #7 Zeyren Terakuna (W)
157: #2 Tyler Shilson (A) vs. #10 David Hollingsworth (W)
174: #2 Zane Mulder (W) vs. #4 Solomon Nielsen (A)
285: #5 Tyler Kim (A) vs. #6 Jordon Brandon (W)

rankings provided by D3wrestle.com

>> Stream the match ($)
>> Live Bout-by-Bout results
>> Gameday Program
Did you know
BlueFrame Technology
has advanced integrations with top automated cameras like the
Hudl Focus
? Showcase your teams and student-athletes with BlueFrame's full streaming service priced perfectly for D3 budgets….or use their
Production Truck
software to stream with your current provider. Step up your game this year and STREAM LIKE A PRO with BlueFrame.
Learn more today
!
BlueFrame Games to Watch
BASKETBALL (W)
2. The Streak is Over
photo by Alan Babbitt

The third-longest win streak in Division III women's basketball history is over.

Fourth-ranked Trine went on the road to Holland and upended No. 1 ranked Hope (16-1), 70-62, to snap the Flying Dutch's 61-game winning streak.

It is Hope's first defeat since falling in the second round of the 2019 NCAA tournament at Wartburg. The longest active streak now belongs to second-ranked Christopher Newport (33).

Tara Bieniewicz led the Thunder (13-2) with 18 points. Trine shot 49 percent from the field and stuck 10 three-pointers.

The number of unbeaten teams in DIII women's basketball is now down to six, as Christina Antonakakis poured in 44 points to lead MIT past No. 15 Springfield (16-1).

Unbeatens (6): Christopher Newport (16-0), Roger Williams (16-0), Transylvania (15-0), New York U. (14-0), Wisconsin Lutheran (14-0), Webster (13-0).
LACROSSE (W)
3. Breaking Down the Preseason Top 20
by Laurel Pfahler, US Lacrosse Magazine

"Salisbury capped a perfect season with the program's fourth national championship, and they start 2022 as the team to beat, earning the No. 1 spot in the Nike/USA Lacrosse Division III Women's Preseason Top 20.

Salisbury, which has made it to the NCAA semifinals each of the past three completed seasons, returns Lydia McNulty for a fifth year, as well as other top players such as attacker Erin Scannell, midfielder Lauren Valenti and defender Caroline McKenna.

Tufts, the No. 2 team, suffered its only loss of 2021 in the national championship game, falling by one goal to Salisbury. The Jumbos will be tough to beat this season with USA Lacrosse Magazine Preseason Player of the Year Molly Laliberty in goal and several other key players returning.

Salisbury
Tufts
Franklin & Marshall
Middlebury
St. John Fisher
William Smith
Ithaca
Washington and Lee
Messiah
Gettysburg

>> Conference Call: NESCAC (4), C2C (2), Centennial (2), MAC (2), NJAC (2), SUNYAC (2), Empire 8 (1), Landmark (1), Liberty (1), NCAC (1), ODAC (1)

>> Breaking Down the Top 20
LACROSSE (M)
4. Who's Who in the Top 20

by Harrison Silcox, US Lacrosse Magazine

"The case can be made for a number of teams to earn the top spot in the Nike/USA Lacrosse Division III Men's Preseason Top 20, but it's Salisbury that enters 2022 season at No. 1.

The Sea Gulls lost in a thriller to RIT — ranked second — in the national championship game in May, and with a roster that is again stacked with talent, Salisbury is hoping to go on another long run through the postseason. The Sea Gulls have made it to the national semifinals every year since 2015.

Cross Ferrarra and Jarrett Bromwell lead the way for a team that returns most of its talent. RIT, which returns Ryan Barnable, Quinn Commandant and others, enters 2022 with new faces on defense after graduating its starting close defense last spring. For the preseason Top 20, that's what separates Salisbury and RIT.
Salisbury
RIT
Tufts
Christopher Newport
Lynchburg
York
Colorado College
Franklin & Marshall
St. John Fisher
Cabrini

>> Conference Call: MAC (3), NESCAC (3), C2C (2), Liberty (2), Atlantic East (1), CCIW (1), Centennial (1), Empire 8 (1), Independent (1), NCAC (1), OAC (1), ODAC (1), SAA (1), SUNYAC (1)

>> Breaking Down the Top 20
A MESSAGE FROM D3PLAYBOOK


Won't you please consider making a gift to D3Playbook. Your gift will help us offset the costs of operating the newsletter and enable us to continue to provide the quality you have come to expect. My heartfelt thanks to those who have already generously contributed. Please join them today.

STREAMING
5. Watchlist

Buzz Anthony, Randolph-Macon


Basketball (M): #1 Randolph-Macon at Hampden-Sydney, 7 p.m. EST
It's the 154th meeting between these two long-time rivals. The Yellow Jackets (15-1, 7-0) have won eight straight in the series. The Tigers (10-5, 5-3) have won 75 percent of their games at Fleet Gymnasium.

Basketball (W): No. 22 Hardin-Simmons at No. 20 Mary Hardin-Baylor, 5:30 p.m. CST
The Cru (14-2, 11-0) has won 13 in a row but will be tested by the Cowgirls (12-3, 7-3). UMHB looks for a season sweep after winning by 12 on Dec. 11.

TRANSACTIONS
6. Comings and Goings
Copyright © 2022, D3Playbook.com All rights reserved.