written by STEVE ULRICH
your must-read briefing on what's driving the day in NCAA Division III


>> Good Thursday Morning DIII. This will be our final Playbook for 2022. We'll return on Tuesday, Jan. 3. May you and your loved ones have a safe, happy and healthy New Year.

>> Thanks for reading D3Playbook. Is your staff reading D3Playbook? Make like Ted Lasso and make the extra pass.

TOP STORY
1. Hopkins Tops Fall Directors Cup Standings

Johns Hopkins tops the standings after the completion of the fall season for the Learfield Directors Cup.

The Blue Jays won national titles in women's cross country and soccer, while finishing second in field hockey to register 500.5 points. Williams was second with 443.5 points, posting a runner-up finish in men's soccer and a third-place finish in field hockey.

MIT (348.0), Wartburg (308.0) and Christopher Newport (305.0) rounded out the top five.
Johns Hopkins, 500.5
Williams, 443.5
MIT, 348
Wartburg, 308
Christopher Newport, 305
Carnegie Mellon, 302
Tufts, 291.5
Chicago, 289
Calvin, 272.5
Washington (Mo.), 252.5

>> Full Standings

Conference Leaders
AMCC: Alfred State, Mount Aloyisus, Pitt-Greensburg, 25.0
A-R-C: Wartburg, 308
ASC: Mary Hardin-Baylor, 133
AEC: Marywood, 57.5
CCIW: North Central (Ill.), 222
CCS: Covenant, Huntingdon, Piedmont, 25
CC: Johns Hopkins, 500.5
C2C: Christopher Newport, 305
CCC: Endicott, W. New England, 50
CSAC: Bryn Athyn, Cedar Crest, Rosemont, Wilson, 25
CUNYAC: Hunter, John Jay, Lehman, 25
E8: Utica, 53
GNAC: Johnson and Wales, 75
HCAC: Transylvania, 73
Landmark: Scranton, 171.5
LL: Ithaca, 202.5
LEC: Castleton, Keene State, Mass-Boston, Mass-Dartmouth, 25
MAC: Messiah, 235.5
MASCAC: Westfield State, 75
MIAA: Calvin, 272.5
MIAC: St. Olaf, 196
MWC: Lake Forest, 50
NACC: Aurora, 120
NCAC: Ohio Wesleyan, 75
NECC: Eastern Nazarene, Lesley, New England College, 25
NESCAC: Williams, 443.5
NEWMAC: MIT, 348
NJAC: Rowan, 240.5
NAC: Husson, Maine Maritime, SUNY Delhi, 25
NWC: George Fox, 115.5
OAC: John Carroll, 185
ODAC: Washington and Lee, 207
PAC: Bethany, Franciscan, Westminster, 25
SAA: Berry, 129
SCAC: Trinity (Texas), 207
SCIAC: Claremont-M-S, 191.5
Skyline: Manhattanville, Merchant Marine, Sarah Lawrence, 25
SLIAC: Greenville, 50
SUNYAC: Cortland, 189
UAA: Carnegie Mellon, 302
UMAC: Northwestern, 108
United East: Gallaudet, PSU Berks, PSU Harrisburg, SUNY Morrisville, 25
USA South: Brevard, Methodist, Southern Virginia, 25
WIAC: La Crosse, 219.5

>> Conference Standings
A MESSAGE FROM HUDL/BLUEFRAME TECHNOLOGY
Ready to stream like a pro this season? With Hudl (formerly BlueFrame), powerful broadcasting tools meet the advanced capture capabilities of Hudl Focus, bringing your program unmatched opportunities to generate revenue and connect with your fans. Plus, you get the flexibility to select the streaming option that makes the most sense for your school. [
Learn More
]
NCAA
2. Will Baker Return To Politics?

by Alison Kuznitz, MassLive

"Months before Gov. Charlie Baker was named the next president of the National Collegiate Athletic Association, the popular Republican leader had ruled out the possibility of running for president of the United States in 2024.

But the governor's unexpected career shift this March of managing complex issues among college athletic programs and student athletes doesn't mean Baker is done with politics just yet."

>> Court Awareness: "The opportunity started to make sense to Baker, a former basketball player at Harvard, as he could wield his political acumen and decision-making skills to tackle thorny issues at the NCAA, including regulations tied to name, image and likeness compensation for student athletes."

>> Quotable: "I think he really feels called to this work," Lauren Baker said. "It's not like he's driven to have another elected position, though it's the work that he really enjoys. I wouldn't be surprised if he stays engaged somehow in public service."

>> What They're Saying: "In this role in particular, the way I see it as this point is about being the convener and the collaborator of a very large organization that has a lot of points of view and seeking to find those places where people can come together, can agree, and can make a case generally to the public, to their student athletes, to their alumni and their fans about the best way to ensure that we don't lose this jewel going forward," Baker said."

>> Continue Reading
A MESSAGE FROM MORNING BREW

2.6 million people wake up to this newsletter every morning

There's a reason over 2.6 million people start their day with Morning Brew - the daily email that delivers the latest news from Wall Street to Silicon Valley. Business news doesn't have to be dry and dense...make your mornings more enjoyable, for free.

STUDENT VOICES
3. Is A Lackluster Conference Penalizing Linfield Come Playoff Time?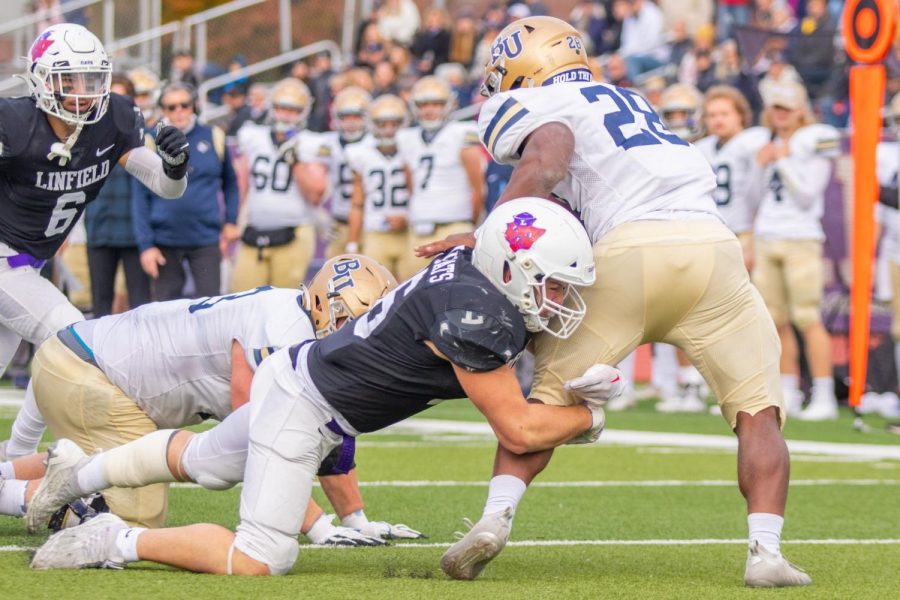 by JJ Anderson, Linfield Review

"In my three years at Linfield, I have watched two football seasons thus far. And what I have witnessed on Saturdays at Maxwell Field has turned into a rendition of Groundhog's Day.

The Linfield community joins together on Streak Street and inside Memorial Stadium to watch the Wildcats dismantle the visiting opponent by the time halftime rolls around. The starters are in for only about half of the game, the students leave their seats at halftime and tend to not return and the outcome is predictable nearly every time.

It's not just the Northwest Conference that lacks real competition for the Wildcats, either – it's a regional problem. In the most recent season, Linfield was the only West Coast school ranked in the D3football.com top 25."

>> Through The Progression: "All of this got me thinking about other ways that Linfield football could expose itself to higher levels of competition and something dawned on me. A specific school in the NCAA Division I ranks has made having an independent football program a part of their image, their brand, and what the college football world associates with them. The Notre Dame Fighting Irish. What if Linfield, a NCAA Division III program, took up the Notre Dame route and went independent for football only?"

>> Between The Lines: "Leaving a conference like the NWC which is composed of inferior football programs where games are most likely less competitive than practices, for a more cutthroat schedule where the outcome isn't predictable, would put the precious "Streak" in danger, no doubt. If that were the case, maybe it would put some extra urgency into the football program earlier than the middle of November when the playoffs are already underway."

>> Read More
FOOTBALL
4. Cliff Harris Award

The Little Rock Touchdown Club and Wright Lindsey Jennings announced the finalists for the ninth annual Cliff Harris Award. The award is presented to the nation's top small college defensive player representing more than 5,000 defensive players from almost 500 NCAA Division II, Division III and NAIA colleges and universities.

An overall winner will be announced on December 30 and honored at the Little Rock Touchdown Club's annual awards banquet on January 13, 2023 with featured speaker Joe Theismann. The winner will receive the $3,000 Cliff Harris Award trophy presented by Cliff Harris.

Division III Finalists
Keysean Amison, Trine
Zachary Blackiston, Heidelberg
Justin Blazek, UW-Platteville
Michael Brown, UW-River Falls
Paul Calvetti, MIT
Ben Cooney, Claremont-M-S
Joshua Cordero, Cortland
Robert Coury, Carnegie Mellon
Caleb Hamel, Trinity (Texas)
Dan Lester, North Central (Ill.)
Ryan Liszka, UW-Whitewater
C.J. Mustain, Merchant Marine
Mike Nobile, Delaware Valley
Alexander Perkins, Millikin
Korbyn Personett, Monmouth
Will Pickren, Hampden-Sydney
Luke Schuermann, Johns Hopkins
Teone Sherrod, King's
Brayden Thimons, Westminster (Pa.)
Michael Wozniak, Saint John's

>> Complete List
NEWS
5. Lightning Round
News
Happy Birthday
Cake and candles for Jeremey Marks, athletic director/coach, Margaretville Central; Alex Linden, alum, Nebraska Wesleyan; Heather Macy, head basketball coach, Greensboro (Sat.); Heather Ross, head softball coach, WPI (Sat.); Tone Cockrell, assistant commissioner, CSAC (Mon.); our good friend Jim Seavey, retired SID (Mon.) and Kevin Lanke, assistant AD, Rose-Hulman.

Do you know someone celebrating a birthday soon? Drop us a line at D3Playbook@gmail.com.
TRANSACTIONS

6. Comings and Goings
1 THING
7. Year of Wordle
In a year of cultural, generational and tech divides, Wordle helped bring the world together.

After growing slowly at first, the puzzle's player count skyrocketed last December and January, Axios' Peter Allen Clark writes.
By spring, everyone seemed to be playing. Public figures from Paul McCartney to Kamala Harris publicly shared scores and strategies.
"Wordle became this lightweight way to check in with your friends and family and tell them that you loved them, without using big heavy words like 'I love you,'" the game's creator, Josh Wardle, said at a conference.
Copyright © 2022, D3Playbook.com All rights reserved.